Thaisland Miscellany 2: Ko Samet
---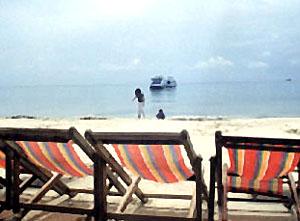 Image ©
2001 Ken Champeon
Well before reaching Ko Samet, we are caught in its commercial tractor beam. A man on a motorcycle pulls up beside our car as it idles at an intersection. The tout raps on the window and bids us follow him to the village of Ban Phe, where boats embark for Ko Samet.
For 200 baht per person, we take a mid-sized boat to the island. From the sea can be seen the symmetrical contours of the mainland mountains, shrouded in silver monsoon clouds.
At first sight, development has reached Samet's shores to a startling degree. At the docks are mini-marts, restaurants, and convoys of tsong-taos. But most of Ko Samet's roads are not paved or graded, which keeps development somewhat at bay. The rains have turned the roads into networks of chassis-destroying ravines and gullies. The trip takes on the character of a monster truck rally. We pass undeterred foreigners driving motorcross bikes.
Every island seems to have its foreign enclave. On Samet, this appears to be Ao Phra. Here beet-red, sunburned foreigners pore over their Bangkok Posts and sport their Beer Chang T-shirts (Beer Chang, the Colt 45 of Thailand, is a bargain drunk for the backpacking set). The rooms here, though they afford a spectacular view of the horizon, are rather too "Holiday Inn" for our taste, and too expensive at 1000 baht. We settle instead on Ao Wong Deuan ("Gulf Part of the Moon").
Ko Samet is officially a national park, so visitors must pay an admission fee, and foreign visitors must pay through the nose. My foreign friend and I have both lived here for over two years, and probably earn no more than the typical Thai weekender from Bangkok. He decides that he will try civil disobedience and encourages me to follow suit. We utter token phrases of basic Thai to demonstrate our assimilation, and generally try to melt into the surroundings. The strategy works: we pay only 20 baht, instead of 200.
The Thais in the tsong-tao with us are not fully comfortable with our defiance. Neither am I. The two-tiered policy remains controversial. The Thai government says that it is only fair, even while letters pour in from affronted tourists, declaring that they have struck Thailand from their list of accommodating countries.
A similar hue and cry has gone up regarding the government's recent crackdown on late-night entertainment venues. Under the guise of preventing drug use among adolescents, the government has ordered all bars and discotheques to close at 2 a.m. Formerly, there had been de facto no fixed closure time: only occasionally, the police would decide arbitrarily to close a place down.
Venue owners push for a restoration of leniency, saying that otherwise they will go out of business. Many already have. Tourists complain that Thailand does not want them, and go where such rules do not obtain.
But Thailand may just be waking up to see damage done by unchecked tourism. Ko Samet is a case in point. Being a national park, Samet is supposed to be entirely noncommercial. But this is far from the case. The pollution and trash anger environmental groups. They worry about the destruction of coral by boat traffic and divers. Jet-skis, which are supposedly banned, nevertheless rev their engines and trace their confused wakes in the waters, despite efforts to make the Lonely Planet guides explicitly discourage their use.
This travel writer would like to add his voice to the chorus of protest. Not because of any special concern for the welfare of marine species, but because jet-skis are so bloody noisy, and their drivers looks so bloody silly.
Evidently drawn by Samet's placid beauty of yore, the poet Sunthorn Phu is believed to have written here at least part of his marine epic Phra Aphaimani, with its cast of sea captains and mermaids. Statues of Aphaimani dot Samet's landscape.
Our evening is calm, uneventful. The drinks are frivolously tropical: Singapore Slings and Tequila Sunrises garnished with orchids, hibiscus, cherries, and chunks of pineapple. A part of the moon shines over Gulf Part of the Moon.
The following day we get massages on the beach, one of us gets a pair of temporary henna tattoos, and we all take a dip in Ao Wong Deuan's lovely turquoise waters. We are dangerously approaching a purity of decadence when it is time to go. The last boat leaves at four in the afternoon.
Chugging back to Ban Phe, we encounter the obligatory obnoxious tourist. This time, he takes the form of a red-faced English senior citizen. The man begins his assault by presuming, at the top of his lungs, that my Thai girlfriend is a prostitute. (In fact, she is the Thai headmaster of an international school, and a master's degree-holder in psychology to boot.)
He does this by suggesting that she should have paid my friend - whom he mistakenly takes to be her escort -- and not, ha-ha, the other way round. He continues in this lewd and slanderous vein for some time. Like a good bhikku, I pity and try to ignore him, rather than flattening his clown's nose and throwing him overboard.
He then stands up and stumbles over to two monks sitting quietly - majestically even - at the back of the boat. He reaches out to shake their hands. They oblige him, and flash their knowing smiles at each other. The old man stumbles on in quest of other passengers to annoy.
Our boat chugged on, toward the mainland, toward civilization.
* * * * *
---