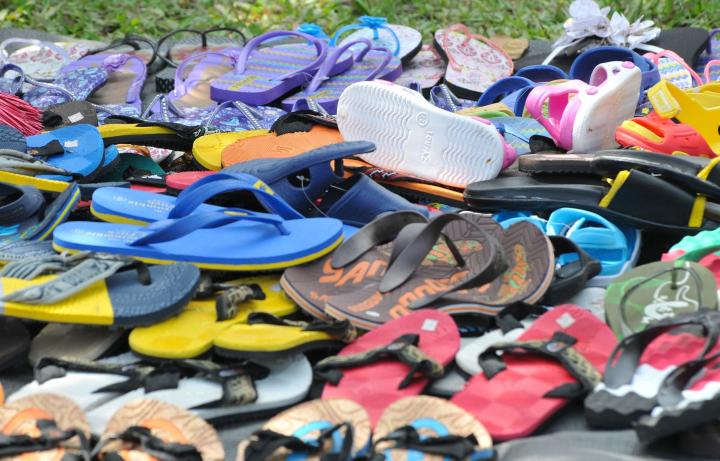 Image ©
2013 Ronald de Jong
These things are pleasant to wear, affordable, light-weight, functional, comfortable, convenient and available in almost every shopping mall, local stores and sold by many street vendors. They can be easily slipped on to the foot, worn every day for all sorts of occasions and gives no hassle with tying shoe laces. The initial design, that has been around since the times of ancient Egypt, is very basic; an open, low-cut and heel free construction with a Y-formed hold-strap, connected at three points on a thin, flexible sole that is often spongy, absorbing the weight of the wearer's feet. About every person in the Philippines owns at least two pairs of these trappings that are called; Tsinelas, Flip-Flops, Thongs, Zories or Slippers, merely a couple of names for the number one footwear. Tsinelas are originally made from abaca fibre and hemp, but nowadays a wide array of materials are used, like plastic, foam, leather, suede, corduroy and even recycled rubber. They come in many shapes, assorted styles, diverse sizes, distinctive patterns, attractive colours and are present in every Filipino household, rich or poor, urban or provincial, multicultural or tribal. They are worn almost everywhere, at the beach, when shopping, playing a basketball game, on the streets, in church, at school and by participants of street dance competitions and parades. Because of their low cost, they are widely used as everyday working gear and great to wear in an equatorial climate, since the open model of the Flip-Flops allows the feet to breathe. Quite a few parts of the country are flooded during the rainy season and dirt roads can have numerous rain-filled potholes, so wearing these casual clogs is quite practical, they are no bother to kick off fast, can simply be handheld either tucked away in a pocket or bag, the dirt can be washed off handily and they dry quickly.
The word Tsinelas is taken from the Spanish phrase "Chinela" meaning slipper or sandal, the popular name "Flip-Flop" is given due to the typical clapping noise that it is producing while walking. Because of the popularity of the Tsinelas this exotic Archipelago has a thriving footgear industry, several towns are celebrating their annual Tsinelas Festivals, showcasing their locally- and hand made products.  In the first week of May, the small  town of Liliw in Laguna has its "Gat Tayaw Tsinelas Festival", a five day festivity with street dancing performed by various cultural dance troops, a "Mutya ng Liliw" (beauty contest) and the promotion of different native products. The picturesque City of Gapan, located at the most southern part of Nueva Ecija in Central Luzon is frequently named the Tsinelas Capital of the Philippines, the friendly residents of this municipality celebrate their festival in the month of August, locals and tourist alike can enjoy the major attraction of this commemoration, a lot of gigantic slippers that are displayed in a captivating parade of multi-coloured floats. Visitors can indulge themselves in a shopping extravaganza, offering the die-hard Flip-Flop fanatics a large collection, vintage and trendy Thongs. Slipper-shaped souvenirs like key-chains, bottle-openers, refrigerator magnets and other baubles are broadly available at the multiple stalls that are set up during this fascinating event. The rustic town is filled with impressive and colourful stores selling uniquely-designed and well-crafted slippers. Over the course of time these easy-breezy, step-ins transformed from being a necessity into a hot commodity and a fashion statement for style-addicts. Some of the best-selling brands have witty names, for instance; Rambo, Alpombras, Mojo, Islander, Duralite, Banana Peel, Spartans, Havainas and Beach Walk, each label has its own particular quality and price range. At present any fashionista's pluggers can be jazzed up with fun accessories like flashy beads, glimmering LED lights, assorted scents and showy ribbons, adding more colours and prints by using special Flip-Flop paint are giving the Jandals a personal touch.
Sandals are not only worn on men's feet, it is a favourite item for parents to drum some discipline into their children as well, this classical and correctional practice is known as "Pamamalo". The durable slip slaps are also an efficient tool for killing flies, mosquitoes and cockroaches, it can serve as a door-stopper, germ blocker and floatation device for toddlers when swimming. Moreover, cut-out parts of a run-down sole are used by carpenters and painters as a make-shift sanding block. Besides all this, not many families can afford toys for their youngest off-spring, so there are a handful of amusing games kids can play with their Tsinelas, like Paway, Slipper Manikin, Shakay (a kind of softball played with slippers and feet) and Tumba Bahay (Slipper pyramid), yet, one of the most well-known is "Tumbang-Preso", a traditional pastime where their slippers are thrown to topple down an empty, can (Lata). This activity is usually played with five to ten children and one of them is chosen to be "Taya" (It) whose task is standing guard on one side of the tin. It is really amazing to see how these youngsters can run fast and do almost everything without losing their mostly worn-down baboosh. Even hiking long distances, through rain and shine, crossing rugged terrain, rocky roads and streaming rivers on their slippers, to get to school seems to be no problem at all for these little ones. Tsinelas that are used outside are, as a rule, not worn inside, it is a Filipino custom to remove slippers or shoes when entering a home, so on many doorsteps a small legion of Tsinelas are left in front of the house entrance, creating hilarious moments and great smiles when family-members or guests accidentally stumble over them and causing irritation when somebody cannot find their own slippers anymore in the chaos of other disarranged shoes. Tensions and emotions among relatives, neighbours or friends can get a bit higher after discovering that some kind of drooling canine ran off with a single piece of just that favourite pair and later on finding it back in a remote spot in a back-yard next door, half-way dug in the mud and chewed up beyond recognition.
From the cradle to the grave, Filipinos are generally superstitious and their Tsinelas are playing a significant role in between, a common believe is that wearing slippers during pregnancy is thought to prevent illness. Sometimes, after a person has died his or her Tsinelas are placed, in the coffin, beside the legs so that they can be used when Saint Peter will welcome the deceased at Heaven's door. In life, it appears as if the entire population of this tropical peninsula is strongly attached to their good old, well-worn wing-tips, when battered or broken, throwing away their favoured flats and replacing them with new ones, is no option what so ever. Trying to repair them with iron wire, glue or duct tape and a considerable amount of improvisation and ingenuity, is always the first choice. Nevertheless, when their trusty Tsinelas has finally reached the end of their life span it is very hard to say goodbye to these cherished gadgets, for the most part they are stowed away in drawers, carton boxes and closets, becoming sentimental reminders of  wonderful days gone by. The multi-purpose slip-shoes have, without doubt, stood the test of time and in the last decades became a way of life in the Philippines. No matter where you look or where you are, nearly everyone, young and old, women and men, are wearing them on their feet. Pinoy business travellers, holiday makers and migrant workers take their treasured Tsinelas wherever they go, giving them comfort and that familiar feeling of home.
For some people it may be the most ordinary and unhealthy footwear ever, but successive generations from all over this Island Nation and different walks of life, grew up with these toesies and have worn them from the day that they learned how to walk, they are an indispensable detail of their cultural identity. In fact; the unique characteristics of the average Filipino are more or less similar to the versatile Tsinela; simple, flexible, modest, easy-going and reliable.
---