Two Days in Ha Nam Ninh Province
---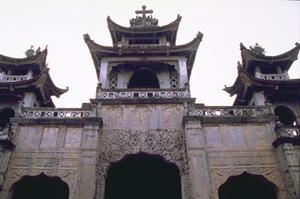 Image ©
2000 Leslie Nevison
The British writer Graham Greene witnessed a battle from the bell tower of Phat Diem Cathedral. The year was 1951 and Phat Diem, the Catholic diocese, was located 120 kilometers southeast of Hanoi on the fringes of territory held by Ho Chi Minh's army, the Viet Minh. "War seemed very simple from the height of a bell tower," Greene wrote of the experience but "clearly, it was an illusion."
I did not seek the battlefield that Greene immortalized in his novel "The Quiet American." I did want to climb Phat Diem's bell tower for the panorama he observed from there of the Gulf of Tonkin to the south, the karst mountains to the west that looked like "piles of pumice" and some of the 200 village churches that are evidence of Ha Nam Ninh Province's historical role as a Christian stronghold rising from the otherwise level landscape just as windmills do in the Netherlands. Upon arrival at the famous cathedral, I was met by the unwelcome sight of scaffolding on the bell tower that barred me from even walking beneath it. A polite young priest emerged from the dusk and apologized for the inconvenience caused by the restoration work--preparations for Phat Diem's centenary (to be held April 14, 2000). He also advised me that the grounds were about to close and suggested that I attend the first mass early the next morning.
Greene had his reasons for being in Kim Son village where the great cathedral had taken shape between 1875 and 1899 under the strong will and creative genius of Phat Diem's first parish priest, Father Tran Luc, better known as Father Six. I was on a two-day route through Ha Nam Ninh Province, an increasingly popular traveler destination because of its magnificent limestone mountains that project from flat, water-filled rice paddies like the gigantic, triangular sails of a flotilla of boats and a landscape made famous by the movie Indochine. With me was Man, a Vietnamese friend in the travel industry who had accompanied me on three previous occasions into Vietnam's remote northern mountains. Joining me this time provided Man with an excuse to escape Hanoi, a city gripped by summer heat, as well as his busy office. He brought along an assistant, a young woman and recent university graduate of foreign languages dressed in jeans and runners and with her hair cut fashionably short. Energetic and eager to practice her translating skills, her name was Khanh, which means in English--appropriately for Phat Diem at least--'bell.'
We had intended to visit Kim Son in the late afternoon and return by nightfall to Ninh Binh town, the province's main tourist accommodation center. By remaining in Kim Son, however, we could attend the pre-dawn church service and our driver, who was born and raised in Kim Son, was able to surprise his parents. Appearing to be the town's only guests, we settled into family owned-and-operated lodgings within walking distance of the cathedral. The hotel was tall and narrow like a tower, a typical Vietnamese building design. My room was one of only three on a floor so high I lost count as I climbed the concrete spiral staircase connecting them. I felt privileged, sheltered in the wing of a castle. Somewhere below gathered a large number of frogs. I knew this would please Man, a reluctant city-dweller, who associated frogs with the countryside. Their steady bass chorus reached me through the open bathroom window as I showered, the cool water a precious treat after a day spent hiking in hot and humid rainforest.
We began our itinerary in Cuc Phuong, Vietnam's first national park founded in 1962, a two-hour drive from Hanoi. Cuc Phuong's 220 square kilometers of primary tropical forest spill over Ha Nam Ninh's borders into two neighboring provinces and safeguard such biodiversity as 1800 plant and insect species. The park's 33 reptile species include pythons and kraits. We encountered a slender member of the latter's family, an immobile and dangerous squiggle on a tree that we had to grasp for support in order to continue along the narrow, winding path. The snake remained unperturbed by the stones and sticks we chucked at it but eventually changed positions slightly and, taking deep breaths, we chanced squeezing by. I was reminded of my first trip into Vietnam's northern mountains when a king cobra stood with splayed hood in the middle of the road as though to do battle with the open-sided jeep in which an amazed Man and I sat.
Completely unthreatening are Cuc Phuong's plentiful butterflies in April and May. White clouds of them swirled in mid-air like large, soft snowflakes caught in an updraft and lit upon puddles on the forest trails. There are two- and three-day hikes to Muong ethnic minority villages, people who have lived in Cuc Phuong's forests for centuries, but we followed the route for day-trippers, a seven-kilometer steep and slippery loop through shaded forest with creepers the circumference of a muscular man's biceps and 1000-year-old trees 40 meters high and 5.5 meters in diameter. At one such ancient tree, a Terminalia myriocarpa, we stopped for a picnic lunch of bread, cucumber, dried shredded pork and yogurt, resting upon parallel rows of concrete benches that mark the spot where Ho Chi Minh delivered the park's 1963 dedication speech. "The forest is gold," he told his listeners.
From forests like Cuc Phuong's came the timber used in Phat Diem's construction. Forty-eight massive ironwood logs support the cathedral's roof, their seven-ton weight floated down rivers and canals to Kim Son and dragged to the building site by buffalo. Sixteen of them, eleven meters high, line the cathedral's long nave and radiate the tangible natural force of Cuc Phuong's living giants. The wooden pillars are unadorned at eye level, but admiring their ornately carved, lacquered and gilded upper ends requires contemplating the ceiling, the direction of heaven, which may have been Father Six's intention.
A visionary architect and engineer, Father Six's Phat Diem is a combination of Western and Asian architecture and religious symbolism. Three pagodas crown the cathedral's western entrance. The bell tower resembles a Vietnamese communal house. Christian apostles chiseled in marble float on Chinese clouds or sit on Buddhist lotus thrones. Angels have the faces of Vietnamese children. It took Father Six a decade to collect the stone, timber and marble to build his masterpiece. He laid the foundation by sinking millions of bamboo stakes deep into the unstable alluvial soil and then layering them with earth, gravel and bamboo rafts and it has withstood a century's passing and a devastating bombing in 1972. Father Six died the year Phat Diem was completed and is buried in the courtyard between the cathedral and the bell tower.
Khanh received her name from her grateful father who, after praying for children at a temple, struck the temple bell as is the Buddhist custom. She shared this story with me as we walked to Phat Diem's five o'clock mass. We had relied on alarm clocks to wake us because Phat Diem's enormous two-ton bell, the sound of which carries a distance of ten kilometers when it marks the hour, was silenced for the duration of the tower's restoration. In the watery light, men cycled slowly past us on creaking bicycles in the direction of the church; women dressed in their best white ao dais and clutching their bamboo pencil-point hats, perched sidesaddle on the back fenders. Inside the cathedral, women sat on the left and men on the right and together they sang hymns and chanted a mantra over and over before the priest appeared and service began. I asked Khanh what they were repeating with such devotion. "They are telling the magic man," she said, "that they will do whatever he asks of them."
Vietnamese tourists often crowd the cathedral on weekends and special religious celebrations like Christmas. I was the only visitor that midweek early morning, left alone by my thoughtful companions long after the mass was over and the congregation had peddled away for breakfast, to the morning market or to another day's labor in their fields. While I sat quietly in a burnished pew, half a world away, a friend's funeral was taking place, and the uncertainty I felt of my decision not to attend was suddenly eased by the curious timing that had delivered me to this healing place, half-church, half-forest. How it came about, I couldn't explain, unless magic had played a part.
While I lingered inside the cathedral, night had given way to a day of slate-colored skies and fine drizzle. I walked across the road from Phat Diem to where Man and Khanh were enjoying bowls of steaming rice noodles full of chicken chunks, tofu cubes, bright green coriander leaves and golden egg yolks, prepared by the proprietor of a simple restaurant that occupied one of a long row of detached houses, each only several paces wide. The buildings were a grey that was indistinguishable from the sky; their wooden awnings and doors muted yellows and reds. These back streets of Kim Son were still, undisturbed by motorcycles and cars. For a moment, the simple scene felt as motionless as a painting, suffused in the pewter light that Graham Greene declared was a spell that Vietnam cast over him, and in which I recognized the inspiration of generations of Vietnamese artists.
After breakfast we left the car at Ninh Thang village and began a twelve-kilometer walk along a rural road to Hoa Lu, the remains of Vietnam's tenth-century capital. Lunch was another picnic at the Bang Long Pagoda, a Buddhist place of pilgrimage for over 500 years. Even seen for the first time, Ha Nam Ninh Province's scenery is familiar as the black pen and ink incisor-like peaks on ancient Chinese scrolls, in which man, if depicted at all, is a stick figure dwarfed by gargantuan nature. The karst pinnacles that jutted from brilliant rice paddies or swaying cornfields reduced the women tending their crops, the duck herders by the roadside, the fishermen in the hyacinth-choked canals and me, to insignificance. Feeling small is a rare sensation in Vietnam and an illusion easily shattered. Several curious women squeezed my upper arms when we stopped briefly to chat with them in their village and proclaimed me as big and strong as a water buffalo.
The hike was an alternative to renting a traditional oval-shaped reed boat and drifting along the Ngo Dong River, enjoying on either of its banks the Tam Coc area, similarly spectacular karst scenery to Hoa Lu's and best known for its tunnel caves and as a movie location. The advantage to walking was that we were always alone, something we appreciated better when we arrived in early afternoon at Hoa Lu and were approached by enthusiastic sellers of cold drinks, fresh fruits and embroidery. The other reason to travel on foot was that we planned to complete our trip with a boat ride on the province's major river, the Hoang Long, of which the Ngo Dong is but a small tributary. Unable to escape empty-handed from the Hoa Lu hawkers, we departed with a greater supply of bottled water than we needed and papayas the size of watermelons.
We bargained for a wooden boat, spacious and solid, at Dong Du'a village, a short drive from Hoa Lu. Many like it ply the Hoang Long River as cargo vessels, ferrying limestone boulders to the Gulf of Tonkin, their navigators and their families residing onboard. Living on the water is a way of life along this river. Kenh Ga village has become an attraction for its large collection of houseboats primarily belonging to fishermen, but some of its residents do live on the riverbanks in tiny, picturesque stone houses. Existence can be perilous for those on land as well as water. If the river floods during the monsoon even the houseboats must vacate Kenh Ga and moor in safer locations. But this was the dry season and not a time for concern. Fishermen contained their catches in bamboo traps anchored along the shores and fed them river plants that their young sons, immersed to their necks in the water and momentarily distracted by our passing, were responsible for gathering. Women propelled smaller craft with their feet. Covered boats carried crosses nailed to their roofs. Stretching away from the river into the distance were receding layers of "pumice" mountains, some of which were quarries. The hundreds of workers that swarmed at their bases appeared the size of insects. For the second time that day I recognized what surrounded me--the vision of Vietnamese artists who isolate their human subjects, often solitary, faceless even, on vast painting surfaces.
Man was dozing. Khanh wore a floppy hat and white cotton gloves over the full length of her arms, measures that Vietnamese women take to ensure that their ivory skin isn't damaged by the elements and which helps to make them among Asia's most beautiful. "Are you tired?" she asked me hopefully, and I was, but I didn't close my eyes.
---