Vientiane : When Will The Levee Break?
---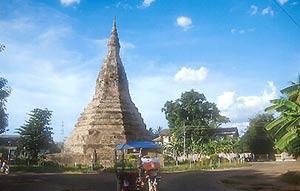 How do we who weren't born yesterday, summon up Vientiane Before The Revolution, recalling that lotus-eaters' idyll on the Mekong through two decades of rose-colored haze?
Some remember dining at the French officers' mess for a few pennies. Others linger lovingly over the marijuana at the Morning Market and recall midnight assignations in the decaying corridors of the Lido Hotel. For my part, there was a lingering sense of a city living on borrowed time in that uneasy lull of late 1974.
Two decades on... At first glance, the years have been kind to Vientiane. Wattay Airport remains closer to the scale of Providence, RI, than of Bangkok. Officials sporting Soviet-style red, green and gold shoulder tabs peer suspiciously at one's visa before endorsing it, a hesitant welcome to the Lao People's Democratic Republic.
The three clean-cut young suits waiting impatiently for their baggage in the 95 degree heat look like portents of change. The journey into town is fully ten minutes. Until, inevitably, they make their mark, Laos remains the kind of place where bank tellers languidly tally up wads of grubby notes never worth more than a dollar apiece and provincial police subject every passing foreigner to their scrutiny.
Most of the French have vacated those stucco, shuttered villas, leaving fragments of language (préfecture, comité central... ) and the lingering luxury of fresh-baked golden baguettes for breakfast, served with paté and thick coffee. The Russians have bequeathed a redundant cultural center, a scattering of "heroic-proletariat" billboards, a few defiant hammers and sickles and the posters of Lenin and Marx which now gather dust at the State Bookshop.
Their places have been taken by the citizens of a wired world, the consultants and the development aid brigade, cruising between steering committee meetings in their gleaming white Landcruisers.
As ever, Talat Sao, Vientiane's vast Morning Market, is a cacophony of 'jambos' (three-wheelers), buses, spluttering motorcycles and squawking stallholders. Lean-to booths cling like limpets around the huge concrete halls. Trudge down aisles of cheap electronics, cassettes and kitchenware and eventually you'll discover stall after stall of traditional Lao weaving reaching from floor to ceiling: abstract elephants from Sam Neua in the remote north, gold-brocaded shimmering silks of indigo or royal blue from Luang Prabang, the old royal capital. In the suffocating heat of June, before the rains break, many stallholders doze, prostrate, before the whirring fans.
The White Rose and White Lotus have been supplanted by high-voltage Thai discos at the slick new four-star hotels. Easier now to find oatmeal cookies than opium.
Yet the soporific City of Sandalwood still seduces anyone disenchanted with the global village of the Third Millenium; Vientiane's sense of other-worldliness remains intact. At the hotel des postes, a young woman - fetching, like so many, in her government-mandated pha nung, the traditional wraparound skirt - solicits my help in labelling some newly-issued stamps depicting locomotives. "Lot fai?", she queries, yes, railroads, of which Laos has absolutely none.
Lotus-eating is easy. Break up the thick woody flowers and chew on the marble-sized seeds, one by one; an acquired taste for most falang. Just don't hanker after the 'huge lumps of marijuana and ready-rolled joints', fondly remembered by some, which the Lao police delight in building into pyres and setting ablaze. Better to settle for a 1700 Kip 'Fantacy Tower' (sic) ice-cream sundae in the market restaurant.
Maurice Cavellerie's Constellation Hotel, a haven for newshounds and spooks in the 1960s, has metamorphosed into the Asian Pavilion, a pleasant enough Chinese hotel of no great character. The Lido Hotel proves harder to trace but materializes at last behind a bamboo scaffolding, its rebirth imminent.
Along Setthathirat and Samsenthai, the pungent, cloying cooking smells still waft out from the terraced Chinese shophouses. Every neighborhood boasts a wat, a steep-roofed temple which usually lends its name to the ban, the French quartier, for Vientiane feels more a collection of villages than the capital of a nation-state.
That is, notwithstanding the imposing grandeur of Patuxai, the faux Arc de Triomphe out along Lane Xang Avenue and, beyond it, the gleaming golden spires of That Luang (which have replaced the hammer and sickle on the national emblem). In the muddy residential lanes behind That Luang, poverty seems evident enough until we notice the mushrooming satellite dishes and the strings of electrical cable.
Once past the presidential palace, the river frontage, Quai Fa Ngum to the French, fades slowly into a dusty lane. A crumbling Chinese arch heralds a row of night market stalls which in the cool of evening dispense fresh green coconuts, furry red rambutan and chilli-speckled meat faux dishes dished up with a wicker basket of sticky, glutinous rice and a plate piled high with leafy fresh greens, spindly runner beans, watercress and the purple hearts of the banana flower. Bun Phet, a hairdresser, and Khampouang, an out-of-work cook, putter up on their Suzukis to share a giggle and an iced coconut milk.
The Mixay Cafe, that ramshackle timber pavilion built out over the banks of the Mekong, no longer plays host to low-rent Russian 'advisers' but you can dream away a torrid afternoon over a plate of spicy minced catfish and a few bottles of Beer Lao, watching the monsoon clouds pile up over Thailand - a different country, a different world - and imagine never leaving.
At another such shanty bar I fall into conversation with the businessman whose villa, close by, was once the home of Souphanouvong, the Red Prince. In the garden there is a tree hammered full of nails, each one recalling a death in those long years of strife. Housekeepers refused to dally after dark until an exorcism was performed.
When will the levee break? Will a tidal wave of Thai techno-pop eventually sweep away the subtle cultural nuances of this perennial poor relation? Lao children now mimic the Thai idioms which fill the airwaves, when for so long the Mekong separated the Lao from those old antagonists who carted off the Emerald Buddha. Earnest young people solicit help with words like 'climatologist' and squeeze into makeshift night-school classrooms. Australian engineers have commissioned a network of public telephones more user-friendly than those next door in Thailand.
Time's up - squeeze into Kham Manh's 30 year old Toyota taxi one last time. Slam the door, the latches fell off long ago. Rattle on out to that giant clasp, the three-year-old Friendship Bridge which pulls together the opposing banks of the mighty river. Both Lao and Thai have hesitated to lift the boom to release a free flow of traffic, but the world beyond is beckoning. More bridges and a rail link are taking shape on the engineers' screens. There's talk of massive dams, trans-Asian highways, transformations.
All too soon, I'm caught in the border-town bustle of Nong Khai, pushing buttons on cash machines, grabbing any glimpse back across the river. Cast adrift, I envy the passengers in those longboats nosing out across the deceptively-placid waters to the idyll on the other side.
Further Information
Visas are issued on arrival to suitably 'respectable' visitors for US$50. Thai Baht and US Dollars circulate freely alongside the Lao Kip, which is not convertible. Outside the major hotels credit cards are not widely accepted.
Vientiane is over-supplied with hotel rooms from guesthouse to four-star standard and rates are relatively low (e.g. $22 for mid-range aircon. single).
Wattay Airport is served by Silkair, Thai and Lao Aviation, although domestic flights from Bangkok to Ubon Ratchathani are more economical; shuttle buses connect the 36 miles to Nong Khai. From Bangkok, overnight trains offer comfortable sleeper accommodation on the Northeastern Line to Nong Khai, where taxis and tuk-tuks are readily available on both sides of the Friendship Bridge.
Laos / A Lonely Planet Travel Survival Kit (Joe Cummings) provides comprehensive background reading as well as practical detail.
---