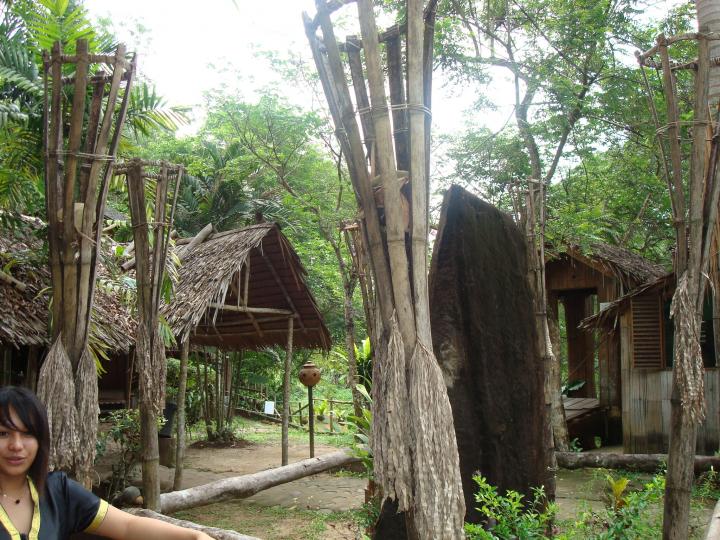 Going to Kota Kinabalu finally was a much delayed trip for me despite it being just two hours away by flight from my current place of abode in the Philippines. I have wanted to visit my friends for the past two years but have not been able to find the time to do so. So, this time around - my kids were on school holidays - I dragged them and my husband to Kota Kinabalu (or KK as we like to call it) to visit my old friends.
There have certainly been some new developments in KK city with new shopping malls like City Mall and Warisan Square Malls, overlooking the vibrant KK Waterfront. I liked the street-mall concept. I went shopping for knick-knacks along the open-air area and indoor air-conditioned podium. The last time I visited KK was six years ago and the only shopping complex I remember hanging out in was the one near Api-Api Centre. Of course at that time, having no kids to worry about, I was happy to be one with nature at the Kinabalu National Park, certainly a place anyone who visits Sabah must see.  
The main part of my trip this time was of course to spend time with my friends, chit chat, catch up on gossips, and eat! That's exactly what we did, in no specific order. First on my friend's list was to make sure I tried ice-cream made in Sabah. I was surprised and proud of course to hear of this venture. So we were whisked off to Vedablu's at Gaya Street. My friend seems to prefer this particular outlet because of the cosy feel. For me, the best part of this experience was being able to taste all their flavors and then ordering those I liked best. How cool is that! We ordered four flavors - yoghurt forest berries, yoghurt strawberry, rum and raisin and raspberry - and shared them. Yummy!!
Understanding my craving for authentic Malaysian cuisine, my friend treated me to Chinese food at Hilltop Restaurant and chicken rice at Wisma Merdeka food court.  And not to forget the nasi lemak bungkus (rice cooked in coconut milk wrapped in banana leaf served with spicy anchovies sambal/chilli paste) that my friend got for me from her favourite "Mak Cik" (auntie) who mans a stall in her housing area. Sigh! Food made in heaven..
Anyway, back to my story. Though eating and relaxing were the only two plans on my agenda, my hubby decided to change all that by taking me to the Monsopiad Cultural Village. We were greeted by natives working in the village, which is based on the legend of Monsopiad a well-known warrior/headhunter of the Kadazandusun people. We were served a welcome drink, in the form of local rice wine before being given a guided tour of the native houses, tools used to make rice wine and of course the most interesting of all - the House of Skulls. The tour is actually followed by a cultural dance which should last about an hour. But since we were in a rush, we decided to skip it and head straight to the Lok Kawi Wildlife Park, a zoo located along the old Penampang - Papar road, 15 km from the city.
Compared to some of the pathetic animal parks I have seen, for instance the Malacca Crocodile Park, the Lok Kawi Wildlife Park was a welcome retreat indeed. Spacious, clean and green. The animals looked happy and we had a comfortable walk without any feelings of claustrophobia. The sun was shining above our heads and the best part about the park was their rest stops. They actually had benches in sheltered rest stops all along the way which made it so easy for us to just sit down and take a break from the heat. From our seats, we could watch the animals, take photos and such. The only other place I felt this comfortable was at the Taiping Zoo, which you should definitely visit if you enjoy this outdoor activity with your children.
Besides the usual animals found in any zoo, the Lok Kawi Park is home to Bornean Pygmy Elephants, Orangutans, Proboscis Monkey, Borneo Gibbons, Borneo's Rhino and Sun bear, which are native to Sabah. During certain hours, the Park also holds some animals shows. We were lucky to be on time to catch the show. The stars of the show were snakes, parrots, orang utan and hornbills. Amazingly, my son who usually prefers to stay in the sidelines, volunteered to help feed the parrots and participate in a game involving the birds. I guess the hosts did well in luring children to play a part in the show.
Food, shopping, history, animals - all covered in this trip. Maybe the next time I'll travel out of KK to view the great sceneries and visit the natives. Hope it doesn't take me another six years.
---