The wetter the better: Thailand's Songkran festival
---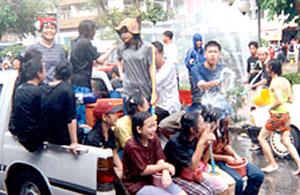 Image ©
2000 Donald Gilliland
Imagine this scene: scads of Clampett-like hillbilly families crammed into the back of pickup trucks, chugging along in bumper-to-bumper traffic and squirting water at other vehicles and pedestrians. The water warriors use squirt guns, super soakers, hoses, buckets, garbage cans and anything else they can get their hands on in order to disperse their liquid ammunition. Drive-by squirtings everywhere.
It might sound like a Hatfields versus McCoy's feud, but it's just another Songkran, the wild and silly Thai water festival that is held each April. Scowls are replaced by huge grins as people of all ages take to dousing one another with water for three solid days, from sunset to sundown. Sure, it sounds like a hackneyed way of venting your frustrations, but the water throwing tends to be done playfully with no malice or destructive intent. The sea of smiles you see everywhere supports that theory. During Songkran - an official holiday throughout Thailand - there are parades, beauty pageants, singing, dancing in the streets and lots of water. Visitors should expect to become totally drenched - and love every minute of it!
The most famous spot for Songkran revelry is in the northern city of Chiangmai, where thousands of foreign tourists join the locals for a bit of watery mayhem. The moat-like canal that circumnavigates the city's old quarter, serves as both a source of water for Songkran participants and an inner boundary for the route used by vehicles that continuously drive the circuit all day. If you think you can escape the man-made showers by ducking down side streets, forget it: there will surely be a group of children waiting to ambush you! It's not until after sundown that the streets become clear of all water battles.
Conversely, the capital of Bangkok becomes pleasantly quiet during Songkran week, thanks to the large percentage of residents that leave the metropolis and return to celebrate the holiday in their home province. Even with this mass exodus, you will still find pockets of definite wet zones around Bangkok, particularly on Khao San Road (Editor's Note: Khao San Road website) and the Patpong nightclub quarter. Bus riders, especially those riding non-air conditioned models, also need to be careful. Eager water throwers have been known to board buses or hurl buckets of liquid through open windows.
Songkran marks the start of the Buddhist New Year and officially lasts from April 13-15, although a handful of communities postpone - or extend, in the case of Pattaya -their observances until the following week. Most business pretty much grinds to a halt during the festival period with schools, government offices and many shops shutting down. Airports, bus stations and train stations are jammed with travelers headed back to their home provinces. If you don't have a reservation, you'll find seats very difficult to obtain. It's quite common, thus, to see many passengers riding on the roof of trains during the days before and after Songkran. The other down side is the frightening increase in fatalities due to bus accidents during the festival period.
Puzzled foreign observers are always curious about the reasons behind this soggy celebration. The origins of Songkran date back nearly a thousand years to when the Tai people (ancestors of modern day Thais) in China's Yunnan Province celebrated the start of a new farming cycle during the fifth full moon of the lunar calendar. Water is used in Songkran as both a symbol of cleansing and renewal. Although throwing large amounts of water constitutes the bulk of today's Songkran festivities, this was not always the case. In the past, Thai people would delicately sprinkle scented water from silver bowls or the hands of respected family members. They would also make pilgrimages to area temples and carefully bathe the Buddha images in a similar manner. Songkran is also a time when Thai people routinely do a thorough cleaning of their homes. Additionally, people make offerings to local temples and provide food and new robes for monks. Others build sand castles on the temple grounds as part of a merit-making ritual. Related to the water pouring is a ritual that involves tying strings around the wrists of elders and expressing good wishes. At Songkran a person could end up with dozens of strings on each wrist if they are around enough family members and friends. Customarily the strings are to be left on the wrist until they fall off of their own accord.
In recent years, however, the humble religious aspects of the holiday have given way to unrestrained water warfare. Surprisingly, considering the number of people and vehicles in the slippery mix, you will rarely observe any accidents or cases of road rage. Even police officers, stationed to prevent total anarchy from developing, become smiling, willing targets - though they are doused a lot more gently than the average citizen.
One less pleasurable element to Songkran is the dreaded white powder. Originally this powder or paste was applied to the face, neck or torso of others as a sign of protection or to ward off evil. Nowadays it is smeared on indiscriminately and can sting the eyes of unsuspecting victims. When venturing out into the streets during Songkran, it's best to wear goggles or some sort of eye protection. It's also a good idea to keep your money and other water-sensitive valuables wrapped in a plastic bag - or better yet, left at home. Most people will want to take photos of the action, but unless you have a waterproof camera, or use a zoom lens from a safe distance, better to leave your equipment at home.
Don't let these few little negatives dissuade you from joining the party, however. If you decide to stay indoors you'll miss out on a great time. Joining a crowd of merry Songkran celebrants is intoxicating. The festival may not be as wildly decadent as more famous street parties like Mardi Gras in New Orleans or Carnival in Rio but it's highly unlikely you'll ever find yourself amongst a happier group of people. Certainly, they will be the wettest bunch you've ever hung out with!
* * * * *
---