Off the Rails in Phitsanulok
---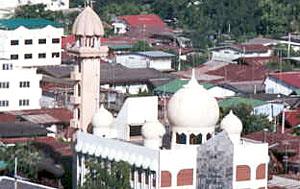 Image ©
2001 Donald Gilliland
The last time I glanced, Phitsanulok did not rank anywhere on the Tourism Authority of Thailand's list of Top Ten spots to visit, but the tourist-friendly city certainly deserves some sort of honorable mention. Where else can you visit lovely old Buddhist temples and catch flying vegetables in a frying pan?
Nestled on the banks of the lazily flowing Nan River, Phitsanulok is one of Thailand's more charming discoveries. For those taking a train or bus from Bangkok to Chiangmai, Phitsanulok lies about half way along the route, making it a perfect place to break up the long journey. For those preferring to fly, both Thai Airways and Bangkok Airways offer daily flights to Phitsanulok that take less than an hour.
Like the river that bisects the town, the pace of life in Phitsanulok ticks by slowly. Though its name might sound more like a urinary tract infection, the town itself is a pleasant one with plenty of activities and sights for visitors to enjoy. Many tourists use Phitsanulok as a base for traveling to other nearby historical sights and parks: the spectacular ruins of Sukhothai (the first capital of the ancient Thai kingdom) are only an hour away, and just downstream on the Ping River is Kampaeng Phet, the site of more old temples and cultural museums. A little further away from town (about a two-hour drive) is Phu Hin Rong Kla National Park, where visitors can view unspoiled mountains, waterfalls and forests.
The most famous sight in Phitsanulok itself is Wat Phra Si Ratana Mahathat, more commonly known as Wat Yai. Housed inside this glorious 14th-century temple complex is the Chinnarat Buddha, considered Thailand's second most revered Buddha image after the Emerald Buddha in Bangkok's Wat Phra Kaew. Within walking distance of Wat Yai are two other old temples worthy of a quick visit: Wat Nang Phaya and Wat Ratburana. About five kilometers south of the city is Wat Chulamani, another Sukhothai period (over 700 years ago) temple that boasts Khmer style towers and carvings. Closer to downtown is the Buranathai Buddha-casting Foundry where you can watch bronze Buddha images of various types and sizes being made. A short walk across the street from there is the Thawee Folklore Museum, considered the best of its kind in the country. This museum is filled with odd, fascinating artifacts from Northern Thailand, covering everything from musical instruments to village handicrafts and even an authentic reproduction of a Northern village home. Phitsanulok is an easy town to explore on foot. Most of the inner city highlights can be seen in one day. Near the Nan River, the park-like riverfront area has been spruced up with lots of attractive flowers, bushes and trees. Benches are also provided in case you feel the urge to sit and rest for a spell. Adding to the colorful river scenery is a plethora of old houseboats, some of which double as restaurants. In fact, Phitsanulok remains the only town in Thailand where it is legal to live on a houseboat within the city limits!
If you're hungry, Phitsanulok is an excellent place to fill your stomach. No less an authority than the Lonely Planet guidebook, says that: "Phitsanulok is a great town for eating - there must be more restaurants per capita here than just about any other town in Thailand." Diners can choose from a vast array of humble Thai restaurants as well as Chinese and Muslim establishments. For those less adventurous, Phitsanulok boasts the Topland Plaza (located next to the massive Topland Hotel) where you can find global fast food conglomerates such as Pizza Hut, KFC and McDonalds. After sunset, the riverside is a popular destination for hungry souls. Besides the floating houseboat restaurants another popular dining option in the area is the night market. Here you will find the famous flying vegetable, known in Thai as "Phak Bung Loy Fah." The main reason for its fame, apart from its deliciously tangy taste, is the manner in which the dish is cooked and served. The dark green morning glory vines are cooked with garlic and soy sauce and thrown high into the air by the cooks. You won't find a better example of Thai culinary performance art anywhere! After the cook has stir-fried a batch of the morning glory greens in a wok, he flings the contents back into the air and into the arms of another cook - positioned on an elevated platform - who is waiting to catch the slippery vegetables in a companion black skillet. Willie Mays would be impressed with the catching abilities of these guys. Camera clicking tourists are also invited to participate in the throw-and-catch spectacle. The results of these food gymnastics are inevitably humorous since most first-timers end up either throwing the vegetable on the ground - or on themselves!
Besides the multitude of food choices there are shopping options galore at the many stalls in the night market. While it doesn't rival Chiangmai's famous Night Bazaar, Phitsanulok's version of shopping nirvana has more than enough selections and prices are cheap. There is also no shortage of folk music pubs, discos and karaoke bars in Phitsanulok. Most of these Thai style establishments are unpretentious and lots of fun. Just like Phitsanulok itself! Next time you are planning a trip to Chiangmai - or anywhere in Northern Thailand - consider a Phitsanulok stopover to recharge your batteries and add yet another unique Thai experience to your list of travel memories.
---