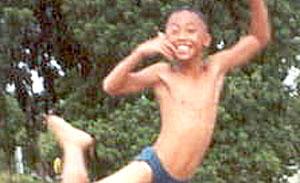 Image ©
2001 Donald Gilliland
Lopburi needs a good new nickname. It's not that Lopburi is another one of those anonymous dusty Thai villages that nobody knows about. That's far from the case. Most everyone in Thailand, natives and tourists alike, are aware that Lopburi is "that town with all the monkeys." While that association provides Lopburi something to distinguish it from other small Thai towns, it also pigeonholes the city as nothing more than a haven for banana-munching primates. Monkeys, monkeys everywhere.
Like many tourists, I had passed through Lopburi while traveling upcountry by train on several occasions, but I had never taken the time to stop and explore the place. Besides all the monkeys, I had heard that Lopburi boasted a few interesting old temples, too - ancient Khmer-styled ruins to be specific. But every time I'd pass through town, the sight of hundreds of monkeys running pell-mell around the heart of the city was intimidating enough that I dismissed the idea of disembarking and having a look around. I certainly didn't want some hairy beast running up and pulling on my leg (of course that happens back in New York City any day of the week). So, I was content to watch the monkeys from my train window, especially after hearing tales that some of the not-so-little buggers engaged in camera snatching and other mischievous shenanigans.
Curiosity got the best of me, though, and I finally decided to check out Lopburi's temples and monkeys up close for myself. Part of the motivation for that decision was due to a work assignment that I agreed to take: teaching a series of English teaching seminars, one of which was scheduled for Lopburi. If I was going to be in town, I figured, I might as well do a little sightseeing. By doing so, not only did I discover how interesting and friendly a city Lopburi is, but also I found that those darn monkeys weren't nearly as aggressive or mischievous as I'd reckoned. Quite frankly, they seemed to ignore my presence altogether while I roamed around the city's old temples. One thing that did stay true to the stereotype; those critters were everywhere!
Even so, there is much more to Lopburi than "all those monkeys." The grand Khmer temples, an old royal palace and museum, a zoo and friendly locals - all help to make the small city a memorable place to visit. Within a few minutes drive of the city there is also an abundance of picturesque mountains, waterfalls and caves just waiting to be explored. Located 150 kilometers north of Bangkok, Lopburi can easily be reached in less than three hours by bus or train. If you have private transportation, the journey is even faster thanks to a good network of roads.
Most of the town's monkey population can be found in and around Prang Sam Yort, an old Khmer temple with three distinctive "prangs", or towers, made of sandstone. The temple itself isn't particularly large, but it is quite photogenic and home to the largest monkey community in town: hundreds of furry little critters stroll about the grounds as if they owned the place (I wouldn't even doubt that they've taken a lease out on the place!). Prang Sam Yort, like most of the old temples in Lopburi, is within easy walking distance of the downtown railway station. A few blocks south of that point you will find the much larger Wat Phra Si Ratana Mahathat, a 12th century Khmer temple. The temple was recently restored by the Thai Fine Arts Department and visitors can now marvel at the collection of carvings and lintels located there. Further west, towards the Lopburi River, is Phra Narai Ratchaniwet, the palace of King Narai, a 17th century ruler of the Ayutthaya period. Built by French architects, the palace blends European and Khmer design elements to forge a unique look. The attractively landscaped grounds serve as a shady park for locals and there is also a cool museum housed in three nearby buildings. Between the palace and the train station are a few more small Khmer ruins for temple enthusiasts to admire, including Prang Khaek, the oldest structure in town.
Walking down by the river one afternoon, after my seminar duties were finished, I stumbled upon some monkeys of a different sort: Thai school boys out for a swim. The sixth-graders were taking turns diving off a bridge into the muddy river and swimming to shore. When they spied me trudging up the riverbank, they rushed over, still dripping wet, and greeted me with polite "wais" (the Thai style greeting with the palms of the hands pressed together). After chatting for a few minutes, the boys begged me to take photos of their daredevil leaping activity, which I gladly agreed to do. After bidding them farewell, I continued along the river and made a loop back to the Lopburi Inn, my accommodation during the seminar. At other points along the way more children waved and shouted the obligatory "hello" and "how are you." Good vibes all around.
Monkeys? Sure, you can't miss 'em. But don't stop there. Lopburi has many more memorable treats to offer the curious visitor. Now we just have to work on that new nickname.
* * * * *
---