The Write Stuff: Bookstores of Saigon
---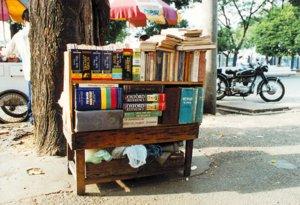 Everyone who's anyone, or at least every foreigner who reads in Saigon, has been talking about it
"Have you seen the new bookshop on Dong Khoi?"
Have I seen it? Have I ever! Just trail your fingers over those slick covers. These are not photocopies of photocopies of The Quiet American. Just rest your gaze on all those neatly organized shelves. These are not the wares of eager hawkers with fake Rolexes lining their vests who call out to you in raspy whispers, "Psst. Madame. Hey, madame. Wanna buy a copy of the History and Philosophy of Caodaism?" Indeed, this is a clean, well-lighted place, and these are genuine, copyright-uninfringed books.
The Seven Habits of Highly Effective People. The Culture Shock travel guides. The Celestine Prophecy. Family Circle Step-by-Step cookbooks. Eyewitness guides. Do you have a coffee table? Take your choice. English country gardens or art-deco interiors. There's even a copy of Love Story, albeit abridged for readers of English as a second language.
To people who live where bookstores are plentiful, this excitement may seem unnecessarily dramatic. But to us poor provincials sweating it out in the otherwise magnificent Ho Chi Minh Ville, October 12, 1995 at 185 Dong Khoi Street was a red-letter day: the grand opening of Xuan Thu, promoted as "HCMC's first foreign language bookstore." Disregard the Barbies. Disregard the Wet & Wild cosmetic display. Disregard that there is a solicitous salesgirl in a pink ao dai for every dozen books in the store.
If Xuan Thu doesn't have the book you want, the store promises to order it. In the front of the store, next to an impressive selection of international newspapers, is a kiosk of the most recent American publishers' catalogs. The quote is four weeks. As a former bookseller in the United States, I find this a bit optimistic, but I'm told they order from nearby warehouses. Even if it does take a few months, for those of us who live here it's well worth it. I had a box of books shipped from Seattle in June, and there's still no sign of it. Between customs at the airport, and cultural censorship down at the post office, getting printed matter into this country is not an easy task.
The only element noticeably lacking at Xuan Thu is novels in English. It's only a matter of time, I'm sure, but while you're waiting'or for those of you who don't have time to wait'there are a few other reliable sources at hand. For the thick, pulpy stuff, ideal for those long train rides to Hanoi, your best bet is the stretch of De Tham Street that runs perpendicular to the main traveler's drag, Pham Ngu Lao. Six months ago there was one little shop across from the Kim Cafe where you could secure Tom Clancy, Wilbur Smith and the random Vietnam war epic. Now there are almost half a dozen such used book stores. Paperbacks run about five dollars, and you can buy a cheap, black market CD, postcards, a hand-woven backpack, or a silk blouse while you're at it.
Other sources of reading material are the government bookstores on Le Loi or Nguyen Hue. Prices in the government bookshops are fixed and this almost always guarantees the lowest in town. Among the Vietnamese translations of Ivanhoe, Jane Eyre, Scarlett and Diana, you'll be able to find something to hold your interest and serve as a souvenir at the same time. One of my favorites is the bilingual edition of Vietnamese Legends by George F. Schwartz.
But for readers who make books their religion, Quoc Su, at 20 Ho Huan Nghiep Street, is the real temple. It may look slight'you can easily pass it a dozen times before you notice it'but remember the traditional relationship between great things and small packages. Not an inch of space is untouched. If it's not a faded, floor-to-ceiling bookshelf, or a rickety table stacked with bruised mementos from an earlier era, then it's a creaking, bucket-seat chair where you can slump for a read. Quoc Su was founded about five years ago, but its stock spans decades. There are 1930s guidebooks to Saigon, Phnom Penh and Angkor; cobwebbed, black-and-white photography books of Saigon during its colonial days; and an intriguing selection of political strategy pamphlets, both foreign and Vietnamese. While most of the books are in French, English readers will also find plenty to chew on.
There are the usual offerings'Robert S. McNamara, Stanley Karnow, Le Ly Hayslip'as well as pulp novels. Suicide Charlie anyone? But the real treasures are books that slipped into obscurity in the West many years ago. With the aid of photocopiers, local "publishing houses" have mass produced dozens of books in English about Vietnam, including many that are long out-of-print. For instance, I found Tiger Men, by Barry Peterson, who explores how the Montagnard people have been reshaped by the encroaching civilization. And anyone who's hip to the hype knows the likes of Neil Sheehan'have you read Vanity Fair magazine lately?'but not many are familiar with his wife, Susan, who in the 1960s turned her literary microscope on the diversity of the Vietnamese peoples in Ten Vietnamese.
The bonus at Quoc Su is that when you've finally made your selection you can relax in a creaking, low-slung chair just outside the front door, beneath a canopy of outstretched leaves. Ho Huan Nghiep is a quiet, side street that feels as if it belongs in rural France rather than downtown Saigon.
The final stop on the book circuit is Xunhasaba, the largest foreign magazine and newspaper distributor in town, located at 76E Le Thanh Ton Street. Its dim, tight quarters are shared with a tailor shop that caters to the tourist crowds. (Again, it's helpful if you speak French.) The upper shelves support a wide variety of coffee table art books, ranging from Matisse to Russian impressionism. The few novels in English are generally high quality with prices that are consistently low. On my last visit I bought Sister Carrie and The Heart is a Lonely Hunter for $2.50.
All of Xunhasaba's diverse stock is worth perusing, but its creme de la creme is to be found in a collection of fiction tucked into a small pocket halfway down the right wall, next to stacks of back issues of the Vietnam Business Journal. The back covers of these books are blank, soiled yellow from handling and decades of pollution, their pages are brittle. But these dozen or so neglected volumes represent the only'at least so far as my search has taken me'uncommercialized offering of Vietnamese literature in translation in town. I'm surprised that the government presses have not caught on and reissued them in mass form. They project rarely-heard voices of the Vietnamese themselves:
"Wood within it holds the essence of fire
And this fire hid can spring to life
Why deny that it is there
When out it will leap when one delves the wood?"
This poem was written in the eighth century by Ngo Chan Luu, a Buddhist monk. It is the first entry in Vietnamese Literature (Red River Press, Hanoi), more than 1,000 pages that chronicle Vietnam's view of itself through the ages.
In the dusty recesses of Vietnam's book stores, away from the din of modernization, we begin to get a glimpse of the people and their traditions. For years Vietnam has resisted the pressure of outside forces; now, judging from the racks of pulp fiction on De Tham, the tables filled with glossy ESL titles in Xuan Thu, the world is invited back. But with a new twist. And it's not necessary to read between the lines. This time, Vietnam will have the last word.
Where:
Xuan Thu
185 Dong Khoi Street
Shops around De Tham & Pham Ngu Lao Streets
Quoc Su
20 Ho Huan Nghiep Street
Xunhasaba
76E Le Thanh Ton Street
---