Asian Films Are All Over the Map at Cinequest 2004
---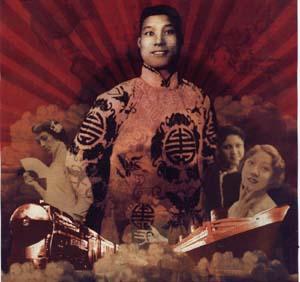 Two films from Japan, two from China, one from South Korea, one from Sri Lanka, one from Afghanistan, one from Mongolia, and even one from Canada, are featured among the dozens of international films at San Jose's Cinequest 14 Film Festival. The Asian selections run the gamut this year, from documentary to drama, from red tape to romance, from humor to horror, from eccentricity to existentialism, from mystery to magic. And when it comes to international film festival fare, one never knows quite what to expect, except, of course...the unexpected.
Cinequest 2004 Asian Films:
The Magical Life of Long Tack Sam
Country - Canada
Director - Anne Marie Fleming
Producer - Anne Marie Fleming, Svend-Erik Eriksen
Cast - Anne Marie Fleming, Bill Meilin, et al.
Running Time - 90 minutes
With The Boy Who Plays on the Buddhas of Bamiyan, Arakimentari, and When Rouma was Seventeen following close on its heels, the best of the batch at Cinequest 14 is The Magical Life of Long Tack Sam. In what might otherwise have been yet another soporific, monochrome, monotone documentary, director Anne Marie Fleming has unfurled a tale as magical and whimsical as its name. Enhanced and interspersed with digital editing techniques and simple yet lifelike animation of vintage photos, along with comic-book style storytelling segments, droll memoir interviews with family members, turn-of-the-century film footage, and lively narration and musical score, the amazing story of Long Tack Sam, the greatest Chinese magician in the history of vaudeville, comes together piece by piece and springs to life on the silver screen. No less amazing is Anne Marie Fleming's undaunted pursuit of his life story as she follows in the footsteps of her great grandfather Long Tack Sam across five continents. By far one of the best biographical documentaries ever made.
The Boy Who Plays on the Buddhas of Bamiyan
Country - Afghanistan
Director - Phil Grabsky
Producer - Amada Wilkie
Cast - Mir Hussain, et al.
Running Time - 96 minutes
Since that fateful day in September 2001, the eyes of the world have been cast toward Afghanistan. Yet, with the exception of media news reports of American troops in their search for Osama Bin Laden and the Taliban leaders, the world knows little of daily life in this remote and primitive region of the planet. But perhaps many may recall the public outcry at the Taliban destruction of the Buddhas of Bamiyan, a massive shrine of statues carved into the barren cliffs, and Afghanistan's most prominent tourist destination. Today, the ruins of Bamiyan serve as a cruel reminder and an inhospitable refuge for those families who were lucky enough to escape the scourge of Taliban.
For most of a year, documentary filmmaker Phil Grabsky risked his life to fix his lens on one such Afghan family. The family members include Abdul, the twice-widowed patriarch, Mirwari, his third wife, Gul Afrooz, daughter of Abdul by his second wife, Khoshdel, her husband, and Mir, the eight-year-old son of Abdul and Mirwari. With the impish and ever buoyant Mir as both protagonist and tour guide, The Boy Who Plays on the Buddhas of Bamiyan chronicles a year in the life of what's left of the Hussein family as they struggle to reconstruct their lives in the wake of the Taliban holocaust in Afghanistan.
Arakimentari
Country - Japan
Director - Travis Klose
Producer - Jason Fried
Cast - Nobuyoshi Araki, et al.
Running Time - 85 minutes
In a society that has banned all published works containing full-frontal graphic erotica, photographer Nobuyoshi Araki is undoubtedly its most notorious maverick and boldest pioneer. Yet, in this disturbingly candid turnabout documentary, the camera is pointed instead at the master himself, as filmmaker Travis Klose explores the lurid psyche, the bittersweet biography, and the nonpareil techniques of Japan's most controversial artist.
For 85 voyeuristic minutes, the audience is invited to peer over the shoulder of Nobuyoshi Araki as he works his models and his magic to produce some of the most strikingly unforgettable images in the history of photography: Photographs of naked or nearly-naked women, some of them bound and suspended from the rafters with coarse ropes; photographs of flowers and facial features that allude to human genitalia, somber scenes of urban Tokyo and barren landscapes, and achingly frank portraits of his beloved wife Yoko, who succumbed to a swift and sudden illness in 1990.
By the time the credits roll, Araki has revealed himself as an artist, a humorist, a philosopher, and a man of profound pathos, insatiable appetite and inexhaustible vitality. And whether because of its visual candor, or in spite of it, Arakimentari is one of cinema history's most riveting documentaries.
When Rouma Was Seventeen
Country - China
Director - Zhang Jirui
Producer - Hou Keming, Wang Zilang
Cast - Li Min, Yang Zhigang, Shu Linyuan
Running Time - 88 minutes
In the scenic Yunnan Valley of rural China dwell the people of the Hani tribe, an ethnic group of about 1.25 million people. They have their own language, and are primarily an agrarian society who build their tribal villages on the slopes of the mountains, which they also terrace for the cultivation of rice. The costumes of the Hani women are especially colorful, and Ruoma is an especially beautiful young Hani woman. So beautiful in fact, that tourists often stop to have a snapshot taken with her, wearing her native garments in the town market where she peddles ears of freshly roasted sweet corn.
One day, an opportunistic young photographer named Ming, who lives in a flat above the marketplace, is captivated by Ruoma's beauty. He soon hatches a scheme to charge tourists 10 yuan to pose for photographs with Ruoma overlooking the picturesque terraces of Yunnan. As romance blossoms between them, Ruoma reveals her dream of someday traveling to the big city to ride a glass elevator to the top of the tallest skyscraper. Meanwhile, Ming has his own dreams of becoming a professional photographer. Although fraught with obstacles, the youthful lovers persevere in pursuit of their goals, as this fresh, unaffected tale winds to its charming conclusion. A sweet and uplifting film that offers a rare glimpse of everyday life in provincial China.
Rewind
Country - South Korea
Director - Hak-Soon Kim
Producer - Hak-Soon Kim
Cast - Hyun-Sung Chang, Eun-Jin Pang, Youn-Hong Oh, Hyun-Jin Sah
Running Time - 98 minutes
Life couldn't be less inspired for South Korean film star Hyung-Sung Chang in his role as a forlorn video rental shop owner whose wife has left him for another man. His aimless days are spent carrying out the meaningless tasks of ringing up rental charges, rewinding tapes and shelving videos, until one day he finds an anonymous love letter in his video return box. Soon thereafter, he discovers a home video of the household activities of an ordinary local family, some of them of an intimate nature, which has been mistakenly returned in place of the rental tape.
When the woman he saw in the video comes to his shop in search of it, he denies having seen it, and a relationship evolves between them over the next few weeks, as the woman continually stops by to inquire whether he has found it. In the interim, the shop owner has struck up a friendship with another female customer, all the while arranging the occasional nostalgic rendezvous with his ex. His simple existence has become suddenly rife with subterfuge, as the title Rewind takes on many subtle new meanings. Fatalistic and humorless, yet oddly well worth the 98 minutes to view it.
Cala, My Dog
Country - China
Director - Lu Xuechang
Producer - Wang Zhongjun
Cast - Ge You, Xia Yu, Ding Jiali, Li Bin
Running Time - 100 minutes
Yet another depressing lament for life among the have not's in urban China, Cala, My Dog tells the woeful tale of Lao Er, a hapless factory worker whose devoted pooch has been confiscated and impounded by the municipal dog catchers because he couldn't afford the exorbitant sum of 5,000 yuan to purchase a dog license. In a countdown reminiscent of a ticking time bomb, Lao Er has just 24 hours to come up with the money to rescue his beloved pup. Amid his canine woes, his life is also beset with a dead-end job, a nagging wife, and a rebellious teenaged son. His only hope, it would seem, is an erstwhile girlfriend with connections in high places. Cala, My Dog is no walk in the park but a worthy film nevertheless.
The Man Who Wipes Mirrors
Country - Japan
Director - Seisoku Kajita
Produces - Yukio Takemura, Makoto Ueda, Haruhiko Yoshida, Natsuko Kitani, Takfumi Ohashi
Cast - Ken Ogata, Komaki Kurihara, Issa Hentona, Ryoko Kuninaka, Mashiko Tsugawa
Running Time - 117 minutes
When it comes to obsessions, they don't get any stranger than The Man Who Wipes Mirrors. This deadpan portrayal of Tsutomu Minagawa, a man on the eve of retirement, revolves around an ill-timed and ill-fated accident involving a little girl, an automobile, and a convex traffic safety mirror badly in need of a shine. Although the child's injuries are negligible, her parents insist on pressing charges against the Minagawa family to the point of extortion. And as Mrs. Minagawa frets over the escalating accusations and dreadful implications of the mishap, her husband spirals into an angst-ridden psychosis, in which he vows to polish every convex traffic mirror from one end of Japan to the other. At this pivotal moment, the film assumes the guise of a bicycle travelog, in which Minagawa travels the byways and backroads with bucket and ladder in tow, against the panoramic backdrop of provincial Japan. And in predictably classic Japanese style, Minagawa's mission soon becomes a matter of national concern and a heroic team effort. Charming and scenic, but slow as molasses on Christmas Day.
August Sun (Sri Lanka) and The Story of the Weeping Camel (Mongolia) were unavailable for review.
* * * * *
San Jose's Cinequest 14 opens Wednesday, March 3, 2004 and continues through Sunday, March 14.
* * * * *
---