On the banks of Hoan Kiem Lake
---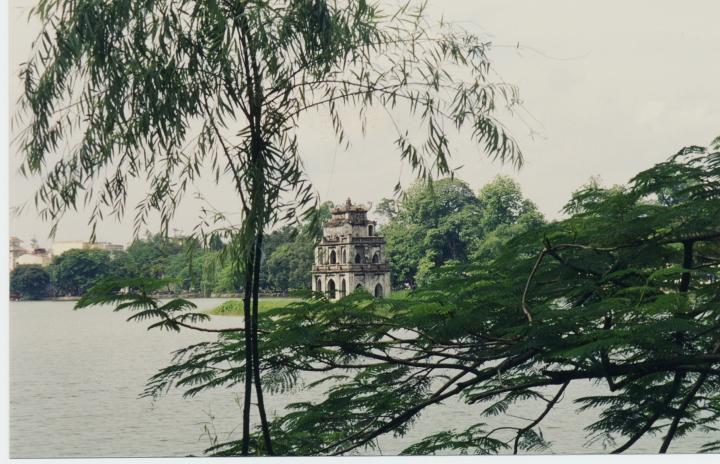 Image ©
2006 Samantha Coomber
It is 5.30am in the morning in downtown Hanoi. Bleary-eyed, I am standing on the banks of the City's revered Hoan Kiem Lake, a small body of water in the centre of the city. The sky is slowly lightening up the new day as Hanoi awakens from its nocturnal slumber. An all-consuming morning mist gently rises off the water and the air is refreshingly cool. Even at this unearthly hour, I find surprisingly that I am not alone. In fact, far from it - the place is packed with a multitude of Hanoi citizens. Dozens are to be found walking around at a swift pace, the men dressed mostly in singlets and shorts. They look as if they are in a great hurry to get somewhere. Is this Hanoi's version of the "rush hour"? Surely they are not going off to work dressed like that? Then I stumble across some groups of women participating in gentle aerobics on the pavements and many solitary figures stretching, exercising and limbering up at the waters edge. In fact, the entire perimeter of the lake is a veritable hive of early morning activity and resembles a giant, makeshift exercise room. Except exercise never had so much ambience: I remember only uninviting draughty village halls in rain-lashed England.
Come rain or shine - or in this case monsoon and typhoons - an army of mostly over-50's ladies are here without fail to perform their daily ritual. As is their tradition, the Vietnamese look after themselves well into their later years. I find one or two groups unraveling the graceful steps of T'ai Chi in studied silence, but it seems Vietnam moves with the times and it is modern aerobics which seem to now take precedence. Women dressed in their normal baggy attire fastidiously workout in time to distorted, booming Vietnamese voices yelling out moves accompanied by tinny background tunes. The noise appears to come from small loudspeakers wired to nearby trees. At the end of each sequence, the women form a small circle and pat each other on the back in time to the music. There is no age limit; I notice one dear old lady on the wrong side of eighty. Her long, gray hair is scrapped back with a velvet headband and she wears traditional Vietnamese clothes - black baggy silk trousers, jade beads and a long-sleeved silk shirt. But her thin, frail and slightly hunched body successfully keeps time to the rhythmic beat with the best of them. I am invited to join in, but graciously decline, as it's far too early in the morning for this couch potato. Meanwhile, the younger generations take advantage of the relatively quiet streets and kick soccer balls alarmingly near the odd on-going motorbike. Some groups play precarious games of shuttlecock, dodging the near non-existent traffic.
Hoan Kiem Lake is an unexpected calm of tranquility at the very heart - literally - of Hanoi, Vietnam's Capital City. It's a welcome oasis from the incessant drone and honking horns of an epidemic of motorbikes that constantly roar around town. Surrounded by willowy shady trees - and cherry blossoms in the spring - the lake is a refreshing shelter from the hectic pace of the city and sweltering temperatures. In fact it's a beautiful spot for rest, relaxation and - if you have enough energy - a spot of exercise. Almost sacred to Hanoians, historically the lakes' beginnings go back several centuries.
Hoan Kiem Lake means "Lake of the Restored Sword" referring to some legendary fifteenth century Vietnamese hero, whose magical sword - so the story goes - was swallowed by a golden tortoise. Hence on a tiny island in the middle of the lake stands appropriately "Tortoise Tower," an ancient three-tiered pavilion in memory of the famed tortoise. On another islet to the north, inside the fourteenth century Den Ngoc Son Temple, a giant preserved turtle encased in glass keeps the legend alive. This picturesque temple is linked to the shore by the red-lacquered Huc Bridge, which is resplendently mirrored in the murky waters below.
As if suspended in time, this eternal location is surrounded by some inevitable modern developments, such as lofty corporate towers and the main post office block, but the strategically placed foliage thankfully disguises these.
If you are planning to loiter longer around Hoan Kiem Lake, once the initial flurry of early-morning movement dies down, the pace settles into a more laid-back daytime scenario. Men of all ages crouch under canopies of trees playing vigorous games of Chinese checkers and cards. Intertwined Vietnamese lovers steal some romantic moments upon shore side stone benches. Small boys try their hand at a spot of fishing and old women cool themselves with exquisite silk fans and reminisce of times that were not so kind. For tourists, many of whom can be found strolling around the banks, it's a wonderful break from the temptations of Hanoi's non-stop shopping and sightseeing. Some pleasant cafes are strategically placed in prime lakeside locations and a few lazy hours can be spent sipping iced coffees and maybe catching up with a good book. The lake in fact seems enticingly like an ideal haven for a bit of well-earnt peace and quiet, something of a rarity in Vietnam. Well that's the plan. If you have a Western face however, the peacefulness might not last very long. There's a steady stream of students, who spend many idle hours here and who are itching to practice their English. Then there are the registered postcard sellers, who notoriously dawdle around Hoan Kiem waiting to persuade foreigners to part with their Vietnamese Dong.
But at around 7am, the sun languidly climbs up the sky and temperatures start to soar, making its presence very much felt. For the ladies, there's still a little time left to sit down and catch up with some well-earnt gossip and chatter - intermingled with frequent laughter - before its time to head off home. Inquiring where everyone has suddenly dispersed to, I am told by one sprightly seventy-year old that they are all going back to prepare breakfast - noodle soup - for their awaiting families. Now that doesn't sound such a bad idea after all; watching all this vigorous activity has made me extremely hungry.
* * * * *
---