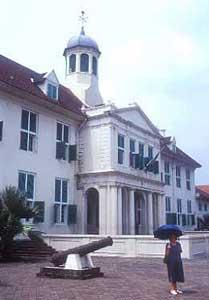 Clouds hang over Jakarta like a steam bath. Geometric rice paddies and salt pans sink slowly into the sea. Final approaches... touchdown. Welcome to Sukarno-Hatta International Airport. Anything to declare?
Yes, I don't fancy hanging about in Jakarta, actually. When's the next flight out to Sumatra? Prowling the arrivals hall, Lily the Batak businesswoman spots a sucker and moves in, determined to earn a cut. I am swept into a series of cars, ferried back and forth then right across town to the old domestic airport. It seems a mad dash just to extract a sliver from my modest transaction, but Lily has to sell fifteen tickets a week to fill the rice bowl - and buy those smart suits.
"Indonesian people stupid", says Lily, excluding perhaps her own ancient and warlike race from the fertile highlands of northern Sumatra. On the shores of Lake Toba, two hours' flying time from the capital, Lily's young kinsmen talk hopefully of making their way to the capital to seek fame and fortune.
Back to the Big Durian. Southeast East Asia's favourite fruit provides an apt metaphor for a city which no longer deserves to be dismissed as squalid, dirty and charmless. A rich feast of sticky, custard-like flesh awaits those eager enough to withstand the noxious smell of this football-sized fruit and wrest open the formidable spiked carcase.
Evening settles over Jalan Cipete, South Jakarta, a street lined with restaurants. In an elegantly spare setting, Dapur Sunda creates the traditional banquets of the Sundanese people of western Java. Hunched on woven mats within our own alcove, we feast on 'beef maw' soup, vegetable salads and banana leaf chicken, rounding off with a iced concoction of coconut meat, avocado, jackfruit and syrup. A couple can dine in an ambience worthy of any five-star hotel for a few dollars.
Picking our way through the puddles one torrid evening we pass another, more modest, eating house which offers the Minahasa cuisine of northern Sulawesi. The proprietor is happy to describe the contents of each simmering pot: ayam, chicken: ikan, fish, anjing... "Duck, did he say?" she asks. No, he didn't, let's pass... let sleeping dogs lie.
Kathy, 21 and about to be married in three days of courtly ceremonial, descends from the royal house of the sultanate of Solo in central Java, Indonesia's most populous island; yet she grew up on the nation's eastern frontier, West Papua or Irian Jaya, amidst the fuzzy-haired Melanesian and Papuan tribal people who populate the former Dutch New Guinea.
The Batak, the Sundanese, the Minahasa, the Irianese and the Javanese are all pieces of the ethnic jigsaw making up Ibukota Jakarta, the Mother City.
Jakarta "commands neither affection nor commitment", as one guidebook author put it, but this is where the rest of the Indonesian archipelago gets its marching orders.
The city's history extends back two thousand years; for centuries merchants met at the mouth of the Ciliwung River, trading in the cloves, nutmeg and mace, coffee and pepper grown in these fabled Spice Islands. In 1527 the Muslim Prince Fatahillah defeated a Hindu potentate to seize the settlement of Sunda Kelapa which he proclaimed Jayakarta, glorious fortress. (Sunda Kelapa is still the name of the schooner harbor where sailing vessels transship cargoes of cement and timber).
By the early 17th century the Dutch had built a fortified trading post, then entrenched themselves in a garrison strong enough to repel attacks by far greater numbers. The Dutch East India Company then laid out a new city criss-crossed by canals whose banks were lined with compact red-roofed houses. Many relics remain from this period, especially in the old Kota quarter near the harbor. Facing each other across Fatahillah Square are the 1710 Stadhuis or city hall, preserved as the Jakarta City Museum, and the 1870 court of justice, now the Arts Museum.
In essence, Dutch colonial rule lasted up to the Second World War. In the post-War years the founding president Sukarno attempted to redefine the capital with grandiose monuments. Each now wears an irreverent tag: the most prominent, the National Monument, becomes Sukarno's Last Erection (for the leader's womanizing was notorious); another must be the Mad Waiter or the Pizza Man, bearing aloft a flaming dish.
In the words of veteran commentator Bruce Grant: "Like the jungle, the ragged millions of crowded Java were hard to keep at bay. They blurred the lines of these structures, setting up their portable stalls..."
Suharto's New Order regime called a halt to Sukarno's daydreams, reversing his legacy of grotesque economic mismanagement. Suharto has left a more pragmatic legacy of office towers and expressways, of a corporate capitalism - now stalled - which greatly enriched the First Family and their cronies but whose benefits trickled down to many less privileged.
On this occasion, Jakarta's streets seemed calm enough, although the apparent calm belied the burgeoning economic crisis. Maroon-bereted commandos filtered into Chinatown's lanes from a forward base in the gardens of the Art Museum; squads of bare-chested police jogged through the city each morning.
Smart four-star hotels like the Kristal in Cilandak offered executive suites for three-star prices; more modest properties like the Marco Polo in the old diplomatic quarter of Menteng had become so inexpensive as to challenge the grimy backpacker 'homestays' for value-for-money.
At Blok M were the mid-level stores pitching to locals of more modest means: Borobudur, Ramayana and Matahari, names rich in historical and cultural connotations. Locally-designed jeans, joggers, T-shirts and children's wear represent particularly good value if you can tolerate the force-fed Indonesian pop.
By late afternoon the kaki-lima ("five feet") food barrows were gathering outside, to peddle sweet martabak pancakes from Bandung, West Java. Others stocked the small, crinkly dukuh fruit, rather like lychees, from Palembang, southern Sumatra and the distinctively dry salak fruit with its crinkly brown snakeskin peel. As dusk falls the old Indonesia reasserts itself.
Further Information
Review government advisories before planning travel to Indonesia e.g. US Dept. of State at travel.state.gov/indonesia_warning.html. However, very few private travelers so far have encountered difficulty.
Most travelers require no visa to enter Indonesia for sixty days. Jakarta is served by many international carriers, including the national carrier Garuda, www.garuda-indonesia.com, which also services long-haul domestic destinations.
Lonely Planet and Moon Publications guidebooks provide comprehensive logistic information on travel throughout Indonesia.
---