Cheju-Do: Romance and Culture Highlights of Korea
---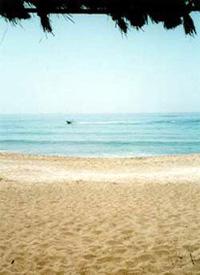 The picturesque Cheju Island, located off the southern tip of the South Korean peninsula, is often described as a heavenly getaway for honeymooners as it provides a fairytale setting with plenty of photo opportunities. With its chain of mountains and lush greenery, the island offers some of the finest scenic views and outdoor experiences.
Cheju Island, the largest island in South Korea was created from rock and thus it is not surprising that to a very large extent, it has molded the lives of the people. The islanders use it not only as material for building, but also treat it as a constant companion so much so they call their island the Land of Rocks. This is easily understood, as the pristine island was formed by volcanic lava 100,000 to 300,000 years ago, which means that life in Cheju started with rock.

A Sad Past
The island's savvy moneymaking today disguises an often unhappy past. It was once a penal colony and home of exiles, including the 17th Century King Kwanghaegun, who was ousted and forced to drink a bowl of poison by his usurpers. Tens of thousands of people died in a 1948 communist uprising against Syngman Rhee, who soon took power as president from an American military government. Two years later, Soviet - and Chinese-backed communist North Korea invaded South Korea, which was supported by US-dominated forces of the United Nations. That war dragged on for three years.
Absolutely Fascinating...
The fascination of Cheju Island lies not just in its scenic beauty but also in the cultural richness of the people. Combining both therefore proves irresistible to many visitors. Its isolated location and romantic tropical image has made it one of the favorite island retreats. It has a mild marine climate with four distinct seasons - the average annual temperature is 15 degree Celsius and in summer, the temperature ranges from 22 degree Celsius to 26 degree Celsius.

People living in Cheju Island still adopt the traditional way of life. Known as a "living folk village", the pace of life has not changed very much over the years. It is a different world out on the island for tourists who want a change from the hectic pace in Seoul, South Korea's capital city.

The Haenyo Divers
On the rocky shores of Cheju's beach in South Korea, women dressed in black rubber suits and flippers make their way to the sea with nets and fishing baskets slung over their shoulders. Each carrying a hoe, spear and gourd, the divers jump into the rough waters and slowly submerge to incredible depths in search of shellfish, abalone, seaweed and other marine life. Without any breathing apparatus, they stay under for three to four minutes, appearing on the surface just to take in a long breath of air before disappearing underwater again.
The women divers of Cheju have become one of the island's biggest attractions. These women divers have incredible powers of endurance as they dive to the ocean floor for abalone, clams and other shellfish, without any breathing apparatus. The "Haenyo" women divers are normally in their forties and fifties. Unfortunately, the number of such women divers is dwindling.
For generations now the women have been involved in this most unconventional of occupations. There are several theories about why women have dominated diving on Cheju since the 16th Century. One is that they can withstand high water pressure better than men. Another is that their body fat allows them to endure cold water for longer periods. Whatever the reason, working as divers have made the Cheju women known for their grit, diligence and enterprising spirit.
Traditionally, the Korean woman takes second place in society. Her prime role is to be a good wife and a doting mother. However, on this mystical island of Cheju, situated on the southwestern tip of Korea, the women are different. They take on this dangerous job of diving to supplement the family income and while their husbands work on the fields or in administrative jobs, these women endure the rough seas in pursuit of more money.
"The seas around Cheju Island have a wealth of marine life and it has never let us down. Income from the sale of our daily catch through the years has allowed us to send our children to schools and universities," says Ming, a fifty-year old third-generation diver who managed to put three children through university working as a "Haenyo".
They work all year around regardless of the season. In fact, most of them carry on diving during pregnancy as well. From a young age, the divers are taught the art of diving and looking for marine life. When asked how they remain underwater for such long periods without any breathing apparatus. Diving and holding our breath has become a second nature.
"It comes with experience. We learn how to hold our breath and expand our lungs in the water. Usually after about three minutes underwater, we surface and expel a long breath which usually makes whistling sound called sumbi-sori. We then take in a deep breathe and submerge again," she explains.
As soon as the sun rises and the tides come in, the female divers of Cheju head towards their diving zone and usually stay in the area until they are done for the day. Working in groups, usually all from the same village, the divers are designated an area by the fisheries department, which issues them their licenses as well. The fisheries department only issues licenses to women whose mothers and grandmothers were divers to avoid excessive harvesting of the natural resources. If a woman does not have any daughters, the daughter-in-laws are issued with licenses. Each of Cheju's 128 beach villages has its own association of diving women that zealously guards its diving zone to prevent fishing boats from depleting marine life. Boats illegally fish in the zones more often these days, divers complain. Sea pollution is also eating away their livelihood. More and more often, the sea shells they pick up are dead or empty. As a result, the number of women divers has dwindled over the years. In time, who knows, it may just be a little footnote in the history of the island.
Raw Seafood, Anyone?
If you are visiting the sites where diving is done, remember to sample some live seafood available from stalls nearby. A plate of fresh seafood, costs about 20,000 won, which is worth forking out as it provides an unforgettable experience to those adventurous enough to experiment with the food. The live seafood is normally served with chili sauce and Korean liquor known as soju. As I was feeling a little unwell, I decided to give this delicacy a miss.
"It gives the tongue a ticklish feeling," said someone from my tour group who was game enough to try.
Natural Wonders of Cheju Island
The geographical surfaces around Cheju Island are another interesting sight. The Samsonghyol Holes, located in the heart of Cheju city, is a good introduction to the origins of the Cheju islanders. Pine and jorok trees form a circle around the Samsonghyol and they seem to be bowing towards three holes in the park where three demi-gods, from whom the people of Cheju are said to have originated, were said to have emerged. Mysteriously, the holes are never covered with water or snow. Legend has it that three demigods - Ko, Yang and Pu - emerged from the three small holes located in the area and established Cheju Island's founding families by marrying three princesses from foreign countries. It is not surprising therefore that many of the Cheju islanders today are either named Ko, Yang or Pu.
At some stage during a tour of the island, one is bound to see carved stone figures known as "Tolharubangs" or Stone Grandfathers at the entrances of most villages. The statues carved from Cheju's porous basalt rock have stubby noses, big eyes, long ears and firmly closed lips. They are also seen wearing round hats with narrow brims, with hands on their abdomens. Varying in size and height, Tolharubang statues are in the shape of an old man with bulging eyes and huge nose and wearing a rounded Mongolian hat. They are erected mainly at forts. As it is also the god of fertility, the statues can these days be seen in temples and even homes for obvious reasons. The silhouette of the dragon-shaped Yongduam Rock on the north coast looks quite real at sunrise. At Jusangjolli beach in the south, hundreds of hexagonal rock pillars emerge from the deep blue water. They were formed by underwater volcanic eruption and solidified when they came into contact with water. Viewed from the cliff, they look as if someone has stacked a pile of hexagonal pillars of different heights on the seashore. Today, a total number of 41 Tolharubangs remain on Cheju Island. Replicas are also sold in souvenir shops and are available in sizes ranging from 10cm to life-like figures.
Scenic Spots
Visitors can get a beautiful view of the shoreline of Cheju Island from the mouth of a grotto-cave called the Sanbang Grotto Temple on the southwestern slope of this mountain. It takes about half-an-hour to make it to the grotto but if you are not as fit as the younger people, there are rest areas as you slowly make your way up. It is worth taking the break so that you can enjoy the cool winds while enjoying the scenery.
The volcanic craters are another highlight of Cheju. The Sangumburi Crater, on the northeastern part of the island, is home to about 420 different species of sub-tropical, temperate and alpine plants. It has been dubbed by botanists as a "floral treasure house". Sangumburi was hollowed by a volcanic eruption and is a large hole - the crater is about 2km in circumference and covers an area of 298,000 sq meters - in a wide plain about 400 meters above sea-level. Besides the various plants, there is also a variety of wild animals. The other two major craters are the Sunrise Peak at Seongsanpo and the Baengnokdam Lake at the summit of Mt Halla.
A Ghostly Experience
From Sangumburi you will be able to take in the sights of Mt Halla which lies in the centre of the island. Legend also has it that Mt Sanbang was taken away from the tip of Mt Halla and the spot became Baengnokdam. Here is where you find the "Ghost Road", which is a short stretch of road that provides a unique experience for those in a stationary vehicle.
At the bottom of the short hill on a remote road, our tour van driver drew to a halt, put the car in neutral and switched off the engine. Slowly, the car began to roll. Back up the hill.
"You don't believe it. Want me to do it again?" he grinned and attempted the same feat.
Once again the car, which, according to all human instincts appeared to be at the bottom of the hill, rolled slowly upward. And, just to make doubly sure his passengers were in no doubt they'd taken leave of their senses, the driver tossed a drink can out of the window. It duly rolled up the slope.
According to the locals, the optical illusion was discovered in 1984 by a taxi driver who, answering an urgent call of nature, forgot to engage the handbrake before dashing for the bushes. When he emerged from the bushes, he found his taxi gone. He searched high and low before glancing over his shoulder where, to his amazement, he saw the car sitting at what appeared to be the brow of the hill. A local government official says there is no scientific explanation for the illusion. However, the phenomenon is not unique. Electric Brae in south-west Scotland boasts a similar conundrum and, like the "Ghost Road" in Cheju Island, attracts tourists from far and wide.
Footnote: The best time to visit the island is during the spring and autumn months as one can appreciate the rich and diverse flora which will be in abundance. In addition, the pleasant temperatures in spring, from March to May, and autumn, from September to November, make travelling in much easier. Cheju Island is three times the size of Singapore, but the island's population is only about 520,000.
Most international tourists fly directly into Cheju International Airport from cities like Osaka, Tokyo, Nagoya, Fukuoka and Guam. For domestic travellers, regular scheduled flights from 10 major cities in South Korea including Seoul, Pusan, Taegu, Kwangju, Yeosu, Ulsan, Kunsan, Mokp'o, Pohang and Chinju are available. One can also reach the island by ferry from Pusan, Mokp'o and Wando.
---