Chinatown Sextet - Chinatowns in the Greater Toronto Area - 2
---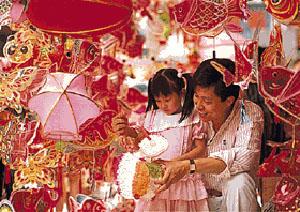 Image ©
2001 Robert Tompkins / Travel, Ink.
(Second of Three Parts)
3. Scarborough
Scarborough's Agincourt community, Toronto's first satellite Chinatown, saw its origins in the early 1980s when developer Henry Hung converted a tumbledown roller skating arena into The Dragon Centre mall. Chinese residents in the area no longer had to travel downtown to do their shopping. By the late 80s, Scarborough became the neighbourhood of choice for immigrants from Hong Kong, Taiwan, and The People's Republic of China. The exponential growth of the Chinese population promoted the construction of additional theme malls and plazas.
The demographical complexion of the community was transformed rapidly. As the area underwent what has been euphemistically described as "growing pains", a segment of long time residents became angered by the Chinese influx because of a perception that their community was being invaded and taken over. There were several reports of racial epithets and pamphlets of hate literature. Developer Henry Hung has been quoted as describing the time as "a very rough period. There was an element that obviously didn't want [the Chinese] in their backyards."
Twenty or so years later, Chinese Canadians comprise thirty-five percent of the Agincourt community and feelings of resentment have disappeared over time. Between Midland Ave. and McCowan Rd., along Sheppard Avenue and in the blocks to the north, one after another, are such commercial hubs as Dynasty Centre, Pearl Plaza, Chartwell Centre, Prince Mall, Dragon Centre, and Cathay Plaza, among others, with additional sites under construction. Further north of Sheppard, between Finch and Steeles Avenues, is an additional concentration of Chinese plazas and malls.
At the popular Dragon Dynasty Restaurant in the Chartwell Shopping Centre on Brimley Rd., hungry employees from local businesses line up, anxious to eat their dim sum lunch and return to work. The frazzled waiters were ever vigilant, freshening up teapots with hot water from large kettles and removing empty steamer baskets. Serving ladies in red vests, white blouses, black skirts and black leotards briskly pushed their carts around tables, patiently stopping to reveal their delicacies to the few non-Chinese patrons who could not understand the names they sang out. As we finished our excellent meal, over zealous customers hovered beside us, eager to usurp our table, scarf down their dim sum, and hurry back to work. Their actions were anomalous, since eating is traditionally a leisurely, lingering affair that is never hurried. It is likely that this was a case of a work ethic overcoming traditional decorum.
Years ago, during jet lag-induced early morning television watching in a Hong Kong hotel, we learned two phrases from an in-house video programme called "Cantonese for Visitors". An animated, jovial instructor used humour, repetition, and drawings as instructional aids.
"In Cantonese, we don't say 'How are you?' We say 'You good, eh?' Lay Ho Ma...You good, eh...Lay Ho Ma...How are you? Lay...Ho...Ma."
His slow, exaggerated enunciation was often paced so that viewers could repeat the syllables after him.
"In Cantonese, we say our punctuation. 'Ma' is our verbal question mark...You good, eh?...Lay Ho Ma...How are you ... Lay...Ho...Ma"
On a chalkboard, he drew a stickman wearing a happy face, and under the picture wrote the name "Joe".
"Good morning, Joe," he said, bowing to the stickman. Beside Joe, he drew a child's picture of a sun, a circle with line rays. Pointing at one and then the other, he continued his slow articulation. "Joe Sun...Good morning...Joe Sun...Good morning...Joe Sun, Lay Ho Ma...good morning, how are you...Joe Sun, Lay Ho Ma"
(In Pin-yin, literally 'spell sound', an attempt to capture the tonal distinctions by the romanization of Chinese, the phrases are rendered as "nei hou ma" and "jou san".)
More than ten years later, we still remember and use the phrases, and they always produce the same reaction - a look of surprise, quickly followed by smiling delight and a returned greeting, especially from the ladies pushing dim sum carts whose English vocabulary has only slightly more words than our two Cantonese phrases.
Further north of Sheppard, at McCowan and Finch, in the Woodside Square Mall, is Ruby Chinese Restaurant, which is probably the most popular eatery in the area. A walk through the green tiled pagoda roofed entrance leads to a cavernous dining hall. Like all large Chinese restaurants, Ruby offers dim sum by day and Chinese dinner cuisine by night; Chef Ping Yau Lam oversees the hectic kitchen that produces a cross section of provincial fare. It is not uncommon for dim sum seekers to be assigned numbers, which are announced in both Cantonese and English over a loudspeaker in order to be heard above the clamour of a room that holds over a hundred large round tables.
While being led to our seat by an attendant with a walkie-talkie, we passed a rotund overseer who wore a suit, a stern countenance, and a resemblance to a Mafia hit man. Our "joe sun, lay ho ma" transformed him immediately, as he smiled, bowed, and returned the greeting. A little later, he stopped by our table to inquire if all was fine. As inevitably occurs when my chopstick prowess is being observed, the sticks crossed while attempting to negotiate a curried baby squid; the morsel bounced off my chest and onto the table, the yellow stain complementing neither my light blue shirt nor the white linen tablecloth. The now affable hit man chuckled from deep in his chest and offered some advice. "Always wear dark colours," he suggested with a wide grin as he topped up our teacups.
The pride of the Chinese community in Scarborough is the Chinese Cultural Centre of Greater Toronto located at Sheppard and Progress Avenues. Two lions, symbolic guardians of Chinese culture, flank the entrance to the centre; also prominent near the entrance is a statue of Confucius, who had a deep reverence for Chinese ideals and customs, and whose philosophy of good conduct and social propriety strongly influences Chinese behaviour.
Phase I of the complex of 23,000 square feet, was officially opened in 1998 and houses an art gallery, a reading room, classrooms, a resource centre, conference rooms, studios for arts and crafts, and a tearoom/cafeteria. The cultural centre's mandates are to promote an understanding of Chinese culture and traditions, to bridge the cultures of East and West, and to foster harmony and mutual respect between Chinese Canadians and the diversity of heritages in multicultural Toronto. Not only does the Centre's outreach programme provide thousands of children with knowledge of Chinese culture, but also it sponsors cultural camps for Chinese children adopted by Canadian families.
A non-profit, non-religious, non-political, charitable organization, the centre has commenced fund raising for Phase II with an anticipated opening in 2004. During our visit, there was an art exhibition entitled "Home of Dragon" by the internationally acclaimed, Hong Kong born watercolourist, Stephen Yau. Another fund raising effort for Phase II is the presentation of "The Last Emperor", in which the Hong Kong Ballet will perform a narrative dance depicting the life of Pu Yi, the last emperor of China.
With the addition of 40,000 square feet, the complex will be the largest cultural centre in North America. In addition to a ten classroom school and an auditorium/theatre, the second phase will also include a one and a half acre classical Chinese Garden styled after China's cultural gardens in Suzhou during the Ming dynasty. With a focus less on botany than the Taoist belief in the balancing of yin and yang elements to provide health and harmony, the garden will provide a refuge for the spirit, a sanctuary for the soul.
Feng shui, literally wind and water, will receive scrupulous attention in the garden's location and design; plants, trees, rocks, and water will be placed with meticulous care. "The planning of the Chinese Garden has presented a unique challenge to the design team, because the garden must symbolically reflect the essence of the contemporary Chinese community and its unique place within the Canadian cultural mosaic, linking the past through the present to the future," observed Stephen Siu, the Cultural Centre's Executive Director.
* * * * *
4. Chinatown West - Mississauga
A growing Chinese population in the City of Mississauga, a short drive west of Toronto, gave rise to a thriving Chinese commercial hub in plazas near the intersection of Hurontario and Dundas Streets. The stores soon closed, however, when shoppers took their business to The Chinese Centre, which was built a few blocks west on Dundas near Cawthra Road. Opening in 1978, the ten-acre site has a building area of over 100,000 square feet and was constructed to reflect China's cultural heritage.
Skilled craftsmen and artisans using building materials brought with them from Jiangsu Province in southern China, created replicas of famous structures and artefacts. They constructed the elaborate forty-three feet tall main entrance gate using wooden studs rather than nails. The entire centre is modelled after The Great Wall and includes numerous red corner towers with traditional up swinging green tiled yellow trimmed pagoda style roofs.
Overlooking the plaza from the east side is a sixty feet tall watchtower that replicates The Great Wall's major gateway and fortress. In the midst of the complex is the Soo Chow Garden consisting of a pond, ornate gazebo, plants, rocks, and statues; the "Pavilion of Friendship" was a gift from Jiangsu Province. Numerous classical oriental stone statues are placed throughout the centre. Behind the pavilion is the "stele", a white tower that traditionally stands on roads leading into cities as a monument to glorify the Emperor. Just inside the gateway, on the west side of the parking lot, is the colourful "Nine Dragon Wall", the only one existing outside of China.
Because of its architectural glimpses of Chinese heritage, the plaza has been designated an official Ontario tourist site, the only plaza in Canada to receive such an accolade.
There are about seventy stores here, including both Chinese and Vietnamese supermarkets. In addition to the Sino Mall Food Court, there are five restaurants-one featuring Mongolian cuisine, two Vietnamese eateries, and two Chinese.
On the counter at the check out of a small western pharmacy was a display of about fifty kinds of traditional Chinese remedies; tubular canisters, flat circular tins in diverse diameters, boxes, bottles and jars all colourfully decorated with pictures of frogs, monkeys, bearded elderly oriental men in long beards and flowing robes, contained ointments, oils, unguents, salves, and balms. One small tubular can contained a bottle of medical oil with the following listed ingredients: "Dragon Blood, Peppermint Oil, Cinnamon Oil, Species of Skull Cap, Licorice, and Tea Oil" and is used to cure such ailments as "chronic coughs, giddiness, catarrh, tooth aches, rheumatic pains, ulcers, and seasickness". The pharmacist informed us that these pocket medicines were "very popular and very good." When asked if she used them, she smiled and shook her head, "But my mother and father use them all the time." There are also two traditional apothecaries in the plaza, China City Herbs Company and Sun Seng China's Medicine; both were full of customers.
"You want fork?" the convivial floor manager asked as she poured jasmine tea into our cups. When we told her that chopsticks would be fine, she seemed pleased and smiled with her mouth and eyes before hurrying away to attend to other customers. We were well into our fifth or sixth steamer basket when we saw her again, and the tablecloth betrayed our lack of dexterity; she gave us a thumbs up and a smile as an attempt at encouragement.
Before we left, perhaps prompted by the $18.80 bill, she volunteered to explain an aspect of Chinese number superstition. "In Cantonese, the word for "eight" is "bat" which sounds like "fat", our word for prosperity and wealth. Look at the licence plates in the parking lot," she suggested. "All have the number eight." When we checked, there were very few that did not. We noticed that the address of The Chinese Centre is 888 Dundas Street East
* * * * *
(End of Part Two, concluded in "Chinatown Sextet", Part Three)
* * * * *
---