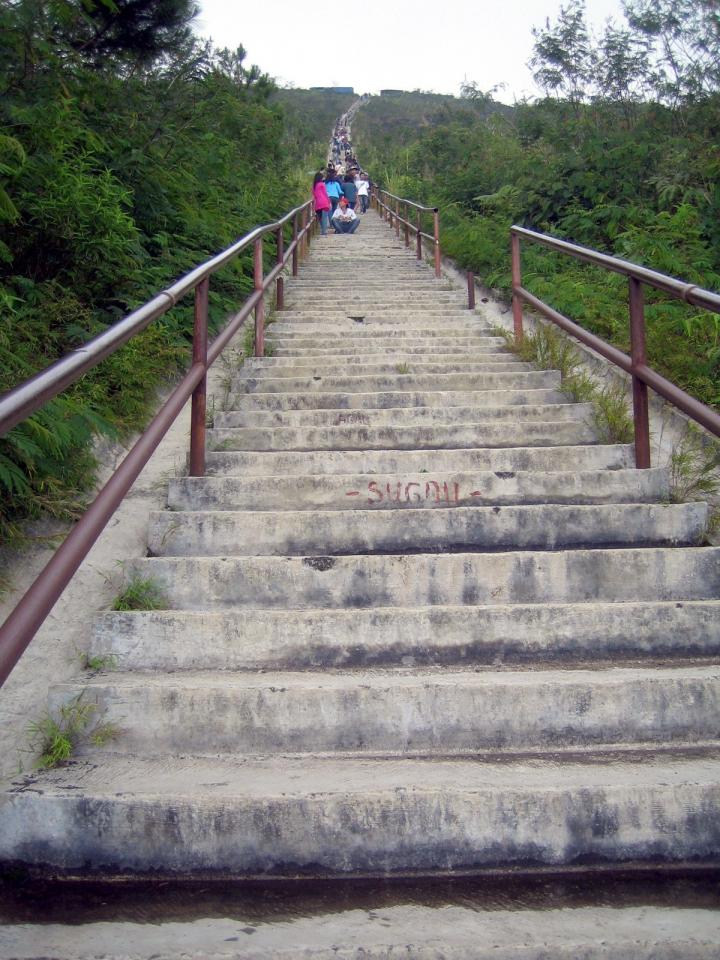 Image ©
2008 Sandra Lilyana
It was cloudy when we arrived at Galunggung. It's one of the biggest volcanoes in West Java and when it last erupted in 1982-3, rain of thick ashes reached as far as 100 kms away from the centre of eruption. But it's dormant now (as the prediction goes, it will remain so for the next 43 years) and so I can peacefully climb the 620 steps to reach the top of the mountain and have a peek into the crater.
I went to Galunggung with my three friends. Two immediately gave up the idea of climbing once they looked at the endless white stirsteps which seemed to reach up into the gray sky. "No, thanks," they grinned, "It looks like it's gonna rain soon. We'd prefer to stay in the car." One friend decided to give it a try and so we started climbing up slowly. It was not an easy journey. The steps were many and quite steep. Every time we have climbed about 50 steps, we stopped and took a break to breathe. On the 300th step or so, my friend gave up and said, "You go ahead. I'm just going to wait here." She sat down and stubbornly refused all kinds of encouragement to continue her half-way journey. Resolving to reach the top, I finally had to climb the rest of the stairsteps alone.   
But the 620-step journey was worth it. It's magnificent at the top. A lake had been formed at the bottom of the crater and it's surrounded by green. There was no sulfur smell at all unlike what we usually have in a volcanic spot. The misty fog which had risen seemed to conjure a magical atmosphere and I felt almost mystical to stand at such height and look at the still lake down below.
Then the rain began to fall and I had to start climbing down. Somehow I found climbing down harder and more frightening than going up. Perhaps because the steps look steeper when I was going down. My friend was still waiting patiently at the spot where I left her. I told her I had taken lots of pictures from the top for her. When we were finally back on ground, my feet trembled a bit but I happily anounced to everyone that I had conquered the peak. It's 1240 steps back and forth – I'm really proud of myself.
The Galunggung Volcano is located in Desa Linggajati, Kecamatan Sukaratu. It's about 17 kilometres from Tasikmalaya, which is the nearest biggest town. Open every day from 7 a.m. until 9 p.m. No public transport available yet so you'll need private cars or motorbikes to reach the spot.
* * * * *
---