Gang Lombok: The Eating Haven in Semarang
---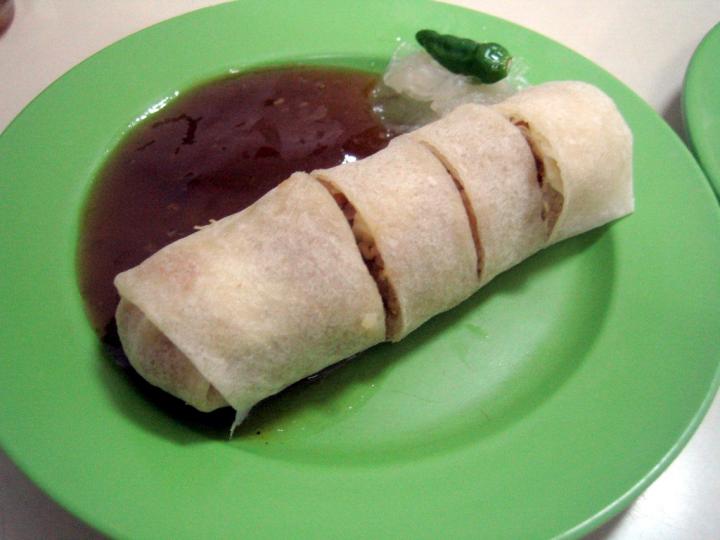 Image ©
2007 Sandra Lilyana
One of the signature food of Semarang, the capital city of Central Java, Indonesia, is lunpia (in local dialect) or lumpia (in national language). It is a traditional snack made of meat, egg, shrimp and tender young bamboo wrapped in kulit lunpia (thin wrapping made of flour). Lunpia could be cooked either by frying or steaming.
Of course, various kinds of lunpia are widely sold around town, however the best (and oldest) lunpia seller in Semarang could be found in Gang Lombok no.11. The owner, Siem Swie Kiem, who is now in his sixties, has inherited the lunpia shop from his father and their shop was first opened in 1960's. Gang Lombok itself is part of the old Chinatown of Semarang. Although the word gang means alleyway but the opening of Gang Lombok actually looks more like a small piazza by the river. There's a beautiful Buddhist temple there and several small restaurants which seem to have existed since the ancient time. They look really old and I actually think that some look more like pawn shops than eating places.
The food, though, is unspeakably delicious. When I visited this lovely Chinatown corner, I started my meal by ordering es buah (iced fruit soup) from one of the restaurants which apparently has no name. Slices of fresh fruits (jackfruit, papaya, coconut, mango) and cincau (Chinese jelly) are soaked in sweet syrup with ice. Although it was perhaps more fitting as dessert but it did make very refreshing appetizer as well. My next order was the infamous noodle from "Rumah Makan Singapore a.k.a Siang Kie". This old noodle shop served the old fashioned noodle with dumplings, shreds of porks, and fried eggs. Somehow it reminded me of the home-made noodle my uncle used to make when I was still very small. My childhood memory might have played a trick on me but this Siang Kie noodle really tasted heavenly. To top my meal off, I ended up ordering two lunpia from Mr.Kiem's shop next door, one fried and one steamed. One bite and I immediately knew why they had became so legendary.
Although I ordered food from different places in Gang Lombok, I could comfortably choose to sit in one spot only and tell the waiters from the other restaurants to send my food there. They wouldn't mind as long as I didn't forget to go back and paid after I finished eating.
Being full and happy, it was now time to explore the area a bit. I walked into the Buddhist temple which was known by locals as Vihara Gang Lombok. It was the site of a well-known urban legend saying that one of its statues sometimes turned into human being at night and went out to buy food for himself. In the river, in front of the temple, there floated a replica of the giant ship used by Admiral Zheng He from China when he first arrived in Indonesia via Semarang in the early 15th century. The replica was beautifully made and its wide deck became a nice playing site for local children.
When I climbed onto the deck with my camera, some children who were playing there shouted to me, "Miss, take our pictures! Take our pictures!" And immediately all of them posed in front of the giant sail.
Having got enough food, photographs and urban legend for a day, it was time to leave. But, of course, not without first buying some lunpia to be packed and take home as gifts.
---