Diu Island: Portugal, via Mumbai
---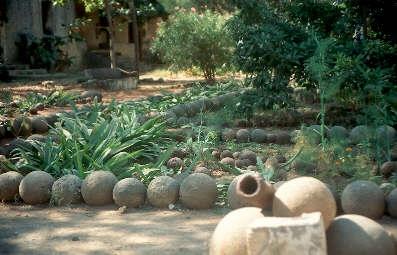 Image ©
2007 Graham Simmons
At last there's a reason to break your journey in Mumbai (formerly Bombay), India! This ­bedlam city is the transit point for flights to a tiny island time-warp, just off the coast of Gujarat State. For those who like to "get slowly into a hot bath", the former Portuguese colony of Diu provides the perfect shoehorn introduction to the chaotic Indian kaleidoscope.
A few days in Diu is one of the most relaxing ways there is to unwind.­ You can stay in comfort and style at most affordable prices, swim at uncrowded, clean and safe beaches, and dine on superb cuisine from three continents. And all this in a Mediterranean ambiance transported from halfway across the world.
For those coming from Goa, another formerly Portuguese enclave over 500 km to the south, Diu comes as a breath of fresh air. Absent are the crowds, the more absurd trappings of modern tourism, and the tatty remains of faded hippy dreams.
Joseph Pereira is the manager of Diu's Sanman Hotel, and also teaches English at a local college. He brought his family here from Goa about five years ago, and says he's found his own little piece of "heaven on earth". (He reckons he was sick of stepping on discarded needles when he went swimming at Goa's beaches).­
As one of Diu's 241-strong Christian community, Joseph Pereira knows he's in a minority - but it's a strongly cohesive community, and the stream of activity you see in the 300-year old St Paul's Church is living testimony to this strength.
But Diu's history goes back a long way!­ It's said that in the era of Satyuga (between two and three million years ago, a time when "the gods walked the earth"), a certain King Jalandar ruled over the island.­ It's said that he was a real bad dude, and accordingly was done away with by Lord Vishnu. But even today, Diu has a temple in Jalandar's honour.
Some 5000 years ago, Diu was described as "Dev Bhadra", or "fortress of the gods" in the epic Mahabharata. Even nowadays, remains of the old fortifications can still be seen at low tide.
Ever since that time, fortification is what Diu has been all about. A series of rulers from distant lands culminated in the Portuguese occupation from the early 1500's right through to 1961. Virtually all these occupants devoted their time to constructing more and more elaborate fortresses to protect the island from invasion.­ And the Portuguese also devoted a great deal of time to fortifying themselves with the excellent wines of their homeland.
Even today, people come to Diu from all over Gujarat, a "dry" state, just to have a drink at the many bars and pubs dotted around the island.
Kishan Nair is a commercial traveller from Bombay, recently posted to Ahmedabad (Gujarat's biggest city). "I'm not used to living under prohibition", he says. "I take on all the Southern Gujarat assignments I can get so that I can sneak over the border to Diu for a wee drop!"
But drinking isn't all there is to do in Diu. Besides relaxing at the excellent beaches, you'll find walking or cycling around the island to be a total pleasure- and everywhere you go, history proclaims itself.­
As an important trading centre from the 14th to 16th centuries, Diu served as an entrepôt for traders from as far as Egypt, Turkey and Italy. It was only after the Portuguese governor Nuno de Cunha concluded a short-lived treaty with Sultan Bahadur Shah of Gujarat (against the Turks) that the Portuguese eventually got a foothold on Diu around 1530.
The superb Portuguese fort (Fortem do Mar) at the eastern tip of the island is the most striking reminder of these times. It­ was built on the ruins of another fortress, constructed by the Arab Governor Malekhyaaz ­around 1400 AD, which in turn was built over a still earlier fort dating back to 700 AD.
­Within the fortress walls you can see piles of old cannonballs, some of which are used as borders for the attractive garden-beds in the fort's inner compound. Unfortunately, you can't tell which cannonballs have lobbed in and which are waiting to be sent .
Diu has also been called "the city of temples", with no less than 131 old and new temples dedicated to various deities. This is in addition to the beautiful churches and chapels, mosques and other places of worship.
Diu Island runs on "Diu time". This means that nothing much happens before ten a.m., when it's time to start getting ready for siesta. Around 1 or 2 pm, everything shuts until 4 pm. Then all the bars and shops open again, staying open until 10 or 11 at night.
I was fortunate to be staying at the Hotel Apana (which means "breathing out", whereas prana means "breathing in" - and after a little while in India, it was good to be able to do just this).­ The Apana has a very pleasant rooftop restaurant, where they serve excellent meals from a menu of 263 different dishes!
But it's time for a moonlight walk around Diu town. Downtown, the evening market hums with action. This is where Diuans, visitors and the odd tourist all hang out, come nightfall. You can get a tasty meal here for around 5 rupees (about 20 cents).­­
To the east of the town centre, a pretty little park features a musical fountain, the water jets dancing to the sound of Hindi film music. If you look from here out to sea, Pannikotta Lighthouse, all festooned in Christmas-tree lights, presents a dazzling spectacle.
Up on a hill, the old Church of Saint Francis of Assisi, now a Museum, is brilliantly floodlit.­ To get to the entrance, you walk past an avenue of 25 fountains, all different and illuminated in a changing spectrum of colours. The Museum itself has some fascinating exhibits, including statues of saints and the Apostles, relics and gravestones of Portuguese killed in battles, and fragments of an old Jain temple that used to stand on this spot.   
Across the road, loud Portuguese rock music is coming from one of the houses.­ This is the home of the De Souza family, who have lived here for generations. As members of the small group of Diuan Catholics, they're custodians of the nearby St Paul's Church.
On this particular evening, St Paul's is host to a group of visitors. ­The elaborate altar, carved out of a single piece of Burmese teak, is lit up with a hundred and one candles, and the effect is stunning.­ Overhead, the blue-and-white barrel-vaulted nave, adorned with priceless old paintings and statues, is superbly decorative.­ With a little restoration effort, this Church would be high on the list of World Heritage sites.
I walk slowly back through the old town to the Apana Hotel. No, this place isn't like Goa was 30 years ago - it's more like Dili was in the early 70s, long before the Indonesian invasion of Portuguese Timor. The atmosphere is lazy, tranquil, and with the secure feeling you get when you know that tomorrow is going to be just the same as yesterday.
The next morning, Diu awakens slowly from its leisurely sleep. In the early morning stillness, a lone fisherman paddles a dugout-with-sail. ­Kids wearing sweaters and beanies are on their way to school, looking just about as enthusiastic as Western trainee-truants. ­A little later, a group of well-dressed ladies go past, on their way to the local dairy.­  
The tourist office in Diu town hires out bicycles for Rs 1.50 (about 7 cents) an hour. Last year, they made nearly twenty hirings!­ (Still, you gotta keep someone in a job).­ This is as good a way as any to get around on Diu - and if you get tired, an auto-rickshaw for yourself and bicycle will cost no more than Rs 25 ($1) back to town from the furthest point on the island.
You can ride from Diu town past St Thomas' Hospital out to Jalandar beach. ­Here, some attractive cottages built by the Government look out over a clean and attractive but near-deserted beach. It's said that this is where King Jalandar was killed by Lord Vishnu's discus. ­In summer and during holy months, pilgrims come here for a dip.
On a little back lane (the Chandrikamata to Zampa road), cows graze peacefully against the backdrop of the old town wall. Other roads lead back to town, through labyrinthine ­country lanes.
In fact, all of Diu is an explorers' paradise - you never know what you'll come across just around the next corner. Further along the coast, Chrakratirth Beach is beautiful, clean and inviting. Nearby "Sunset Point" is the place to come at twilight, to take in the picture-postcard sunsets.
In the main street of Fudam town, even the dogs are curled up for the afternoon siesta.­ Fudam has a couple of banks, a fine old Portuguese Church, some impressive new houses with TV satellite dishes, and a total population (1981 census) of 484.
Nearby Gangeshwar is the site­ of an important Siva temple. Parts of this temple date back nearly 5000 years. In pride of place is a granite lingam, bathed by the rise and fall of the tide.­ 
Nagoa Beach, 7 km out of Diu town, is great: palm-fringed, clean sands and great vistas over a horseshoe-shaped bay safe for swimming year-round.­ The beach has toilets and changing rooms for day-trippers. At the ­time of my visit, a bus load of visitors from Ahmedabad were trying their hands at jet-skiing - the ladies still fully sari-clad!­
Down the road a hundred metres or so from Nagoa Beach, "Leo's Cold Drinks and Foods House" turns out excellent Gujarati thali meals (i.e. a mound of rice on a big platter, with maybe half a dozen different curries and other side dishes).­ Leo's is so small that the staff seem to conjure the food out of thin air.
Diu provides the ideal base for exploring Southern Gujarat. ­Comfortable mini-buses make trips to places like Veraval (one of the last places in the world where wooden dhows are still constructed, and with the pre-historic Somnath temple nearby), the ancient city of Junagadh, Sasan Gir Lion Reserve and Porbandar (birthplace of Mahatma Gandhi). All these places can be visited in a day trip.
Overall, you could say that Diu is the ultimate in relaxation.­ You get the feeling that, although the Government of India has a strong presence here, they're perfectly happy to let the Diuans do their own thing. And as visitors to this little island haven, it's we who are the winners.
* * *
Fact File
Currency: Indian Rupees. One rupee equals about 3 US cents.
Getting There:
By Air: Many airlines fly to Mumbai (Bombay). The efficient new Indian domestic airline East-West flies from Mumbai's domestic airport (about 2 km from the international airport) on Tuesdays, Thursdays and Saturdays.­ Flight 4S657 leaves Bombay at 1015, arriving Diu 1115, with the return flight to Bombay via Porbandar leaving Diu at 1140 and arriving Bombay at 1420.­The one-way fare is $US57 or Rs 1770.
By Air: From Ahmedabad Central Station, the comfortable and uncrowded metre-gauge Girnar Express makes the overnight trip to Veraval, leaving Ahmedabad at 2045. ­Price with a sleeper is Rs 132 (about $US4.50) ­second class, or Rs 370 first class. The return train leaves Veraval at 1745.­  From Veraval, a mini-bus connects to Diu, a trip of about 2½  hours.
Accommodation: (The STD Code for Diu is 028758):
Best hotel in town is probably the Samrat (Tel 2354), on a hill behind the vegetable market. Air-con rooms around Rs 350-450.
Hotel Apana (Tel 2112), rooms with ensuite bathroom, hot water, TV etc, and balcony overlooking Diu Strait Rs 250-350.­ Excellent rooftop restaurant.
Hotel Alishan (Tel 2354) has similar accommodation and facilities.­
Other hotels include the Sanman or "Fun Club" (Tel 2273), Nilesh Guest House Tel 2319), Prince Guest House (Tel 2265), Hotel Mozambique (Tel 2223), and Hotel Ankur (Tel 2388), as well as the excellent Tourist Cottages at Jalandar Beach and the Ganga Sagar Guest-House at Nagoa Beach (Tel 2249).
Dining:  The best restaurant in town is the Deepee, in Market Square (check out the kitchen!) Unfortunately, it's open for lunch only.­ Other establishments include the Hemal Garden Restaurant (Tel 2227), attached to a poultry farm. Or try the excellent rooftop restaurants at the Apana and Alishan Hotels. ­Corner Cold Drinks, opposite the State Bank of Saurashtra, makes good iced coffee, milk shakes, ice creams etc.
* * * * *
---