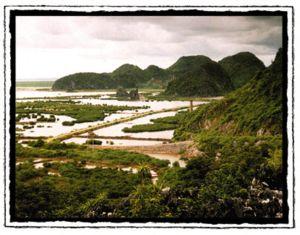 Image ©
2000 Robert & Nina Strauss
My wife and I set out for Cat Ba very early on a July morning trying to get out of Hanoi before the daytime din set in. We had heard the island 130 kilometers east of Hanoi was everything Hanoi no longer was: slow-paced, quiet, replete with natural beauty. We couldn't wait to get there.
It was a narrow escape. The sun had come up and the city that minutes before had been quaint and comfortable was now a hot, humid swirl of dust and exhaust. The train pulled out of the Hanoi train station exactly on time at 6:25 a.m. and soon carried us out beyond the hubbub of the city.
Our car was filled with Vietnamese and Westerners. The Vietnamese laughed, ate, smoked, joked, played cards, flirted, drank, spit watermelon seeds on the floor, and shrieked over whispered gossip. The Westerners, stupefied by the heat of early morning, heads glistening with sweat and bobbing to the twenty-mile-per-hour rhythm of the train, gave up the struggle to stay awake and, one by one, lolled off to sleep.
Three hours after leaving Hanoi we arrived at Haiphong station. We had missed the early morning ferry to Cat Ba and there wouldn't be another until half past one, four hours later. There was not a breath of wind in Haiphong. We hired a cyclo and for three hours had the driver pedal us around ' simply to have a cooling breeze.
Not far from the bus depot, we stopped at a large market. The semi-circular four-story building has a glass elevator on the outside like the kind one finds rising out of palm trees in the atriums of four-star hotels. Only this elevator had stopped permanently on the fourth floor.
The market was filled with spare parts and tools: nuts, wrenches, bolts, bolt cutters, bearings, motors, transformers, loose gears, electric junction boxes, switches, and even streetlights. Just about every detached piece of mechanical equipment one could imagine. "Who buys a streetlight?" I wondered. In the center of the market, an escalator led to the second floor. But it, like the elevator, wasn't running.
The ferries to Cat Ba carry everything to and from the island. When we boarded just before 1:30 p.m., porters and market ladies were loading beer kegs, cases of soft drinks, baskets of fresh vegetables, and foam boxes filled with ice on board. All the ferries that travel to Cat Ba seemed to be named "Hai Phong." We were on the "Hai Phong II." It was made from large squares of steel plate. Thick scars rose where the plates had been welded together.
From Haiphong, the jagged profile of Cat Ba Island, thirty kilometers away, is clearly visible. But the ferry ride takes a full three hours. The reserved-seating cabin consists of four rows of hard wooden benches. The only comfort came with sleep induced by the thick heat and gentle rolling of the boat.
The limestone ridges of Cat Ba rise dramatically from the sea. Like a pop-up greeting card, the ridges seem to have no depth. This two-dimensionality gives the island a forbidding look. As we later learned, Cat Ba is as impenetrable as it appears to be from the sea.
After ten hours of travel, we were nearing Cat Ba Town. The ferry slipped past small, uninhabited islands with small uninhabited beaches. Cat Ba harbor, in late afternoon, was abuzz with more than a hundred small boats preparing for the night's fishing. Young boys maneuvered among the fishing boats in the bizarre thung chai basket boats made from woven reeds sealed with pitch. The boys were selling provisions and ferrying people to and from the shore. Like water spiders, they skidded along the calm harbor waters, whisking their paddles back and forth with no obvious effort.
From the ferry there was little on shore that appeared inviting. Cat Ba Town is squeezed into a strip between the water's edge and the limestone hills. The buildings are mainly small, concrete cubes, some hardly more than hutches built right into the hillsides. We had made no reservation and didn't know where we would stay. "You follow me," said a Vietnamese woman who had spent the ferry trip brushing up on her English by reading our guidebook.
That's what we did. Soon, we were part of a small entourage walking down Cat Ba's seaside embankment. A young man assured us that we would pay "same price Vietnamese ' eight dollars." We had no idea what we would get for that. The sidewalk ended at an iron gate. We were directed into a tunnel, not more than six feet high, that led straight into a vertical slope. I looked at Nina. "Only in Vietnam," she said, following our bags as they disappeared with the young man into the tunnel.
When we came out the other side of the 300 meter long tunnel, we were in a small meadow. It was nearly five o'clock. We'd been traveling twelve hours, our clothes were adhered to us like plastic wrap, and still we could see no hotel. In fact, even though we were on an island, we couldn't see the water or a beach.
Dripping, we climbed a short set of stone stairs and then, fifty meters beneath us, saw a small cul-de-sac of forest, sand and water: a nearly empty, idyllic, tropical beach.
We were ready to jump in the water, but the young man leading our group pointed to a much steeper, longer set of stone steps, and said, "We go next beach - Cat Thien Beach Number Two."
I had no idea how much farther we would have to walk. Although normally blessed with the patience of a Salvation Army bell-ringer, I had done about all the travel I could stand for one day. "Do you want to go back?" I asked Nina. "No," she said, "Let's give it a night." We trudged up what turned out to be the final set of steps and then walked down a gradual slope to Cat Thien Beach Number Two, said to be one of the best on the island.
Like Beach Number One, Cat Thien Beach Number Two is also at the end of a small bay. The waves are funneled in between high cliffs. The beach is ringed with a dozen small bamboo huts. There wasn't a high-rise or concrete structure anywhere. It is exactly the kind of place that a few years from now will be recalled as a once unspoiled backpacker's paradise.
But we were traveling with suitcases. Sleeping on a bamboo mat was not a welcome prospect for our forty year old backs. A different young man showed us our hut. I stepped inside and went right through the floor. I pulled my scraped leg back up through the broken bamboo reeds. "One night," I said to Nina. To get to Cat Thien Beach Number Two, we had walked past several modern looking hotels in Cat Ba Town. That was where I intended to be the next day.
The water at Cat Thien was perfect, exactly the same temperature as the air. As soon as I plunged in the trials of the day were swept away. At that time I had no idea about the trials of the night that were still in front of us.
Dinner was perhaps one of the most delightful I have ever had. The dining hall at the Cat Thien "Resort" is a small, open-air, thatched shed. We sipped a very cold beer which like everything else ' ice, food, tourists ' came through the tunnel or around the island in motorized thung chai boats. The young staff of the resort set the tables for dinner as carefully as the waiters at a five-star restaurant. They arranged and rearranged the bowls, chopsticks and triangular paper napkins. Dinner was serious business to the teenage entrepreneurs behind the Cat Thien Beach Number Two Resort.
We watched in amazement as they whisked plates of peppered shrimp, steamed calamari, and fresh vegetables on to the tables from the nearby open-air kitchen. The small generator was fired up. A few dim lights came on. The boom box played a romantic cha-cha and, with a practiced sweep of his arm, the twenty-year-old, bare-chested maitre d' showed us to our table, which was only three feet from where we were already seated.
The food was delicious, possibly the best ever prepared on a two-burner stove set on a floor of pounded dirt. The difficulty of getting to Cat Ba was forgotten. I was sure that with full stomachs and tired muscles'even on a bare bamboo mat'we would have no trouble sleeping.
"Did you hear that?" Nina asked. Before I could say, "What?" a flash of lightning pierced the woven walls of our hut. It was three in the morning. I looked out the door. The silhouettes of the islands of Halong Bay were absolutely haunting when momentarily illuminated with lightning.
"Where are the ponchos?" I asked Nina as I felt the rain penetrate our fragile seaside shack. We covered our luggage, huddled under the mosquito net and waited. Solid blasts of wind shook the hut. Outside, one of the resort workers put a tarpaulin up on the wall that faced the ocean. When the full force of the rain hit a minute later, it was the tarp that kept us dry. But with thirty-mile-per-hour winds and a storm surf crashing only fifty yards from our door, we slept not at all.
The resort staff had been only too happy to carry our bags to the resort on our arrival, but when we left the Cat Thien Beach Number Two Resort we had to carry our own. We reached the tunnel at 6 a.m., minutes after the storm had passed. The lights in the tunnel were out. Flashlight in hand, we made our way through. I know that years from now, when Cat Thien is dominated by an international standard hotel, old-timers will fondly recall how they stayed in little grass shacks. Nina and I, lounging at the swim-up pool-bar, will not be among them. Before we reached the Cat Ba Hotel, a young woman was trotting out to greet us. She showed us a room with ceiling fans, a bay view, a bath and balcony. "We'll take it," we both said.
Though it was not yet seven o'clock, the instant I set foot on the balcony, a young man in a thung chai whisked his way towards the hotel. "Hallo," he shouted from twenty yards out in the bay. "Hallo. You like go boat 'day?" he hollered. "Hallo? Hallo? Hallo?" he persisted. I closed the door and went back inside. For the next two hours, like a character from a Fellini film, this fellow stood in his floating thimble of a boat and called in vain at our closed windows. "Hallo, hallo, hallo."
Other than the market, where a wild array of exotic fruits and fresh seafood are sold, Cat Ba Town itself had little of interest. Rickety trucks chugged up and down the street burping out a thick greasy cloud of exhaust as they went. Beauty salons, fishing stores, welding shops, general stores and beer parlors crowd one next to the other, all trying to keep out the dust from construction sites.
It wasn't until the afternoon, when we rented a motorcycle and headed out of town on the island's only paved road that things began to look up again.
Just out of town, the real beauty of Cat Ba is on display. The island's steep hillsides give way to lush agricultural valleys. The mountains are draped with layers of cascading vegetation.
Back at the Cat Ba Hotel we had a wonderful seafood meal in the large, institutional-style dining hall. Three dollars bought a six course dinner for two of shrimp, crab, squid, fish, greens and dessert. We went upstairs praying for a good night's sleep.
"What's that?!" Nina asked an hour after we went to bed. "No," I said, "I can't believe this." The previous night's rain had brought out all the frogs on the island. We put in earplugs, but they were no help. Once a single frog began to croak, the blissful silence of the island disappeared as thousands and thousands of frogs joined in the chorus. All night long Cat Ba Town reverberated with the croaking of a million, slap-happy, rain-drenched amphibians. "It's a plague from the Bible," I said to Nina as we resigned ourselves to another sleepless night.
We might have left Cat Ba the next morning, except that we had yet to see the island's main attraction, Cat Ba National Park. Again, on our Minsk motorcycle, we made our way fifteen kilometers over coastal hills to the park's entrance. The friendly young man who greeted us at the park entrance explained that the park consisted of primary and secondary forest that harbored a wide variety of animals and plants including rare monkeys and panthers. Nina and I looked up at the heavily forested hills that rose nearly vertical before us. The vegetation was as thick as the humidity. A single overgrown trail led into the forest. I doubted we'd be seeing any of Cat Ba National Park's natural wonders and rare species.
"Will you join us?" I heard someone say. A young Vietnamese couple stood beside us. "Are you going up?" the man asked. He was dressed in casual elegance, as though he had just left a modeling shoot for the Gap. The woman wore a yellow chiffon party dress. If they were going to climb the mountain like that I figured we could as well. "Sure," I told them. Nina rolled her eyes.
In minutes Nina and I were drenched with sweat. When we reached a small stream, the Vietnamese woman simply jumped on her friend's back and, like Sir Walter Raleigh, he carried her across the water. "Well?" Nina said to me, waiting, hands on hips. "You'll pay for this," I told her as she piggy-backed across the stream.
From the edge of the creek, the trail went straight up. The red clay was slick as ice and the soles of our shoes were soon clumped with an inch of heavy mud. After twenty minutes, we reached what appeared to be the top of the trail. The only signs of primitive life were the many soft drink cans that had been discarded in the bush. We could see absolutely nothing, not even the trail we had just struggled up.
No panthers or rare monkeys had crossed our paths on the way up. All we had seen were two walking sticks'a Vietnamese version of the praying mantis - only several times larger. We had heard the faraway banter of unseen monkeys. No doubt they were laughing at the pathetic efforts of their inferior brethren, the human species. As we debated whether to go higher still, mosquitoes descended. "Let's go down," Nina said to the quick agreement of everyone.
On the descent, we ran into a large group of French tourists on the way up. They were dressed in shorts, halter tops and flip-flops that had been thickened with an inch or two of mud. "Did you see any animals?" one of them asked as he wiped the sweat from his forehead. "Yes," I told him, "Polar bears." He looked skyward as the French are wont to do when encountering fools and continued to climb.
On our way back to Cat Ba Town, we toured one of the park's more accessible attractions ' a long, bat-infested cave. Our guide, who wore a hat more suited to a Good Humor Ice Cream salesman than a spelunker, was charming and informative. He noted stalagmites and stalactites that had, for him, come to resemble lions, tigers and bears. In some small way this made up for the lack of wildlife we had seen in the above ground sections of the park.
With our mountain climbing friends Huyen and Lam, we spent the afternoon back at Cat Thien Beach (Number One). We shared the entire beach with no more than a dozen other bathers. The waves were just right for body-surfing and the perfect antidote to the morning's mountain climbing mishaps.
The next morning we caught the six o'clock ferry to Haiphong. While I watched the profile of Cat Ba slip into the distance, Nina read poems from a copy of The New Yorker to Huyen and Lam. Back in Haiphong, they deposited us at the bus depot for the 11 a.m. express bus back to Hanoi.
Perhaps someday a five-star hotel will hug the peaceful shores of Cat Ba Island. Perhaps someday it will be a real Fantasy Island for people other than optimistic publicists. But for now, Cat Ba remains a Mystery Island, one whose many secrets are likely to be well-hidden for years to come.
Where:
Cat Ba is 133 km from Hanoi and 30 km east of Haiphong.
Getting There:
The boat to Cat Ba departs Haiphong every day at 1:30 in the afternoon, returning at 6:00 the next morning.
How Long:
3 1/2 hours trip History: The Cat Ba National Park was created in 1986. Stone tools and human bones from over 7,000 years ago have been found on the island.
---