Twenty-Four Hours to Kill in Bangkok
---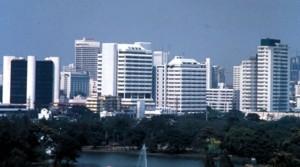 Image ©
2000 Global Directions, Inc.
Bangkok. Once it was a dreamy, Asian city laced with tree-lined canals. Today, it's a modern metropolis, an out-of-control concrete virus with traffic so bad that a high-ranking government official recently suggested using military helicopters to air-lift cars from the gridlocked streets.
You've got a short layover in Bangkok while on your way somewhere else in Asia. You've heard about the traffic and wonder if it's worth the trouble to go into town only to have to rush back to the airport to make your connection. What do you do?
If you've got less than eight hours, it's probably not worth the trouble. You could visit some of the nearby shopping areas, but when you return to the airport you'll have to go through all the formalities and pay the 200 baht ($8) departure tax. Maybe you'd rather read the latest issue of People or doze off for a while along the endless corridors of Don Muang Airport.
But if you have eighteen or twenty-four hours to burn, a quick tour of Bangkok is possible. You're likely to come away with a good feel for the people and culture of Thailand. At the very least, you can sample food better than you're likely to find in any Thai restaurant at home.
If you arrive early in the morning or late at night when traffic is tolerable, a cab ride to central Bangkok should take about an hour and cost no more than 400 baht. But beware. There's no "metro-traffic report" in Bangkok and very few "alternate routes." In case you do get caught in traffic make sure you have something to read as you may not move for an hour or two. A new tollway has greatly improved access to and from Don Muang airport, but once down on the city streets traffic can and often does stand still for hours. Bangkok has many fewer streets per square mile than other major cities. On top of that, Bangkokians are adding more than 25,000 new cars to the city's jammed streets every year.
If you arrive during business hours, between eight in the morning and seven at night, your best bet is to take the train. The station is on the other side of the highway from the airport, just in front of the Amari Hotel. There's a train about every thirty minutes. Chances are you'll wind up standing in a third-class car on a third- class train packed with people and agricultural produce. It'll be a slow, rocky, forty-five minute ride into town. But when you look outside and see the freeway traffic at a standstill you'll feel that the train fare of forty cents was the bargain of the century. When time is of the essence, it's hardly worth waiting around for a train that might have a free second class seat.
Bangkok can be fun whether you're on a backpacker's budget or you've got money to burn. A great way to begin a quick day in Bangkok is to have breakfast at The Oriental Hotel. If you leave your hotel before seven, traffic will still be light and getting to The Oriental should be a quick trip. Once there, for around fifteen dollars, you can have breakfast on the terrace overlooking the Chao Phraya and watch tiny tugboats maneuver long trains of barges up and down the river as waiters silently replenish your coffee. Best of all, the heat of the day is still two hours away.
If you're more budget-minded, ask the desk clerk at your hotel where you can get a good bowl of kao tom (rice soup). Chances are you'll be directed around the corner to a small sidewalk cookshop where Thai blue collar workers are gulping down breakfast. For one dollar, or even less, you'll get a bowl of soup that seems to contain more flavors than exist in the entire palette of Western cuisine.
For all travelers the next stop should be the Grand Palace, the former residence of Thailand's royal family that is now used mainly for ceremonial occasions. If you're at The Oriental, walk down to the pier and for six baht get on an express boat headed up-river. These long boats resembling giant mackerel are the best way to see the sites along the Chao Phraya. The drivers, many of whom look too young to drive bumper cars in an amusement park, seem to compete with each other to see who can change directions more abruptly or cause more water to be splashed on passengers. At the bobbing passenger piers, according to the whistled commands of prepubescent boatboys, the drivers dock their boats tail first. This is usually done by sliding a hundred feet past the dock and then jamming the boat into reverse. Disembarking and boarding riders have thirty seconds to leap on or off before the driver slams the boat into forward. Mr. Toad has no wilder ride to offer.
If, like Paul Revere, there is only one light burning in your belfry and you're traveling by land to reach the Grand Palace, make sure you begin early. Before seven, while there is still freshness in the air, you can take a tuk-tuk -- one of Bangkok's sputtering, propane-powered, three-wheeled, covered motorcycles. Tell the driver Grand Palace or Wat Phra Kaew. Chances are you'll negotiate the price in sign language. If the driver says something that seems preposterously expensive, such as six or eight fingers (sixty or eighty baht), remember that the flag-fall in one of Bangkok's spotless, air-conditioned metered taxis is thirty-five baht.
Bangkok's many different bus systems are cheap and convenient but often very slow. The bus maps sold for thirty-five baht around town are as likely to have you on your way out to some remote suburb as your intended destination. Until you know the system, it's a fifty/fifty proposition that you'll actually get where you want before sunset. Better to stick with taxis if time is short.
Get to the Grand Palace when it opens at half past eight. The tour buses don't begin arriving until half past nine so you will have the beautiful and immaculate grounds and temples blissfully to yourself for the first hour.
From the Grand Palace, it's only a ten minute walk to Wat Po, a nearby temple, where, for 160 baht you can get a unique, bone popping, joint snapping, traditional Thai massage that will remedy any latent stiffness from your recent airplane flight.
As you travel on your tight schedule from place to place within Bangkok you may encounter a taxi or tuk-tuk driver who, with the sincerest of smiles, tells you that the Grand Palace or Wat Po or wherever else you want to go, is temporarily closed for repairs or a special ceremony. This might be the case once in a while, but more likely the driver is interested in taking you somewhere that will certainly be open (such as a cheap jewelry shop) and where he will get a commission for delivering you. Just tell the driver that you really do want to go to the Grand Palace. You'll check out the special ceremony yourself. Once my wife and I were told the Grand Palace was closed by a tuk-tuk driver. It wasn't and we stumbled onto a university graduation ceremony presided over by the King!
If you're more interested in mass than massage, go to Wat Traimitr, a small temple not too far from the Grand Palace. (You can get there quickly by taking an express boat back down river to Songsawat pier and then getting a taxi or tuk-tuk.)
The temple itself, which is not far from Bangkok's Chinatown, is unremarkable. What is remarkable is the four-and-a-half-ton sitting Buddha made from solid gold. Your first reaction might be "Okay, but it looks like brass to me." Until you start calculating... "Gold is around $400 an ounce. There are sixteen ounces in a pound. That's around $6,400 a pound. There are 2,000 pounds in a ton..." It's at about this point that you realize this brass-like Buddha, which appears to be completely unguarded, is worth more than $50 million dollars!
The key to enjoying a day in Bangkok is to make sure you make as few cross-town moves as possible. It's best not to zigzag all over the place trying to see too many different things. If you can get to two or three areas during the daylight hours, consider it a success. (You'll do even better if before leaving each location you have someone write out your next destination in Thai. More and more taxi drivers in Bangkok speak some English, but far from all.)
If you are able to spend fifteen dollars for lunch, then get a cab to Sukhumvit Road, Soi 23. (The small and not so small lanes that run off all the major streets in Bangkok are known as sois.) There you'll find Khanitha, a wonderful Thai restaurant. Across the soi is Le Dalat, one of Thailand's best Vietnamese restaurants. At either place, the food and service will be excellent. Make sure to arrive before half past two when they close for the afternoon.
Just down the soi, you'll find one of Thailand's most beautiful shops, Rasi Sayam. Located in a charming Thai house and run by American Jonathan Hayssen, Rasi Sayam specializes in beautifully made traditional Thai crafts.
Unlike the mass-produced goods found in most gift shops, the textiles, baskets, carvings, lacquerware and other items at Rasi Sayam represent the work of some of Thailand's best artisans. While at Rasi Sayam, ask Jonathan for a map of other shops sprinkled throughout the neighborhood.
For travelers on more modest budgets, head to the World Trade Center (WTC), an enormous shopping complex at the corner of Phloenchit and Ratchadamri Roads. In the WTC itself there is a large food hall where for two or three dollars you can sample a wide variety of different Thai dishes. Or fill up with freshly made snacks from the sidewalk vendors in front of the WTC. It's strictly a point and pay system where most selections cost only a few baht. If satay, noodles, or deep fried crickets aren't what you want you'll find every type of Western fast food just inside the main entrance to the WTC.
Across the street from the World Trade Center is Narayana Phand ("narai pun"), a large handicrafts emporium. The quality won't be the same as at Rasi Sayam, but there is huge variety at very modest prices.
While in the neighborhood, walk over to the corner in front of the Sogo Department Store. There you'll find the Erewan Shrine which is congested day and night with worshippers who have come to make special requests, usually of a financial nature. Located on one of Bangkok's busier corners, the shrine itself is so busy that the caretakers must continuously remove newly draped flower garlands to make room for new offerings.
If you feel flush, you can pay a troupe of Thai dancers to perform. The number of dancers and the length of the performance is directly tied to the generosity of your donation. All around plumes of incense smoke rise so thickly that you'll forget about the plumes of exhaust flowing from Bangkok's near stagnant traffic.
If you'd really like to see the Thailand of the future, go to the top floor of the World Trade Center for a quick session of ice skating at one of Bangkok's indoor rinks. More interesting than ice skating in the tropics is watching wealthy Thai kids zip around the rink in the latest designer fashions while talking endlessly on cellular phones!
If you've managed to do all this before three (and you're not exhausted), take a short ride to Jim Thompson's house, where the American credited with revitalizing the Thai silk industry after World War II once lived. Located on one of Bangkok's still navigable (though not potable) klongs (canals), Thompson's charming wooden house is a quiet oasis, a reminder of what Bangkok was like forty or more years ago. If you're lucky, you might get caught in the small gardens during a refreshing afternoon cloud burst.
If you have an afternoon flight out, get a cab to the airport before gridlock sets in around half past three. Make sure to tell the driver to take the expressway. It will add two or three dollars to the ten dollar fare, but as you zip along high above Bangkok's jammed streets, you'll appreciate that it was money well spent.
If you enjoyed the river in the morning, it might be tempting to return in the late afternoon to watch the sun go down. But it's very hard to cover large distances from three to seven so it's better to stay in the neighborhood. If you're just arriving, however, have the cab take you down to the river where, for 300-400 baht, you can rent a long-tail boat (rua hang yao) and take a klong tour. The boats, which are thirty feet long and barely three feet wide, are powered by truck engines mounted on gimbals. The unmuffled noise is astounding. You may wish to communicate directions to the driver, but even if he could understand English, he won't be able to hear you from your seat way up in the bow. Many people consider a tour through the narrow canals of Thonburi the highlight of a trip to Bangkok.
But if you're out near Rasi Sayam or the World Trade Center, it will be better to stay in the area than to fight traffic. Once the evening sets in and the traffic settles down, thousands of small restaurants emerge along nearly all of Bangkok's streets and lanes. A fabulous dinner can still be gotten for just a few dollars.
For the more adventurous, travel out to Tum Nak Thai which claims to be the largest restaurant in the world (and has the Guinness record book to prove it). The maitre d' may try to do you a favor by offering a seat with a good view of the dance show. Tell him you'd rather sit near the kitchen. There you will watch with amazement as dozens of waiters fly in and out of the kitchen, arms laden with tureens of hot soup and other wonderful Thai dishes-- all on roller skates!
If you've gone to Tum Nak Thai for dinner and you're still not exhausted, try the Nasa-Spacedrome. If you're over twenty-five you'll feel like a geriatric, but it's quite an experience to watch the huge disco fill up with a thousand or more Chivas Regal-swilling teenagers. Take-off at Nasa doesn't usually occur before eleven.
A more sedate alternative would be to drop in at any of the larger hotels where you are sure to find a pop band, probably Filipino, that can mimic almost any type of music with CD quality. But you might find a trip to the movies to be more entertaining than either Tum Nak Thai, Nasa, or a hotel lounge. A dozen theaters are located within a mile or so of the World Trade Center. At the WTC you can try out the touch-screen ticketing which lets you pick your own seat. At most theaters you'll be treated to half a dozen trailers before the feature. What's most interesting is the instant the twittering audience becomes completely silent and rises as one to its feet. A film montage of the life of King Bhumipol, Thailand's ruler for the last fifty years, plays together with the national anthem.
The audience's reverence for the king is palpable and fills the theater. This is not the half-hearted response "The Star Spangled Banner" often gets at a baseball game. I have seen many films in Thailand and have never heard a word whispered or a piece of popcorn crunched while the king's image was on the screen. To see a leader so universally respected is truly a unique and almost awe-inspiring feeling for a cynical American.
Great sightseeing, shopping, eating, and cultural insights are all possible even if you only have a single day to spend in Bangkok. You won't get caught up on your jet-lag but when someone asks if you've been to Bangkok you will be able to take some delight in telling them, "Bangkok? Yeah. Did the town in a day."
---