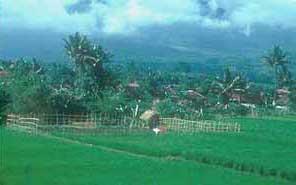 Time for the evening news... "Villagers in Central Java, Indonesia, have saved an express train on the main Jakarta to Yogyakarta line from disaster by flagging it to a halt only three yards from a washed-out bridge. Five carriages were derailed but no-one was hurt in the emergency halt ..."
One month earlier. Six in the morning, bleary-eyed in Bandung. We're rubbing our eyes in a line that stretches across the station concourse in this West Javanese city, waiting for the counter staff to switch on the lights behind the grilles and fire up their terminals. Strangely enough this impressive computerization doesn't yet permit reservations more than three days ahead.
Locals mill about, preparing to scramble for third class bench seats on the 8:30 local train at half the cost of our seven dollar Bisnis Klas tickets (we have decided against Eksekutif Klas). A stream of blue-overalled porters and tea and newspaper vendors eddies past.
Three days before in Jakarta the queues at Gambir Station had seemed impossibly daunting. The message was clear enough - all train services are fully booked over the New Year break.
Yet knowing that appearances are not always to be trusted in Indonesia, I had still pressed forward with the throng, against all odds, then to be beckoned inside to the administrative offices where within minutes three seats to Bandung materialised - with no suggestion, lest you ask, of backhanders.
Now in Bandung, arming ourselves with a Time magazine after some haggling over the cover price, plus chocolate cashew buns and sesame coated bean paste balls from the Holland Bakery stall, we are ticketed and ready to board the 7:30 Pajajaran Express for the five hour run across Java to Yogyakarta. Add a hand of lady finger bananas and we can confidently rebuff another vendor's audacious suggestion that we'll go hungry once aboard.
This is the way to go - settled into our allocated seats, we lower the upper window panes and lean back to savour the experience. The chimes of the traditional gamelan orchestra and the reedy notes of a solo bamboo flute float out of the public address. As we gather speed out of the city, morning sun throws a rich golden hue across the flooded rice paddies. A parade of stewards begins, bearing pillows, drinks, snacks and menus. Hungry, indeed.
The Pajajaran Express winds sinuously through the minutely terraced volcanic hillsides of West Java, sometimes too steep or too high even for rice. Here the rich red-brown earth is bared to receive and nurture other tropical crops. As the hills recede, rice paddies stretch to the horizon, the still brown waters punctuated by tender new shoots of rice aligned in meticulous rows. Tiny human figures are bent double, weeding, hoeing, transplanting.
A patchwork of emerald green is stitched together by clusters of terracotta red roofs and tree-clad volcanic ridges.
Sometimes a rushing brown river passes underneath, its steep gorge fringed by coconut palms or by a belt of bananas.
We are blissfully untroubled by the dramatic possibilities which will only become evident from the evening news a month later. Calmly, we watch cottages flash past, whitewashed stucco with solid Dutch shutters, woven cane and courtyards of packed earth.
At Tasikmalaya we slow to a halt long enough to select from the myriad of offerings thrust towards our open window, declining the deep-fried bean curd but delighting in an ingenious fan folding out to form a collapsible sunhat.
The afternoon sun glares down as we clatter on through a less tidy, lowland landscape, nearing Java's southern coastline. Thatch roofs, rusty iron and coconut groves exemplify this countryside, and rivers now run wide, turgid and green. Still the towns and stations flash past in the now-familiar livery of whitewash and sky-blue.
Mid afternoon and dead on time we rattle into Yogyakarta, the seat of a dynasty of Sultans and the heartland of Java's cultural heritage. A major festival is nigh and the street vendors are hawking conical paper trumpets of red and gold. As the sun sinks, Jalan Malioboro, the main shopping street, will become a pulsating mass of stalls, barrows and bodies. Back into the fray!
Fact File
Further information
Review government advisories before planning travel to Indonesia e.g. US Dept. of State at http://travel.state.gov/indonesia_warning.html However, very few private travelers so far have encountered difficulty.
Most travelers require no visa to enter Indonesia for sixty days. Garuda http://www.garuda-indonesia.com/ operates domestic services to Yogyakarta and SilkAir http://www.silkair.net/ flies non-stop from Singapore to nearby Solo, an equally historic city. Domestic carrier Merpati Nusantara http://www.merpati.co.id/ now operates its own, extensive, domestic network independently of Garuda and separate ticketing is required.
Indonesian Railways (Perumka) at http://www.kereta-api.com/Inggris/ev-perumka.htm is mostly in Bahasa Indonesia.
Lonely Planet and Moon Publications guidebooks provide comprehensive logistic information on travel throughout Indonesia.
---