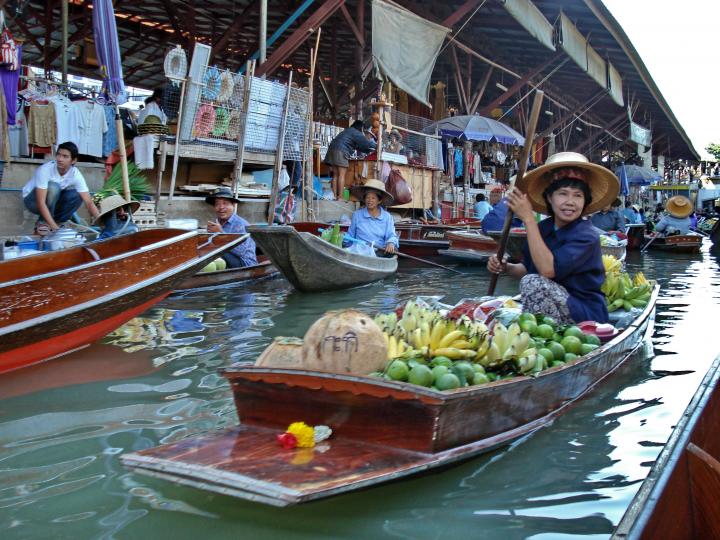 Image ©
2010 Hansa Piparsania
It had been a year since I moved to Bangkok. And it had been a year since I became the official travel and tour agent for families and friends back home in India. The usual line was 'it's cheaper to go to Bangkok than to Delhi or Mumbai'. So in the middle of settling down in a new country I was making travel itineraries and advising friends on phone, what kind of clothes to carry and what kind of snacks to bring ! Luckily, I enjoy company and always prefer to look at the positive side of life. So in the process of managing adventurous house guests...I also discovered the 'Land of Smiles' myself. We had soon enjoyed the cool climes of hilly Chiang Mai and Chiang Rai in the north of Thailand; splashed around the beaches of Phuket and Pattaya; snorkeled in the Phi Phi islands and marveled at the ruins of Ayudhya. There was one thing though that bothered me. I still hadn't seen the famous Floating market which is splashed around in all Thailand tourist brochures.
Every time I asked someone about the floating market, the first reaction always was "it's nothing great", "oh it's so disappointing..." or "it looks good only in pictures". So I never made too much of an effort to make that two hour journey. Until one of my close friends, visiting me with her kids, insisted that she wanted to see it. I realized that if I didn't see it with her this time, I would probably leave Thailand without experiencing this unique place. So I gave in and we set out the next day for the trip. My driver suggested that we leave early in the morning to avoid crowds and traffic. The kids were game too and at six am we were all ready and rearing to go.
The drive into the country side was beautiful. It was peppered with graphic road signs that pointed either towards a temple or a floating market. We were heading to 'Damnoen Saduak' in the Ratchaburi province. Upon reaching the waterways, I put my broken Thai to use and settled a special price of 500 Baht for a boat for six of us. Soon we were cruising along narrow canals on a motorized version of a traditional long tailed boat. After a short ten minute ride, the cheerful boat driver suddenly slowed down and switched off the engine as we crossed a very low bridge. Instinctively we all ducked and as we emerged out of the arch, to our surprise he pulled out a single oar and began to row.
In a flash, just like a jerky editing cut of a film, we found ourselves in the middle of a busy market place. On one side I could see heaps of fresh fruit in neat piles and on the other, fresh flowers attractively arranged in rows...all perfectly balanced on extremely narrow boats! Women in wide brimmed hats and even wider smiles were steering their boats skillfully and selling their wares with equal ease. I noticed that most vendors had placed a small garland delicately woven with marigold,jasmine and rose petals on the heads of their boats for good luck during the day. The colorful sight and inviting smells of pineapples, pomelos, strawberries, rose apples and mangosteins surrounded me. The fruit sellers, mostly women were jostling with one another trying to get our attention. They cried out 'sweet mangoes! juicy grapes!  like to try pomelo? Very good madame, very cheap'. That was one thing I could vouch for- this was the Mecca of delicious fruit at the most affordable prices.
Business was in full swing. Tourists were lapping up mouth watering meals neatly packed as takeaways while shopping frantically for sequined bags, slippers, hand painted chopsticks and souvenir pictures of the floating market. Brightly painted dragon-like kites, funky wire art, wooden puppets of Pinocchio and typical golden masks of the Buddha seemed to be fighting for space on these narrow boats. It was fascinating to see the entire business being done on water! From the corner of my eye I could see a young mother trying to feed her child a bowl of noodle soup, delicately keeping her balance while an old woman, maybe in her eighties was hunching over, slowly sipping a Thai coconut. Fascinating images were rushing around me at such an incredible speed that before I could absorb one, another interesting one popped up!
As we headed back, one recurring image that stayed with me was the smiling faces of the Thai people. There was a strange order in this chaotic place and in spite of being so constrained for space everyone seemed happy. The kids had an enjoyable morning, they were returning with souvenirs and goodies. I was smiling too, glad that I had finally done and experienced the famous floating market for myself! I could hear a voice in my head repeating that 'beauty does lie in the eye of the beholder'. What may have been disappointing to others had turned out to be a very memorable experience for me. An opportunity to see a unique way of living- throbbing with energy and pulsating with life!
Text and Photos By Hansa Piparsania.
---