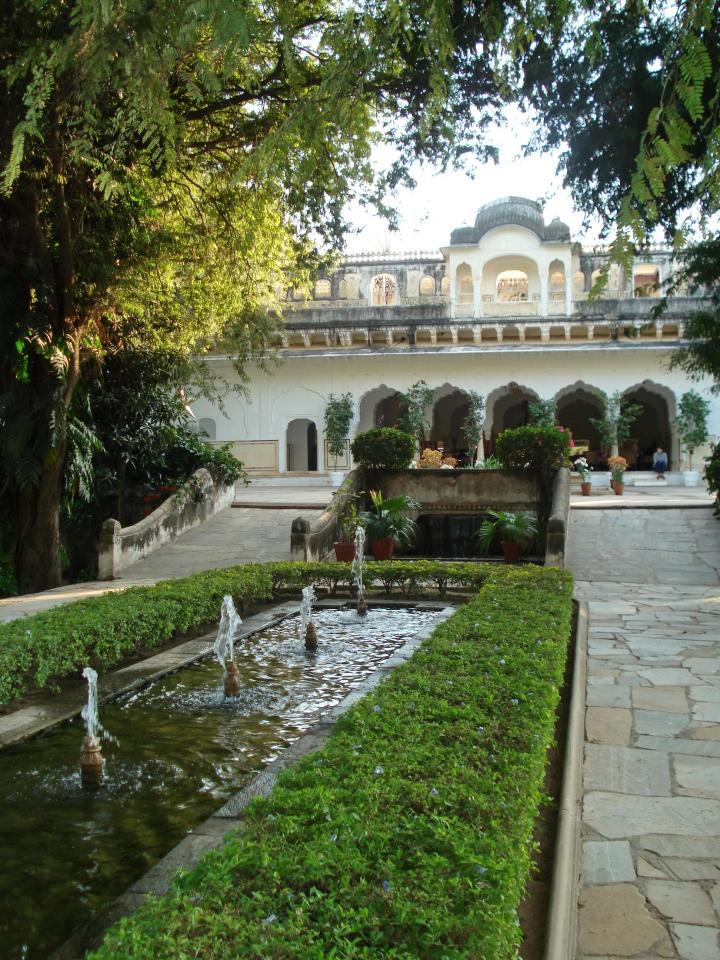 Image ©
2010 Hansa Piparsania
Returning to India and the family has undoubtedly been the highlight of the last year. As a returning expat one always has mixed feelings when the foreign posting ends and the luxuries of an expat life seem to fade away. But once you are back home, it is the small things that give you immense pleasure; like dropping in at your parents place unannounced, going impromptu shopping with your sister, relishing the street food you grew up on or sipping a coffee with an old school friend. These are the things that an expat  living in foreign lands yearns for.
To me the best part about coming back is that, there is so much to be seen and discovered in your own country. India is without doubt, a bottomless pit of fascinating places that one has to see; stories that one has to hear; food that has to be tasted and experiences that last you a lifetime.
Our family holiday in winter, to a beautiful place called 'Samode' was a culmination of all the above. It was all about reconnecting with my immediate family, driving the kids deep into the desert countryside for the first time, experiencing life in tents and rediscovering the beauty of our land and its people.
Choosing a holiday spot has never been easy. In fact every time the vacations approach, I am given the official task of hunting the ideal destination that's not only fun but also workable! Exciting as it may sound; the task to me has always been a challenging one. My husband and I, with our two teenage girls had returned to Delhi after thirteen years. Having spent a chunk of that time in Chennai and the last three years in Bangkok and Manila, we took every opportunity to travel extensively within Thailand and the Philippines. We had also explored other interesting places like China, Cambodia, Vietnam and Australia.
Undoubtedly there are many places in the world that top our wish list, but this was the year of our homecoming and I decided that it was the ideal time to do an authentic 'desi' (Indian) holiday with the whole family...three generations in tow. So I sat down on my desk with a warm cup of chamomile and hit Google.
After considering many options and talking to friends, my sister and I zeroed in on 'Samode' to experience its rich heritage and famous Marwari hospitality. On a freezing winter morning we set out in three cars on the Delhi-Jaipur highway, heading 250 kms deep into the desert land of Rajasthan.
The last stretch of our drive was straight out of a Bollywood film with lush green and yellow mustard fields stretching on both sides of the road, the warm rays of the winter sun streaming in the foggy distance and outlines of camels being led by local folk in colorful costumes. Weaving our way through the dusty, narrow roads of the desert we soon found our cars blocked by hundreds of sheep that appeared out of nowhere. Two little boys herding the flock cheerfully waved out and signaled to us to be patient while they cleared the road.
The Samode Bagh(Gardens), the Samode Fort and the Samode Palace(restored in 1987 as a heritage hotel)- are undoubtedly the main reasons why people visit Samode today. The palace I read, has had the honor of hosting many international celebrities and was also chosen to be the location for the film 'The Far Pavilions'.
History
The history of Samode takes us back more than 400 years when it was a prosperous and flourishing town in the Rajput kingdom of Amber. Strategically located amidst the Aravalli  mountains, Samode was awarded to Gopal Singhji, son of the legendary king Prithvi Raj Chauhan. Known for its enduring forts, stately palaces and quaint havelis, the ownership of the town belonged to a family of noblemen from the local Nathawat clan. The royal family bestowed upon them the title of 'Maha Rawal' in return for their loyalty. The Rawals remained Zamindars (principal landlords) for 6 generations after which Samode became a part of the British Raj. What remains in recent times is a village of about 8000 people, mainly skilled craftsmen and artisans who carry forward their traditional legacy.
Samode Bagh
The grandeur of Samode Gardens that awaited us was indeed a pleasant surprise. As we were welcomed with red tikas and orange marigold garlands, my sister and I smiled smugly, pleased that we had made the right choice. The royal gardens designed in the Mughal style were a retreat where the noble family came to relax and enjoy their moments of leisure. We walked along the 200 feet long fountains and crossed old trees, vines, flowers and mango orchards- obviously nurtured with a lot of care. The landscape was dotted with open pavilions where one could just lounge around, basking in the winter sun, while the more active ones could engage themselves in a game of billiards, table tennis, caroms or badminton. The most striking feature of Samode Bagh was the accommodation that was tastefully designed in the form of luxury tents. The décor, color scheme and each motif chosen was traditional and refined, making it a unique opportunity to experience the charming lifestyle of a bygone era.
The staff recommended that a short camel ride away, was a stretch of sand dunes which offered some spectacular views of the sunset and surrounding fields. We opted to take our cars and this modest trip in fact, turned out to be a highlight for the kids when they piled up, on top of our four wheel drive like rustic villagers hitching a ride. We drove up to a point where the cars could go no further and from there on we began a short but steep climb to the top. Sinking our bare feet into the cold, smooth sand, we took pleasure in  it's silky texture and  truly indulged in the real desert experience.
The day after, we drove about 3 kms further, steering our way through narrow, stone paved lanes that curved up the hill. A group of old men in native white turbans were smoking a hookah outside their homes. Obviously accustomed to tourists with lost looks on their faces, these men readily gave us directions. They pointed uphill in the distance, towards an arched gateway, confirming that we were headed in the right direction to our next destination.
Samode Palace
The 400 hundred year old imposing structure rises like a phoenix above the humble dwellings of the Samode village. Restored with passion, it proudly houses the region's most treasured heirlooms in the form of the Sultan Mahal, the Sheesh Mahal and the Durbar Hall. The galleries were completely covered with intricate frescos, hand painted in vegetable dyes. They showcased war scenes and figures, specially women in exquisite costumes and jewelry. We noticed the fine art of 'Minakari' or enamel painting on ornate art objects and admired the stately halls lined with famous blue tile work from Jaipur and heavily carved silver furniture from Nepal. Literally every wall and ceiling was spanned with a collage of eclectic designs, colorful motifs and mirrors in geometric shapes that dazzled us with their reflecting light. It seemed like we were all under a spell, surrounded with extravagant chandeliers and charming black and white portraits of royalty that adorned the palace.
As the sun set, the sky lit up with a million stars and we warmed ourselves around a log fire. The serenity of the evening was soon broken by the rustic sounds of Rajasthani music. Dancers in shimmering costumes swirled to the rhythmic beats of folk instruments, defying the laws of balance and performing unbelievable feats with fire. Towards the end, they distributed dandiyas(wooden sticks) to all present, encouraging us to join in as we enthusiastically tried to match our steps with theirs.
Samode Fort
Early next morning some of us enthusiastic ones decided to trek up the hill, climbing 376 steps to reach the Samode Fort. A dilapidated yet imposing structure that once upon a time served as a stronghold of Rajput honor. A secret passageway I was told had been built underground that connected the palace to the fort. As the crisp winter air brushed my face and the morning sun rose over the palace and village below, I marveled at the vision of these great rulers who had made history and left for us this breathtaking sight. Trekking further into the Aravalli ranges we met a old man who claimed that he had actually cut the stones for many years and built the path to the hilltop temple. We also paid our respects to Veer Hanumanji, who villagers believe has always blessed the land of Samode and its people. The morning adventure concluded, all of us had worked up big appetites and we charged back just in time for a hearty meal of staple Marwari food- Dal, Bati and Choorma.
The Markets of Chomu
I truly believe that no visit to a place is complete, without interacting with its local people. On the last day we grabbed some time and headed to the market in nearby Chomu to experience first hand the hustle and bustle of a bazaar, famous for its loha (iron metal) work and lac bangles. Women in bright lehriya sarees and flowing lehenga cholis in typical bandhani prints were thronging the markets and going about their work with ease. Vendors flaunting a vibrant display of juicy winter vegetables. Luscious fruits were being offered at unheard of prices, tempting us Dilliwalas to hoard for the entire season.
Samode, I felt truly exceeded our expectations. As a history buff and art enthusiast, it was right up my sleeve. The children had thoroughly enjoyed their adventures and made us promise that we would return soon. My husband was thrilled with the great drive, the good food and the long naps he took on the machans (tree houses) when no one was watching. My sister and brother in law stole some time together, a rare catch in their busy Delhi lives and the grandparents said, they could not have asked for anything more....soaking in the winter sun and treasuring every moment spent with the grandchildren.
A wholesome holiday that offered something for everyone.
A  mission well accomplished.
Text and Photographs by Hansa Piparsania
---