Ladakh - An Inward Journey
---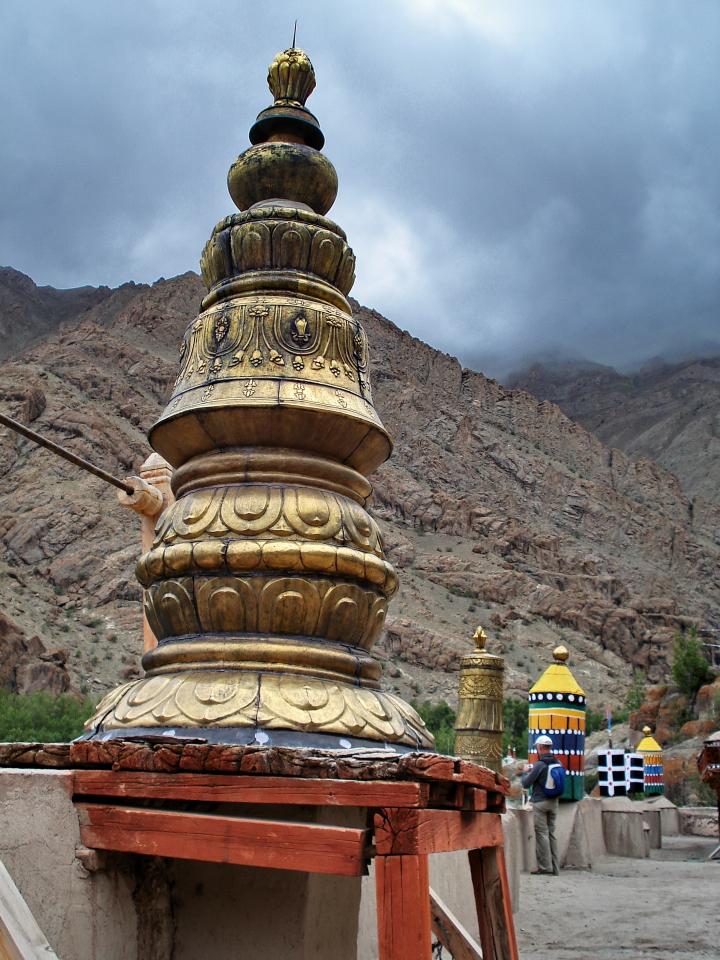 Image ©
2010 Hansa Piparsania
'Julley'! Greetings and welcome to a land so rugged and barren, so difficult and inaccessible, that the people of Ladakh often claim "only the fiercest of enemies or the best of friends want to visit us"! With solely friendship in my heart and a sheer desire to explore one of India's most remote, yet most beautiful parts, I made my way to this exotic and mysterious destination that most people knew very little about.
A short 55 minute flight from Delhi on Jet and I was headed north, to Leh -the highest airport in the country. Looking out of the window, I saw below me miles of snow-capped mountains, a pure white ethereal skyscape only sometimes broken by dull brown ridges. It then dawned upon me that surely I was heading to no ordinary place. Within minutes of having left my city life behind, I was about to land on the "roof of the world".
In the cool shadows of the mighty Himalayas and flanked by the lesser known Zanskar and Ladakh ranges, Ladakh is one of the world's highest plateaus in the state of Jammu and Kashmir, India. Sparsely populated, this wild desert region with its scorching sun and icy cold winds, is however geographically and culturally much closer to Tibet rather than India. In the heart of such a harsh landscape lay the now erstwhile, ancient Kingdom of Ladakh which rose to its peak under the famous king Sengge (Lion) Namgyal in the early 17th c.
Leh, the capital of Ladakh, at a height of 11500 feet above sea level, was a charming old town nestled in the broad valley of the famous Indus River. Open to tourists only since 1974, one side of Leh has the dry sandy desert and the other- lush green fields of irrigated farms along the river. For many years it was an important stop for traders in caravans traversing the ancient silk route in Asia.
Acclimatization after reaching Leh is very important and as a sensible precaution, one must remember to drink plenty of water, it helps. On the first day itself we realized that even climbing a few steps towards the reception area of our hotel seemed like a momentous task. As the oxygen levels at such heights were much lower, it was not only advisable but almost mandatory to rest for the first 24 hours at least. Not taking this advice seriously can ruin your holiday plans and cause acute mountain sickness in the days to come. The strong sun and UV radiation at such high altitudes, I was also told causes sunburn. So armed with protective sun block, lip balms, dark glasses and hats, we were ready to walk and drive through Ladakh.
Markets of Leh: The main market area of this town lay at the foot of the ancient Leh Palace, a 17thc. Tibetan style structure made of mud, pebbles, brick and some concrete. It was once upon a time home to the royal family but today lies in ruins-deserted and dilapidated. The peak tourist season in Ladakh are the summer months of June, July and August when hundreds of backpackers rub shoulders with friendly locals. Children in school uniforms, delighted that the gloomy winter days have finally ended, greet you amidst giggles, with sparkling eyes and sun burnt rosy cheeks. The  pavements are lined with old hunched women with wrinkled skins, selling nuts and fresh greens from their farms. Admiring their traditional attire and striking jewelry I noticed that their white hair was neatly woven into long braids. As I went towards them, their wizened faces broke into broad smiles and one of them even convinced me to buy some of Ladakh's famous dried fruits. I willingly obliged and walked off with delicious almonds, apricots and raisins.
A little further on the Old road side, I found huge Tibetan markets hidden away behind obscure entrances. These markets specialized in selling cheap foreign goods from across the borders like pretty Chinese crockery and typical glass thermos flasks, commonly used in this part of the world to store hot tea or boiling water. The busy and bustling main bazaar of Leh was also dotted with the usual Kashmiri handicraft shops, bookstores, pharmacies, travel agencies, carpet showrooms and photo studios.
Most shops were also well stocked with statues, paintings of Buddha and all  possible Buddhist essentials like prayer flags, singing bowls, incense and prayer wheels. I noticed wall hangings of their auspicious symbols like the famous Tibetan Buddhist chant "Om Mani Padme Hum" which meant 'praise to the jewel in the lotus', in almost every nook and corner.
People and Lifestyle: The original inhabitants of Ladakh were of Indo Aryan origin that traveled down the Indus. Later on there was a huge influx of Tibetans, from the north eastern borders; a race that continues to dominate the population till today. There are also a few Muslims in Leh that belong to the Arghon community, descendants of the local women who married Kashmiri Muslim traders and other central Asian merchants who were passing by in caravans through Leh town.
Some of the villages in Ladakh are so remote that there is hardly any water, electricity or schools. People here are mostly nomads whose life revolves around their cattle. Many children from such places are sent to study in Leh, in search of a better life. Most Ladakhi families still continue to send at least one their boys to be educated in a monastery hoping that he will commit himself to the vows of monastic life. Many other youngsters are  also being recruited by the Indian army nowadays. Locals who live in villages closer to the river earn their livelihood through farming. Barley is their main sustenance crop.
Ladakhi people are tough and used to a hard lifestyle. They are cordial, truthful, independent, and very friendly. With their round sun tanned faces, high cheekbones, oblique narrow eyes with heavy lids; their facial features are clearly more Tibetan and central Asian rather than Indian.
Men and women wear 'gongchas'- gowns in dark colors tied with a brightly colored belt. The ones used by ladies were slightly more fitted. Women often wear fancy brocaded cloaks lined with sheepskin on the inside, brocaded hats and shoes with curly toes called 'papu'  made of yak hair or wool . Their woolen headdress called 'perak' is adorned with exquisite chunky corals and turquoise jewelry, hand pounded silver and pearl beads.  I learnt that it was worn on special occasions to show off the family wealth. Reflecting in their faces, costumes and lifestyle, Ladakhis have time and again proven their resilience to remain untouched by the rapid changes that are threatening the rest of the world.
Eating Out: There is no dearth of good food here. Restaurants catering to all budgets serve cuisines from all over the world. From fresh wooden oven-fired pizzas, fluffy pancakes and waffles to melting cheese toasts and home made ice cream.....you have it all. The roads on Fort road were lined with cafés, charming garden and rooftop restaurants and every second shop there is a German bakery selling the most mouth watering cakes and pastries ever made. A young German couple I met while waiting for my order at the tiny yet famous "Pumpernickle" German bakery (which ironically was run by a Sikh father-son duo) swore that the pastries at this shop were far more delicious and authentic than those back home in Germany. As soon as I sunk my teeth into the moist apple pie and banana walnut cake I knew I agreed wholeheartedly!
If you are adventurous enough, its worth trying the local delicacies like a bowl of 'thukpa'-a thick noodle soup with fresh vegis (it literally warmed my soul), 'chang'-a tangy rice beer, 'tsampa'-balls of roasted barley ground into flour, 'momos'-steamed or fried dumplings, salt butter tea (an all time favorite beverage made of yak butter and black tea) and berry juice made by the region's local women.
Day Trip: Leh, for all practical purposes was our base camp. Following a good night's sleep and a hearty buffet breakfast, we set off on our first day excursion. Driving about 20 kms from Leh, we reached the famous Magnetic Hill, where people claim that a car parked in neutral gear actually slides upwards ! Namgyal our driver, very enthusiastically positioned our vehicle at various spots between the two marked lines and we waited to see the miracle happen. Unfortunately we were not destined to witness this miraculous act of our car 'defying the law of gravity'.
After paying our respects at Gurudwara Patthar Sahib, a shrine dedicated to Guru Nanak, the great prophet of the Sikh people who visited Ladakh in 1517 on a missionary tour, we headed towards the Nimu village in the Sham valley.The stunning landscape that was awaiting us was truly spectacular! At the foot of the hill we had parked we saw the holy 'Sangam' -the dramatic confluence of the two mighty rivers, the Zanskar and the Indus. The distinct colors and flows of each were clearly visible and I was told differed dramatically from season to season.
The next stop was the Stok Palace, where the descendants of the Namgyal dynasty now live, since they were exiled in 1834. Overlooking the barley plantations on terraced mountains, it was built entirely by Ladakhi craftsmen in 1822 and has 77 rooms spread over 4 floors.  The walls were plastered with mud and decorated with heads of rare stuffed animals also known as "bharal". In the courtyard were engraved stones with religious inscriptions. The interiors, rather rudimentary were quite the opposite of our image of a palace. The museum section however preserved fineries of rare silk, exquisite stone ornaments, royal warfare and ceremonious gear. Local artifacts and inscriptions with teachings of Lord Buddha- all reflected the lifestyle and history of the famous Namgyal dynasty.
The long day ended with another magnificent view of the Leh-Changspa valley from the very imposing Shanti Stupa, a spotless white dome like structure built with aid from Japan, for world peace and to mark 2500 years of Buddhism. Inaugurated by H.H the Dalai Lama in 1985, it had an interesting array of colorful murals depicting scenes from Buddha's life. I sat down at the edge of the platform and in the distance saw rows of mountains glowing in the golden light of the sunset. I heard the soft sounds of the village stream below and soaked in the relaxing ambience. Within moments, the exhaustion of the day gone by, just melted away and I felt truly at peace with myself and the world around me.
Religion is a part and parcel of every Buddhist's daily life and Ladakh is an important centre of Tibetan Buddhism. In fact Buddhism reached Tibet from India via Ladakh. Scattered throughout this valley are prominent Buddhist monasteries perched high on rocky mountains. Buddhist settlements are marked by "mani" walls made of engraved stones bearing holy mantras or chants. Villages are dotted with prayer wheels and one often sees locals turning the symbolic wheel in the hope of gaining merit. The entire region is also peppered with many spiritual monuments called 'chortens' or 'stupas' which are dome shaped structures built over a square base. These are usually built in the memory of a monk or a religious leader and may sometimes even contain relics of such holy men. A village is usually crowned by a 'Gompa' or a monastery which is a spiritual community where monks and nuns live to practice their religion.Their humble homes circle the slopes, literally turning the entire hill into a sacred city. Gompas also serve as an educational institution and play a very important role in the lives and economy of the local community.
Monasteries of Ladakh: The Gompas are undoubtedly the most mystical places in this region. One visit to a monastery and you go back centuries, it's as if time has stood still. Only 8 kms from Leh, overlooking the airport on one side and the winding Indus  on the other is the Spituk Gompa established in the 11th c, around a sprawling green village. The main temple housed 'Sakyamuni' or the historical Buddha. To its left was the statue of Padmasambhava, an 8th c. Indian monk who founded Tibetan Buddhism in the Himalayas and to the right was the image of Goddess Tara, the saviouress and consort of Avalokiteshwara. The Spituk lamas belong to the yellow hat sect of monks and are caretakers of some of the most prized 'thangkas' or scroll paintings. Another small temple nearby called the 'Dolma Lokhang' was dedicated to the 21 different forms of the goddess Tara. As we walked towards the main prayer hall, I noticed an elderly monk helping an adorable six year old novice to get ready for a ceremony. Hesitatingly I asked a local what was happening and he answered back in a hushed tone "mandala puja". Just then I heard a powerful sound of the conch shell and soon the prayers began.  My heartbeat quickened, I couldn't believe I was actually witnessing  a fascinating ancient ritual,  which until now I  had only read about, still  being  practiced within the walls of  this 1000 year old sacred temple. The entire room was drowned in the vibrations of 'Om'- which Indians believe is the perfect sound of silence. According to Buddhist iconography a 'Mandala' is a symbolic representation of the universe often shown as a palace with four gates that open towards the four principle directions of the earth. It is a colorful design of circles and intersecting lines made from sand on the floor of a monastery or sometimes painted on its walls. Sand mandalas are usually swept away once the ceremony is completed, depicting to all human beings the impermanence of life. Mandalas are believed to have mystical powers that aid in prayer, meditation and concentration.
Up the hill, was another temple shrine dedicated to the fiercest of guardian deities in Tantric Buddhism called 'Mahakaal'. This statue was testimony to the fact that Ladakh is still a stronghold of the esoteric form of Buddhism known as 'Vajrayana' Buddhism that relies heavily on rituals and techniques rather than on philosophy. We saw a statue of the Hindu goddess 'Kali' in a rare natural rock formation. These fearful images, I was told remain covered at all times and are revealed to the devotees only once a year during the much celebrated Spituk festival.
Shey, Thiksey and Hemis Gompas are the other three prominent monasteries in this area.
Shey was the ancient capital of Ladakh before the king Sengge Namgyal shifted his capital to Leh. This 17thcentury palace now has gone to seed but still  houses two temples within its complex that reveal a magnificent  seated statue of 'Sakyamuni' the historical Buddha, 12 mts. high made of copper gilded with gold. A monk seated at the Lord's feet mentioned that this impressive statue was designed and made by a Nepali craftsman in 1655 and the copper (that was beaten into sheets to cover the statue) was collected from the Zanskar region along the river. He also patiently explained that the most important moment in the construction of the Buddha figure was when the eyes were painted on; for it was at this moment when the statue actually begins to "see". And as no one would dare to look at the Buddha in the eye, the artist or monk would paint the Buddha's pupils over his shoulder by looking into a mirror with his back to the idol! Shey also had a well stocked library of ancient scriptures and walls painted with murals of Buddha figures showing his various hand gestures - that of preaching, teaching, blessing and earth witness.
Thiksey Gompa was the most impressive and well maintained monastery in Ladakh. It was constructed in the style of the famous Potala palace in Tibet. It stood 12 levels high, perched on top of the hill overlooking the villages below. The library also housed many ancient scriptures and the walls were adorned with the finest and most well preserved Buddhist paintings and murals. I climbed to the roof of the gompa which was adorned with gleaming golden and brightly colored finials, visible for miles around and also saw some breathtaking views of the Indus valley below.
Thiksey is also famous for housing the exquisite and massive statue of the "Maitreya"(compassion in Sanskrit)Buddha. The seated position of this magnificent statue was an incredible 15 meters in height, spanning 3 storeys. The statue was made entirely by local craftsmen and represented the Buddha of the Future. The prophecy made of the Future Buddha was that "in the years to come, the world will undergo such chaos that the Future Buddha will ave to intervene and teach compassion to the people and relieve them of their pain and suffering.
We reached Thiksey at about 6.30 am, well in time for the early morning prayers. We sat down peacefully on the ground in the dimly lit main prayer hall and were soon drowned in the haunting sounds of ritualistic chanting. In the soft flickering light of the butter lamps I quietly observed the young monks, novices not yet initiated into the fold, scampering around serving butter tea and tsampa to ancient men who seemed as if they would crumble to dust any minute. The more middle aged monks meanwhile led the morning prayers in their deep throated voices. For me and other tourists, just being there was such an exhilarating moment and for the monks lost in prayers just another routine start to their daily monastic life!
Hemis Gompa: Crossing the river at Karu, we soon reached the largest monastery in Ladakh well hidden behind the hills until the last minute. Built in 1620 by King Sengge Namgyal this gompa was steeped in an ancient atmosphere of rituals and practices long forgotten by the modern world. The main assembly hall was a large room with a shaft of natural light beaming in from the ceiling. It had a throne for the Rinpoche or spiritual master and rows of low seated tables and cushions for the red hat sect of lamas in prayer. In the main temple, was a large seated statue of the Sakyamuni Buddha with striking blue hair surrounded by many silver chortens studded with exquisite precious stones. Hemis is supposed to be the richest gompa in this region.
Thangkas: Hemis also has the honor of housing a large collection of the historical canonical Buddhist scriptures and is home to the largest Thangka in the world. A priceless treasure, 62 feet long that is revealed only once in every 12 years! The last viewing was in 2004.  Thangkas are Buddhist religious paintings on a flat surface that depict episodes from the life of Lord Buddha. The art of learning how to paint a Thangka is a discipline that requires extensive training and mathematical precision. Unfortunately many of these delicate works of Ladakhi art have deteriorated with the passage of time. Today few surviving murals can still be seen on the crumbling walls of these aging monasteries.
Adjusting my eyes to the poor lighting I walked towards one corner of the hall and saw a man sitting atop a ladder peering into a thick book. I noticed that he had some paintbrushes and was actually dipping into his palette to paint on these walls. He introduced himself as Tsering Wangdus, a professor in painting at the Central Institute of Buddhist Studies in Choglamsar near Leh. As we talked on further I discovered that he was incidentally the winner of India's most prestigious 'Padmashree' award, for excellence in creative fields such as Fine Arts and was the distinguished author of the book he was referring to! I then realized that the momentous task of restoring and reviving these ancient treasures had been placed on the humble shoulders of this man who was uncomplainingly working in the harsh light of a naked bulb.
Tso Pangong: There are many parts of Ladakh where one feels, that the journey is as awesome and mystical as the destination itself. The drive to Pangong was one such experience.
About 150 kms away from Leh town and open to tourists only since 1996, Lake Pangong is the largest water body in Ladakh. It is said to be 5 kms at its widest point and supposedly the highest salt water lake in the world. So we relaxed, paced ourselves, absorbed the landscape and made our way up a barren winding path that lead us towards the third highest motor able road in the world- the Chang La Pass at an incredible height of 17800 feet above sea level.
After a 5 hour drive we finally took a break and decided to spend the night at a tented camp on the outskirts of Mukleb village, before heading out towards our destination the next morning. This outdoor experience was a first for me and one I will never forget. The tents looked sturdy and were decently equipped with beds, pillows, thick cotton quilts and a small table with a single candle and matchbox next to it. Pretty comfortable I thought, considering we were in the middle of nowhere! Our host Namgyal (yes, another one! it seemed everyone here from the king to the errand boy in a tea stall had the same name!) was the owner of these tents and he was also our cook, caretaker and guide for the evening. A very humble man in dusty brown clothes, he welcomed us warmly with folded hands and introduced us to his wife who was milking a yak. His 9 year old daughter also greeted us with a smile. She was herding the playful sheep back home towards a stone enclosure. In the soft evening light far away I saw wild horses grazing lazily in the fields. I just lay down on the small green patch outside my tent and stared above at the deep blue sky slowly lighting up with a million stars. Surrounding me was the silhouette of giant brooding mountains keeping a strong and silent watch on the world. I found myself trapped within this charmed storybook image. The peace and calm was soon broken by the harsh sounds of the tents flapping wildly in the wind. I suddenly realized that the night was freezing and I'd better get some rest if I wanted to fully enjoy the views of Pangong the day after.
We set off early next morning making it through the last stretch of   mountains and gurgling streams- I caught the first glimpse of the lake -it was a faint blue shimmer teasing us with its partial view. I felt a surge of excitement and locked my eyes in. As we drove closer the bewitching turquoise blue expanse slowly began to reveal itself. Its sheer size hit me like a bolt of lightening till I realized that what I saw ahead was not even one third of this 62 km long lake. The remaining two thirds has in fact been occupied by China and lies across the border. Pangong was surrounded by a range of limestone cliffs in varying shades of white, brown, mustard and gold .They were completely devoid of any vegetation. All I could see were pebbles, rocks and boulders in every conceivable size and color.
I looked around and there wasn't a soul in sight. The place was completely desolate. Grabbing these moments of solitude I stood spellbound in front of God's most stunning landscape that I had ever seen. He seemed to have painted this canvas with master strokes, bold rugged mountains, clear blue skies, shimmering waters, the feeling was indescribable. It was truly an experience like no other. I walked towards the lake and realized that with every few steps and at every angle the lake changed colors from a rich emerald green to a deep midnight blue .The play of light on the crystal clear waters was mesmerizing like a million diamonds glittering in the sun. The momentous excitement I felt, being at a place so magnificent, along with a sense of calm within  was overwhelming. It is a feeling that will stay with me forever in the years to come!
An Awakening: People may often wonder why anyone would want to live or even visit a remote place such as this. I soon realized that it is this very harshness along with it's unique dream like ambience that makes this land - those last places on the planet, which still preserve an ancient and long forgotten culture...a lifestyle that is frozen in the past. A life that is true only to Ladakh.
I returned and realized that a journey to Ladakh is not just a holiday or touristy visit. It was in fact, a very meditative and truly spiritual experience in my life. A journey, that prompted me to look inwards for a change. Its raw unusual beauty and compelling charm can touch you so deeply that you will return never 'being the same' again. As you can imagine...I surely am not!
More Info
*Ladakh literally means "the land of high passes". Khardung La in Ladakh, at a height of 18380 feet is said to be the highest motor able pass in the world. Temperatures here range from +25 C to -25 C.
*Leh is well connected by air, with daily flights from Delhi, Chandigarh, Jammu and Srinagar. By road it is a beautiful but long drive (about 25 hours) on the Leh-Manali or Leh-Srinagar highway open only in the summer.
*Leh has many standard and luxury hotels. Comfortable tented accommodation and camps can be organized during outdoor trips.
*Ladakh is also often known as 'Little Tibet' and the 'Last Shangrila'
Text and Photographs by Hansa Piparsania
---