Going Dutch At Huis Ten Bosch
---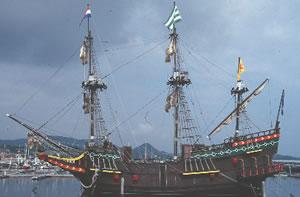 Image ©
2001 Graham Simmons
Yoshikuni Komichika is no ordinary tycoon. Not far from the southern Japanese gateway off Fukuoka, he has created a resort nearly as big as the Principality of Monaco.
The main modules of Kamichika's dream, all centered around Omura Bay near Nagasaki, in Japan's Kyushu Island, have already been realized. These include the 12 year-old "Bio Park" open-range zoo, a Jack Nicklaus-designed country club, Holland Village (based on Nagasaki's long trading history with Europe), and the biggest of them all, the 150 hectare Huis ten Bosch.
Huis ten Bosch is a grand-scale Dutch-theme park about 40 minutes by rail from Nagasaki. Japanese weekend-trippers, short-breakers, honeymooners and school groups come here in big numbers, if only to escape the concrete jungle that is modern city living in Japan.
"This place is completely different from everyday Japanese life", says Megumi Matsuzaki, who teaches Japanese to Australians in Tokyo and is visiting Huis ten Bosch with her daughter. "That's why people come here. The building styles are novel, and Japanese people are attracted by the orderliness of European cities".
To the Western visitor, Huis ten Bosch may seem kitsch, but to many Japanese who visit here it's the eye-popping real thing.
But even Mrs Matsuzaki has reservations about Huis ten Bosch. "I don't like it all that much", she says, "I think it's too artificial".
Huis ten Bosch, the world's biggest waterfront resort, is as big as the Principality of Monaco. Here you'll find a mixture of artifice and fantasy, of authenticity and of splendour that sometimes goes right over the top, and of commitment to a goal.
But it's hard to determine just what this ideal might be. Yoshikini Komichika himself seems a little confused as to where to go from here. "My idea is to create a whole series of towns around Omura Bay", he says, "using the themes of water and greenery". The next step, he says, is a Japanese Heritage Village, to remind visitors of their culture. Also on the agenda is a full-scale replica of Monaco itself.
Some of Holland's 18th Century glory lives on in the Palais van Huis ten Bosch, a full-scale replica of the Palace of Queen Beatrix of the Netherlands.
Don't miss the outstanding palace mural "Après nous le Déluge!" This is no ordinary mural: it covers the walls, ceiling and inside of the dome of a space the size of a mini-cathedral. With its profound anti-war theme, this amazing work took Dutch artist Rob Scholte and his team nearly four years to complete.
Fred, a visitor from Utrecht in the Netherlands, lived in St Kilda (Melbourne) for two years. He's here on holidays. "This place is well-done", he says, "but the mountains all around look really funny". Holland is not exactly renowned for its mountainous terrain, to be sure.
You'll see other Dutch faces around Huis ten Bosch, too. There's an on-park branch of the University of Leiden, where young people from the Netherlands come to learn Japanese while assisting with the running of the park.
Another visitor to Huis ten Bosch is Karen Kelsky, Assistant Professor of Anthropology at the University of Oregon. She is carrying out a survey to determine what motivates the Japanese to visit theme parks. Is it because of an interest in foreign cultures, or maybe because of a desire to some day visit the Netherlands'
"Neither of these", says Karen. "What we've found is that most people come here as part of a trip to Kyushu, and this is just another 'sight-to-be-seen' ".
Whatever, Huis ten Bosch is some sight! Nieuwstad (or "new City") is one of about a dozen precincts making up the Park. Here you find the high-tech and the mega-tech - take, for example, the "Mysterious Escher" cinema, with its astonishing 3-D movie presentation, in which the images seem to leap right off the screen. Or check out the "Crystal Dreams" Theatre (kids will love this one), in which holographic images are beamed onto a dancing-jet musical fountain.
There's also Animation World, featuring some of the funniest and best cartoons ever created, all housed and screened in an arcade of Dutch-style "shops".
Binnenstad is a Shopping Complex, designed to drain visitors of their hard-earned Yen. Here you'll find a whole panoply of Dutch-theme shops, selling everything from cheese to chocolate to clogs. If you value your bank balance, you'll give this precinct a wide berth.
But one thing is missing. After a while, it hits you. There's a certain Amsterdam amenity that you just can't find at Huis ten Bosch.
I refer, of course, to Holland's hashish shops. Where would a real Dutch village be without a dope café? But at Huis ten Bosch, the nearest you'll get to the whiff of a joint is by going down to the harbour and pointing your nose towards India.
Down at the harbour floats the good ship De Liefde, a full-scale replica of the first Dutch ship to visit Japan, in the year 1600. By the waterside, people are relaxing in the cool evening breeze, taking in the truly awesome son et lumière laser show. This performance, by world-renowned electronic musician Isao Tomita and laser artist Tomio Yoshii, fills a whole harbour with megaphonic sound. At the same time, laser-beams paint the sky with a thousand intersecting rainbows.
"And this is only the beginning", says Teruaki Hoshi, Marketing Manager for NHV Hotels. "Isao Tomita is right now working on a new show that will make this one seem tame by comparison".
The flagship of the HTB hotels fleet is the Hotel Europe, a bigger-than-lifesize copy of Amsterdam's hotel of the same name.
In the same HTB hotels stable are the Hotel den Haag, Hotel Amsterdam and Forest Villas. The Excelsior restaurant at Hotel den Haag offers top-notch silver-salver service. This is a place that breathes Europe, at Swiss prices.
The Japanese have never been noted for their reticence when it comes to thinking on a grand scale. Huis ten Bosch is just one such mega-concept. At times the whole project seems to verge on megalomania - but then you catch your breath, and wonder at the awesome scope of Yoshikuni Kamichika's design.
All in all, this startling theme park is well worth a visit. You'd travel all the way from overseas just to catch the laser show. If it's not the eighth wonder of the world, then Huis ten Bosch is surely the ninth or tenth.
Acknowledgments:The author wishes to acknowledge the kind assistance of Ansett Australia, the Japan National Tourist Office and Select Luxury Hotels in facilitating this visit to Japan in general and Huis ten Bosch in particular.
FACT FILE
Getting There:
Several international airlines fly direct to Kyushu's Fukuoka Airport, for Fukuoka (Hakata) rail station. From Hakata, the Huis ten Bosch Express, departs approximately hourly, taking 90 minutes for the trip to Huis ten Bosch Station.
To get around Japan, the best bet is a JR Rail PassWith a JR pass, you can also catch the comfortable Akatsuki night train from Shin Osaka station to Nagasaki (leaves Kyoto 2032 and Shin Osaka about 2100, arriving Nagasaki 0847.) From Nagasaki it's about 40 minutes by local train to Huis ten Bosch.
Admission to Huis ten Bosch:
A two-day free pass covering admission to all attractions costs ¥ 6,800. This is good value, covering also admission to Holland Village and cruises on the Amelia. But have a big breakfast before you come - food is very expensive here.
Where to Stay:
For those with plenty of cash, the Hotel Europe within the grounds of Huis ten Bosch is an extravaganza, modelled on Amsterdam's famous Hotel de l'Europe but on a bigger scale. Twins/doubles range from ¥ 35,000. For information and reservations, contact Small Luxury Hotels.
A cheaper option is to stay in Nagasaki, and commute to Huis ten Bosch daily. Some options:
Harbour Inn Nagasaki (tel +81 958 27 1111, fax 27 1154); an inexpensive business hotel, from ¥5,500
Nagasaki Oranda-zaka Youth Hostel (tel +81 958 22 2730), ¥ 3,200 (including meals).
Guide-Books:
Lonely Planet's Japan, a Travel Survival Kit is unsurpassed. Of complementary value are Jim Rickman's Japan for the Impoverished (Borgnan Corporation), excellent for advice on cheap rail travel, but not much else; and Gateway to Japan, by June Kinoshita and Nicholas Palevsky, superb in detail but super-confusing in layout.
---