The Harmonium in My Memory Korean Recipes & Photos
---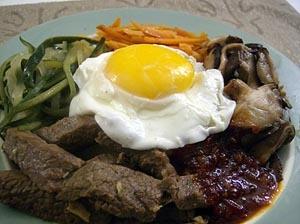 Image ©
2008 Celeste Heiter
This hearty and unusual Korean menu features an array of classic dishes, including Quick and Easy Kimchi, Daikon Pickles, Kimbap Sushi, Bulgogi Beef Ribs,  Pajun Pancakes, and a popular Korean favorite, Bibim Bap.  
Quick and Easy Kimchi
1 head green cabbage
1/4 cup coarse salt
1/2 cup rice vinegar
1 tablespoon sugar
2 tablespoons chili garlic paste
1 knob fresh ginger root, finely grated
2 cloves garlic, finely minced
3 scallions, finely sliced
Remove outer leaves from cabbage. Cut cabbage in quarters lengthwise and trim away the tough ends. Cut each quarter into 1 inch slices. Put into a colander and toss with salt. Cover and place over a bowl to drain for 2 hours, until wilted. Rinse thoroughly.
Bring a large kettle of water to a boil and blanch cabbage for about 3 minutes, until tender. In a large bowl disolve the sugar in the vinegar. Add the chili paste, ginger, garlic, and scallions. Add cabbage to the vinegar mixture. Pack tightly in a glass jar, and if needed, add enough water to cover. Close the jar and refrigerate overnight.
Daikon Pickles
1 daikon radish, cut into 6" spears
1/4 cup kosher salt
1 cup rice vinegar
1 cup water
1 cup sugar
1/4 teaspoon turmeric
Combine the vinegar, water, sugar, and turmeric and bring to a boil in a small saucepan, stirring to dissolve the sugar. Remove from heat and allow to cool. Place daikon spears in a colander with salt and mix well. Place the colander over a bowl and let drain for 1 hour. Rinse the salt from the daikon and place in a glass jar. Pour the vinegar mixture into the jar to cover the radish slices. Turn the jar on its side and refrigerate at least 4 hours, or overnight, turning occasionally for even pickling.
Kimbap
1 bunch spinach, lightly steamed
1 carrots, coarsely grated
6 daikon pickle spears
1/4 pound beef steak, cut into thin strips and lightly stir-fried
1 egg omelet, cooled and cut into thin strips
3 cups cooked short grain rice
1 tablespoon sesame oil
6 nori wrappers
Prepare all filling ingredients (steamed spinach, grated carrot, daikon pickles, stir-fried beef, egg omelet, and cooked rice)
Combine the rice with sesame oil and stir to thoroughly blend. Place one seaweed sheet on a bamboo mat and spread rice on the lower half of the sheet. Divide filling ingredients into 6 equal portions. Place one portion of steamed spinach, grated carrot, daikon pickle, stir-fried beef, and egg omelet strips on top of the rice. Roll the nori wrapper around the filling, squeeze gently with the bamboo mat and moisten the upper edge with a little water to seal the wrapper. Repeat with remaining nori wrappers. Cut each roll into 6 equal pieces. Makes 36 pieces.
Bulgogi Beef Short Ribs
2 pounds beef short ribs
Marinade
1/4 cup soy sauce
1/4 cup rice vinegar
2 tablespoons cheongju (rice wine)
1 tablespoon sesame oil
1 tablespoon kochujang (chili paste)
2 tablespoons brown sugar
1 knob fresh ginger root, finely grated
Combine all marinade ingredients in a jar with a tight-fitting lid and shake to thoroughly mix. Place the beef in a shallow baking dish, cover with the marinade, and refrigerate overnight, turning the beef ribs once to marinate on both sides. When ready to prepare, preheat oven to 275 degrees and place the marinated ribs on a foil-lined baking sheet. Place in the oven and roast for about 2 hours, until browned and tender.
Pajun Pancakes
Batter:
1 cups all-purpose flour
1 eggs, lightly beaten
1 cup water
1 tablespoon vegetable oil
Vegetables:
5 scallions, finely sliced
1 carrot, coarsely grated
1 bell pepper, finely chopped
4 shiitake mushrooms, thinly sliced
Dipping Sauce:
1 tablespoon rice vinegar
3 tablespoons soy sauce
1 teaspoon sesame oil
1 teaspoon sugar
Combine flour, eggs, water and oil in a large mixing bowl and stir to form a smooth batter. Add prepared vegetables and stir to mix. Combine dipping sauce ingredients in a small jar and shake to blend.
Grease a small skillet and place over medium heat. When skillet is hot, pour or ladle a 6" puddle of pajun batter into the center and distribute vegetables evenly. Fry pancake until golden brown on the bottom and carefully turn pancake over to brown on the other side. Remove pancake from the pan, cut into wedges and serve with dipping sauce. 
Bibim Bap
1 pound beef steak, cut into thin strips and lightly stir-fried
8 shiitake mushrooms, thinly sliced and stir-fried
1 carrot, thinly sliced and stir-fried
1 zucchini, thinly sliced and stir-fried
4 eggs, fried sunny-side up
6 cups cooked short grain rice
4 tablespoons kochujang (chili paste)
Sesame oil for stir-frying
Cook rice in an automatic rice cooker or in a saucepan according to package directions. Keep warm until serving time. Lightly stir-fry beef, mushrooms, carrot and zucchini in separate batches and keep warm in a low oven until serving time.
Place one portion of cooked rice in each serving bowl. Arrange beef and vegetables over the rice, along with a generous tablespoonful of chili paste. Quickly fry eggs one at a time, leaving yolks soft and runny, and place one on top of each dish of bibim bap. When ready to eat, puncture the egg yolk and mix together with all the ingredients. Serves 4.
---