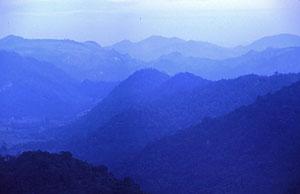 Thailand is fortunate in that the last quarter of the 20th century saw it ascend to become one of the most (if not the most) popular tourist playgrounds in tropical Southeast Asia for tourists from all parts of the world. By the end of 1999 the two-year long promotion "Amazing Thailand" had proven itself a success, and the TAT's (Tourism Authority of Thailand) target of 8 million arrivals was easily achieved. As the world enters a new millennium the TAT have a new focus, and their campaign goes under the banner of "Amazing Thailand 2000 - Enchantment for the Next Thousand Years," with expectations of up to 9 million visitors this year. In 1999 the only parts of the world declaring negative growth to the "Land of Smiles" were the cash-strapped countries of Eastern Europe, but they only accounted for 0.75% of total arrivals. Other parts of the world showed increases of from 1.45% (Norway) to 101.9% (Indonesia).
Tourists have traditionally been attracted to Thailand thanks to its plentiful expanses of white sand beaches, crystalline seas, glistening golden temples, ancient architecture, delicious food, and the easygoing way of life Thai people have about them that soon becomes second nature to her visitors.
But there is more to the country than simply these attractions. Nowadays, discerning visitors may have noticed a shift in thinking from the government, the private sector, and the people themselves. All are becoming increasingly aware of the importance Thailand has to the ecology of Southeast Asia: even international hoteliers like Accor Asia Pacific and the Hilton group have become environmentally conscious, and are now promoting sustainable development that stays in tune with Thailand and other countries they operate in.
As for Thailand, one way in which their commitment to preservation of the environment can be seen is with their establishment of 52 national parks. They range from marine retreats that are home to enigmatic whale sharks and colourful corals, to dense tracts of rainforest, blossom covered hills and valleys, and scores of picturesque waterfalls. The parks are a relatively new phenomenon in Thailand, and the first, Khao Yai, was only opened in 1961. It is also the largest, with five vegetation zones contained within its 2,120 sq m, from thick evergreen rainforest canopies (100-400 m) to semi-evergreen rainforest (400-900 m), mixed deciduous forest (northern slopes at 400-600 m), and hillside evergreen forest (over 1000 m). Before logging was prohibited some tracts had been felled, and savannah and secondary forest growth has now taken over those areas. It is not difficult to see why Khao Yai was chosen as the country's first National Park, as the diversity of its terrain allows a wide assortment of flora and fauna to flourish there, within its protective boundaries. Living in the park are sambar and barking deer, tigers, pig-tailed macaques, 200 - 300 wild elephants, Asiatic black bears, Malayan sun bears, slow loris, gibbons, and gaur, amongst several other species of animals now scarce in the rest of the world. The best time to look out for them is during the rainy season, from June to October.
Khao Yai has also become popular with "twitchers" (bird watchers) and there are a host of different feathered species, resident or migratory, that visit every year, including the "Sultan" of the bird kingdom, the Great Hornbill. And if you're not too timid, every evening as the sun goes down, the sky darkens with hundreds of bats soaring out of the park's scores of caves, to hunt for their evening meal. Don't fret, you're not in Romania, so there won't be any hungry vampires looking for a liquid feast.
Since 1992 all commercial overnight visitation has been banned by the Royal Forestry Department (good for them), but basic dormitory accommodation is available at the park's entrance lodge for Bt 20 - Bt 30. Look for the Kong Kaew or Yaowachon Camps, that both have blankets for hire during the cool season. If you want a little more luxury after your hike through the park, the nearby town of Pak Chong has several decent guesthouses, but the most enjoyable place to stay is the Kao Yai Garden Lodge with its thriving, well-tended gardens displaying over 200 orchids and hybrids. It's 7 km out of town on the way to Khao Yai, and you have a choice of air-con or fan rooms, with or without an en-suite bathroom. Also on the road to the park are several resorts with luxury bungalows costing up to Bt 2,500 per night. When you arrive at the entrance lodges you will find that guides are available, or if a Ranger is free, you might even be able to persuade him to lead you through his park on one of the twelve trails. There are over 50 km of tracks that have mostly been created by the indigenous wildlife, but the popular trails you will see marked on the map available at the Lodge have been designed to last from 1 - 6 hours. You might need to be a little fitter than a lazy "couch potato" in Khao Yai as some of the treks can elevate you from 100 m to 1,400 m as you stroll along them.
There are several international wildlife preservation organisations at work on several projects in Khao Yai (which has recently been nominated as a World heritage site by the UN), and one of the most important is that dedicated to tiger preservation. There may be up to 200 of the big cats still living in Khao Yai, which is a significant percentage of the remaining wild tiger population worldwide. A trip to Khao Yai (or indeed any National Park) opens up another panel in the treasure chest that is Thailand. But the environmental balance is delicate, and visitors are encouraged to leave behind no detritus of their visit - to take back everything they took in with them ... but nothing else!
Adventure! Danger! Photo Opportunities! Why not take the two-hour drive from Bangkok to Khao Yai by car or tour bus next time you visit?
* * * * *
---