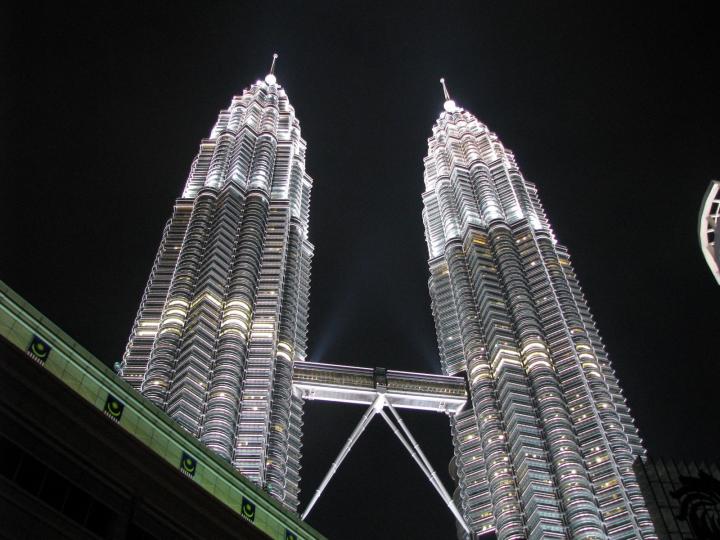 Have you experienced the nightlife in Kuala Lumpur? I just did and I enjoyed it to the hilt for it didn't occur to me there's so much excitement in the city after dark.
 How naïve of me to assume KL, as it is universally known, has no nightlife. I imagined the city, whose name means "'muddy confluence" in Bahasa, to be low-key and conservative because it's the capital of a predominantly Muslim nation. Since Islam connotes complete submission and obedience to Allah, Muslims are obliged to constantly devote time to prayers, day and night. I thought that after a hard day's business, the faithful ones would rush home or head straight to the mosque to pray rather than shop at the mall, sup with the family, see a movie or soak up in some girlie bar.
 But KL does have an exciting nightlife despite the strong Muslim presence there. To my delight, the nights are sparkling, not languid; sexual but not lascivious. In some districts, the night scene gets hot and heavy as fun rages on in a large number of clubs, pubs, bars and discos that stay open until the wee hours of the morning. I should have expected this since the city has a multiracial environment. It's a veritable melting pot where varied beliefs, traditions and lifestyles of three major cultures exist: Malay, Indian and Chinese, resulting in an interesting tapestry of colors, creed, cuisine, customs and couture that tends to complement rather than contradict each other.
 So, how do people in an Islamic city like KL have fun when the sun goes down and where do they congregate? Well, it really depends on the kind of fun you have in mind and the amount of cash you're willing to shell out to have it. The most popular hotbeds of night entertainment for the nocturnal crowd, however, are Bukit Bintang, KLCC, Bangsar and Jalan Petaling. At night, these places light up with fun and frenzy as large throngs of frolickers fill the glittery hangouts found in them.
 When I was in KL, I opted to drop by Bukit Bintang, often called the Bintang Walk, which attracts most of the crowds after sundown. Anyone who's been around the capital would be familiar with this famous strip at Jalan Bukit Bintang. As soon as night falls, this side of KL transforms into an exciting promenade ablaze in multicolored lights where people wine and dine in open-air mamak eateries (Indian food stalls), cafes and restaurants. In one of the walk's busy sections, I chanced upon a vibrant version of the night market known as pasar malam in the native tongue, where you can find a variety of goods at prices that can be haggled.
 Bintang Walk lies within the so-called Golden Triangle (GT) area which is triangulated by three roads: Jalan Imbi, Jalan Sultan Ismail and Jalan Bukit Bintang. Kuala Lumpur's multiracial vibrancy is perhaps most conspicuous in this neighborhood, where wall-to-wall bars, clubs, pubs, restaurants and kopitiams (coffee shops) serve American burgers, Italian pastas, Spanish tapas, Persian kebabs, Japanese sushi, Chinese noodles and every other international delicacy you can think of. The GT neighborhood also boasts of having the biggest malls in town including BB Plaza, Low Yat Plaza, Sungei Wang Plaza, Lot 10, Imbi Plaza and Berjaya Times Square where branded clothing, footwear, jewelry, accessories, appliances and electronic goods are available.
From Bintang Walk, you can spend the night away by gawking at Malaysia's world-renowned icon — the 88-storey Petronas Twin Towers found at the Kuala Lumpur Commercial Center (KLCC). No trip to KL, I guess, is ever complete without seeing the towers that used to hold the record of being the world's tallest structures. By the time I arrived there, the last traces of daylight were just starting to fade into the horizon so I was able to catch a glimpse of the architectural wonders before darkness crept in.
 Seeing the towers for the first time left me awestruck. Like the other tourists, I gazed at them for hours, taking their photos from different angles for posterity's sake. Rising 452 meters (that's about 1,483 feet!) over the metropolis, they're an architectural display by day and a magnificent sight by night, towering amidst all the skyscrapers dotting KL's skyline. But I missed the chance to go up the sky bridge, a double-decked structure connecting the two towers, where tourists are rewarded with a sweeping view of the city.
 Inside KLCC, there's a luxurious mall, Suria KLCC, where you can rest and refresh after hours of looking at the towers. The mall features six levels of retail outlets, restaurants, cafes, cinemas, a concert hall, an art gallery and a science discovery center called Petrosains. Also, the area around KLCC is one of the liveliest and noisiest hubs of merriment in the city. Clubs, bars, pubs and lounges are scattered around the roads of Sultan Ismail, Pinang and Ampang, including the ubiquitous Hard Rock Café.
 Some of the best after-dark scenes also abound in Bangsar, an affluent suburb in the outskirts of KL. One of its main streets, Telawi, is dotted with night clubs, pubs and bistros. Sometimes known as "the strip", Telawi features a large night market that makes Bangsar a colorful and exciting hive of activity during weekends.
 Another exhilarating way to cap the night in KL is to drop by Jalan Petaling, which is always brimming with locals as well as tourists who flock to the area to hunt for the best bargains in town as well as savor their favorite homegrown dishes in the numerous restaurants and food stalls littered all over the place. From tees to trousers, from shades to shoes, and from toys to trinkets, this well-known street has it all.
 Petaling, however, has gained notoriety for being a hub of pirated goods such as clothes, accessories and DVDs, but there are a number of outlets offering authentic merchandise. Known as KL's Chinatown, you can test your haggling skills with the traders plying various wares. Most of them are Chinese but there are also peddlers of different ethnicities. If you're good, you'll surely get the best value for your money.
 Haven't experienced the nightlife in KL yet? You better try it. As night falls, you'll get to enjoy the different forms of entertainment in the glitzy bars, pubs and lounges lining the streets and also meet the most diverse assemblage of humans from all walks of life: locals, tourists, expats, yuppies, singles, couples, gays, straights, young ones and the young once. It's this ethnic diversity that gives the city its distinct character — spiritual yet sensual, refined though rugged, ordinary but also ornate, fusing the colonial and contemporary, the mundane and mystical, the subdued and sonorous. Truly, KL is multiculturalism at its best.
---