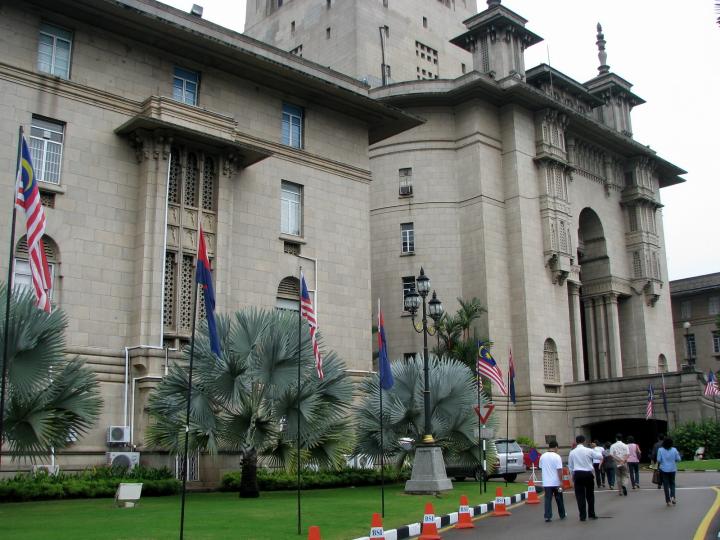 Not too long ago, going to Malaysia didn't interest me. A recent visit to the Islamic  city of  Johor Bahru  (or JB, for short) — my first time ever in that country — changed all that.
Initially, I hardly felt any joy over the news that I've been chosen as one of those participating in a weeklong training in JB. While others reveled at the unexpected boon, there I was trying to find a way to nip in the bud my travel to the Malay peninsula. It even came to a point when I suggested to our sponsor to find a substitute to take over my slot but to no avail. It doesn't mean though that foreign travels don't appeal to me. I'd like to think I'm an incorrigible drifter who'd jump at the slightest chance to hit the road but not in Malaysia. No, I don't loathe the country and its people. I have issues against our neighbor, all right, but that doesn't mean I'm xenophobic. It's just that the idea of going there didn't sit well with me before.
What's with Malaysia that irked me? First, there's the Sabah claim, which for the longest time has been a ticklish issue in Philippine-Malaysian relations. I'm no expert over the dispute but the nationalist in me insists that it rightfully belongs to us. To the chagrin of many Filipinos (including me), this claim over the territory in East Malaysia (Bornean Malaysia) has been relegated to the backburner by successors of the Marcos administration in the name of economic cooperation, diplomatic relation and security within the region.  
Second, I've been hearing so many stories about the unpleasant experiences of foreigners, especially Filipinos, who've been to Malaysia. Years ago, a number of illegal immigrants were said to have been rounded up and held in detention before deportation at the time when the country imposed its stringent immigration laws. There were also reported incidents of rape, torture and inhuman treatment of Filipinos while they were at the detention centers. As a Filipino, I couldn't help but be outraged by these atrocities.
Then there's the widespread perception that Malaysians in general are cold and inhospitable to foreigners. This could have been the consequence of the authoritarian and outspoken ways of its former prime minister who seemed to have a strong dislike for anything foreign, especially those who said ill things against his country. Anybody would surely think twice about going to a place where hospitality was in short supply. I thought I could deal with the first two issues but not with indifference.
But so much has changed in Malaysia since Mahathir stepped down, this I realized during the trip to JB. The people we met there didn't give us the cold shoulder that I expected. For the most part of our stay, it seemed like we never really left the Philippines because our gracious hosts made us feel at home. The moment we saw them at Changi Airport in Singapore, I readily felt at ease dealing with our counterparts. Well, it must be their infectious smiles, their sense of humor, their generosity that dispelled my biases.
Their concern for our welfare and safety also overwhelmed us. They made sure we breezed through the tough immigration checkpoints at the Singapore-Johor Bahru causeway. Later, they treated us to dinner before delivering us to our hotel in downtown JB. They also dispatched vehicles that took us back and forth the training venue. Thus, to say they're as sweet and warm as the tea they kept serving us during the training would be an understatement.
Visiting JB also felt like a homecoming of sorts for us. In our interactions with the Malaysians, it seemed like we were long lost relatives eager to please each other and to make up for lost time. I guess this has something to do with the ties that bind our two countries. History — or is it legend? — has it that our forefathers, the seafaring Malays, originally came from Borneo, part of which now belongs to the Malay federation. Perhaps this explains our similarities in terms of physical attributes and cultural traits, including language. We're talking about the same thing when we say anak (child), mukha (face), ulan (rain), langit (sky), mahal (expensive), pinggan (plate), kambing (goat), and many more, even though we have different religious beliefs, rituals and traditions. With the winsome ways of our hosts, it wasn't long enough before I found myself enjoying our visit to JB.
 Inhabited by some 1.8 million people in its metropolitan area, the city is one of the three highly urbanized centers in West Malaysia (Peninsular Malaysia), along with Kuala Lumpur and George Town in Penang. Strategically located in the state of Johor, it's less than an hour away from Singapore by car, bus or motorcycle, but this could stretch to as much as two hours if the traffic at the causeway is heavy.
 I found out that many residents of Johor work in Singapore because of the high-paying jobs available there. Singaporeans, on the other hand, come to JB for business, shopping and entertainment, with a significant number putting up their residences, businesses and factories there, taking advantage of the stronger Singaporean currency. The daily traffic congestions at the immigration checkpoints attest to the increasing number of Malaysian workers in the city-state as well as the growing influx of Singaporeans into Johor for business, entertainment and leisure.
 It may not yet have the sophistication that neighboring Singapore is known for, but Johor Bahru still has the conservatism that is fast disappearing in cosmopolitan Kuala Lumpur where customary lifestyles and contemporary points-of-view seemed to blend harmoniously into the bustling landscape. In the capital, the sight of Chinese girls clad in mini-skirts and short shorts walking alongside Muslim women wearing headscarves and shapeless gowns barely creates a commotion. I guess that scene would cause some stir in JB, as the city seems to be more traditional and conservative than Kuala Lumpur.
 JB's strong Islamic character also shines through the many mosques, shrines and parks dotting its cityscape. One structure that left me awestruck is the Sultan Abu Bakar Mosque, which can accommodate some 2,000 worshippers. Considered as one of the most beautiful old mosques in Malaysia, this edifice is perched on top of a hill in downtown JB, overlooking the Straits of Johor and neighboring Singapore. It is a mixture of various architectural styles, but principally colonial, with its minarets resembling British watchtowers. Unfortunately, we didn't have the chance to see the place at close range.
 Driving along Jalan Tun Dr. Ismail one night, we saw the Sultan Abu Bakr Grand Palace, the former residence of the royal family. Considered as one of the oldest buildings in Johor, it has a modern architecture with striking Anglo-Malay influences and is being used mainly for state ceremonies and official functions. It has also been turned into a museum where the public can view the treasures, works of art, antiquities and furniture belonging to the royal family as well historical relics of the Sultanate of Johor. A few meters away from the royal palace, we stumbled upon a sprawling park known as Dataran Bandaraya (City Square), where public events like parades and stage shows are usually held. The square has a large stage, a minaret, a fountain and a very large clock tower. We had a grand time taking pictures at the square.
 Another interesting episode of our trip to JB was the visit to the Sultan Ibrahim Building, whose massive structure nestled on Bukit Timbalan overshadows other nearby high-rise buildings in the city. Its combination of colonial and Malay architecture with its Saracenic design and tower makes it one of JB's important landmarks. Reaching the top of the ten-storey building, we were treated to a sweeping view of the city as well as Singapore. At present, the building houses several government offices, including that of the State Secretariat.
 One of the more prominent developments we noticed during our tour of the city is Danga Bay, a thriving waterfront along the coasts of Johor Bahru facing the Straits of Johor and overlooking Singapore. This recreational park was designed to be a city within the city, featuring a residential area, a business and financial center, shopping and leisure facilities. Walking around the complex, we found a mall, a cultural center, several restaurants, an entertainment and amusement park, and a botanical garden and zoo, among others. The best sunsets in the city can be viewed at Danga Bay.  
 Looking back, the visit to JB shook me out of my senses, helping me let go of my hang-ups. It also shattered the many myths and misconceptions I had. It showed me that Mahathirism — which isn't really every Malaysian's cup of tea — has seemingly lost its grip on the country. It also made me realize there's so much more to discover there. Now, I'm looking forward to my next sojourn to Malaysia, perhaps to Johor Bahru again, or to some other city like Kuala Lumpur, Melaka, George Town, and Kota Kinabalu.
 I can only hope that the next one's going to be as joyous as the one I had in JB. 
---