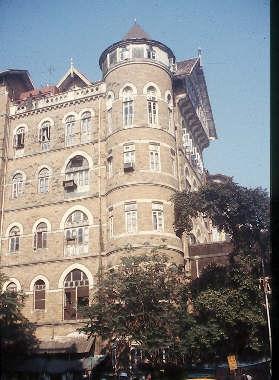 Image ©
2007 Graham Simmons
Beside the pavement on Our Lady of Venkatarana Road, in Mumbai's teeming Vilé Parlé district, is a small shrine adorned with a simple wooden cross. An old pedlar pauses at the shrine, crosses himself, and continues on his way. He may not be a Christian, but like most other Hindus shows a reverence towards all faiths - and this, despite the rise of the BJP and the onslaught of fundamentalism in the Indian  Government.
This spectacle, and a thousand and one other little religious observances that you see every day in the temples and mosques and churches of this brown-paper-and-string city, convince you that something is happening here. Everything you experience in India is part of a bigger whole, each facet a key to the unlocking of a gateway to an underlying unity.
This spectacle is also testimony to the ability of the human spirit to survive in the midst of a man-made maelstrom.   
Mumbai (formerly Bombay) isn't so much a city as an epitaph for cities. In the days when "Bombay" ruled, its popular name was "Bombedlambay". What's here is a maniapolis, a lunatic kaleidoconvergence of thirteen million people, an urban centre in its final death-throes.
If possible, Mumbai is best seen from the rear window of a fast-moving train. But if you have to spend some time here, it helps to have your eye accustomed to the bizarre, your ear attuned to the babel-speak of the marketplace, and your nostrils selectively revolvable, like the wind-turrets on a tall tower. Then you can somehow survive the sensory overload that presents itself to you like one of those 360o screens in a maxi-vision theatre.
And there isn't just one Mumbai. Within this showcase of multiculturalism gone mad, you have a Movie Mumbai, a Business Mumbai, a Poverty Mumbai, a "Salaam" Mumbai, and a "Goodbye-and-Good-Riddance" Mumbai.
Alongside the road from Santa Cruz Airport to central Mumbai, there lies what must at one time have been a lake. Now, it looks more a fetid pond of waste sump oil. Incredibly, a young lad is swimming in this scarcely-describable mixture.
This ex-"lake" is a part of the renowned slum-area of Dharavi, said to be the biggest slum in Asia. This would have to put it in the running to be also the biggest slum on earth. As a monument to filth and squalor, this agglomeration of foulness is bad enough viewed from afar: it must be an alternative to the nether regions of Hell for those who live here. I'm a craven coward, a cop-out merchant maybe, but I must confess to having bypassed the dubious delights of downtown Dharavi.
The rest of Mumbai presents a strange spectacle: a mixture of elegant architecture and monumental neglect. Rising damp has crept right to the top of the old stone buildings, before working its way down again. In its wake is a crust of mildew so thick that sometimes there is no way you can tell what material constitutes the underlying structure.
You wonder whether Mumbai is a madhouse, or a manual on the devaluability of human life. Go down to Juhu Beach, a pleasant enough amusement venue near Santa Cruz. Horse and camel rides along the beach divert the rich and famous, and there are plenty of stalls selling good snacks. But a sub-world of beggars - ­would-be entrepreneurs who haven't yet come up with any good ideas - assails you here more than in the whole of the rest of India put together. Is there a beggar mafia? Or is it that Juhu is poorer than anywhere else in India? Obviously, no. Then why do these hopeful souls converge here? There aren't very many tourists, and the local sightseers don't seem particularly affluent. Maybe it's the start of a trend - a kind of school for beggars.
You go into town, and are bowled over again by the contrasts. Stockbrokers in neat white shirts and ties rub shoulders with snake-charmers, and try to rub other parts of their anatomy with the elegant sari-clad ladies gracing the streets with their presence. On the waterfront, a superb beach is crowded with lunch-timers, and nearby are stores where, to coin an Indianism, you can go shopping till you're dropping.
The old sandstone buildings of Mumbai are a scattered treasure-house. The old Taj Mahal Hotel, the Institute of Science, the Rajbai Tower, the Prince of Wales Museum and many others stun even the casual observer with their fine detail and superb craftsmanship. But even these buildings are now decaying.  
Mumbai's glorious location and potential - right on a point jutting out into the Bay - make you feel disconsolate. You feel sadness as if for a rapidly deteriorating gem. Mumbai is like a battered emerald set in a rusting, decaying matrix. But with its fine buildings and superb urban-design potential, this city could with the right treatment become a guiding light to other world cities.
Jean-Paul is from Switzerland, and is the manager of a computer company here employing 500 people. "India is a country with a glorious past and a dismal future", he says. "Forty years of socialism have left the people without initiative and with a lack of direction".
Beyond the bounds of family and clan, he goaes on to say, no-one seems to care. The Russians are no longer offering assistance, so there's a vacuum that remains to be filled. It remains to be seen whether recent freeing up of the economy will do the trick:  ­social evils need to be tackled too.  
There is a solution to Mumbai's problems, if UNESCO or some other body ever has the will and the resources to implement it. First, get all the people out. Then throw up a hoarding around the whole city, and get the restoration experts in. Finally, allow a few select citizens back into the City, people who will care for and maintain this place.
Is there any other viable solution? Left to itself, Mumbai will surely collapse in upon itself, sunken in a miasm of filth, sleaze and corruption.
For the time being, best use Mumbai as a springboard. From here, excursions can be made to some of India's finest sung and unsung (some not even hummed) places of interest. Try, for example, Diu, a little island formerly a Portuguese colony, and an inexpensive 20 minute flight from Mumbai Airport. Or take one of the day or weekend trips out of town offered by MTDC. These trips are aimed at the not-so-deep pockets of Indian trippers, and provide congenial company and great value-for-money.
Above all, don't let yourself be bamboozled by "Bombedlambay". As with a very hot bath, just stick one toe in at a time - and if it gets too hot, then hotfoot it out of town! As in most countries, it's not the cities that make India - and if you can bypass Mumbai, you'll be doing yourself a great favour.
* * *
FACT FILE: MUMBAI
Getting There:
Singapore Airlines and Qantas fly regularly to Mumbai. Other airlines serving Mumbai include Lufthansa, Malaysian Airlines, Emirates and Air Lanka.
Accommodation: NB: The country code for India is +91, and the area code for Mumbai is 22.
Two good hotels right near Mumbai Airport, both with full air-conditioning, are:
Hotel Damjis, Azad Road, Vile Parle, Rs 600-900 ($US19-28), Tel 615-2921, Fax 611-6741.
Hotel Samraj, Chakala Road, Andheri, Rs 700-950 ($US23-31), Tel 834-9311, Fax 836-3923.
For others, across the price spectrum, consult Lonely Planet's India guide.
Things to Do:
Here are some things you won't find in the guide-books:
1) Diu Island, a tranquil and supremely relaxing ex-Portuguese colony north-west of Mumbai, is easily accessible by air. The Indian domestic airline East-West Airlines flies from Mumbai's domestic Airport on Tues, Thurs and Sat at 1015, returning to Mumbai also on Tue, Thur and Sat at 1420 (Flight 4S657). One-way fare is Rs 1770, or about $US57. You could travel one-way by air and back by train, exploring the ancient cities and temples of Gujarat on the way
2) Kihim Beach Resort is about 120 km from Mumbai by road, via Mandva. The quickest trip is by boat from The Gateway of India monument in Mumbai, thence by coach or taxi from Mandva.   The Maharashtra Tourism Development Corporation offers package trips leaving Mumbai at 4 pm on Friday, Mondaya and Wednesday, offering transport, two nights accommodation and excellent Indian meals, for just Rs 980 ($US 32) per head (twin share)
3) EsselWorld is an Indian version of Disneyland (Gasp!). This, the biggest amusement park in India, spreads over 25 hectares, and has over 40 kiddies' rides (for 3-6 year-olds), children's rides (6-12) and adult rides (over 12), plus family rides (for all ages). A one-day pass covering entry plus unlimited rides is free for those under 4 or over 60, and otherwise costs Rs 80 ($US2.60) aged 4-12 or Rs 125 ($US 3.90) for ages 12-60. You can even hire video-cameras. Tel 808-8757.
* * * * *
---