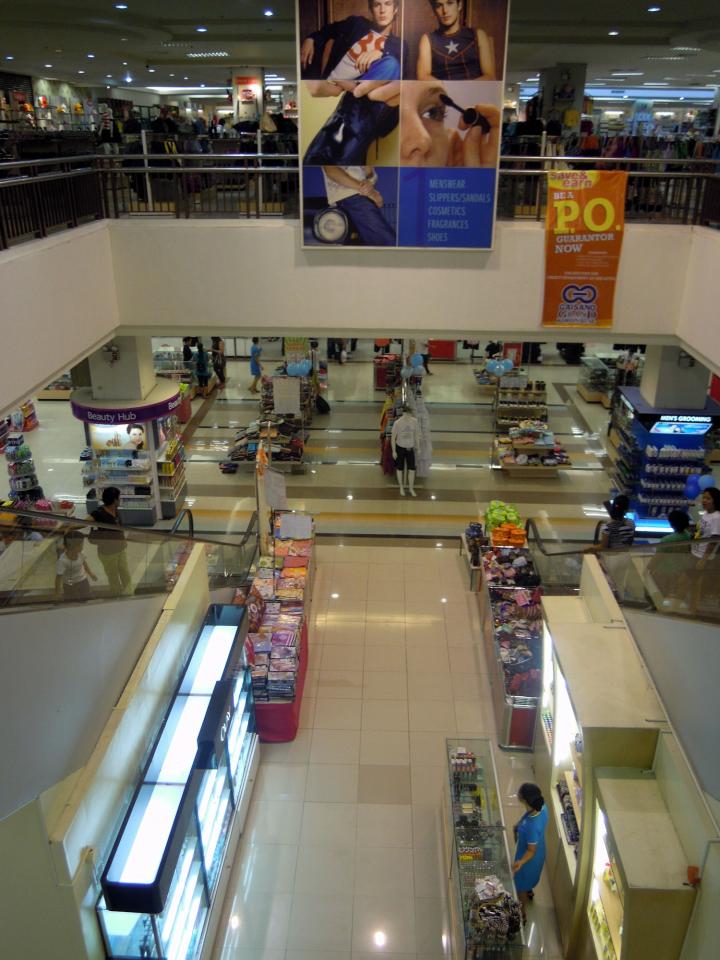 Image ©
2013 Ronald de Jong
South Cotabato and Sarangani are often named as great places for any shopping extravaganza; these adjacent provinces on the island of Mindanao are truly a shopaholic's paradise with vast and sprawling one-stop shopping centres with department stores, a wide range of shops, fast food chains and a large selection of recreational facilities. The city of General Santos in Sarangani offers some of the largest and most crowd pleasing shopping centres, even though these malls are not as huge and luxury as the malls in the metropolitan areas, they have plenty in store for its visitors. KCC Mall that has more than three hundred different shops is one of the main shopping centres in the city. SM General Santos City opened its doors last august 2012, it offers great shopping, leisure, and entertainment, the mall is located at the corner of Santiago Boulevard and San Miguel Street. The recently constructed Robinsons Place Gensan is the largest mall with more than 150 outlets. Furthermore the grand Gaisano Mall of Gensan and the smaller Fit mart Gensan can accommodate every taste, pocket and style. About an hour drive from General Santos City the three major shopping malls in Koronadal City, KCC Mall of Marbel, the Gaisano Grand and the Ace Centre are allowing their visitors the convenience of buying almost everything they want under one roof. Here they can find everything available at their fingertips. Shopping or more favourably  called Malling is deeply ingrained in the island's way of life, the various malls are always full of shoppers and many of the people in the region will visit a mall at least once a month. These modern marvels are truly an excellent hangout and outstanding weekend getaway for people of all ages and backgrounds who want to splurge time and money and make their shopping experience a wonderful day out.
Shopping malls are supposed to be a place where one goes to buy goods, people can stroll on the shiny floors of these shopping havens, peeping through the many glass windows and frequently ending up buying the things they like or need. But right here in the provinces mall hopping has become more than a favourite pastime for many; the air-conditioned centres are perfect places to escape the oppressive heat. People can not only spend time during the long opening hours for their customary shopping, but also watch movies, dine, play video games or just roam around with family and friends. However, a great number of people are trying to escape from their otherwise poor living conditions and are wandering around the crowded aisles and stores just following their nose and watch people and the world go by or only visit the place for the pleasure of window shopping. Glancing at the goods they cannot afford today but maybe one day when times are better. There are many youngsters, also known as "mall rats", which are rambling about the malls after school, primarily to chum with schoolmates and cronies, spending three or more hours every day because the place is large, convenient, it is free, the food courts have various inexpensive eating opportunities, it is the ultimate place to find somebody to flirt with and the place is clean and safe. These juveniles feel free from harm; several armed security guards politely opening the entrance and exit doors, checking bags and patrolling the malls are providing safety and protection for their customers. Dozens of young boys are maintaining the malls, devotedly washing the store windows, sweeping and scrubbing the floors and stairs, whipping the tables in the food court and collecting the garbage. The screaming children that are wildly playing unattended up and down the escalators give the impression not to be a hindrance to staff and visitors, these kids are caught up in their game; it looks like the mall around them does not exist anymore. Probably their roving parents are too pre-occupied and fascinated as well with all the awe-inspiring impressions that are present. The smell of new clothing, the fragrance of perfumes and leather goods makes many shopping addict heart beat faster, realizing that these oversized warehouses are indeed a shopper's paradise on earth. The aroma of all kinds of mouth-watering food coming from the distinctive eating outlets is a strong reminder never to shop on an empty stomach.
All together these malls resemble a giant beehive that is full of activity and savour, with a cacophony of voices, music and machines now and then interfered by some squeaky murmur clanging out of the malls broadcasting system. On top of everything, customers will be pleasantly entertained from the beginning to the end with country-classical sweepstakes that are organised a couple of times a year. When spending a certain amount of money in the mall, raffle tickets are given to the buyers who can win a large sum of prize money and other fantastic gifts. At the end of the promotional period, the lottery draw is always attracting a large audience of contestants, all of them eager to win the main prize. Usually local artists will perform and show off their musical chops during the draw, additionally a singing contest is held for upcoming talent, making these kinds of competitions very popular among the general public.
Another crowd pulling event is the tremendous popular and seasonal bargain sale, even though most people visit a mall to unwind and cool down their body temperature, the heat is on when selling off begins. Filipinos are well known for their modesty, yet, the temptation of a bargain can trigger unexpected behaviour. Regardless of their social class, it creates the impression that some of them are getting back to their foraging roots, willingly and knowingly conceding to the "call of the Mall" and treating bargain hunting as a "leisure pursuit" in itself. Excitedly sorting through heaps and racks of out-of-favour clothing and nervously rummaging through boxes and baskets that are filled to the limit with all kind of discounted goods, just hoping to scoop up that perfect deal before anyone else beats them to it, painstakingly testing any fellow-shopper's stamina, although never losing their temper. It is remarkable to see that both men and woman are scrupulously scrounging through and messing up neatly stashed piles of clothing, even under the watchful eye from attentive lady clerks who patiently will tidily fold the scattered apparel again and again. These wonderful women, all pretty in their own way, proudly wearing their company uniform, high heeled shoes, short skirts and the same-style-full on-make-up, are renowned for their friendly approach and helpful attitude. They will always greet you with a smile, following their clientele from a discrete distance and will assist immediately when asked.
As soon as the stay and the day have come to an end many tired visitors and personnel have to take a ride home. Upon leaving the mall a pandemonium of contradictions and overwhelming impressions is waiting, the warm humidity in the air is folding like a damp blanket over one's body, the whiff of burning charcoal, diesel and rubber, the vibrant sounds of barking dogs, people yelling to each other, the tin whistle of the parking attendant, noisy traffic and vehicles blowing their horns. Numerous multi-coloured tricycles are lined up orderly right in front of the building, their driver's anxious approaching potential passengers, boasting about their driving capacities and trying to convince everyone that their three wheeled taxi is the best in town, Whether or not the bike is free of rust, equipped with side-mirrors or a complete, non-defective exhaust-pipe seems of no importance at all, by chance everybody wants to go somewhere. For these easy-going tricycle operators and the many loud street vendors shouting and selling newspapers, comics, DVD's and sunglasses, the presence of the malls and the continuing flow of shoppers ensure a regular source of income.
Despite their small number and size, the shopping malls in Sarangani and South Cotabato can undoubtedly compete with their bigger and state of the art counterparts in the cosmopolitan cities, likewise providing a myriad of venues for shopping, relaxation and diverse social- and leisure activities. Nevertheless, it is undisputed that the warm-hearted people in this Southern part of Mindanao make the difference real. The uncrowned sales-queens of courtesy, the red-headed bargain hunters, the die-hard-shopping-addicts, junior cleaners, Argus-eyed guards, loitering teenagers, fervent window-shoppers, wannabe-lovers, pushy peddlers, downright drivers, the underprivileged and regular customers, all of them are an inseparably part of this unique provincial shopping adventure that is best described as the Midland Mall Mania. 
---