'Mr. Nice Guy' Hong Kong Dinner Recipes & Photos
---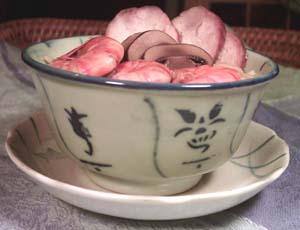 Image ©
2005 Celeste Heiter
Sashimi Rice Paper Rolls
6 rice paper wrappers
Filling: 1/2 pound sushi-grade tuna, sliced into thin strips
1 carrot, finely julienned
1 small cucumber, peeled, seeded and finely julienned
1 avocado, peeled and cut into thin slices
12 mint leaves, finely chopped
1 cup cellophane noodles, softened in warm water

Garnish:
Pickled ginger
Wasabi paste

Soak a rice paper wrapper in a large shallow dish of warm water. Remove wrapper from the water and lay it flat on a large glass dinner plate. Place a small amount of each of the filling ingredients horizontally across the lower edge of the wrapper. Carefully fold the lower edge of the wrapper upwards and tuck it around the filling. Snugly roll the filling toward the upper edge, being careful not to tear the delicate wrapper. Trim off the rounded edges of the wrapper and slice the roll into four bite-sized pieces. Repeat with the remaining five wrappers. Garnish with pickled ginger, fresh mint leaves and a pinch of wasabi paste. Serve with dipping sauce.
Dipping Sauce
1/4 cup fresh lime juice
3 tablespoons fish sauce
1 tablespoon grated ginger
1/2 teaspoon wasabi paste
1 teaspoon soy sauce
1/4 teaspoon sesame oil

Combine all ingredients in a glass jar with a tight-fitting lid. Shake vigorously and allow to stand for 1 hour to marry flavors.
Shrimp Toast
Shrimp Paste: 1/2 pound shrimp, peeled & deveined
2 cloves garlic, finely chopped
1 shallot, finely chopped
1 egg white
1 teaspoon fish sauce
1 tablespoon lime juice

1 loaf of white sandwich bread (24 slices)
3 tablespoons sesame seeds

Combine all shrimp paste ingredients in a food processor and puree until the mixture forms a smooth paste. (You can also make shrimp paste by finely chopping and pulverizing all ingredients with a cleaver.)
Using a cookie cutter 2 to 3 inches in diameter, cut the bread into decorative shapes and set aside trimmings for another purpose. Spread each piece of bread with a generous, uniform layer of shrimp paste and sprinkle lightly with sesame seeds. Place shrimp toast on a large baking sheet and bake at 400 degrees for 10 to 12 minutes, or until bread is crispy and golden, and the shrimp paste turns pink. Serve immediately.
Hot & Sour Noodle Soup
Broth:
4 cups chicken broth
4 tablespoons soy sauce
1/2 tsp chili garlic paste
1/4 cup rice vinegar
2 green onions, thinly sliced
4 mushrooms (shitake, chinese, etc), thinly sliced

12 large shrimp, shelled and deveined, tails intact, lightly steamed until tender & pink
1/4 pound of ham or pork roast, sliced 1/8" thick and cut into 2" pieces 8 ounces Chinese noodles or vermicelli, cooked & drained

Combine all broth ingredients in a large saucepan, bring to a boil and simmer for 10 minutes. Place cooked noodles in soup bowls, arrange shrimp and pork slices on top. Pour steaming broth over noodles and serve immediately.
Orange Roughy with Sweet Chili Sauce
4 whitefish filets (red snapper, orange roughy, sea bass, etc.)
Marinade
2 tablespoons cornstarch
1/4 cup rice wine

Sauce
2 cloves garlic
1 teaspoon grated ginger
1/2 cup orange juice
1/2 cup water
2 tablespoons rice vinegar
1/4 cup diced green bell pepper
1/4 cup diced red bell pepper
2 green onions, thinly sliced
1/2 teaspoon chili garlic paste

1 teaspoon cornstarch mixed with 1 tablespoon water to form a thin paste
3 tablespoons cooking oil for pan frying
Combine cornstarch and rice wine in a small bowl and mix until smooth. Pour mixture into a a large, shallow dish, coat both sides of each fish filet, cover and place in refrigerator for 30 minutes.
Combine all sauce ingredients in a large saucepan and bring to a boil. Reduce heat and add cornstarch paste. Simmer until slightly thickened. Remove from heat and set aside.
Coat the bottom of a wok or large saute pan with cooking oil and place over medium heat. When the oil is hot, add marinated fish filets and fry until golden brown, turning once, 3 to 5 minutes per side. Place fis on a serving dish and ladle a generous portion of chili sauce over each filet.
Mahogany Duck
1 whole duck (about 5 pounds)
Marinade:
1/2 cup rice wine
1 tablespoon soy sauce

Stuffing
1 teaspoon grated ginger
2 cloves garlic, finely minced
1 medium onion, finely sliced
1 cup bok choy, coarsely chopped
4 mushrooms (shitake, Chinese, etc.)
1/4 cup rice wine
2 tablespoons soy sauce
1 tablespoon hoisin sauce
2 tablespoons cooking oil

Glaze
3 tablespoons soy sauce
1 tablespoon hoisin sauce

Combine marinade ingredients. Remove giblets from duck and wash thoroughly. Rub the duck with marinade and pour the remainder inside the breast cavity. Marinate in the refrigerator for 2 hours.
Heat the cooking oil in a wok. Saute ginger, garlic and onion until translucent and lightly browned. Add mushrooms and bok choy and saute until tender. Add rice wine, soy sauce and hoisin. Stir until well blended. Remove wok from burner and allow to cool.
Preheat oven to 400 degrees. Fill the breast cavity of the duck with filling. Roast duck on a rack in a roasting pan for approximately 90 minutes (about 20 minutes per pound). When the duck is crispy and golden brown, brush the skin with glaze mixture and roast for 5 minutes more. Remove duck from the oven. Arrange on a serving platter and carve into individual portions.
Five Spice Cookies
1 stick unsalted butter
1/4 cup sugar
1 tsp vanilla extract
1 1/4 cup flour
1/8 tsp Chinese five-spice powder

Bring the butter to room temperature, place in a deep mixing bowl with sugar, five spice powder and vanillal Beat with a fork or electric mixer until creamy. Add flour and continue mixing until dough forms a smooth ball. Wrap in plastic and refrigerate for 30 minutes, or overnight. On a lightly floured surface, roll dough into a 1/4" sheet and cut into decorative shapes with a cookie cutter, or press small amounts of dough into decorative cookie molds. Place formed cookies on a baking sheet and bake at 325 degrees for 20 to 30 minutes, until lightly browned. These cookies go nicely with candied ginger and warm plum wine.
---