Mt Matutum, a true gift from Mother Nature.
---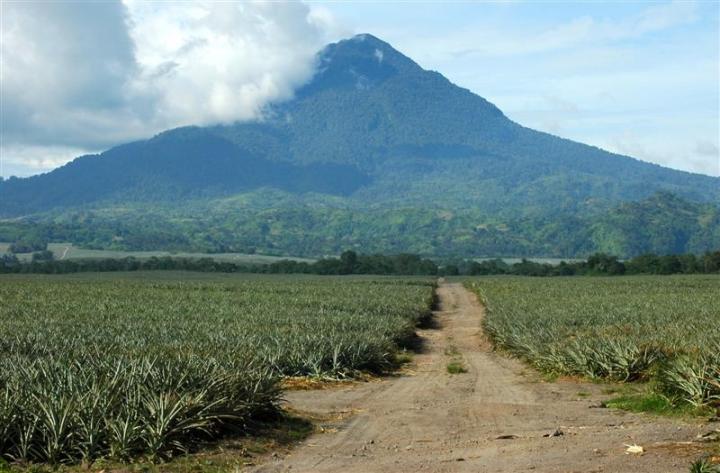 Image ©
2008 Ronald de Jong
Mt Matutum, a true gift from Mother Nature.
Mt Matutum, a steep, non active, volcano is located north of the town of General Santos in the province of South Cotabato. It's irregular and characteristic shape is formed by volcanic uplift during previous periods of activity. Mt. Matutum has a well-preserved 320-m-wide crater at the volcano's summit, it's last eruption was recorded in 1911. At a 2,286 meters rising high above sea level, Mt. Matutum is undoubtedly the provinces most imposing land mark that dominates the entire landscape from General Santos to Koronadal City...
The name Matutum is derived from the Blaa'n term "Amyak Maleh", that means Climb and Plant. The forested slopes of this majestic mountain are covered with huge ferns, trees and plants that abundantly grow in the wild and are host to diverse animal and plant species, including the national bird, the Philippine Eagle. One of the tallest, rarest, largest and most powerful birds in the world. There are many creeks with free, cool and clear flowing water coming from the hillsides. Mt. Matutum is eyed as one of the greenest outdoor destinations in South Cotabato, this place is a perfect hub for promoting ecotourism in a big way. The slopes and steps of Mt. Matutum will lure the imagination of many visitors. 
This mountain is nominated as a new UNESCO World Heritage Site. Mt. Matutum's forest is being protected and managed by the Blaa'n, an indigenous group that inhabits the southern part of South Cotabato.
The prominent Mt. Matutum is one of the favorite climbing destinations in the area and is considered as an outstanding challenge to mountaineers and nature lovers. Climbers are requested to plant a seedling on the mountain, a great initiative in making a positive contribution to the preservation of the local ecosystem. The hillside of Mt. Matutum is a stunning place where nature is abundant and unrestrained, a place where one feels a humble respect for nature and the environment. The top of the volcano is offering a magnificent panoramic view of Polomolok, Koronadal City and General Santos City.
All of this creates one of the most amazing natural experiences that people can enjoy.
Mt. Matutum Trappistine Monastery of Landan, Polomolok.
Polomolok is home to two monasteries. One of them is a Trappistine's monastery located at the foot of Mt. Matutum, in Landan. Towering on top of a hill this Trappistine Monastery of Our Lady of  Matutum, it offers an amazing view of Mt. Matutum, after which the monastery was named. It is a place of worship and mediation that breaths an atmosphere of silence, far away from the noise and distractions of daily life.
This isolated place is an expression of pure faith and peace, it is the first of its kind in the Philippines. The red roofed monastery stands majestically in the landscape and has an impressive architecture. The simple, but beautiful and intimate chapel of the monastery is a centre of devotion and prayer.
The Cistercian Order was first established in the year 1098 in France and during the centuries spread all over the world, including Asia. The Cistercian nuns are more popularly named as Trappistines, their daily work consists of praying in perpetual silence, living a life of Solitude and Prayer. These nuns support themselves by selling religious items, cookies and postcards to their visitors.
Visiting the Trappistine Monastery is a truly impressive and moving experience, once inside you will encounter a feeling of homecoming, no matter your religion or background. This monastery is visited by many pilgrims and benefactors coming from every corner of the earth. A perfect place for people seeking tranquillity, reflection and spiritual refreshment.
Pineapple fields.
Under the shadows of  Mt. Matutum, in Polomok lies the world's biggest integrated pineapple plantation, owned and operated by Dole Philippines. Polomolok is also dubbed as "Pineapple country", it's vast and fertile fields are an awesome scenery that is waiting to be discovered.
These lush and green-coloured  pineapple fields are stretched across the interior landscape of the region as far as the eye can see. The gorgeous fields have a fresh, tropical smell of ripe pineapples and kalachuchi flowers, it gives a breathtaking view that is a constant reminder of the beauty of the region.
The delicious pineapples from Polomolok have a unique sweet and tangy taste, they are consumed locally as fresh fruit and used to produce juice and slices for exports. The pineapple has become a symbol of welcome and hospitality all around the world and is known as one of the most versatile food. A visit to Polomolok would not be complete without taking home some freshly harvested "Queen of Fruits".
Mt. Matutum, a volcano that nourished the soil of the province, giving food and life to the people of South Cotabato, is truly a gift of Mother Nature.
---