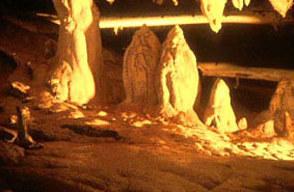 Image ©
2001 Graham Simmons
I'm not much of an expert on caves. In fact, I'd always thought that stalagmites are kids who come from prisoner-of-war camps.
But a trip to Mulu National Park, in Sarawak (Eastern Malaysia) comes as an instant enlightenment. A whole string of superlatives cannot do justice to the unsurpassed cave system to be found at Mulu, opening a striking window onto nature's most hidden splendors.
The caves of Mulu National Park break all records. Among Mulu's treasures are the Sarawak Chamber (the world's largest cave); Deer Cave, with the biggest known cave entrance in the world; and Clearwater Cave, with the world's longest underground cavity.
Now easily accessible by air, Mulu National Park is attracting visitors from around the globe. From Los Angeles, the most convenient connection is by Malaysian Airlines or to Mulu Airport, via Tokyo and Kota Kinabalu, or from Osaka in Japan by Royal Brunei Airlines to Mulu via Bandar Seri Begawan.
The Mulu experience encompasses more than just the caves - it's a total nature immersion. Upon arrival at Mulu, you have a choice of staying at the luxury Royal Mulu Resort or in cheaper lodgings just across the Melinau River - but in both places you're completely enveloped by the rainforest, with its constant hissing, humming "green noise", broken by the chirpy twittering of a thousand different birds.
Take the hornbill, for example. At night, after all the other birds have gone to sleep, you can still hear the quoak (somewhere between a quack and a croak) of this bizarre creature. In daylight, the hornbill looks back at your gaze with a crazy grin, as though saying, "OK, I know I can't possibly exist, but here I am!"
The sheer abundance of wildlife at Mulu National Park amazes the visitor. Over 20,000 animal species have been discovered in the Park, as well as 3,500 plant species (including more than 1,500 flowering plants) and more than 8,000 types of fungus - and more are being found every year. To the visitor, a simple walk along a forest path is an individual journey of discovery. But it's the caves that attract most visitors to Mulu. So far, 27 major caves have been discovered, and nearly 200 km of subterranean passages surveyed. And this, say the experts, is only a small fraction of what remain to be explored.
So far, only four caves are open to the general public, with some others being accessible to groups of experienced adventure cavers. Fortunately, the four "show caves" are a representative sample of the whole cave system, each cave being completely different from the others. A visit to all four caves is highly recommended.
Lang's Cave is one of the smallest but prettiest of the caves. With an excellent series of spotlights illuminating a wonderland of stalagmites and stalactites, this cave also features gossamer-like limestone "curtains". You also find coral-form "helictites" and lace-like pendants carrying intricate geometric designs, as in the tracery found on a Persian mosque. Deer Cave, just a short walk from Lang's Cave, has both the world's biggest cave mouth and the largest cave passage - over 2 km long and 220 m high. The pools of salty water in the Cave were an attraction for deer before visitors started arriving - hence the name of the Cave.
The entrance to Deer Cave is a sea of bat guano, but a well-formed path carries you across this "ocean" and through the Cave. An the other end, the path opens again onto a luxuriant swathe of rainforest, dubbed the "Garden of Eden".
As nightfall approaches, the jungle resonates with weird sounds: hoots, shrill shrieks and sirens (and not just any siren, but a knocking-off siren). Suddenly, swirling formations of bats, among the several million estimated to live in the Cave, take to the skies. The bats form a winding, twisting "ribbon", as they set off on the 80 km journey to the coast, where they will gorge themselves on insects before returning to the Cave early the next morning. It's a truly amazing sight.
Deer Cave has given its name to a supremely restful café-bar, the Buuyu Sipan (meaning "lake where deer come to drink" in the local Berawan language). After the 3 km walk back from the Cave, you feel like a drink too, - and the Buuyu Sipan is just the place to do so!
The other two caves open to visitors are accessible only by boat. Longboats leave from just opposite Mulu Airport, taking about 20 minutes for the trip. If the river is low due to lack of rain, passengers have to get out and help push the boat over the rapids - but this is all just part of the "fun".
From the longboat landing, Gua Angin (the Cave of Winds) is just a short stroll. Our guide Alec expertly points out the features of this striking cave, with its huge Kings Chamber somewhat reminiscent of the Pyramids.
This cave just about re-defines the word "impressive". It gives the impression of the roof falling on your head. The grown-up stalagmites fuse with the stalactites dropping from the roof, connecting so intimately that you can't tell where the 'mite ends and the 'tite begins. These columns, up to eight metres high yet some no thicker than a beer-can, form a veritable jungle of limestone "trees", "creepers" and "lianas", and you seem as though in the midst of a primordial petrified forest.
Clearwater Cave is the last one generally open to the public. A roller-coaster track leads through this spectacular cave, with its three giant entranceways and a clear-as-the-sky subterranean steam running the length of the lowest chamber.
Here's a plug for Transworld Travel Service (TTS), our tour organisers and guide-providers. After a morning poling and cajoling a longboat up-river, followed by a voluntary entombment in the enigmatic world of the Caves, the last thing we were expecting was a sumptuous buffet lunch, right in the middle of the rainforest. But this, served under the shelter of a group of restful stilt-shelters, is just what was provided. TTS are to be congratulated on their superb organizing skills.
Other caves at Mulu are for the fit and experienced only. Sarawak Chamber, which is often said to be able to hold 40 Jumbo jets side-by-side, is the world's largest cave. However, access is gained only by a hard 10 km walk, followed by a long wade through chest-deep water, then scaling a series of near-vertical rock faces. If you're still not deterred, see Fact File, below, for details of adventure caving operators.
The Pinnacles, a series of needle-sharp limestone "peaks" on the trek to Mt Mulu, have been described as "the world's worst parachute landing zone". A trip to the Pinnacles is a 2-3 day trek, with overnight stays in longhouses en route. Again, see Fact File for details.
One of the best things you can do at Mulu is to simply relax. Hire a kayak, and cruise the ever-changing Melinau River. Or just stroll the many trails around the Park, taking your own time and letting the jungle talk to you in its own language.
Mulu can easily be visited on the way to or from peninsular Malaysia. An excellent route is Brisbane-Brunei-Mulu (with Royal Brunei Airlines, as mentioned), then on from Mulu to Miri and Kuala Lumpur (with a possible stopover in Kuching), by Malaysian or Saeada Airlines. This route totally eliminates the need for back-tracking.
It's no wonder that Mulu National Park has become so deservedly popular. What brings visitors back for repeat stays is the certainty that there is always something new to discover. With another 180 km or so of cave trails still to be opened to visitors, it seems certain that Mulu's best days are yet to come.
FACT FILE
Getting There:
Malaysian Airlines flies regularly to Mulu airport from Los Angeles, via Tokyo and Kota Kinabalu, with further connections to Kuching and Kuala Lumpur. From Osaka, Royal Brunei Airlines flies to Mulu via Bandar Seri Begawan.
If you don't want to fly in, the trip from Miri can also be made by longboat (a journey of 7-8 hours).
Accommodation:
Royal Mulu Resort (Sales Office PO Box 1145, 98008 Miri, Sarawak, MALAYSIA, tel +60 85 42 1121, fax +60 85 42 5057) is an excellent, five-star establishment set right in the middle of the jungle. Accommodation is in longhouse-style apartments, set on stilts above the forest floor, and each with its own balcony. There are currently 88 rooms, with 188 expected to be available by the end of 1997. Over 85% of the staff are locals, members of the Berawan tribe. Facilities include a pool, coffee house and buffet restaurant.
Rack rates range from 210-500 Malaysian Ringit (RM) ($US50-118) per room per day, plus 15% taxes. Packages are an outstanding deal: for example, a two-night program, from RM390 ($US92) per head, includes two nights accommodation, two breakfasts, lunches and dinners, transfers, guide fees and visits to all four publicly-accessible caves.
If you don't want to stay at Royal Mulu Resort, there are other options. There are three government rest-houses, each accommodation sleeps up to 10 people, for a nominal booking fee of RM20 per party. Bookings must be confirmed five days before visit, through:
 
National Parks and Wildlife Office
Forestry Department
Jalan Puchong
Miri, Sarawak
MALAYSIA
Tel +60 85 43 6637
Tropical Adventures (contact details under Tour Operators) also has its own accommodation from RM 10 per night.
Tour Operators:
Transworld Travel & Tours (TTW) (tel +60 85 42 2226, fax +60 85 41 0057) has a large staff of highly experienced tour guides; recommended.
Tropical Adventure (tel +60 85 41 9337, fax +60 85 41 4503) is also reliable, with its own accommodation available.
---