Other Lives...Other Worlds at Cinequest 2005
---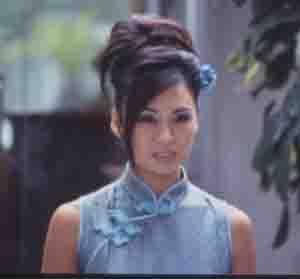 Image ©
2000 Global Directions, Inc.
Among a total of 84 features and seven short series from more than 30 countries, the panoply of Asian films presented at San Jose's 2005 Cinequest 15 Film Festival promises audiences rare and insightful vignettes of other lives...other worlds:
A Chinese mail-order bride adjusting to life with her American husband in Los Angeles; three enigmatic women named Gina beginning life anew in Los Angeles, Las Vegas and Alaska; a woman examining her lesbian longings in Hong Kong; a grassroots revolution in India; a jilted Tamil bridegroom's slow descent into madness; and two orphaned brothers trying to eke out a living in the harsh desert terrain of Iran. The creative and cultural diversity at Cinequest 15 is compelling, the films poignant and thought-provoking.
Cinequest 15 Asian Entries:
The Civilization of Maxwell Bright
Country - USA
Director - David Beaird
Producer - Steven J. Wolfe
Cast - Patrick Warburton, Marie Matiko, Eric Roberts, Simon Callow
Running Time - 107 minutes

Meet Maxwell Bright: a successful home theater and big-screen TV dealer, fully frontally nude in the driveway outside his Los Angeles home as he chases after his also-naked girlfriend, hurling at her the most obscene, hair-raising, sexually derogatory insults ever captured on film. It seems that they've had yet another lovers' spat while engaged in sexual intercourse and, in the heat of the moment, have gone public with their little melodrama. A shovel upside his head gets his girlfriend hauled off in a squad car and leaves Maxwell Bright with a gaping wound, both literally and figuratively: He's through with American women.
While sitting aroung the poker table with his buddies a few days later, the notion of an Asian mail-order bride is introduced, and faster than you can say 'Eights over Aces', Maxwell Bright is off to the bride broker. But not just any bride broker. Mr. Wroth, a man of aristocratic refinement and infinetely discriminating taste, prides himself on hand-selecting a perfect match for each of his clients. Six weeks and a hundred thousand dollars later, Maxwell Bright answers a knock at his door to find Mai Ling, his beautiful Chinese wife-to-be.
Life is paradise for the first few days as Mai Ling satisfies his every sexual fantasy, waits on him hand and foot, and brings serenity and order to the once chaotic squalor of Maxwell Bright's bachelorhood. Paradise, that is, until Max, in a moment of swaggering indescretion, orders Mai Ling to disrobe for his poker buddies. When she refuses, Max does the deed himself, humiliating his new bride in front of three gaping men, who are just as embarassed as she is. In that instant, the honeymoon is over, and the following day, Mai Ling hauls Maxwell Bright back to the broker to air her grievances. In this pivotal scene, a secret is revealed about Mai Ling that will profoundly impact the life, and ultimately the death, of Maxwell Bright.
Although technically, The Civilization of Maxwell Bright is not an Asian film, a finely-crafted script and stellar performances by Patrick Warburton as Maxwell Bright, Marie Matiko as Mai Ling, Simon Callow as Mr. Wroth, Eric Roberts as best friend Arliss, with cameos by Carol Kane, Nora Dunn, John Glover, and Jennifer Tilley, make this character-driven story a worthy contender for best of show.
Listening to the Voice of a Wind
Country - South Korea (World Premiere)
Director - Jeongjung Kim
Producer - Jeongjung Kim
Cast - Yurie Ann Cho, Yunjung Chang, Sunyun Kim, Sung Kang
Running Time - 93 minutes

Milk, railroad tracks, prostitution and California Dreamin' create ongoing motifs as Listening to the Voice of a Wind segues seamlessly from Los Angeles to Las Vegas to Kenai, Alaska in a triptych tale of three Asian women named Gina. Or is she the same Gina at twenty, thirty and forty?
Gina at twenty is an illegal immigrant who has sold body and soul to a small-time pimp for a chance at a new life in the U.S. But when her first 'john' turns out to be more than just an average guy looking to get laid, Gina must put survival first.
Gina at thirty is a tough, street-savvy Las Vegas Boulevard hooker looking for true love in cyberspace. But when the moment comes to finally meet her online love in person, she's a no-show who, whether out of shame or disappointment, loses her nerve at the last minute, and spies on him instead as the poor guy waits in vain with a bouquet of roses. But fate intervenes as her would-be paramour decides to spend a day's wages earned by procuring prostitutes for male tourists, indulging in a hooker for himself. Guess who shows up at his door.
Gina at forty is a used-up shell of a woman with a persistent cough and a suitcase full of whiskey, hitchhikking to Kenai, Alaska in search of the aurora borealis. A kindly redneck offers her a ride to a motel in his pickup truck, with a dropped hint that he can be found later that evening at a dance club called Aurora. Old habits die hard, and before she retires for the night, Gina distributes her business cards, which read 'Asian Beauty - Call Today', on the windshields of all the cars parked at the motel. The remaining ones, she casts into the wind over Kenai Harbor. The hand of fate shows itself once again when the selfsame fellow who had given Gina a ride that afternoon finds one of her cards and decides to give her a call.
Aurora means 'Angel of the Morning who leads one's soul through the darkness', and the song that serves as musical parentheses for the beginning and end of the film says, 'Please don't ask my name because my name doesn't belong to me. Just call me Lady of the Sun, Lady of the Wind'.
Butterfly
Country - Hong Kong (North American Premiere)
Director - Yan Yan Mak
Producer - Jacqueline Li and Yan Yan Mak
Cast - Josie Ho, Tian Yuan, Eric Kot Isabel Chan, Joman Chiang
Running Time - 124 minutes

In a daring tale of sexuality and social mores, screenwriter and director Yan Yan Mak stares frankly in the face of both. With a schoolteacher, wife and mother named Flavia as its central character, availing itself of all the metaphors implied in its title, and without the least hint of gratuitousness, self indulgence or lurid voyeurism, Butterfly takes a long and loving look at lesbian relationships in modern day Hong Kong.
Flavia, our wife and mother, is a teacher of Chinese literature at an all-girls school, where two of her students, Muriel and Samantha, are in the chrysalis stage of lesbian love. And a chance meeting with Yip, a precocious vagabond who greets life with open arms, sends Flavia into a tailspin reminiscence of her first love. Once an all girls' school student herself, Flavia's homosexuality was awakened by Jin, a former classmate who has since become a Buddhist nun.
With a devoted husband and beloved child, much is at stake as Flavia reexamines her sexual history to face the painful choice that she must inevitably make. As her husband wisely observes, 'Only you can untie your own knot'.
19 Revolutions
Country - India
Director - Sridhar Reddy
Producer - Sridhar Reddy
Cast - Tarun Arora, Sirya Reddy, Vishwaa Raj
Running Time - 92 minutes

Guru is the playboy son of a wealthy Indian family, Nezar is a humble coffee shop waiter, Shireen is a beautiful socialite. Guru spends a significant portion of his time robbing the rich to feed the poor, while Nezar dreams of finishing college to become a respectable businessman, and Shireen laments the fact that her privileged caste status doesn't allow her to become a schoolteacher.
Their lives intersect one evening when Guru ambushes Nezar as he is leaving work and forces him to reopen the shop to feed Guru's favorite band of mendicants. Once done, Guru good-naturedly offers Nezar a ride home, and along the way, they discover that they have a common acquaintance in Shireen. Guru knows her from his circle of affluent friends, and Nezar admires her from afar each time she comes in for coffee.
The evening takes an unexpected turn when Guru invites Nezar to join him at an exclusive party where Shireen is sure to be in attendance. He literally gives Nezar the shirt off his back so he won't have to be seen in his coffee shop uniform, and introduces him to Shireen as the son of a Dubai coffee baron. Shireen and Nezar hit it off right away, and when the three grow bored with the party scene, Guru suggests an evening stroll that turns into a spirited discussion of what's wrong with the socio-political status quo in India.
Not content to settle for 'all talk and no action', with Nezar as an unwitting accomplice, Guru and Shireen hatch a late-night plan to get their hands on some big money to help fund India's 19th Cultural Revolution. But despite their best intentions, no good deed goes unpunished.
If one is willing to overlook the film's thinly veiled motives and obvious plot devices, 19 Revolutions is a well crafted and deeply analytical film that, while incapable of solving the problems inherent in India's still-thriving caste system, at least sheds some much-needed light on the subject.
Rain Inside the Umbrella
Country - India (US Premiere)
Director - R. Parthepan
Producer - R. Parthepan and M. Arunachalam
Cast - R. Parthepan, Mitha Madu
Running Time - 120 minutes

At once mystical, magical, tragic and surreal, this tale of one man's descent into madness is the vision of writer, director, producer and its star, R. Parthepan. In the role of Venkat, he plays a burly, working-class, motorized rickshaw driver in the town of Tamil Nadu, who has been painfully rejected by the bride in an arranged marriage attempt.
But like a bolt from the blue, Venkat is soon stricken with a case of love at first sight in a coffee shop, where Madhumitha, a stunningly beautiful but cheeky young woman asks to borrow his pen. In a week-long whirlwind, their romance reels and spins with a series of encounters and interludes in which the coy and coquettish Madhu shamelessly plays upon Venkat's sentiments. When Madhu casually mentions that she misses the rainy season, Venkat cleverly devises a way to give her an unexpected shower. And when Madhu speaks of a curse from the gods for which the only appeasement is an offering of her hair, Venkat finds a religious loophole. Her every whim is his raison d'etre.
But as always, if it's too good to be true, then it probably isn't. Despite Venkat's best efforts and intentions at winning her heart, Madhu's comely facade hides an ugly secret. One that sends the love-struck Venkat spiraling into madness and maybe even suicide.
Even with its plot twists and cultural complexities, Rain Inside the Umbrella is a simple tale of boy meets girl, boy loses girl, boy goes insane. But what sets this film apart is its use of surrealistic montages inserted at pivotal moments in the story: Montages teeming with iconic symbolism, cultural metaphors and dream-like allusion. In the mind of a madman, where does reality end and delusion begin?
From the Land of Silence
Country - Iran
Director - Saman Salur
Producer - Saman Salur
Cast - Hossein Bande-Ali, Hassan Bande-Ali, Omid Rokhafrooz, Roohollah Farokh Nejad
Running Time - 70 minutes

Mad Max meets Children of Heaven in this stark tale of two orphaned brothers trying to eke out a living in the harsh desert terrain of Iran, where life and survival take on a whole new meaning. Abandoned by their father, Hossein and Hassan must make their way in the world as best they can, one by siphoning diesel fuel from passing trucks and selling it to other drivers, the other boy by trafficking contriband using camels addicted to the opium he feeds them every day to keep them coming back. In a scene in which the boy uses pages torn from a schoolbook to wrap a block of opium, the message is all too clear: Theirs is an existence reduced to its dire elements.
And as if things weren't difficult enough already, each of the boys displays open contempt for other's livelihood, and one of the boys has hell to pay when the opium dealer discovers that he has used some of the proceeds to buy himself a bicycle. But salvation is imminent when the boys cross paths with a desperately depressed man seeking refuge and redemption in his desert hometown. Somehow, these three hopelessly bereft characters still have something of value to offer one another.
Utilizing the classic thematic storytelling trifecta, man vs. man, man vs. nature, and man vs. himself, From the Land of Silence paints an elegantly minimalist portrait of three intertwined lives, and reminds us that hope springs eternal, even in the most barren of deserts.
Dulhan, Made in USA (India), Passages (China), Sund@y Seoul (South Korea), and Two Great Sheep (China) were unavailable for review.
Cinequest 15 opens March 2, 2005 in San Jose, California. For venues, show times and further details on these and the dozens of other films featured at the Cinequest 15 Film Festival, visit the Cinequest website.
---