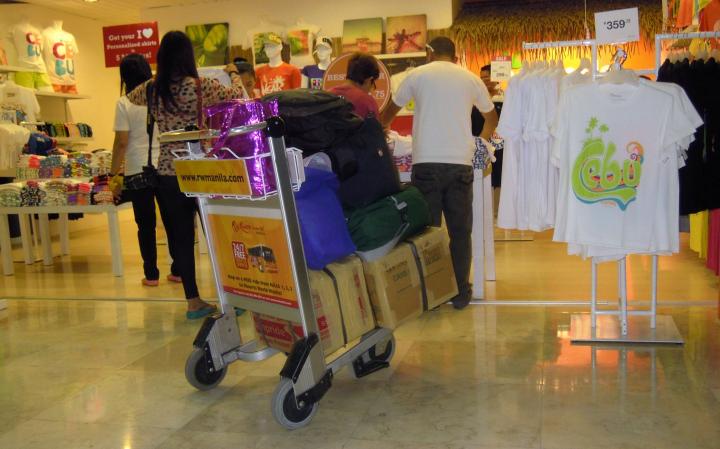 Image ©
2013 Ronald de Jong
Pasalubong, for Filipinos all over the globe a familiar word for a well-known and well-respected token, freely translated the name means "a gift to family and friends when coming home". To keep ties with loved ones bringing back a Pasalubong for those who are waiting for your return has become one of the widely practices and most distinctive Filipino traditions. It is a sign of appreciation and thoughtfulness; it highlights the relief of being back in good health and safe after spending some time from home and the happiness when reuniting with next of kin. This popular "homecoming gift" is a time-honoured custom, but never a mandatory gesture, however, failing to bring one can sometimes be felt as a great disappointment, because giving and sharing is considered as a practice that strengthens the bond with relatives and warms the family spirit.
It is no surprise to see that a great deal of Filipino migrant workers and tourists travelling to and from the Philippines can be seen at airports around the globe, always hauling large suitcases, bags and boxes stuffed with presents, canned goods, knick-knacks, toys and other hand-me-downs with them, as much as their both hands can hold and their budget will permit. In many occasions pushing the luggage allowance over the limit, frequently sparking heated debates with kind and understanding but strict and fair customs officers and airport personnel, often ending up paying overweight surcharges or repacking the content of all sorts of suitcases and oversized carry-all into pockets and smaller plastic shopping bags. Successively the result is an overloaded carry-on luggage compartment leaving latecomers to discover that there is no room left in the overhead bins for their own kit and kaboodle. Another, supposedly more easy, way of transporting the cherished commodities is by a corrugated container, better known as the ubiquitous Balikbayan box. These low-cost boxes are often used as check-in luggage when travelling, but they can also be sent by air- or sea freight and directly delivered at the doorstep of the recipient. When shipped by sea a Balikbayan box has no weight limits, so some of these packages are really stuffed over the top, actually, a standard box can weigh up more than a hundred pounds, sometimes too heavy to move and too difficult to handle for the collector.
It seems like the skill of filling a Balikbayan box is handed down from one generation to another, in fact the Big Brown Box is somehow never full and any opening left is considered as a potential packing possibility. It is truly amazing to see how the average Filipino is able to squeeze numerous kilos of well-meant bric-a-brac into a limited space, making the original capacity nearly twice as large. Packing a Balikbayan box is something like putting an enormous Jig Saw puzzle together, after this tedious and time taking effort is completed the outside of the box has to be tightly secured and wrapped up completely with great care, lots of patience and plenty of brown or transparent packing tape. Sealing the box in such a way to make it is more certain that the precious items inside will reach its destination unopened, not ransacked and without damage. The next step is putting the names of sender and receiver, clearly visible and preferably in huge characters on all six sides to prevent the package getting lost during transport and probably to impress the neighbours of the beneficiary at the same time. Still, the intricate task of pleasing people back home and sharing the fruits of the labour overseas isn't over yet, after the packing and labelling is done the thorough search for a reliable and accredited forwarder has begun, after all, not just anyone can be chosen to perform the back-breaking ritual of collecting and transporting that only-in-the-Philippines cardboard icon of goodness. And last but not least, relevant advertisements and reviews have to be read comprehensively, lots of phone calls and serious deliberations have to be made, a reasonable amount of spontaneous information and well-intentioned advice from friends and co-workers to be considered before selecting that one-and-only privileged cargo-company. What follows is the unavoidable and unpleasant waiting for six to ten pain-staking and nail-biting weeks until that most desired piece of freight reached its final destination. Who ever said that shipping a Balikbayan box is hassle-free and easy?
Fortunately, for those who absolutely do not want to go through all the dire straits of brick-and-mortar shopping, real life stuffing, taping and travelling there is always a possibility to buy, pack and send their Pasalubong online, even boxes which are already pre-packed with assorted goodies and gadgets can be ordered through the electronic highway. With just a few mouse-clicks a wide array of products can be comfortably chosen, bought and send to your kith and kin in the Philippines. In the last decade these one-stop Internet stores are sprouting up across the web and are becoming a regular feature among the Filipino community world-wide. Thanks to the present day, modern technology people can cyber-shop for freebies, discount deals and exciting specials to stack the Balikbayan box fast, easy and without any hustle. Making a purchase can be done in a short period of time, without paying hard cash, from whatever faraway place at any time, 24 hours a day, 7 days a week and all year long.
Whether given personally or send by Balikbayan box, a Pasalubong can be almost anything, from new to second-hand clothing, accessories, house-hold good, sweets, handicraft items or goods that are hard to find or are more expensive in the Philippines. The Pasalubong that has a famous American or European brand name are all time favourites, the most popular giveaways are perfumes, wines, liquor, clothing chocolates and portable game-computers. But hand-outs, like native delicacies, handicrafts or indigenous items that originate from a region in the Philippines are highly valued in the same way. The price and size of the gift is inconsequential and the length of time the person is away is also not important in any way. It is no surprise that hotels and shopping malls have their own Pasalubong section or stands. In and around harbours and airports travellers can shop to their hearts content for last minute Pasalubong needs in the many convenient specialty stores, mini gift shops and at the Duty Free shops that offer a wide variety of Filipino-made products. Anyhow, a genuine Pinoy does not wait till the last moment to start their illicit bargain hunting frenzy; all together the quest for affordable Pasalubong can last all year round. Going from store to store and spending hours strolling around, trying to find a good deal has become a favourite pastime for many. Nevertheless, for several Filipinos the unwritten obligation to bring back a Pasalubong for their various siblings, in-laws and quite a few friends can be an unwelcome source of stress and, at times, turn into a huge burden. At present prices of goods are not getting any lower and salaries not higher, the cost of transportation is always rising and over time family members will inevitable increase in numbers. Another thorn in one's side can be starting the return trip with fear of unintentionally leaving someone out or that nasty feeling of maybe having doubts not satisfying somebody, perhaps not bringing enough keepsakes or thinking that folks back home could have their expectations far too high. Although, at the end of the journey all worries and aggravations are set aside when experiencing the warm reception, seeing all those happy faces, enjoying the magic of smiling children and getting these countless big hugs. In fact, when all is said and done, one will realize it was really worth the strain and trouble.
Anyway, all travels won't last forever; but before going back that very strong desire of shopping for Pasalubong is cropping up again. All kinds of Filipino specialities, canned and dried foodstuff for relatives, friends and colleagues are once more jam-packed into already brimmed hand-luggage and almost chock-full backpacks. Despite the logistic, personal and financial inconveniences any trip, forth or back, would not be complete without bringing home a Pasalubong; it is a fundamental and unique part of the Filipino culture. Either coming from the Philippines or abroad, the legendary Pasalubong is not just a simple souvenir; but is regarded as a part of the travellers experience and a testament of kind-heartedness as well as an expression of love and commitment towards loved ones.
---