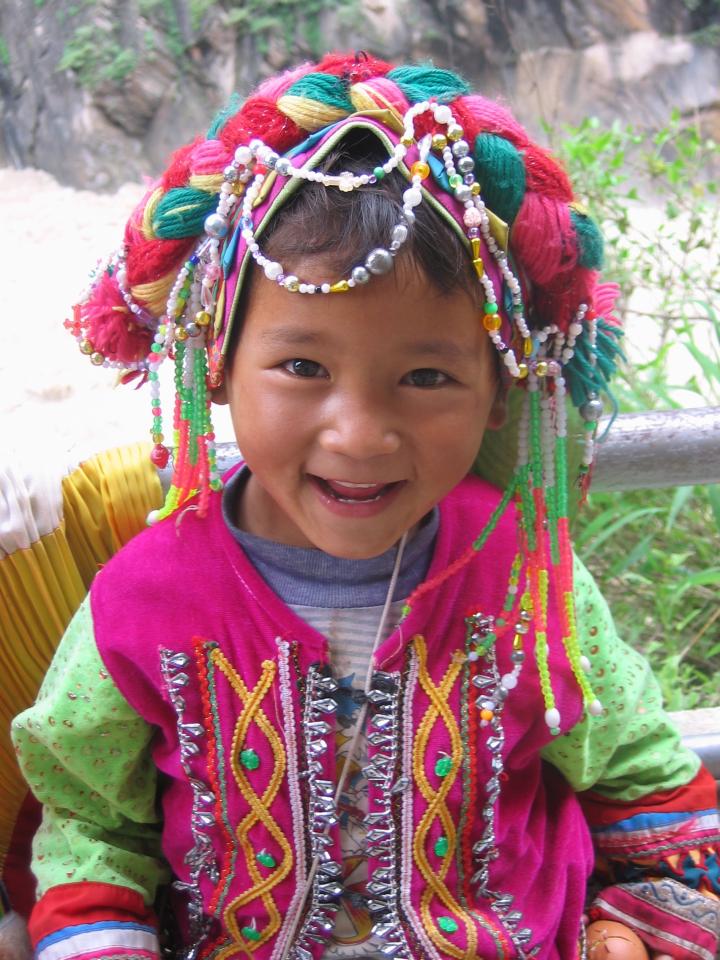 Image ©
2009 MaryLou Driedger
Pinch yourself!  Those words often come to mind when I travel. I'll be snorkeling in the Philippines, walking on the Great Wall of China, elephant trekking in Thailand, or white water rafting in Borneo and say, "Pinch yourself, MaryLou. Are you really doing this?"
          I experienced that "pinch yourself" feeling repeatedly as I traveled in China's Yunnan province, close to the Tibetan border.
          In the city of Kunming I went to the Brothers Jiang Restaurant to try their famous 'Crossing the Bridge Noodles." Legend says the spicy dish was created by a woman who needed to bring supper to her scholar husband. He was preparing for examinations on an island. She concocted a hot broth that cooked raw meat, vegetables and noodles while she crossed a bridge to deliver his meal. I'm not sure when I said "Pinch yourself". Perhaps when I realized we were the only Caucasians amongst the hundreds of restaurant patrons. Perhaps when it took five waiters to bring us all the ingredients for our supper. Perhaps when folks at the neighboring tables began spitting the bones from their meat onto the floor. Perhaps when a yellow duckling escaped from a diner's shopping bag and had to be chased across the room and recaptured.
         A few days later I was hiking down Yunnan's Dragon Snow Mountain to reach the Leaping Tiger Gorge. We rounded a bend and I had my first view of the water crashing over rocks thirteen meters high. As I stared at the deepest river gorge on earth a little girl in traditional Tibetan costume blithely took my hand and offered to walk with me. My heart was pounding along with the deafening roar of the water, but she seemed totally unafraid of our precarious position. She even let me take her picture against the back drop of the raging Jinsha River. Another "pinch yourself" moment.
           That night we stayed in Shangri-La. Formerly called Zhongdian; the city changed its name to attract tourists. It claims to be the setting for James Hilton's novel Lost Horizons. Our guide Pei took us to visit a rural village nearby.  Goats, sheep and cows wandered the streets. We entered a two storey farmhouse, lit only by sunshine streaming in through four windows. The windows' shutters were covered with beautifully painted designs. The walls inside were trimmed with intricate carvings. All the ornate furniture had been hand made. A wood stove provided heat and a place for cooking. Enormous vats stored water carried from the village pump. A young girl and her two little brothers were looking after things while their parents were out in the meadow with the yak herd. They offered us a hunk of yak cheese broken off from a huge round hanging from the ceiling and fermenting over the stove. It was delicious. We visited for about half an hour, with Pei interpreting for us. A truly 'pinch yourself' moment.
     Next Pei took us to the local monastery where a thousand monks study Tibetan Buddhism. The holy men were friendly and knew our guide well. They offered us a sniff of the tobacco the monastery grows. After the guys in our party had all inhaled a speck of the snuff, a grinning monk insisted I do so as well. What an eye watering 'pinch yourself' experience!
---