A Pleasant 'Hell' in Laos
---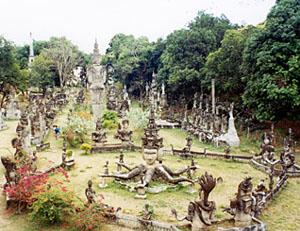 Image ©
2001 Donald Gilliland
Just outside the city limits of Vientiane, our little old bus bounced down the dusty two-lane road towards the Friendship Bridge that connects Laos and Thailand. Just beyond that bridge, on the Laos side, was our destination, an outdoor sculpture park called Xiang Khouan. Besides my friend Rick and I, the bus was packed with grinning Laotians on their way to who knows where. As the only two pale faces on board, we drew lots of curious glances from the other passengers. We just grinned back and hoped the bus wouldn't break down.
Our guide for this excursion was a friendly 12-year-old Lao boy named La who had 'found' us the day before as Rick and I stumbled around the Mekong River waterfront looking for something interesting to do in Vientiane besides fatten ourselves at cheap restaurants. Wanting to practice his English with foreigners, La struck up a conversation and joined us on our stroll. He proved to be both a polite and interesting companion so we took him to a street side restaurant for a quick meal (nothing too fattening this time) and a respite from the heat of the midday sun. After devouring his bowl of noodles La suggested that we visit a place called Xiang Khouan, describing it as "very interesting for foreigner to see."
Once we reached Xiang Khouan, Rick and I quickly wiggled out of the cramped little bus and stood on terra firma, happy to stretch our legs and arms again after being constricted for the past forty-five minutes. La insisted on paying the 2000 Kip (about 25 cents) entrance fee for both of us and after mild protestations ("No, we can't let you do that!") we graciously relented and thanked him.
"Are you ready?" asked La. "Now we go to Hell."
"Hell?" the two of us asked in unison.
"Yes, Hell!" he replied cheerfully, as if confirming that we'd correctly answered a difficult quiz question. "Please follow me."
With that directive we approached a garish concrete structure that resembled a giant melon with tree branches poking through its top. Following La, we climbed into the mouth of the melon - which from this side looked like a screaming, irate monster - and down a steep, narrow passageway into the depths of a poorly lit chamber.
To be sure, Xiang Khouan isn't your typical collection of historic ruins or tranquil Buddhist temples. The outdoor park is located right on the banks of the Mekong River, about 25 kilometers from downtown Vientiane. Besides our hell-like melon, Xiang Khouan is filled with dozens of other gigantic eccentric sculptures: crocodiles with gaping mouths, ready to devour intruders; three-headed snakes, coiled and prepared to strike; beautiful goddesses with serpentine bodies; elephants with multiple heads and tusks; stacks of grimacing skulls; creatures with missing heads. There's even few traditional Buddhist and Hindu figures to balance out all the weirdness.
Wacky sculptures aside, the journey into 'hell' is probably the highlight of the park visit. In addition to its bizarre outer appearance, the inside of the melon structure is equally peculiar. It's built on three different levels, and filled with dark rooms, all of which have narrow openings that require limbo dancer-like moves to enter. Each room, or chamber, is filled with hundreds of small sculptures, some delightfully cute and others wickedly grotesque. The eerie, cave-like rooms are not always illuminated well so having a flashlight handy makes investigating the interior much easier.
Xiang Khouan was built in the late 1950s by a Lao monk named Louang Pou Bounleua Soulilat. He moved to Vietnam for a few years to become the disciple of a cave-dwelling hermit, but returned to Laos an inspired man and ready to create an outdoor sculpture garden that reflected his version of life and the universe. The result is the massive collection of Hindu inspired sculptures that visitors now see at Xiang Khouan. After the Lao communist revolution in 1975, Soulilat fled across the border to Thailand and constructed a similar park near the town of Nong Khai.
Due to a confusing similarity in names, many travelers have heard that Xiang Khouan is a dangerous place to visit. That's not so. This confusion stems from the park having a similar name as that of the real trouble spot, Xiang Khouang, which is a province near the famous Plain of Jars in Central Laos. It has been flagged recently by the US State Department as a risky destination due to insurgent rebel attacks in the area. Fortunately, the only danger you'll face at Vientiane's Xiang Khouan might be bumping your head on a stone slab.
There aren't many dining options in the immediate area of the park, except for an over-priced tent offering basic Lao staples such as grilled chicken, sticky rice and papaya salad. Anyone that's hungry should try to wait and hold out for better - and cheaper - selections in Vientiane itself. Bus numbers 14 and 49 leave frequently from the Vientiane's morning market (Talat Sao) and take about 40 minutes to reach Xiang Khouan. The bus fare is 5000 Kip (less than US$1).
---