Room with a View: Tales from Sapa
---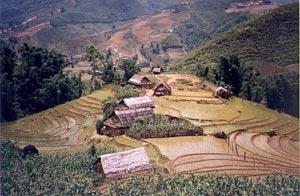 Image ©
2000 Samantha Coomber
"This is the best room in Sapa," I was informed as I lugged my hideously large backpack up two flights of narrow stairs. Arriving at the top of the small guesthouse I was greeted by the sort of panorama one is lucky to discover a few times in life. A large, open verandah looked out over the surrounding mountains and valleys of sweeping rice fields. In the spacious adjacent room, when I threw back my curtains in the morning, you could see the mist lifting over dark green peaks. You could also snuggle up to a little fireplace on those chilly winter evenings. Sold to that lady in the floppy hat: there weren't marketing skills required here.
I had just arrived in Sapa, an old French hill station nestled among the Hoang Lien Son Mountains near the Chinese border. It's home to the Hmong and Dao ethnic minorities and their presence in this small market town is very much evident. Many tourists include Sapa in a breakneck four-day organized tour of northwest Vietnam. Realistically, that's just not enough time to appreciate this lofty idyll. I was fortunate enough to stay for a total of eight days. It's quite easy to travel here independently; you just catch an overnight train from Hanoi, an experience in itself. On my journey up, I shared a crammed four-berth sleeper with yet another amiable, extended Vietnamese family. As the train chugged through never-ending moonlit coconut palms, they offered me inexhaustible supplies of tropical fruits and asked me everything about my native country. When it was finally time for bed, I was more concerned about the two live chickens stuffed into a hidden plastic basket nearby than the wooden slates that were my "mattress" for the night. My new home had a certain notoriety about it. It was the original 'room with a view' and all mine at a bargain $7 US a night. Later, I learned that it was well known among travelers and this guesthouse was the place they all converged on first. A little removed from the always choc-a-bloc lower rooms, you could sit on the verandah for hours in a mesmerized stupor. Curiously, though, I never seemed to find much time for this. There were always so many other things to do--visiting local markets and countless forays out to the valleys below.
The local Hmong girls took me out on two separate day walks through these valleys, for a small fee. They knew the area like the back of their hands and led me across terraced paddy fields, gurgling brooks and small farming settlements. I was even invited for lunch at some of their homes. These were wooden huts high up, surrounded by small vegetable allotments and pens of plump, pinkish hogs. A crude open fire on the dirt floor was the focal point of the spartan interior and it attracted a procession of skinny chickens, desperately shy toddlers and weary older people. It is the young girls who, after guiding me through magnificent scenery would then rustle up a feast over the fire.
I loved every minute of these hikes but I wanted to go deeper into the valley and stay overnight with the hill tribes. Officially this is not allowed and you have to go through the proper channels. There are some agencies and guesthouses in Sapa that can organize this. As I was on my own and because of the economics involved, I needed to find another hiker. Putting the word around, I soon found an instant comrade, a fellow Brit by the name of Darryl.
For various reasons we arranged our three-day hike only at the very last minute, but that's no problem. At 9.30 p.m.as I was still in the midst of finalizing what I required from the trek, the tour agent just laughed at me and remarked "Why not?" Why not indeed--such a commonly used phrase in Vietnam, summing up their endearing pragmatism. I pleaded with the guesthouse owner to keep my room while I was away, but taking no chances I paid her in advance for the night I would return to Sapa. The following morning, at some ungodly hour we finally met our guide and made last minute preparations, before being driven down by motorbikes to the valley floor. Our guide, Duc, was a small, muscular 22 year-old local. Right from the start, he was bursting with enthusiasm for the region he would lead us through and his role as our tour guide. He was simply worth his weight in gold. As we strode out on across an endless sea of emerald greens dotted with clusters of small huts, I felt a profound sense of utter freedom.
Many people praise Vietnam for its stunning scenery, the unfailingly friendly people and its incredible culture and quite rightly so. But I must add another endorsement and that is the liberating emancipation it gave me as a lone female traveler. Never have I come across a country where I could repeatedly go with male guides to remote places alone and not once feel threatened or uneasy. After all, there was too much mutual respect for that. Here I was hiking for days with two young men I hardly knew, yet I trusted them implicitly. Something else I realized during my lengthy stay in-country was that I spent my time laughing constantly. What a fitting testament to this magical place! To my delight, the Vietnamese had the same inane, dry sense of humor as I and their irreverent, off-the-cuff remarks had me in stitches. They also tend toward eccentricity, which we English have developed into an art form. Duc's childlike quirkiness was just too much for me. When I described to friends what ended up to be a brilliant hike, I told them that at times I could simply not "go on." Was this from muscle cramp, they inquired, or perhaps exhaustion? No, it was the simple fact that most of the time I was so bent over from laughing at my companion's behavior that I couldn't put a foot forward.
We were blessed with clear cobalt-blue skies and that lovely balmy high altitude heat as we picked our way through fields and streams. The month of June was planting time and practically whole communities were out replanting bundles of lime-green shoots by hand. The color of their clothes denoted the ethnic group. Indigo blue was the Hmong and scarlet red with blue was the Dao. They seemed too engrossed in their diligent work to wave. Maybe the sight of two westerners precariously negotiating their fragile, terraced mud walls was not something to encourage. En route we dropped in at friends of Duc. They lived in a beautiful teak house said to be over a hundred years old. Inside, it was dark and deliciously cool; the walls lined with Chinese characters and faded posters. What a contrast to the nearby Hmong huts. As we sipped the ubiquitous green tea Duc told me that this family was wealthier than their neighbors but I had already gleaned this from the presence of the television.
We bumped into a few small tour groups as we headed through wooded slopes but as we climbed further upward, we left the world far behind. For the rest of the day, we met no one else from hill tribes wandering from place to place. We scrambled up steep, forested hills reaching dizzy heights with magnificent views over distant horizons. Sapa and the valley villages were now long gone; in their place was a steel-gray river way below and verdant limestone peaks above. Duc told us that few tourists made it here. They usually didn't have enough time for a three-day trek and only a handful of people knew this route. I believed him, as most of the paths were long overgrown and deserted.
Humor, trust and pioneering spirit aside, our guide, bless him, was woefully ill-prepared. After numerous picnics along the way, we discovered that his small knapsack was crammed with food, but precious little else. It was me with the overstuffed medical bag that tended to our trio's cuts and bites. And it was me who supplied the water purification tablets when we ran out of fresh water, with another two hours' hiking left. But there were endless supplies of French baguettes, bananas and cheeses so we had no real likelihood of starving. After traversing hills and valleys and simply revelling in this hidden beauty, we were all ready for a swim. We found an ideal spot by a footbridge and massaged our limbs in the cool, mountain waters. Just as many times before, we became the local attraction and a few necks were craned to glimpse the white-skinned aliens shedding their clothes. In the dusky hours we climbed further again. We left behind the Hmong communities; this appeared to be very much Dao territory now. They too were all out in force on the sloping water-filled rice terraces, working against the clock to finish their planting. Their bright red hats punctuated the fading light as we passed them on the way up to our overnight destination.
After about 22kms of walking, I was now looking forward to a bowl of steaming something and perhaps a cup of rice wine. Duc had obviously saved his little surprise till the last however, right when you least expected it. Separating us from our "home" for the night was a narrow, raging torrent and we had to cross it. This would have been fairly straightforward but for the proposed "bridge." Well it wasn't really a bridge--more a collection of bamboo loosely strung together and delicately resting on two boulders on either end. There were no handrails and nothing holding it down. I looked aghast at Duc who, rather than pacify me, gleefully recounted that one tourist had burst into tears and refused to cross it. I can't say I blame her. I don't remember seeing much as I crawled across on all fours. Maybe this was due to my eyes being firmly shut or the disappearance of light. I do remember however some Daos urging me on.
In darkness, we were then led across huge riverside boulders and more fields before arriving at a large, isolated wooden barn. Inside was home to three extended families, numbering about fifteen people. The front part was a communal area with a central, open fire with numerous pots positioned above it. There were some doors leading off to private chambers. Beyond a partition was a massive kitchen with a large kiln and tanks of running water. On an upper galley level, among bundles of dried sweet corn and firewood were further sleeping quarters. I couldn't make out much however because the light was very dim--one or two bulbs powered by nearby streams.
We both wondered what sort of meal we could expect tonight. To our amazement, Duc pulled a squashed parcel of raw pork meat out of his knapsack for our consumption. Mortified, we remembered how that bag had been baking in strong sunlight all day. However, it was either a risk of food poisoning with something familiar or munching on something unknown--we wisely took the first option. While our guide fussed over the dinner, we tried to communicate with the intensely curious children slowly inching their way towards us. The adults were also inquisitive, but had too much to do to sit around entertaining. Our guide had told us that these Dao families were more friends of his and only on very few occasions had he bought guests here. This perhaps explained the extreme reservedness and stares. We gently coaxed them nearer and attempted sign language but the ice was finally broken when I let a young girl plait my long curly hair and Darryl showed off his glow-in-the-dark watch. We were pleasantly mobbed and smiles blossomed.
Close up, the Dao attire was simply stunning. All the females, even babies, wore embroidered red cloth hats. Their multi-layered garments were beautifully decorated and stitched with colored scraps of cloth. The pork stew that Duc had prepared was excellent--yet another string to the bow of this sweet young man. Some of the men joined us afterward and tiny chipped china cups of rice wine were passed around. It occurred to me then that we might as well have been on another planet compared to the decadent Ho Chi Minh City in the south. The difference between the two places was quite extraordinary and it was hard to believe we were still in the same country.
It was early to bed here and not surprisingly the facilities were basic. The bathroom was "anywhere I cared to choose outside." I was well used to this by now from my time in Vietnam. However, trying to balance up muddy slopes in pouring rain plus the threat of being jumped on by two growling dogs made it all a new experience. That night we bedded down in sleeping bags in the middle of the floor. I quietly laughed myself to sleep as I noted I was curled up next to two virtual strangers; at the mercy of rodents, mosquitoes and wild chickens; there was a thunderstorm above and I didn't have a clue where I was. Funny though, I wouldn't have had it any other way.
The next morning, most of the families were already in the fields. It was just the children and old women who were left at home. Before we left, we gained their trust to take a few treasured photos. Our farewells were uttered with genuine emotion--turning back to wave goodbye, now in daylight we were staggered to see a dramatic waterfall not far behind.
I hoped that Duc knew where to take us today, as he seemed to consume rather a lot of rice wine at breakfast. Still, he successfully led us through lush bamboo forests adorned with waterfalls and over more bizarre mountainous terrain.
Later in the afternoon, we sat atop a steep grassy hill looking down on a village nestled in the valley. That, pointed Duc, was Ban Ho, our home for the night. As we descended nearer, we could make out a sprawling settlement of dozens of houses lying next to a wide curve of river. It was one of the most delightful places I have ever seen. We walked through neat bamboo and wooden huts surrounded by lotus ponds and vegetable plots. Ducks and water buffalo wandered aimlessly in the mud and locals returning home from the fields gave us huge smiles. It seemed different from other places we had seen. This was the Tay group who were a little more affluent than other ethnic minorities. The large two-story dwelling at the edge of a sweet corn plot was our place of rest. It was in complete contrast to the previous night. Well-lit, airy and comfortable, the first floor had exquisite old wooden furniture inlaid with mother of pearl, fine porcelain and even a music center. Upstairs, a platform was lined with numerous mattresses and mosquito nets. Apparently this home doubled up as an informal guesthouse and the family members seemed much at ease with us.
Below the stairs was a vast kitchen area and it was here we sat chatting with the women, helping to prepare dinner. This family was evidently the wealthiest of the village--the head of the house was the local police chief. We had a lazy evening eating heaps of food, then sipping tea and watching distant fireflies out on the large bamboo porch. Duc took us through his kung fu stances and we had a lot of laughs. The place was idyllic and I didn't want to leave. Many guests ended up staying here unintentionally for days, seduced by the peaceful location, the simple life and the benevolent company. You could spend hours just wandering around the village making friends with all the joyful neighbors.
Much as I wanted to stay, I had my own little utopia to savor one more time. My room was waiting for me upon my return and I got a big welcome from the guesthouse owner. This time, though, I made sure that I sat on my verandah and drank in this fairy-tale vista before I disappeared the following day.
The previous guests had all long gone; Darryl left for Cat Ba Island and Duc, somewhat at a loose end, hung around me until my departure. I think that he was already missing the unique time that we had spent together and the special camaraderie that we experienced. But he wasn't the only one.
Editor's Note: Sapa is an eight-hour overnight train ride 367 kilometers north of Hanoi. The area offers spectacular scenery with high mountains, fertile valleys, green rice fields and primeval forests.
---