Shanghai: Where The Past And Future Collide
---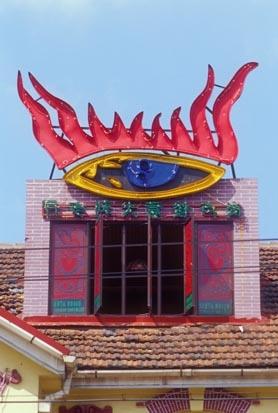 Image ©
2008 Graham Simmons
Shanghai, one of Planet Earth's largest cities (with over 17 million residents, now second only to Mexico City) is taking off like a rabid skyrocket. Across the Huangpu River, the brand-new metropolis of Pu Dong already has the world's second highest building, along with plenty of room for parks, gardens and the giant new Science and Technology Museum. Wherever you look in Shanghai, new buildings are replacing the old, with a token commitment to heritage maintenance being the only brake on open-slather strip-clearing of the concrete jungle.
One visit to Shanghai is just not enough. The appetite is whetted but nowhere near sated; the desire to explore is kindled but yet to fully ignite; and the sheer, overwhelming scale of the place has yet to make a full impact. I had to go back, immerse myself in the throbbing metropolis awhile, and see if I could somehow survive the sensory overload that is constantly presented to the visitor.
In Shanghai, the future is displacing the past so fast that there is hardly any present. But then, Shanghai has always been a path-breaking place. Always the most "Western"-influenced of all Chinese cities, the city is now enjoying a tidal-wave adrenaline-rush. Along with the development comes a sea-change in lifestyle, as Western innovations are adopted with a flair and panache unique to this city.
"I've never seen anything like this anywhere in the world, in terms of spirit, strength and determination", says David Buckley, a New York businessman who has been making regular trips to Shanghai since 1995. "It gives you a sense of hope".
This is not to say that Shanghai is without its problems. Traffic gridlock occurs frequently, and is exacerbated during the monsoon season, when the streets sometimes become fast-flowing rivers. To alleviate these problems, the authorities have deliberately set car registration fees super-high, to deter private vehicle ownership. In addition, the already excellent metro (underground rail) network is fast being expanded. By late 2003, the world's very first Maglev railway will whisk passengers from Pu Dong International Airport to central Shanghai in just eight minutes, at speeds up to 400 km/hr.
Shanghai is now so big that just studying a city map is enough to fuse the neurons in your brain. To make any sense of the place, you need to divide the city into precincts, each of which is as large as a conventional city. Each of these precincts in turn has its own charms, and is worthy of prolonged exploration. What is unique about Shanghai is the sheer speed at which these precincts are developing and evolving.
The Bund (this boulevard is known to the locals as the Wàitªn) is a living museum of the world's architectures, and undoubtedly THE glamour precinct of Shanghai. But as Shanghai evolves, its shopping and dining epicentre constantly moves, like a paint-dot on an expanding balloon. Whereas Nanjing Lu (off The Bund) has long been the premier shopping boulevard, there are now so many stylish new competitors that it is best to look at each of these in turn.
Not far from the Bund, Shanghai's new Museum of Arts and History is one place, at least, where China's rich cultural heritage can still be appreciated. In a palatial building with a near-psychedelic entrance portal, a dozen or so display rooms (some funded by international donors) are set on three levels around a marble-floored atrium. Galleries include the Ming and Qing Dynasties furniture gallery and the sumptuous RR Shaw Gallery of Chinese Painting.
For a completely different take on Shanghai, walk just a couple of hundred metres west of The Bund. This is the old quarter of town, its residents still housed in the longtangs (narrow lanes fronted by double-storey houses) that are the hallmark of the city. The centre of the Old Quarter, a fascinating jumble of old shops and ramshackle buildings, is the block bounded by Minhang, Changzhi and Emei Roads.
Currently the most fashionable quarter of town is Henshang Lu, a wide avenue shaded by sycamore trees, and featuring many al fresco or indoor restaurants, cafés and traditional Chinese tea-houses. One arcade alone ("The Promenade", at Number 4, Henshang Lu) houses (among other establishments) a popular pub (The Gap), A Thousand and One Nights (serving Muslim-style food), Sole Coffee and one of the city's best Italian restaurants, Pasta Fresca da Salvatore. In a quiet lane just off Hengshan Lu, Yang's Kitchen serves great Shanghainese-style cuisine in a plush dining-room with (something rare for Shanghai) views over a restful garden.
Nearby Huaihai Lu is the heart of Shanghai's former French Concession, created in the 19th Century, when European colonists divided the city between them, as though it was a vassal state. Behind the chic shopfronts of the French Concession you can almost hear the echoes of the throb of daily life in the 1930s, Shanghai's most feral era, when the French police and the infamous Green Gang triad operated out of each other's pockets.
In Central Huaihai Road (Huaihai Zhong Lu), Karma Restaurant bills itself as Shanghai's "first ever fusion restaurant in Shanghai", serving Indian, Sri Lankan and Lebanese food, with live music late at night. Try the Rajasthan Lamb – superb! "We aim to serve the best Indian food in Shanghai", says the manager. Just down the road, Santa Rosso is a sleek, stylish new Italian eating place in a restored three-storey villa.
Just off Central Huaihai Road, the Conservatory of Music is well worth a visit – especially the in-grounds Museum of Oriental Musical Instruments. In the workshops adjoining the Conservatory, a whole range of Western-style string instruments – from harps to violins and cellos - are lovingly hand-crafted.
For a "green break", there could be no more pleasant and relaxing spot than the Yu Yuan Gardens (in another "Old Quarter"), a fully restored classical Chinese garden first created way back in 1537. Stroll among the rockeries and goldfish ponds, or explore the fascinating bazaar outside the Gardens gates. Throughout the whole of the Yu Yuan precinct, well-maintained shikumen houses (a traditional two-storey Shanghai housing style) feature prominently.
A central feature of shikumen houses is an ornamental gateway, featuring elaborate carvings and decorative scrollwork. The style originated during the Taiping Rebellion of the mid-1800s, when many residents of Shanghai and thousands from the neighbouring provinces of Jiangsu and Zhejiang were forced to take refuge in the City's foreign concessions. The newcomers were accommodated in houses built in narrow longtangs. Each house was designed for just one family, but in one case at least, a shikumen was found to be housing no fewer than 72 families.
Each Shikumen house features a stone gate framing a wooden door, which leads into an enclosed courtyard. In the 1930s, French architects and developers built upon this style, designing new Shikumen-style housing in the French Concession for the influx of expatriate residents. Just south of the former Avenue Joffre (now Huaihai Lu), the Xintiandi precinct has been fully restored to its former glory – with the addition of upmarket cafés, shops and restaurants that make a visit a total multi-sensory experience.
With Stage One of Xintiandi now completed, work on Stage Two is proceeding apace. A shopping mall (now nearly completed) is to open in mid-2002, featuring an IMAX theatre, spa and fitness centre and many name-brand boutiques. Next to come will be two hotels and a residential complex.
The remaining 90% of Taipingqiao has already attracted the designers' attention. Many Xintaiandi tenants are waiting with bated breath to see what competition they will be facing. But this being Shanghai, they probably won't have to wait very long!
Other precincts of Shanghai also have their delights. Taikang Road is a very fast developing "Arts Street", with a few dozen galleries and crafts shops (though it has to be said that some of the street art is better than many of the gallery offerings). Even in the far-out suburb of Yang Pu, tucked away in a housing block is the William Peter Café, the creation of two travel-crazy brothers who are currently building a boat which they plan to sail around the world.
For a brief escape from the maelstrom of city life, it is worth taking a trip to the ancient town of Zhujiajiao, just under an hour by bus from the city centre. This picture-postcard water village on the shores of Dianshan Lake dates back over 1,700 years, and features serene willow-shaded canals, arched stone bridges, ancient streets paved with stone, and more than 10,000 Ming and Qing Dynasty houses. But be warned - arrive early, as there is a lot to see, and the gates to the old part of town close at 4 pm.
And what's next on the block? First, there's the restoration of the Suzhou Creek precinct, an area of former cotton factories and warehouses. "In 1985 there were 37 factories and 10,000 workers here", says taxi driver Mr Wong, whose wife and aunt both worked in the cotton mills, "but now they are all unemployed." Hopefully, the new Red Spring Restaurant and the many other projects on the drawing board for Suzhou Creek will be able to offer a little alternative work.
Another huge new project now well-advanced is the planned redevelopment of Luchaogang Harbour, under the supervision of Italian firm Architetti Riunti and partners. The plan is to make Luchaogang "the Venice of Shanghai". Part of the redevelopment will be the big new National Maritime Trading Museum.
The impact of all these developments is mind-boggling. Where does it all stop – if indeed it DOES stop? It's as though Shanghai has now become a trans-national hyper-city, with the past, present and future all colliding in one exhilarating fusion.
But isn't that what the world's great cities are all about?
* * *
Fact File: 
Getting There: Royal Brunei Airlines has just commenced regular services to Shanghai.
Where to stay: There is a huge range of hotels, in all price ranges, in Shanghai. An excellent reference is Lonely Planet's Shanghai (ISBN 0 86442 507 4).
Attractions:
Municipal Children's Palace, 64 Yanan Xi Lu, tel 6258-1850
Art and History Museum, 325 Nanjing Xi Lu, tel 6237-4030, daily 9 am – 4 pm.
Yu Yuan Gardens, just off The Bund, opposite the Shiliupu Ferry Terminal.
Zhujiajiao can easily be visited by bus. It is on the route of sightseeing bus No 3, which runs to Dianshi Lake every 30 minutes from Shanghai Stadium. Fare is ¥12 one way. Ask to be dropped at Zhujiajiao.
Science and Technology Museum: this place is so new that it is not marked on any maps. To get there, take the metro to Pudong and get out at Yanggaolu station, one stop before Century Park. The Museum is right at the station. Open 9-5 daily except Mondays. Exhibits include "Earth's Crust", "Wise Spectrum of Life" and "Cradle of Designers". See also http://www.ccnsl.com/en/eng-main.htm
Cafés and Restaurants:
Yè Shanghai Restaurant, 338 Huang Pi Nan Lu, Xintiandi, tel 6311 2323, open daily 11:30-2:30 pm for lunch, 5:30-10:30 pm for dinner.
Karma Restaurant, 102/1111 Huaihai Zhong Lu, tel 6472-0413
Santa Rosso, No 2 Lane, Huaihai Zhong Lu, tel 6445-8685
A Thousand and One Nights, No 4 Hengshan Lu, tel 6473 1178
Pasta Fresca da Salvatore, No 4 Hengshan Lu, tel 6473 0789
Sole Coffee, No 4 Hengshan Lu, tel 6473 1374; NB: closed 11 am-2 pm.
William Peter Café, Zheng Tong Road 240 Nong 18 D11, Yang Pu, tel 6549 7175
What's On: For an extremely comprehensive guide to the latest in entertainment, dining and sightseeing options, see the liftout in the fortnightly "City Weekend", free at most cafés and bars in Shanghai.
* * * * *
---