Unexpected Holiday in Cambodia
---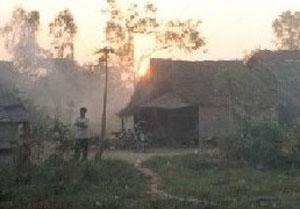 Image ©
2001 Donald Gilliland
Even though it was only going to be a four-day excursion, I had planned out the details for my trip to Cambodia with meticulous care. This of course guaranteed that something was bound to go wrong. Little did I know then, but my four-day "quickie" would turn into an extended 17-day mis-adventure.
The end of the year was winding down once again, that time of year when shopping malls - even in Thailand - deck the halls and blast cacophonous Christmas tunes over their sound systems. I was looking forward to a long holiday break from work and escape from the seasonal nonsense. There was just enough time before New Year's Day to take a trip - provided the destination wasn't too far away from my home in Thailand. That put Cambodia at the top of my wish list. Even though I'd toured the spectacular ruins of Angkor only a few months previously, I had enjoyed it so much that I was eager to return. A friend of mine in Bangkok who had never been to Angkor was also interested in seeing the famous site, so he agreed to tag along with me. We planned out a basic agenda, allowing four days to see the highlights in and around Siem Reap.
We left Bangkok the day after Christmas and everything went fine our first two days in Siem Reap. We'd seen some temples, met some cool people and had eaten some fine meals. Then, during an evening of frog legs and beer, I managed to lose my passport. No, I wasn't blitzed on Siem Reap's infamous "happy" pizza or robbed by armed bandits. If only the circumstances were that sensational then I'd have a good excuse for my own stupidity. Instead of leaving the passport at the hotel, I had taken it with me because the guesthouse where we were staying didn't appear to have much in the way of security and I didn't feel comfortable leaving it behind. Bad decision. Even though I had the passport tucked away safely (or so I thought) in one of my front trouser pockets it crawled out and vanished at some point in the evening. I noticed its absence only after we'd returned to the hotel later. I frantically searched the room and then retraced my steps, going back to the restaurant and riverside bar where we'd been earlier. No sign of the passport anywhere.
The next morning I filed a report with the local police department and notified the US Embassy in Phnom Penh. The embassy official that I talked to on the phone told me that I'd have to go to Phnom Penh to apply for a new passport. The catch was that I needed to hurry since there was only one business day left before the long New Year's holiday was to begin and the embassy was going to be closed for several days. Agitated, confused and worried by my sudden predicament, I booked a flight to Phnom Penh and left that night, leaving behind my Bangkok buddy to fend for himself in Siem Reap.
Once in Phnom Penh I managed to obtain a new passport the next day from the helpful staff at the US Embassy. I was also able to change my flight reservations so that I could return to Bangkok from Phnom Penh. Things were falling into place nicely and it looked like I would be returning to Bangkok on schedule. The flight back to Bangkok didn't leave until later that evening so I decided to make the most of this unexpected detour and take a quick tour of Phnom Penh. The first two stops were grim ones: the notorious Toul Sleng prison (where the Khmer Rouge tortured people in the late 1970s) and the infamous "Killing Fields" of Choeung Ek. I balanced those sobering sights with visits to Buddhist temples and walks around town. I found Phnom Penh to be a very likable little city. The people I met were friendly, the food good and the riverfront area full of colorful activity.
Before I could leave Cambodia, though, I needed to obtain an exit visa. One of the folks at the US Embassy had warned me that this procedure wasn't a simple one and that I should be prepared to slip the Cambodia officials some extra money. Once at the Office for Foreigners I was shocked to learn that it would cost me sixty dollars (at first, due to the official's mangled pronunciation, I thought it would be sixteen dollars) to obtain the exit visa. Reluctantly, I paid the exorbitant fee and was given a receipt. Good to go, I thought. Foolish me. Even after paying the money and filling out two more forms with glossy photos attached, I was told by a particularly sinister looking officer that I would not be able to leave the country until my paperwork was processed. This, Mr. Sinister casually informed me as he clipped his fingernails, might take another two weeks. I subtly asked if there was anything I could do to speed up the process, aware that an additional bride might expedite matters. Either they didn't catch the drift or such a request was simply not possible. Either way, I was out of luck.
I stumbled outside, sat down on the curb and pondered my situation. I liked Cambodia a lot but the thought of having to stick around and cool my heels for another two weeks was pretty depressing. For one thing, I had to get back to work. For another, I didn't have enough money for such an extended stay. My traveling companion had lent me some cash before we parted in Siem Reap, but that sum wouldn't last two weeks no matter how frugal I was.
Thank heavens for friends. Within 24 hours, thanks to the magic of email and a phone call to Thailand, plans were made for a courier (a friend of a friend who was flying back to Cambodia after New Year's) to bring me some money (my friends had tried Western Union but were told wire transactions to Cambodia had been terminated). Although I was running low on cash, I still had enough to slurp noodles and drink a few bottles of Angkor Beer until my angel of mercy arrived. Plus, the people at the hotel in Phnom Penh had been sympathetic to my plight and had discounted my already cheap room to only seven dollars per night.
So there I was, stuck in Phnom Penh with New Year's Eve only a day away. I was hardly in a mood to celebrate. Even so, neither was I keen on sitting around and feeling sorry for myself. As interesting as Phnom Penh seemed, I didn't know a soul in town and didn't relish the idea of staying there for the holiday. I certainly couldn't do much with my limited funds, but I did have a return plane ticket to Siem Reap, a place where I knew a few people who might let me crash for a day or two. I could go there for the holiday and return to Phnom Penh via the cheap riverboat in time to meet the guy bringing me the money. Totally do-able!
On New Year's Eve I boarded a half-filled flight back to Siem Reap. After landing at the shack that passes for their airport I headed straight to nearby West Baray, an ancient reservoir that still serves as a popular swimming hole. It's not that I had a strong desire to take a dip in the water. No, my reason for going to West Baray was because this was where my friends worked. I call them my friends, because I now consider them so, but at the time of this visit, I barely knew them. They were kids really; a group of six ranging in age from 8-14. Their job was selling bamboo rings, bracelets, postcards and other cheap souvenirs to tourists visiting West Baray. You see kids at all the Angkor temples selling similar wares but on my first trip to Siem Reap I found this West Baray gang to be particularly amusing and friendly. During that visit I hung out and talked with them, snapped photos, drank a few beers and watched the sunset. It was a very pleasant way to spend an hour or two. When I returned to Siem Reap for my end of the year trip I brought them each reprints of the photos I'd taken along with a few inexpensive gifts. That seemed to cement our friendship.
As dusk approached on the last day of the year, the motorcycle I was riding chugged up the hill to the edge of the West Baray reservoir. Some of the kids noticed my arrival and ran over to greet me. Alternating between English and broken Khmer I repeated my bizarre passport tale. Two of the children, a boy named Lyna and his sister Pekray, invited me to spend the night at their house. With a delighted smile, I accepted their invitation.
A few hours later, I found myself in the middle of this quaint Cambodian village with farm animals and curious neighbors milling about. Lyna, Pekray and the other members of their inner circle - Tra, Moei, Mung and Onee - led me around the village like the prized catch from a fishing trip - only without any nasty barbs or hooks. I don't know who was more excited about the visit; the kids or me. We stopped at a little drink stand where they bought me a cold bottle of Coca Cola. Then they directed me to a picnic table where we feasted on a sweet soupy gelatin-like dessert. I didn't ask for specifics, I just ate whatever they stuck in front of me. Dinner came shortly afterwards, cooked and served by Lyna's surprised but congenial mother. She and her husband invited me to sit down at a colorful straw mat on the floor of their wooden home and made sure I had big helpings of everything. There must have been nearly twenty people gathered around the spread of food, eating and chattering away. Some were members of the family, others just curious neighbors and friends, who, I assumed, were always welcome to share meals and drop by for a visit.
The rest of the evening was spent talking, reading (I had a Khmer-English phrase book that proved resourceful for both activities) and watching TV. Although most of the houses in the village did not have running water you can rest assured there were power lines that provided electricity for the almighty tube. After a local news program finished, we watched a ridiculous Jim Carrey movie that had been dubbed into Khmer. The kids in the room stared at Carrey's antics like it was the strangest thing they'd ever seen. Probably was. Following that came a WWF wrestling program from America. The people in the room howled at the absurd action on the tube. One of the kids tried to wrestle with me but after I put him in a vicious headlock he quickly surrendered. I forgot what time we finally went to bed, but it was well before midnight. No fireworks displays or choruses of "Auld Lang Syne" for these folks. Just another day of early to bed and early to rise.
The next morning, New Year's Day, I rode bikes with the kids back to West Baray. Cycling through the serenely beautiful landscape of farmland, forests and temples, I felt very much at peace. Clean air, a bright sunny morning and laughing children; I couldn't stop smiling. Once at Baray, we spent most of the day conducting reciprocal language lessons, munching on fruit and swimming. I was in no hurry to go anywhere, so I contentedly sat around while the kids gave their sales spiel to tourists. During the entire two days I stayed with them I never paid for a thing: they wouldn't let me. They fed me, gave me water, provided pillows for me to rest on, and when a rainstorm blew through late in the afternoon they sheltered me with umbrellas and a tarp.
Before leaving to go back to Phnom Penh I tried to give Lyna ten dollars, hardly a large amount, but money that he and his family could no doubt use. He refused to take it, telling me that I needed it more than he did. Sure, I was low on funds, but I had enough to get me back to Phnom Penh and I really wanted to express my gratitude for all that he and his family had done for me. I thrust the money back into his hands, thanking him for his hospitality and insisting that he keep it.
I left them that day with tears in my eyes. Maybe they thought I was feeling sad about my uncertain passport situation, but that was hardly the case. I was overwhelmed by the concern, kindness and unselfishness that everyone had shown to me.
Back in Phnom Penh I waited another ten days before my visa paperwork was sorted out and I was allowed to leave Cambodia. A fine mess indeed but in a strange way, this extended vacation turned out to be a blessing. I got to see more of Cambodia than I'd planned on and in the process became close friends with some very sweet Cambodian people. Those are memories I'll always cherish.
---