The "Wheel" Force Of Vietnam
---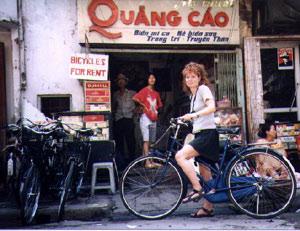 Image ©
2000 Samantha Coomber
In the feature film The Deer Hunter, there was an American soldier portrayed by Christopher Walken, who, for various tragic reasons, once arriving in Vietnam for combat, found he simply could not and would not leave ever again, even when the war had long been over. A generation later and under far happier circumstances, I came to Vietnam and found that I too, could not leave this mesmerizing country. Sucked in as if under some intoxicating drug, I was unable to awaken from its blissful hypnosis, unwilling to walk away from its all-consuming fascination and became, in a sense, an adopted daughter of Vietnam. In short, I had totally lost the plot.
I had certainly "lost the plot" cycling furiously down the chaotic, eight-lane "racing tracks" in the city of Saigon, the infamous, inherently decadent nerve center of Vietnam; had I completely taken leave of my senses? What was this country doing to me? Upon my arrival, I had decided that the best way to see this captivating country and meet the extraordinary friendly, welcoming people, was to rent a pushbike at every destination I visited, rather than being confined solely to tourist buses. Vietnam has only recently fully opened up to the outside world and many Vietnamese are still getting acquainted with seeing westerners (let alone on a pushbike!) They are simply itching to strike up a conversation (and practice their English) but most, however, are far too shy and polite to approach. Wheel power affords the ideal opportunity to see rural and urban life in the slow lane and initiate mutual casual banter while everyone peddles along. This pursuit however, seemed to open up a veritable Pandora's box of discoveries as it seemed to transport me, literally, into the heart of this country and may well have contributed to my recklessness.
If you have, however, a nervous disposition or do not believe you are immortal, "getting on your bike" may not be such a good idea. If, on the other hand, you are a little casual about your lifespan and you long to go native, you could well enjoy peddling around the country. I grew to positively love it, although there were times when I literally had to cover my eyes to miss what was veering toward me (not recommended) and curiously enough, after 37 years, I suddenly found religion! For here, anything goes and everything your mother taught you about road sense goes straight out the window. There are no helmets or lights used, there is no limit to how many people can jump on board (sometimes two, plus baby) and you can use your bike to transport a few geese, pigs or sacks of cement. As for traffic lights, why bother? Many intersections don't have them; it's just a free-for-all with the cyclists interweaving gracefully among each other like some sort of urban street ballet. Having said all that, there are relatively few cars on the road and the only traffic jams are a gridlock of bicycles and motorbikes in the rush hour.
You can rent bikes quite easily from the many mini-hotels or cafes springing up. Many vendors will not take the ridiculously small amount of money required, until after you have returned the bike, indicating just how trusting the Vietnamese are. You will probably find that you have acquired an old "boneshaker", but it gets you fine from point A to point B; besides, what do you expect for about 10,000 dong per day (under one US dollar)? There are a few things to remember before venturing out. First, always remember that if there is an accident, the "big one" pays the "little one"--simple. In the likely event of this happening, do as the locals do and just brush yourself off and get back on your contraption: chances are that you will be going so slow that it won't be too painful. Second, remember not to be distracted by the marvelous photographic opportunities thrown your way: the incense sticks and rice husks drying by the side of the road, the Russian-style, imposing war obelisks and the women in conical hats selling freshly made baguettes. Chances are that someone will be turning off an exit and traveling up the wrong way hurtling straight toward you; or you may well ride straight into one of many potholes; or yet another child with kamikaze tendencies will dash out, adding a few more gray hairs to your head. Third, always remember where you left your bike and what it looks like: it is no fun having spent a delightful morning haggling in the local market, to be faced with locating it in the searing midday heat among thousands of lookalikes. However, once you master all this, you will be rewarded with a glorious happy chorus of "Hello! Hello!", genuine smiles and bizarre, but delightful conversations attempted by enthusiastic cyclists. It's as if your very presence here denotes that after years of upheaval, peace and prosperity might well have finally arrived.
I was not as insane as to start my cycling initiation in my first port of call, Saigon. Instead, I began in the laid-back, beautiful beach city of Nha Trang with its wide streets, relatively low volume of traffic and accommodating, friendly locals. It was a wonderful place to gain some valuable experience for the more nerve-wracking cities. With confidence growing by the minute, I moved on to the picturesque, unspoiled riverside town of Hoi An, where life still seems to carry on as if it were some 300 years ago and to drive a car around this charming town would be a crime. Your bicycle will convey you to hidden ancient pagodas where you can sip tea with Buddhist monks, without clock-watching to return to your bus on time. Or you can spend many pleasurable hours exploring sleepy streets lined with old, French-style colonial houses; their walls awash with yellow pastels and bright blue wooden shutters. Next, up to the historical city of Hue, its bustling streets affording countless chance encounters with willing students and invitations for ca phe with the locals on the banks of the Perfume River. Once out of the city limits, the ancient tombs of former royal emperors can be gradually discovered--scattered across the rural landscape and lying deep among sugar cane plots and rice fields quietly plowed by buffalo.
Finally, my journey took me north to the capital, Hanoi, the "Paris of the Orient". The narrow, tree-lined boulevards of this rather grandiose city provided days of unparalleled sights of city dwellers practicing early morning tai chi beside shaded lakes and the stark austerity of Ba Dinh Square; home of "Uncle" Ho's mausoleum.
By the time I had returned south to Saigon many weeks later, my resolve had hardened and I was ready to hit the mad, mean streets, so to speak. As anyone will tell you, it's hard enough trying to cross the road here, let alone cycle: try the downtown roundabout off Le Loi Boulevard at 8:30am (well, anytime, really.) The signs were ominous: was it a coincidence that in this, perhaps the most westernized city, there were very few bicycles rented out, or indeed foreigners found on them; or, that once I started cycling into the various city districts I received incredulous looks from the locals (who, after all, had witnessed far more worrying sights than me mastering the frustrating one-way system.) Yet it transpired that the weeks of practice had prepared me for the worst and avoiding cyclo-cabs, motorbikes and pedestrians on the anarchic streets of Saigon became second nature. Eventually my eyes were opened to the neon-lit Catholic churches and teeming capitalistic activity where they sell anything from icons of Buddha to the latest computer games. As it had elsewhere, the reaction to me started out with stares, followed with smiles and then finally shrugs of shoulders, as the locals went back about their business again and I was allowed to blend anonymously into the mighty ocean of pedal-power.
I gave it my best shot at being one of the locals and just about succeeded at becoming pseudo-Vietnamese ("same, same but different" as they are so fond of saying). I felt as gloriously unfazed and eccentric as the rest of them; out in the early morning sunshine on my pushbike, with my Hanoi-style braids blowing behind and a bag of ripe, exotic fruits dangling precariously from my handlebars. Perhaps because I had chosen the nation's favorite form of transport, rather than the comfort of an air-conditioned bus, they seemed to embrace me and I found myself slowly assimilated into this gracious nation. It is no coincidence that the pushbike seems to epitomize the very essence of this place--practical, resilient and adaptable. Now I understood a little how the character in The Deer Hunter may have felt, but unlike him I did eventually manage to extricate myself, albeit unwillingly. For I finally remembered it was time to go, but nevertheless I vowed to return; flying out from Ho Chi Minh City with renewed faith in the human spirit and a pair of rather raw, grazed knees.
---