Winter Hospitality in Japan Part 1: In Search of Old Edo
---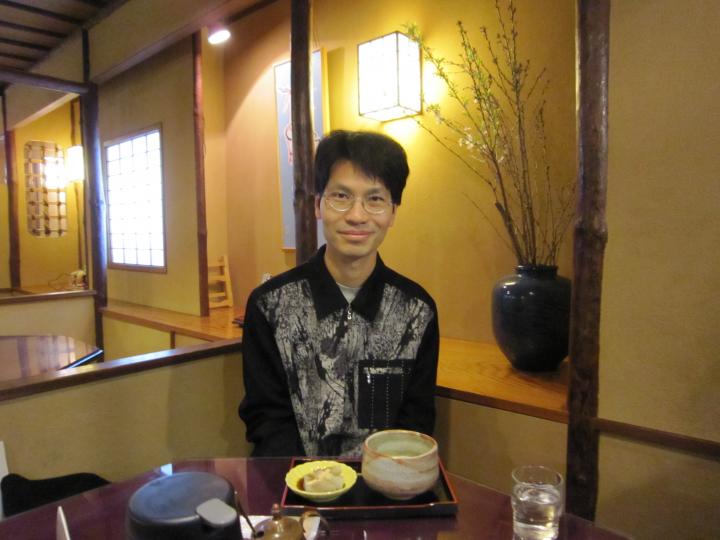 Having visited Tokyo and Kyoto many times in Spring, Summer and Fall, I have never tried a winter trip until now.  In spite of the chilly weather, the Japanese hospitality warmed my heart and made the trip in winter unforgettable.
Old Edo in Tokyo centred around Asakusa.  Asakusa woke up early.  Tourists from all over the world visited the Asakusa Sensoji Temple.  After getting a "Mikuji" (fortune) from the temple, I explore the streets in the area.  The street in front of the entrance were lined with souvenir stores, food stores selling senbei (crackers), Edo gashi (Edo style sweets), Ningyoyaki (baked cake with red beans shaped like dolls), toy stores and specialty stores.  Every time I come to Asakusa, for sure I will visit a shop on the east side alley before the temple.  It sells everything about dance costume and kimono.  From Kabuki's actor's make-up to beautifully ornate obi (belt for kimono), I browse for an hour at times, and admire the colourful fans indispensable for Japanese dance.  This time, I picked up another hanjuban (half undershirt for kimono), a pair of black tabi (socks) and also a pair of suteteko (underpants).  Prices are high but made with top quality materials. 
For breakfast, Asakusa offers casual choices.  A deep-fried monju (sweet dough) in greentea flavour or a few Ningyoyaki will do.  After my stomach warmed up, I walked to find my geta (sandals to wear with kimono).  I entered Getaya and was immediately fascinated by the handred pairs of sandals ranging from $50 to $500.  I approached the old shop keeper in my broken Japanese and asked to try on a beautiful pair of geta made of Paulownia wood painted black.  I sat down to put on my tabi (bringing tabi socks for the fitting is manditory).  Then I showed him a picture of me in my black formal kimono with the earth toned obi.  I asked for matching sandals' ties.  He found an earth tone pair and started drilling holes on a new pair of wood sandals.  Even a customer like me was being taken seriously.  Soon I was fitted with the geta and adjustment made on tightness according to my feet.  It was a well spent $80 that drew compliments to my kimono when I wore the set for a day in Kyoto.
Continuing my exploration of Edo, I went to Ningyocho.  A lot of the shops here originated from Kyoto.  They moved to the present-day Tokyo along with the shift of the capital.  Previously, Ningocho was a centre of kabuki theatre.  Nowadays, it is a quieter town with lots of traditional shops still remain.  I went to Futaba Tofu where for only $10, a beautifully presented set lunch could be had.  It contains 3 different appetizers made with vegetables and tofu, a deep-fried tofu and a cold steamed tofu served with rice and pickles with miso soup.
After lunch, I met my friends and we went to visit Jusaburokan www.jusaburo.net.  Jusaburo Tsujimura is a famous Japanese doll designer and performing artist.  The art of Bunraku could be traced back to Edo period, although not as popular as before, it is still being performed today.  Once a month, on the 3rd Wednesday night, there will be a performance at Jusaburokan and reservation of ticket is needed (5000 yen).  It happened that Mr. Jusaburo was here, just came back from performing tours in Europe.  My friends talked about my visit to Jusaburokan and also about my intention to learn Yuzen Kimono Dyeing in Kyoto.  Jusaburo was very supportive and even gave me a special weaved cloth originally from Kyoto as a gift.  The dolls he made are exquisite.  The new collection centres around the Heike Monogatari.  The most fascinating aspects of the dolls is that the skin is made by the special cloth chirimen which has very interesting texture and conveys emotions of the characters.  Previous collections include characters from the plays written by Kyoka Izumi and Moulin Rouge.  All the kimonos on the dolls and other full length kimonos and obis were designed by Jusaburo.  On some of those, the cute design of a rabbit with very long ears dressed in kimono served as the emblem of Jusaburokan and it is his inspiration and source of creative energy.
We departed from the Artist Atelier, and went to find a wagashi shop called Kyogashitsukasa Kotobukidou.  It is a small traditional shop with little space to stand for customers.  I placed an overnight order of a big box of higashi (dried candies) about $65 with Rakugan, Wasanbon, Unpei and Jellies backed by a few Senbei printed with Japanese design.  They let you choose individual items to fit in a box starting at about $12.  I loved everyone of those and wanted them all, so I let them make the selection for me and they packed it wonderfully.
After that I was ready for more sweets.  So we went to Amedokoro Hatsune to enjoy Japanese tea and sweets.  Since 1837, the store has been the favourite place for tea frequented by Kabuki actors and their signature sweet "Anmitsu" is mochi, kanten, peach, mandarin orange, cherry with red bean paste and dressed in black sugar syrup.
After a satisfying tea time, we went to Nihonbashi.  Across the famous bridge, in the evening, the business and commencial town still was crowded.  I continued my shopping of wagashi in the food section of Mitsukoshi Department Store.  My friends gave me a lot of candies from different parts of Japan and I picked up dried confections from Osaka, Kamakura and Tokyo.
The next day, I went to visit Yayoi Museum, located near Tokyo University just beyond the pond at Ueno Park.  www.yayoi-yumeji-museum.jp  On exhibition was the artworks by Hirezaki Eihou, Ukiyoe illustrator during the Meiji and Taisho periods (special exhibition Jan 3 to March 28, 2010).  His most memorial works are illustrations of the haunting and exquisitely beautiful world of Kyoka Izumi's plays.  The signature work, frontispiece of "Zokufu Ryusen", shows a half naked man saving a drown woman in full kimono in rippling water.  I especially love the shade and colour expressing the transparent water and the weightlessness of wet clothes under water.
That evening, for dinner, we have a reservation at Ukai Japanese Restaurant www.ukai.co.jp/toriyama/ at Toriyama near Mount Takao, an hour of train ride away from the centre of Tokyo.  After taking a 10 minute coach ride provided by the restaurant (connecting Mount Takao Station and the restaurant), we arrived at Ukai Toriyama which resembles a mountain resort with torches lighting up everywhere.  It was indeed very impressive.  We were greeted by our host and as we entered we saw the huge and beautiful waterwheel turning slowly.  We warmed up at the open stove (rustic country style setting) and then were led through the forest listening to the sound of the stream and feeling the crisp air.  Quickly we arrived to our large rustic house with tatami interior decorated with a traditional scroll painting and seasonal flowers.  With glass all around, we could appreciate the scenery around us in this warm setting.
My friends ordered sake served in traditional bamboo and I had Yuzu (Japanese citrus) with honey.  We had a couple appetizers (daigon with meatball and spinach, fern stems with bonito) and a soup (fish and Japanese leeks) before a river fish grilled by charcoal on an open-fire was presented.  The main course is chicken skewers grilled fresh and finished with rice in mountain potato sauce.  The dinner was very satisfying and we enjoyed our time immensely.  As we departed, the waterwheel at the entrance was heavy with ice cystal under the freezing temperature and sparkled like diamonds under the dancing light of the torches around the place.  It was indeed an evening of old-world charm.
---