All Work and All Play: An Interview with Cartoon Animator Jack Heiter
---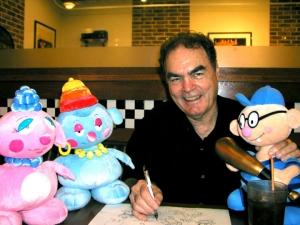 To those of us with kids of our own, and those of us with toddler-aged nieces and nephews, and even those of us who are just big old overgrown kids ourselves, the bright and bouncy theme song to the "Rugrats" may be all too familiar. And to the casual observer, it may all look like kid stuff. But the business of television cartoon animation is a multi-billion dollar industry and is wisely entrusted to the skilled and seasoned hands of professionals such as Jack Heiter, Overseas Supervisor in Korea for Klasky Csupo of Hollywood, the producers of "Rugrats," "As Told by Ginger," and "Rocket Power," three of television's most popular animated series.
According to Jack Heiter, "Most American animated television shows like "Rugrats," "The Simpsons," and "King of the Hill" are produced in Korea or other parts of Asia. The Korean animation industry began as service studios for Japan and gradually developed their talents to compete with Japanese animation. They have grown immensely and have a large talent pool of seasoned animators and do a lot of contract work all over the world. Many of the artists make their way to the United States and get jobs at some of the big studios. The work they do here in Korea has been basically contract work from the studios in the U.S. and Europe. Since the work is labor intensive it is cheaper to have the animation done here in Korea or in other Asian countries. Which means that the creative part, such as scripts, storyboards, design, color, sound tracks, editing etc., is done in American studios, and the Korean studios do the production layouts, animation, clean up, and in-betweens which are scanned into computers for digital ink and paint and background color."
The Korean Animation Industry
Jack Heiter spent many years of his career creating animated television commercials for the U.S. market. However, as computer graphics became a prominent factor in the production of television commercials, he began working on traditional animated television series as producer and director for overseas productions, as well as color stylist and background painter. In 1985, Jack took his first position as supervising director for animated series in Asia, working back and forth from Los Angeles to Korea, Taiwan, and Moscow.
Describing the work he does on a daily basis he says, "I am the person who the Korean studio can turn to when they have questions about certain things that are not clear. I can fix things that don't require the director's attention or that might affect the story or flow of the animation. I have a certain amount of creative license but it cannot interfere with the director's job. Each day I examine hundreds of drawings that we call 'layouts' following the "storyboard" which is the blueprint for the show."
"The layouts are the scene guides for the animators that they follow when they move the characters. A 'layout' will consist of a completed drawing of the background of a scene all ready to be scanned into the computer. Along with the background drawing there will be drawings of the characters in the poses they will perform in along with their expressions and gestures. Action scenes will have the action posed in the stages of the performance. In the show I am working on right now "Rocket Power" the main characters are preteen kids who live near the beach and are constantly involved in skateboarding, surfing, bicycling, rollerblading, etc., so I will be looking at scenes with many action poses and with many extra characters as well as the main characters."
"Some of the scenes are very complex and require multi layers and levels. I can also look at problem scenes that the artist may not understand and clarify them and I can adjust timings that are causing problems for the animators. As an animation supervisor it is my responsibility to see that quality of the shows I work on adhere to the standards of the American and International industries. I have worked on many different animation styles and characters, so each "show" and production company has their own unique set of standards.
"I share an office with my translator, who keeps busy translating the work that comes in from the U.S. while I proceed to examine the layouts as described before. If I need to discuss anything with the directors the translator will arrange a meeting and we'll go over the materials together, and if they have questions for me they will make appointments with my translator to discuss it with me. The work usually goes smoothly since most of the people I work with are seasoned professionals, but sometimes when new people come aboard I will have to spend more time checking and re-checking the work, and sometimes show them some of the problems they are having with the drawings. I used to correct the drawings myself, but I realized that it was better for the artist to do them over and not depend on me. I'm considered tough to work with because I insist that they do the work right the first time so they don't have to do it again."
"At first I didn't understand many of the Korean cultures and made many mistakes in my communications to the Korean animators. Once I began to understand the sensitivities of the culture I was able to communicate in a way that if I had to ask for a drawing to be corrected that I wouldn't offend the artist or to make them feel inadequate. Also as a supervisor my responsibility is to make sure our characters are animated the way the directors want so that the shows are consistent. Since there are many people of different degrees of talent working on a single animation project, I have to look at over a million drawings a year to be sure that everyone is in tune with the quality of the finished product."
The Artist's Life
Jack Heiter lives with his wife Hae Jung Lee Heiter and their daughter Nina in a sixteenth floor apartment in Seoul Korea, with a beautiful view of a small mountain in the heart of the city. A native of Mobile, Alabama, who will only reveal that he was born in the Year of the Horse, Jack unfurls a long and lustrous curriculum vitae that encompasses nearly every aspect of a Hollywood career.
Regarding his early years in the entertainment industry, he says, "I worked as a animation background painter for many years and produced and directed hundreds of animated television commercials before computer graphics took over. I acted in some movies and television, along with producing and acting in one theater piece in Hollywood. I also recorded a couple of songs for Capital that I wrote but they were never released. I'm not sure if that was due to bad writing or singing or both. I've tried a lot of things and had a lot of fun...lots of hard knocks too."
The 'artist's life' began early for Jack Heiter. From his childhood memories he recalls, "I began drawing from comic strips and comic books. I loved drawing and drew all the time. And since we were poor, I didn't have money to buy paper, so I drew on my mother's white porcelain kitchen table with pencil at night after everyone went to bed. My mother would get up to fix food for my dad, look at my drawings, and wash them off before serving breakfast. I would draw on paper bags, backs of letters, and the borders of my schoolbooks. My friends at school were always asking me to draw in their notebooks. When I went to high school, I was very lucky to have a teacher who understood my passion for drawing and she taught me how to look at things from a different and original perspective, and not to copy art from other artists."
As a result, Jack began his professional career at the young age of 13, as a cartoonist for his high school newspaper, the Murphy High Times, in Mobile, Alabama, the city of his birth. After high school he entered the U.S. Army, where he worked as a cartoonist and illustrator for technical training books. Upon completion of his military tour, he entered the Art Center School of Design in Los Angeles where he majored in conceptual and advertising design.
After completing his studies at the Art Center School, he was employed as a designer for UPA Pictures, where he worked on world famous animated films featuring Mr. Magoo and Gerald McBoing Boing, and the first made for television animated series, The McBoing Boing Show. While at UPA, Jack produced his first animated film entitled "The Adventures of Tom, Dick, and Orville," which led to the creation of Pantomime Pictures, of which he was a co-founder.
He later resigned his position at Pantomime to work for Erwin Wasey Advertising, as their only television art director and animation producer for seventeen prime advertising accounts. His responsibilities included creating original cartoon characters, concepts, storyboards, and producing television commercials.
Upon leaving Erwin Wasey, Jack returned to animation where he worked as a color designer and background painter for television series, and became a freelance producer and director for hundreds of television commercials. He created original concepts and characters for a large number of clients, winning numerous Art Directors Awards, and he was a major contributor in two Academy Award nominations for animated Short Subjects. One of the commercials of which he was a major participant, Log Cabin Syrup's "The Pancake Man", was accepted in the Museum of Modern Art Permanent Film Collection for its unique artistic design and animation techniques.
In 1987, Jack created the original characters and concept for "The Moo Family," and later sold it to Calico Creations, who made two television specials, which are now sold in the international video market. He was nominated for an Emmy Award in 1990/91 for animation director on "Bobby's World," and won an Emmy for animation director in 1996/97 for his work on Steven Spielberg's animated series, "Freakazoid," for Warner Brothers.
Resigning his director's position at Warner Brothers in 1996, Jack returned to Korea as overseas supervising director on "Salty's Lighthouse" for Sunbow Entertainment. In 1998 he began working for Klasky Csupo in Korea as overseas supervisor on McDonalds' Direct-to-Videos, "Rocket Power," "Rug Rats," "As Told by Ginger," and "All Grown Up."
The Future of Korean Animation
On the topic of Korean animation, Jack has many opinions. "Regarding my work as an overseas animation supervisor, I have the great fortune to work for one of the best and most creative animation studios in the world, Klasky Csupo in Los Angeles, who are the creators of the "Rugrats." I also have the pleasure of working with some of the best animators and artists in Korea. I have worked in Korea off and on since 1985 and have had the opportunity to see Korea animation grow into an amazing industry that has positioned itself proudly in the international market."
Looking toward the future, he wonders, "What's tomorrow going to be like? I think that is what Koreans in the entertainment business should be asking, not "How can we warm over the same old kim chi?" I've been living in Korea off and on for over 18 years and I think I have a pretty good picture of the Korean entertainment business, and I certainly know that many of the failures of the Korean films, including animation, is due to the fact that they are not willing to look at the big picture."
"I haven't seen any Korean animation that is true to the beauty of Korean culture," he continues. I love stories that portray different cultures, and Korea is rich with exciting history that can be excellent subjects for films with international appeal for both animation and live action. Japan and China have incorporated their cultures into their film arts in various ways to make it appealing to International audiences. It's about telling stories that people all over the world can understand and appreciate regardless of the medium."
"Quality-wise, the Japanese animators are still the leaders and there is practically a three-way tie with Korea, Taiwan, and China these days. One of the drawbacks in Korean animation has been the lack of creative content for their animation since they are mostly influenced by Japanese and American art and haven't developed their own style yet. There are a lot of digital studios springing up in Korea but they are still lacking storytelling concepts.
"I have spoken out about the lack of story telling skills but the Koreans don't seem to think it is important, yet they continue to make films both live action and animation that fail to be recognized in the international market. Unlike the Japanese, who have been very successful in the world of animation and live action. The thing that Korea seems to ignore is that they have a great well of interesting history to draw from to bring forth in films. They make shallow attempts that touch on subjects that seem only to be understood by Koreans and the theater owners are forced by law to show the films due to the quota system they have created. I showed one of my scripts, I had adapted for Korean market, to a Korean producer recently whose comments were that it wasn't "authentically Korean". I told him that I don't write for Koreans even when I write a story about Korea I write for the international market. This is something they don't seem to understand, that a story has to appeal to others and not just Koreans. So basically this is where the problems lie with Korean animation, you have on one hand a great pool of talent that understands the mechanics of animation but on the other hand there is a tremendous lack of creative vision and the ability to create original content."
On Creating Original Characters
In an industry teeming with the likes of Bart Simpson and SpongeBob SquarePants, Jack Heiter has also dared to create many of his own original characters, including The Moo Family, and Chicken Ho.
"When I create characters I want to first of all be original," he says. I look for things that people can relate to that I can incorporate into the characteristics of the character. As far as how they come to me, I exercise creative freedom in my way of thinking regardless of where I am or what time of day or night. If you concentrate too hard, the answer may elude you. But if you trust your creative self, it will come to you, sometimes even in dreams. I believe that thought is creative and that all you need to do is trust yourself to receive the message. Having experiences in various forms of the arts helps with the communication of these ideas. I have exercised this principle of creative thinking in various art forms such as writing, drawing, painting, and even acting."
"If I take a known character and draw it, people go, 'Wow you sure can draw.' But when I show them something original they've never seen before, they don't know what to say. When you create something original you have to take a chance, because you're not copying someone else's work. Since it's new, marketing people don't know how to market something they are not familiar with. They are good at packaging things they think will sell because it seems familiar to them, but it's not always successful because people get tired of seeing the same old thing. If you package the same thing in different packaging, for instance, "eggs", they are still eggs. Humpty Dumpty is a famous fable character that has been drawn many different ways, but it is still an egg."
"If you go to a film and you see something you haven't seen before it surprises you, and because you see it in an entertaining context you want to see it over and over again. That's how people relate to characters, by seeing them in context of entertainment until they become famous. Everyone knows Mickey Mouse, but he must have looked very strange when Walt Disney first created him. Because he was introduced in a form of entertainment people liked him and he became not only famous but an icon in the entertainment industry. Later in my career, I met some incredibly talented people I had the good fortune to observe and learn from. Jonathon Winters, a famous American comedian taught me how to create human characters by visualizing their characteristics. Since he is a comedian, his approach was to find characteristics that were descriptive and funny in his characters. I apply his teachings in my cartoon characters and my live characters when I write screenplays."
And in the 'Grown-up' World...
Jack Heiter has also written 15 original screenplays, several of which have been adapted for Korean audiences.
"I have written five screenplays for International audiences that have Korean historical and cultural backgrounds based on my knowledge of Korean experiences. I am presently writing a stage play titled "Uneko" about the tragedy of Korean "sex slaves" kidnapped by the Japanese during WWII. It is for a broad audience and may not appeal to Korean audiences since there are no Korean characters in it. Uneko is not written to entertain Korean audiences because my approach is to make the story available to theatergoers around the world in a way that they can understand the horrible plight of these abused women. Not authentically 'Korean' either but it can enlighten people about this horrible moment in Korean history.
The Korean filmmakers I have spoken with cannot see beyond "Korean" authenticity to understand that the outside world doesn't know what kim chi is. I don't write for Koreans even when I write a Korean story. I write to entertain a broad audience and I write stories that people outside of Korea can relate to."
One of my screenplays "Who Would You Save?," based on the age old question, "If a man's wife and mother fall into the ocean and neither can swim, which one would he save?" can be translated into any language and culture in the world because the theme of the story is a question that every culture knows. It is cute, clever and a little kinky, and it is right on with today's entertainment market. The reason I made the adaptation from an American script to Korean is that my wife, who is Korean, believes that the time is now to produce the story in Korea, because Korea is rapidly changing and the Korean audience is more 'hip' to outside cultures. Many of the Korean films fail because they do not have strong stories and cannot entertain the already sophisticated audiences of today. Korean's like to think of themselves as being modern and in tune with the world. They are in with fashions, but behind in their entertainment industry. "Who Would You Save? has a better chance of making it not only in Korea, but in the international market as well. Because it is not authentically 'Korean,' but a story that can be played out by Korean performers to show the international audience that Korea can make films that other people can relate to."
Looking Ahead
So what does the future hold for Jack Heiter? According to his master plan, Jack still hopes to put in a few more years in the television animation business, with an eye toward retiring to a farm in Oregon, where he will spend his days rapt in his favorite pastimes: writing and painting. Meanwhile..."Rugrats" has just won another Emmy and "As Told by Ginger" has been nominated for an Emmy!
* * * * *
---