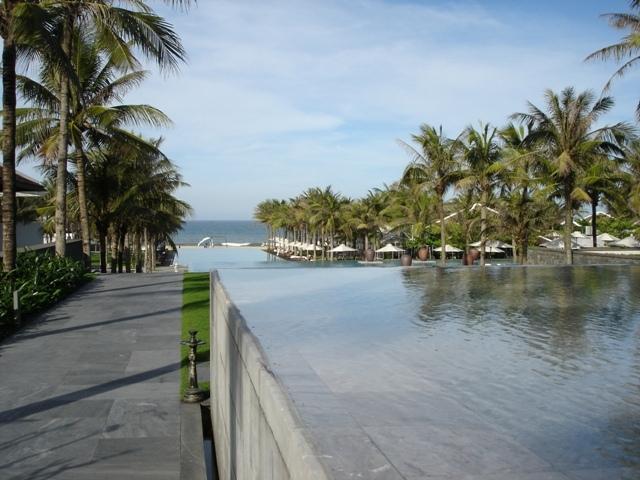 Image ©
2009 Robert Tompkins
One can only speculate on what Karl Marx would say if he were standing here gazing across the reflecting pool down the melding tiers of palm-fringed infinity pools that finally fuse into the South China Sea. Would he begin another philosophical tirade on a dichotomized social order, railing on the historic gulf between the bourgeoisie and the proletariat. Or would he for a moment be rendered speechless, like us, and stand in awe at the jaw-dropping, stunning drama of the architectural design. 
There are no backpackers here. The Nam Hai Spa and Resort caters to a different demographic. Easily the most luxurious resort in Vietnam, the thirty-five hectare property features sixty one-bedroom villas as well as forty privately owned two- to five-bedroom villas, each with a private temperature controlled infinity pool as well as a kitchen and maid's room. Operated by General Hotel Management, which manages high-end award-winning properties in Asia, the United States, Mexico, and the Middle East, the Nam Hai is unabashedly the most expensive hotel in the country. Whether Uncle Ho, whose Marxist teachings provided the ideological foundation of Vietnam, would approve of this sybaritic version of post-doi moi socialism is now moot. Clearly, The Nam Hai was designed to pamper those accustomed to living large.
Opened in December of 2006, The Nam Hai heralds a new direction for Vietnamese resorts. Moving beyond attempts to capture the romanticism of a past era by refurbishing colonial hotels, Vietnam began to focus on designing upscale properties. Now it is reinventing the concept of luxury; with The Nam Hai as the vanguard, a new benchmark for opulence and sophistication has evolved.
We had been greeted at reception by the resort's operations manager, Thomas Zhong, a professional, articulate, and amiable twenty-eight-year-old Singaporean with the shape and disposition of the smiling Buddha. Having lived for a time in the United States, Mr. Thomas had developed a penchant for idiomatic English and ironic understatement. "It's a nice property," he remarked and invited us for a tour of the grounds after we had settled in.
Upon entering our villa, our jaws dropped for the second time in a matter of minutes. It was instantly obvious that the tiered imagery of the resort's central core had been replicated inside; exterior and interior were in a balanced harmony.
It was the intent from the outset that the resort's design would reflect indigenous elements. After much research into the history of regional vernacular architecture, the   creative concept was determined. "We decided that the whole design would be based on the very simple Vietnamese house, all reinterpreted to make a rich, modern Asian architectural style," French architect Reda Amalou has commented. Amalou was a part of a team of five designers, each with a distinct expertise.
It was apparent that if a rudimentary local house formed the design model, it had indeed undergone much reinterpretation-plain and rudimentary had been translated as refined and sophisticated; bucolic austerity had been transformed into contemporary elegance.
In a further description of the design template for the villas, the architect has stated, "The bedrooms are laid out as a long rectangle divided into three spaces, echoing the division that rural Vietnamese traditionally apply to their homes to create living, cooking, and animal quarters." It is a faint echo indeed. Although the tripartite sectioning is evident, that is where the metaphor ended for us.
Except for the roofs with their distinctive upturned edges, it would take a very perceptive eye and far more knowledge of vernacular architecture than we possessed to discern anything even slightly evocative of a simple rural Vietnamese dwelling.
The villa's raised central platform is the major focus of the room. Bordered by wooden pillars and covered by an intricately carved drop ceiling, the stage contains the living component-in addition to the king size bed positioned to face out through the windowed end of the villa toward the South China Sea, there is a desk area, a settee with plush pillows, and a sunken egg-shell lacquered bathtub. In the evening, housekeeping draws the white cotton curtains enclosing the platform and transforming it into a private sanctuary.
Down some stairs from the platform, in front of the windows and sliding glass doors, beneath a vaulted ceiling, is a comfortable sitting area looking out to the beach. Outside there is a roofed patio with additional divans and cushions.
At the opposite end of the rectangular room, a sliding elaborately designed wooden door separates the sumptuous living room from the washroom facilities, which include a walk-in shower as well as two sinks on either side of the room, each in the same egg-shell lacquer design as the sunken tub. At this end of the villa there is another sliding door leading to a private walled garden area featuring a large round rain-style shower and a bas-relief evocative of Siem Riep.
When we met Mr. Thomas for our tour of the premises, he inquired how we liked our room. Perhaps noticing the new positions of our chins, he immediately answered for us. "Not too shabby, right?"
To provide an overview of the vast property, he showed us a diagram of the resort's layout. Except for a grouping of eight pool villas located to the south of reception, the rest of the villas are situated around five horseshoe-shaped expanses of sandy beach facing east to the South China Sea with each villa skewed to provide a sea view. "It's a nice property," Mr. Thomas again pointed out as we climbed into a golf cart and set off.
"The designers also incorporated the principles of feng shui," Mr. Thomas continued, imparting what seemed like an oft-repeated official synopsis of the resort's planning. "All structures are situated to maximize the free flow of chi, natural energy."
Perhaps that explains why we felt comfortable and content in opulent surroundings designed for the well-heeled, why we did not feel like trespassers in this enclave for the affluent.
We remarked on the massive clay jars arranged like sculptures either singly or in groupings. At night, when they are illuminated with flood lights, they look like ghostly sentinels.
We paused in front of one of the twenty three-bedroom pool villas, this one on the beach front. "Would you like to check it out?" Mr. Thomas invited. These pool villas are privately owned, either by individuals or by international corporations, and are rented out when not in use. This one, we were told, was 520 square metres, more than six times larger than our villa. Each bedroom mirrored the design of our room with the raised platform as the centrepiece. In addition, there were living and dining areas on different levels, as well as a maid's room and a kitchen. A temperature-controlled infinity pool looked out to the sea. "What do you think? Pretty decent, right?" Mr. Thomas said as we exited through the courtyard. When we asked what it would cost per night to live in this particular lap of luxury, Mr. Thomas rhymed off the rates matter-of-factly and without his characteristic understatement. "This goes for between $2960 and $3250 per night depending on the season. Plus 15 percent of course," he added in the same business-like blasé tone as if talking pocket change. "Some of the pool villas are still available for sale," he informed us. "But you better hurry. They are selling like hotcakes." Now his smile was beaming and infectious.
Next on our tour was The Spa-the recipient of several accolades, it is already rated among the world's best. Eight forty-two-square-metre villas border a serene lagoon containing lotus flowers and small islands with single palms. Each private villa has a changing room with steam shower, as well as an adjoining relaxation room built over the water where guests can lounge on a lavish daybed or soak in an oversized tub between or after sessions.
"We have two signature treatments," Mr. Thomas pointed out after handing us an extensive spa menu. "My favourite is The Nam Hai Massage."
According to the descriptive listing, this one involved two masseuses working together and providing a blending of five different massage styles. We tried not to imagine him all flushed with post-massage bliss and reclining in the flower petal bath, but the image came anyway. As we stood at the water's edge admiring the harmony of landscaping and buildings, hundreds of golden koi splashed the water below us seemingly expectant of food. When we commented on the elegance of the design, Mr. Thomas's characteristically coy response as we climbed into the golf cart was, "Yes. It's a pretty spiffy place."
Somehow, our conversation turned to wine and we learned that Mr. Thomas was an oenophile. He insisted that we conclude our brief tour with a glass of wine. "I will enjoy your wine vicariously," he informed us. "I'm working. But I will have a glass or two tonight." His tone and expression communicated certitude. He ordered a Merlot and Cabernet Sauvignon blend bottled especially for GHM by Chateau Cap de Fer in Bordeaux. "Not half bad, right?" he asked as he sipped his coffee.
We had arrived at Hai Hoi An from Dalat where we had seen the locally made wine but had not tried it. When asked his opinion of Dalat Red, Mr. Thomas grimaced, and began slowly shaking his head from side to side. All expression drained from his face. He folded his arms on the table, placed his face down and began moaning, shaking his head more swiftly. After a moment, his dramatic scene was over and he raised his head with a mischievous smile. "Actually, it's not too bad," he said, raising his eyebrows in mock seriousness. After a pause, he added, "But only if you use it for decoration." He chuckled at his joke, wiping tears from his eyes. "We have an extensive wine cellar here, as you will see at dinner," but we don't stock Dalat wines."
* * *
There are two restaurants at the resort; the Beach Restaurant serves predominantly Vietnamese choices for lunch as well as elaborate breakfast buffets, while The Restaurant is the place for  dinner. Above The Restaurant is the imaginatively named The Bar. Clearly the naming of these venues is the only aspect of the resort that is kept simple.
At dinner, there is both indoor and outdoor seating. Inside is brighter and provides a floor show of sorts in viewing the choreographed chaos of the chefs at work in the open kitchen. Dining al fresco by dim candlelight precludes the ability to actually see what you are eating. Choices are made from an extensive menu that features Vietnamese, Indian, and international cuisine.
Mr. Thomas was correct regarding the substantial wine list, and it was not  surprising to discover that the prices reflected the affluence of the clientele. Many vintages were in the $400-500 range; some were over $1000. Quite a few bottles were priced between $200-300 and several were also listed between $75-$100. Only three or four came in under $50, including the Merlot-Cabernet blend that we had sampled earlier in the day.
A team of servers attends each table, and the polite efficiency of these attendants was impressive-in addition to providing unintended amusement. After we provided our room number, each visitor to our table addressed us by name, although not once was it pronounced in the same way. The waiter that brought cocktails smiled and said, "Please enjoy your cocktails," suffixing the polite request with a rendering of our name. When our appetizers came, we were again addressed by a version of our name and invited to enjoy our appetizers. So it went throughout the meal, from appetizer to espresso. When chopsticks were delivered, we were invited to enjoy our chopsticks; when wine was poured, we were encouraged to enjoy it; when naan was delivered hot from the tandoor, we were urged to enjoy it. An attempt at our name was affixed to each courteous invitation. We admired their valiant efforts, and wondered how we would fare with Vietnamese names.
* * *
We walked the shores of the South China Sea and it was deserted. This thirty-kilometre expanse of wide beach between Danang and Hoi An has various Vietnamese names but was dubbed China Beach by American soldiers who came here on R and R during the Vietnamese War. Our only encounters in a half-hour stroll were inanimate-a few basket boats, locally known as thuyen thung. Other than The Nam Hai, there were no other buildings.
This area is on the cusp of a metamorphosis. Investors and developers have already surveyed the strand, staking out claims for ideal sites to construct their stately pleasure-domes. In a few years, these empty beaches will be  transformed into Vietnam's version of Acapulco or Miami Beach.
After walking the beach, we chose to hang out at the infinity pool closest to the sea. As we approached, a pool attendant wearing a pyramid hat arranged thick towels on the lounge beds. "Would you like to enjoy the sun or the shade?" he asked and arranged the umbrella just so. After setting two frosty bottles of water on the table, he offered two ice-cold rolled face cloths, presenting them with tongs. "Enjoy the sunshine," he said as he returned to his station. Moments later, the ever-vigilant attendant was back with chilled spray bottles of moisturizer-a product from the spa. "Enjoy the spray," he said bowing.
Neck deep in the middle of the warm pool nearest the beach, we looked east; pool and sea merged. In the distance, a small fishing boat rose and fell with the waves. Frangipani blossoms freed by a gust of sea breeze were fluttering like butterflies. We felt a part of the symmetry. 
Returning to our lounge chairs, we found our towels had been exchanged for fresh ones. Not only had the attendant replaced our half-full water with fresh cold bottles, but also he had switched the moisture sprays with freshly chilled containers. Seconds later, he was back with small dishes of coconut ice cream. "Enjoy your ice cream," he suggested. Yes, we thought, life is good here at this Sybaris on China Beach.
When searching for descriptors, we discovered that words seemed inadequate for the Nam Hai. Stunning, dazzling, lavish, spectacular, awesome, magnificent-all apply, yet somehow do not quite get the job done. Perhaps Mr. Thomas got it right after all. Without doubt, the Nam Hai is a nice property. It is indeed pretty decent. And yes, it is certainly not too shabby.
* * *
Fact File: 
The Nam Hai, Hoi An
Hamlet 1, Dien Duong Village
Dien Ban District,
Quang Nam Province,
Vietnam
Tel: (84-510) 3 940 000
Fax: (84 510) 3 940 999
* * * * *
---