Rivets and Silk, Tin and Teak
---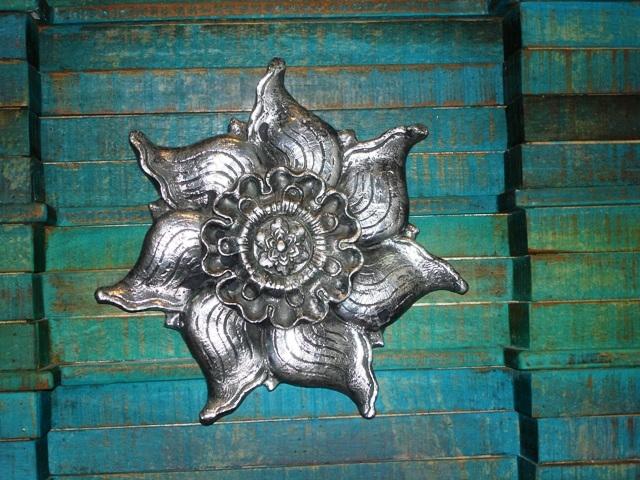 Image ©
2009 Robert Tompkins
Call it a planned paradise. Call it a dream fulfilled.
When the owner presented the architect with his idea for a resort that was a fusion of two disparate concepts-a luxury property that also reflected Phuket's tin mining history-he may have expected the designer to balk at the incongruity, to raise his eyebrows in scepticism, to shake his head and dismiss the concept as lunacy.
But the owner's dream was being presented to resort meister Bill Bensley, the Bangkok-based American architect and landscape designer renowned for his unconventional, sometimes quirky, creations. "I like to bring humour to the landscape," Bensley has admitted; he also brings an eccentric attitude to his designs-a point of view that encompasses his stated philosophy "the odder, the better."   
Phuket's ethnicity is a legacy of tin mining, which began in the seventeenth century and drew people from different cultures in search of wealth. When the owner of the Pearl Village, Wichit Na-Ranong, began to muse about a transformation for the hotel he had opened in 1986, he envisioned capturing the industry that not only helped shape Phuket but also played a major role in his own family's history.
Driven by a nostalgic romanticism, he imagined the new resort having a factory motif woven through a plush environment, a synthesis of modern sophistication and traditional mining. Antique equipment that had been in storage in buildings located on this former tin mine site would be displayed as a reminder of the industry that once flourished here.
Who better to create this unique vision than Bill Bensley, whose distinctive and innovative resort designs number over a hundred and range throughout Asia to the Seychelles and Zanzibar? "Resorts are all about escapism," Bensley has commented, "and the more we as designers can reinforce that idea, the better." Many of Bensley's eclectic and extravagant creations are featured in his book Paradise by Design.
This particular paradise designed by Bensley, The Indigo Pearl Resort, opened in December of 2006. His guiding metaphor was the owner's wish for a factory elegance-a juxtaposition of austerity and affluence.
Located across from Nai Yang Beach on Phuket's northwest shore, the resort complex encompasses fifteen hectares on the fringe of Sirinath National Park and is less than a ten-minute drive from the airport. Several buildings offer a variety of accommodation ranging from rooms and suites to villas and private pavilions.
We arrived late at night and our first impression was a vast luxurious lobby with sky-high vaulted teak ceilings. Indigo sofas were strewn with bright orange pillows; ornate teak tables displayed sculptures fashioned from obscure machine parts. Gleaming white pillars were studded with simulated baseball-size indigo pearls. The overall impact was of extravagant panache. Incongruous amid the chic surroundings, as anomalous as the monolith on the African veldt in 2001-A Space Odyssey, stood an immense antique generator from the site's tin mining days. Past and present suddenly intermingled.
We were shuttled to our rooms through convoluted paths. Our room numbers had been drilled into a plate and then screwed into the metal door that was embossed with scores of brass rivets. A rusty-coloured piece of corrugated tin hung on the wall beside the door, displayed like artwork.
Not surprising, given the design image employed by Bensley, the room was a combination of post modern opulence and factory basic. Behind the queen-size bed which was subtly illuminated from below, the wall was grey with a trace of indigo and made of concrete that had been fashioned to resemble brickwork. Bright-hued silk pillows on the bed and contemporary-style armchairs counterbalanced the plain white background of the rest of the walls, as did the display of a number of colourful artworks-one notable abstract piece resembled a three-dimensional blue and orange design of reinforcement bars used in construction A fan hung from the four-metre-high ceiling which was dotted with recessed spotlights.
The bathroom presented a union of contemporary and historic. It ran the entire length of the main room, was about a third as wide, and had its own entrance to the balcony where a double-size black tub was located. Access from the bathroom from the main room was through a massive wooden door that rolled on bulky metal clasps that appeared to have been salvaged and recycled. Here again there was a definite factory feel-the walls were greyish-white concrete; unlike the bedroom's teak, here was polished cement flooring. Two free-standing basins sat on a counter of blackened stainless steel that was liberally decorated with brass rivets. All copper piping and fittings were exposed rather than hidden behind the wall and the faucets had a definite reclaimed look. On the counter, an acrylic tissue dispenser was embedded with nuts, bolts, and washers. Centered in the bathroom was a glass-enclosed walk-in shower, which was easily big enough to hold a party if you were so inclined, and featured a large round rain-style showerhead. As an added touch of whimsy, the pewter toilet paper holder had been created in a nut and bolt design.
From the balcony, the view at night was deceptive, the floodlighting vaguely illuminating trees and buildings. We could not discern whether there was a tin mine out there or not. The sultry night rang with gecko gossip and cricket chatter.
We awoke to sunshine and birdsong; the balcony had a vaulted teak ceiling and a ceiling fan that was temporarily serving as a bird nest. Our first view in daylight revealed no tin mine. But something did seem slightly amiss.
There were a number of buildings, an elevated infinity pool, ponds, rivulets, and paths meandering through trees and gardens. Yet there was a monochromatic hue to the vista, an industrial drabness to everything manmade. The cement around the pool was grey, the umbrellas were grey, and even the beach towels were in two tones of grey. With the contrast, the colours of flowers and the greenness of the shrubbery and trees were emphasized. Through this apposition, the architect had created a subtle quarrel between the two environments, forcing a new awareness of the dichotomy between natural and artificial.
Foodies will delight in the resort's diverse culinary offerings. They take cuisine very seriously at the Indigo Pearl. "Our aspiration is to become a gastronomically reputed hotel on the island and beyond," acknowledged General Manager Arnaud Girodon.
Many of the restaurants have names that continue in the tin mine theme. For example, Rebar is an indoor and outdoor bar that specializes in tapas-style fare. Tin Mine is a buffet restaurant that features an astounding array of choices from many food stations. It is here that Bensley's capricious design elements are especially noticeable. Forty gallon drums converted to lights are suspended from the high-arched ceiling, tool designs have been cut into the backs of chairs, and tables have a large screw top design in the centre. Even the cutlery continues the tool imagery with the ends fashioned into wrenches. "I wasn't sure if I was using a fork or a spanner," laughed a guest from the UK. 
Steaks-New Zealand grass-fed, American Angus, and Australian Wagyu-are the specialty at Rivet Grill. This is also the location of what has quickly become the most popular Sunday brunch in Phuket, drawing gourmands from all over the island. Advertised as "Brunch En Rosé," the gastronomic occasion features free-flowing rosés and sparkling white wines with at least ten choices from Australia, Italy, New Zealand, and Spain. And free-flowing they are indeed; waiters and waitresses seem to have been instructed to ask diners if they would like a refill whenever a glass goes below a quarter full. The brunch features every imaginable dish served at food stations; one station grills beef, lamb, chicken, and pork. Another station does the same for fish, scallops, calamari, and other seafood. A variety of sushi and sashimi is prepared to your liking. A sushi chef carves bite-size pieces from a meter-long, fifty-kilo tuna, or if you prefer, he will cut a steak that you can have seared. There are rock lobsters, prawns, oysters, crabs, mussels, red snapper, sea bass, and razorback clams. You can pick from a half dozen soups. A cheese section offers a dozen or more choices and there are more breads than in a bakery.
The range of vegetables, pastas, salads is more than ample to please any vegetarian. An extensive selection of desserts was portioned for multiple sampling. Your mettle is tested at these Sunday feasts: the line between gastronome and glutton is very delicate indeed. After the brunch, we were attacked by that lassitude that always accompanies overindulgence, and after swearing, not for the first time, we would never overeat again, napped in the shade of an umbrella.
Since it is the only traditional-style building at the resort, the Thai restaurant Black Ginger seems out of place. Built over a lagoon floating with flowering lily pads, it is accessed by a teak bridge where you are greeted with smiles and wais and greetings of sawadee. Black Ginger is a sumptuous restaurant with an extensive menu featuring four set dinners, each with eight courses and designed for two people. Or if you prefer, the friendly and knowledgeable staff will be happy to guide you through the plentiful choices à la carte.
Undeniably the funkiest place on the property is called Tongkah Tin Syndicate, the word Tongkah being a former name for the island. An exterior wall is imaginatively decorated with scores of abacuses. This bar, which features billiard tables, reflects not so much Phuket's tin mining history as the heritage of the owner's family-walls are covered with bric-a-brac, memorabilia, and sepia-toned photographs, the latter even decorating the washrooms. One curious element was the ceiling fan system-circular recycled rice bags were attached to an elaborate camshaft affair; these were reminiscent of punkah fans, but were electric rather than manned by a servant pulling a rope.
We spent a few hours every day at the adults-only infinity pool closest to our room. There is a swim-up bar called Plumb Bob-named after the two huge iron plumb bobs hanging on heavy chains-that serves drinks and snacks such as grilled calamari, spring rolls, and prawn kabobs. As you sit at the bar, a waterfall flows overhead, cascading from five wooden chutes into the pool. One wall of the bar is decorated with tires that have been cut to resemble bricks; to continue the theme, tires hang from the roof on chains and are used to advertise various drinks. A stainless steel pipe enclosed in a dozen or so used tires curves and loops over the pool, and sprays a shower of water. Swim up Jacuzzi jets provide a soothing massage for those who need rejuvenation after an hour or so of strenuous reading.
A walk through the meandering gardens and metal or stone arches cascading with bougainvillea frequently brings amusement, surprise, and delight with the unexpected encounter of one of the many sculptures that are scattered throughout the resort. Those based on the concept of found art are especially enjoyable-an antique trishaw is elevated and displayed at a rakish angle; massive stylized metal vases hold lengths of bamboo; a surreal rendering of a rider being bucked from an imaginative beast is fashioned out of thin curvy metal. Diverse scraps that look like they have been scrounged from a tin factory are reborn as art-masks fashioned from mechanical odds and ends leer impishly or glare menacingly. A mammoth metal fire fountain bursts into floodlight flames in the evening. All of the artworks at the Indigo Pearl are the creations of John Underwood, expat Australian and Phuket resident, who frequently collaborates with Bensley on resort designs.
Located along the beach, just outside the Indigo Pearl Resort, the small village of Nai Yang is reminiscent of the way things used to be on the southern beaches during the 1970s. A handful of restaurants, clothing stores, bars, tailors, and dive shops line the narrow road that has so little traffic it is often used as a walkway. One portion of the street was built around a giant casuarina tree. Fishermen's boats are moored off shore; there are no roaring jet skis or speed boats hauling parasailors. If you are lucky, you may catch a glimpse of a giant leatherback lumbering out of the sea to lay her eggs. It is a bucolic, laid-back village and a perfect complement to the tranquility of the resort.
On the seashore, the resort has a Beach Club with lounge chairs, towels, and umbrellas overseen by ever vigilant attendants who will periodically deliver cooling face cloths and ice cold water. Lunches are also available here, or perhaps you could stroll down the beach to one of the local places like Mr. Kobi's Seafood Restaurant-it will be easy to spot because of the hand-lettered yellow signs proclaiming "Broken English Spoke Perfect" and "Almost World Famous Bar." The amiable owner, as the signs can attest, is a character, and may recount his experience of the tsunami, as he did to us. "When the water went back, it left many fish flopping on the sand. My cook ran out and got a big one. It was so heavy he called for me to help him. Then the big wave came. Four metres high. It knocked us down. I thought I would die. The next day I found my bar and stools way down the street. And I built again." He showed us a book of photographs taken after the disaster. All of the beach-side shops had to be rebuilt. "We never did barbeque that fish," he added with a grin.
On previous trips to Phuket, we stayed in the southern region-the now-infamous Patong Beach and the once-idyllic beaches of Karon and Kata; our thirty-minute drive to revisit this area soon revealed that the locale had been transformed by the post-tsunami building boom, and it did not take long to appreciate the serenity we left at the Indigo Pearl.
Formerly distinct beach towns seem to have melded together, and there was a perpetual traffic jam along the main drag. It was chaotic and cacophonous, commercialized and overdeveloped, loud and raucous. Along the packed sidewalks of the relentlessly honking streets, there was a continuous parade of people-shoppers, hookers, gawkers, partiers, touts, hawkers, and searchers-each with a different vision of paradise.
We had dinner at The Boathouse Bar and Grill, which once sat alone on Kata Beach but now is lost in the growth. Although Chef Tummanoon's cuisine was still superb, the restaurant was crowded and noisy, service was inattentive, and the waiters were aloof with a touch of arrogance thrown in for good measure. Now the main dining room is open to the terrace where smokers enjoy their habit between courses and after dinner, the Andaman Sea breezes providing an unwelcome olfactory complement to those dining inside.
Our revisit to the southern beaches created a touch of regret, a reminder of impermanence. Although for us that particular portion of the Phuket pearl has lost its lustre, we found solace in our awareness of another segment, one with a distinctive rare hue. We preferred the Indigo Pearl's secluded and tranquil version of paradise-its seductive sanctuary of rivets and silk, tin and teak.
* * *
Fact File:
Indigo Pearl Nai Yang Beach & National Park, Phuket 83110, Thailand.
Tel: +66 (0) 7632 7006, (0) 7632 7015
Fax: +66 (0) 7632 7338 - 9
Web: indigo-pearl.com
* * * * *
---