Dawn of Happiness: Sukhothai
---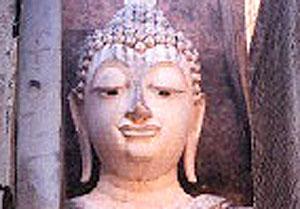 Image ©
2002 Kenneth Champeon
There was fish in the water and rice in the fields, but no excise tax, and no slavery (slavery came later.) If a citizen had a grievance to be redressed, he need merely ring a bell at the palace gate, and the king himself would hear and settle the case, even though the Kingdom included some 300,000 people and encompassed large portions of present-day Burma, Thailand, Laos, Cambodia, Vietnam, and even stretched into Malaysia and possibly Indonesia. The remains of its capital city include some 126 monuments, all of them religious in significance, and monks from as far away as Ceylon, and craftsmen from China, traveled there to disseminate and receive spiritual and practical wisdom. The name of city and Kingdom was Sukhothai, or "Dawn of Happiness."
Sukhothai is to modern Thailand what Rome is to Italy, or Athens to Greece: starting point, golden age, departed glory. It was the first independent Thai state. It gave its name to one of Thailand's most fertile styles of Buddhist art, credited with introducing the "walking Buddha" to the world. Its "sangkhalok" pottery has turned up in places as far flung as the Phillippines. Its ruins constitute a UNESCO World Heritage Site, placing it on par with the Acropolis and Angkor Wat. "If we had no Sukhothai, Ayudhya, and Bangkok," said the present King of Thailand, "Thailand itself would be devoid of meaning."
The Thai people originated in Mongolia and moved southward. By the early 13th century, they occupied present-day Chiang Mai, Payao, and Sukhothai, but remained vassals to the Khmers. In 1238, two Thai chieftains rebelled, and Sukhothai was born, reaching its apex under King Ramkamkaeng, or "Rama the Strong" (1279-1317). Exactly 200 years after its birth, Sukhothai was annexed by its southern neighbor Ayudhya, which in turn gave way to still more southern Bangkok. The emigration south, in a sense, was complete.
Sukhothai flourished under Ramkamhaeng. He created the first truly Thai alphabet, drawn from Mon and Khmer systems, themselves Indian in origin. The script appeared for the first time in 1292 in a kind of State of the Union address etched upon the four sides of a rectangular solid of stone, a replica of which stands near a statue of Ramkamhaeng on the present site. It is from these writings that much about ancient Sukhothai has been learned.
Ramkamhaeng also encouraged his subjects to be devout Buddhists, and is credited with first introducing to the kingdom Theravadan Buddhism, Thailand's major religion. Ironically, Sukhothai's last two rulers were such good Buddhists that they were poor warriors, and the empire slipped into more aggressive hands. In any case, China had regarded Sukhothai all along as a vassal state, just as it does Taiwan and Tibet today.
The old city of Sukhothai is partially enclosed by walls forming a rectangle measuring 2 km by 1.6 km. In the center of the rectangle is the main temple, Wat Phra That. As with many of Sukhothai's temples, Phra That is remarkable not so much for its architecture, which is pocked and crumbling, but for the numerous and gigantic Buddha statues - some up to 9 meters tall - that sit, stand, or walk amidst the ruins. It is almost as if the creators had intended to contrast the eternal and superlative nature of the Buddha with the ephemerality and baseness of the material world.
Sculptures of the Buddha rarely exhibit human proportions: the fingers are ideally equal in length, and the hands are excessively long and thin, while the body is without muscle tone. What is not clear is whether this was intentional, meant to accord with legendary accounts of the Buddha's god-like shape, or whether it indicated the limits of sculpting technique.
More interesting, perhaps, than Sukhothai's remains are some of its stories and legends.
A temple outside of the walled city contains a massive Buddha statue, and legend has it that warriors before going off to battle used to pray to this statue and ask its advice. The Buddha, to their great surprise, spoke back. But, looking more closely at the temple walls, a visitor can see two apertures, through which a royal hireling would ventriloquize the Buddha. Those were simpler days.
Prior to Sukhothai's liberation, the Khmer ruler exacted a tribute in the form of sacred water taken from a lake in present-day Lopburi. The water was carried to Angkor Thom, the Khmer capital, in 12,500 jars loaded in 500 carts. Because the earthenware jars were prone to breakage in transit, then-Prince Bangklangtao of Sukhothai invented a new receptacle using bamboo and waterproof resin. Threatened by his ingenuity, the Khmer rulers ordered the prince killed. He fled to a monastery, where his would-be assassin later arrived, asking after Bangklangtao. Unrecognized, the prince asked the assassin to wait, and in the meantime called upon a few of his friends, who promptly killed the unwanted visitor. The prince later became one of Sukhothai's liberators and kings.
Possibly the most difficult challenge of visiting a place like Sukhothai is to try to imagine such deceptions and intrigue taking place on the very pathways where you tread, and in the very temples where you linger. If Sukhothai is restored as is planned, the challenge might be less. Even so, 700 years is a wide gap to close. The Dawn of Happiness led inexorably to midday, sunset, and night.
---