Finding your way in the new "Old Lijiang"
---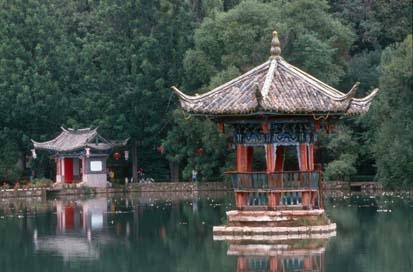 Image ©
2008 Graham Simmons
I thought I knew all about China. A nation rushing at breakneck speed towards modernisation, throwing out centuries of tradition in the process.
But this is only part of the story. As the Chinese economy blossoms so fast that people who have lived in a town all their lives just can't keep up with the pace, a parallel movement has arisen, with the express aim of protecting the country's glorious heritage. Nowhere is this cultural emphasis more pronounced than in the ancient city of Lijiang, in Yunnan province.
The Old Quarter of Lijiang has been given a facelift, and proclaimed as a World Cultural Heritage site by UNESCO. A walk through the old town reveals new wonders at every turn, and the visitor is entranced by its cobblestone streets, narrow alleyways and scenic canalscapes.
So many people sometimes converge on Lijiang's Old Town that you sometimes think the whole of China (and half of Europe too) is on holidays - and they've all come to Lijiang at the same time. In the narrow lanes of Old Lijiang you can rub shoulders with recycled Dutch hippies, the Beijing mobile-'phone set, groups of schoolgirls on excursion from Shanghai, and a dozen other cultural groups. But a couple of minutes walk uphill from the main square the tourists are nowhere to be seen, and it's here that Old Lijiang reveals some of its most hidden charms.
Lijiang has miraculously recovered from the catastrophic earthquake of 1996, which demolished some of the newer parts of town and leveled as many as 186,000 homes, killing over 300 people and injuring some 14,000 others throughout Lijiang Prefecture. Just five years later, no signs of the earthquake now remain, and throughout "new" Lijiang a building boom is underway. In the newer precinct of town, houses mimic their older cousins in the Old Town - which says a great deal for the authenticity of the whole city.
With my guide Xiao Fang, I take a leisurely walk through the backblocks of the "new" Lijiang. Xiao Fang bubbles over with enthusiasm for the unique ambiance of her home town – and it's an enthusiasm that rubs off. On the outskirts of town, traditional-style houses under construction resemble those in "Old Lijiang". One new house has six bedrooms plus kitchens, living rooms etc around a garden courtyard, complete with fountain, and will sell for a tiny fraction of what a similar house would cost in Beijing or Shanghai.
To understand a little of Lijiang's unique history, take a trip to Baisha village. The Naxi people who inhabit this area are descendants of the nomadic Qiang tribe of Tibet, which settled here around 400 AD. Some 1,200 years ago, Baisha became a staging post on the "Tea road", a trading route from the tea growing fields of Yunnan to Lhasa. At this time, Baisha was the centre of civilisation in northern Yunnan, before the villagers moved to what is now "Old Lijiang" around 1200 AD. Frescoes in the Baisha monastery were first painted around 1385 AD and are still in their original condition, having been zealously guarded by priests and locals during the Cultural Revolution.
The Dongba Cultural Research Centre, in Lijiang's exqusite Black Dragon Pool Park, gives a few good clues about the ancient Naxi culture of Lijiang. The Naxis (no relation to the Nazis, though they share the swastika emblem) are one of the 26 ethnic minorities of Yunnan province. The ancient Dongba religion, stongly influenced by Buddhism, Taoism and the ancient Bon cosmology of Tibet, has as its aim the worship of "heaven, the nature spirits and Shi-luo" (the legendary founder of Dongba). The Naxi priesthood maintains the culture's unique traditions of music, dancing and pictograph writing.
The Naxi have since time immemorial (meaning: I don't know how long) been a matriarchal society, with "Dabu" (mother) being the head of the family. It is said that in ancient times during battles between ethnic sub-groups, battle would cease immediately if women stepped in and extended their hands between the forces confronting each other. Today, many Naxi women have distinguished themselves in commerce and the arts, including the venerable Zhao Yintang, the first Naxi woman writer.
The Old Quarter of Lijiang, named Gongben Zhi ("Warehouse Street") in the ancient Naxi tongue, is also known as Da Yan or Dayan. The town is a maze of interconnected streets and lanes centred around Sifang ("square") Street, with four main streets stretching out in the four cardinal directions. During World War II, with the China-Burma frontier closed, Sifang Street served as an important transfer point for trade in traditional medicines, crafts and leather goods between China and India. Li Jinghai, general manager of the Yuanxingchuan Corporation, was renowned for her business acumen and honesty, at one stage running over 200 packhorses between Tibet and India via Lijiang.
Today, over 10,000 people still go about their daily lives in Da Yan town. People gather in the square, do their washing in the canal, or cart water using the time-old bamboo yokes that feature in many classical paintings. There are no fewer than 350 bridges crossing the canal, linking to thoroughfares that go by such names as "Selling Eggs Street", "Bakery Street", "Firewood Street" etc.
In the narrow streets of Da Yan, Naxi food can be sampled at the many cafés on the banks of the canal. The Lijiang Din-Din Café specialises in authentic Naxi cusine. We stopped for a meal here and instead were treated to a banquet - fried goat's cheese with sugar, winter mushrooms with chicken wings in five-spice sauce, stewed pork with potatoes and anise glaze, and (for dessert), sticky rice with lychee fruit in rice wine. I was hoping there was a tailor nearby who could do quick alterations.
At night, it is time to take in a concert of traditional Naxi music. The Naxi are said to have developed a particular affinity for art, poetry and music because of their "nearness to God" on the high Tibetan plateau.  One of the two main strains of Naxi music, known as Dongjing, was used by scholars in ancient China as part of an elaborate musical ritual. It is said that disciples of Confucius used it to promote inner peace, and that the Taoists later adopted it for physical and spiritual exercises. During the Ming and Qing dynasties Dongjing music became popular among the educated elite, but in the early 1900s, with the spread of western "knowledge", Dongjing music nearly became extinct.
The other main strand of Naxi music, Baisha, is one of the few large-scale classic orchestral musical styles remaining from ancient China. Passed down as the "Musical Legacy of the Yuan dynasty", it consists of 24 different qupai (tunes), each of which can be elaborated upon by the orchestra. It is said that when Kublai Khan was on his expedition to Dali, he received help from Mailiang, the leader of the Naxi people in Lijiang. On his departure, the great Khan presented the Naxi with half a musical ensemble and some music scores as a gift. Hence, Baisha is also known as "Gift on Departure".
The Dayan Naxi Ancient Music Association was officially established in 1986 by Naxi scholar Xuan Ke to preserve, research and promote Dongjing music as well as to train young players. The group plays stuff known as 'Three Old Rarities', dating back to the Tang dynasty. In 1995 the group toured the United Kingdom, and the ensemble has also has performed for Chinese President Zhang Zemin. The oldest player of the ensemble is now over 90 years of age.
Another Lijiang musical group (less well-known but more fun) performs at the Dayan Naxi Ancient Music Palace. On offer the night I visited were dance performances, Tang dynasty music, band pieces (complete with pipa, drums, xylophone and erhu flute), and even a demonstration of Naxi calligraphy by a Dongba priest. All the while, a gracious young lady made the rounds among the audience, filling our cups with a constant supply of Chinese tea. The whole concert is most highly recommended.
Snow Dragon Mountain, just out of Lijiang, is another place where Yunnan's minority groups can be found. Snow Dragon Mountain is a must-visit, if you can survive the long wait for a chairlift. You alight from the chairlift at Spruce Meadow, an otherworldly place where ethnic dancers serenade the mountaintops, and a few rustic craft stalls offer Tibetan herbal medicines and woollen knits. Miraculously, Spruce Meadow maintains its pristine ambiance, unspoiled by the tourist onslaught.
The whole of Lijiang is more than just a living cultural museum. In many ways, it embodies the spirit of China, which, like the canal running through Old Lijiang, seems to flow timelessly through the eons.
* * *
Fact File:
Getting There: From Kunming, Yunnan Airlines connects regularly to Lijiang. Comfortable buses also make the Kunming-Lijiang run, taking 10-12 hours for the trip.
Travel Arrangements: Helen Wong's Tours (Room 3040-41 Beijing International Hotel, tel (10) 6525 4385, E-mail: hwtpek@public3.bta.net.cn ) specialises in travel to Yunnan, and can make all arrangements including accommodation and local tours.
Accommodation: If you wish to make your own accommodation arrangements, there are some beautifully-situated 1-3 star hotels in Old Lijiang, including the Hua Ma Guo Hotel right on the banks of the canal and, uphill from the main square, the Renkour Yuan Hotel.
Guide-books: The best overall guide is Lonely Planet's South-West China, with an excellent coverage of Lijiang and its environs. For up-to-date info, A Travel Guide to Yunnan (widely available in Kunming and Lijiang for RMB 10) is available in a surprisingly good English translation.
* * * * *
---