Flying with a Filipino touch.
---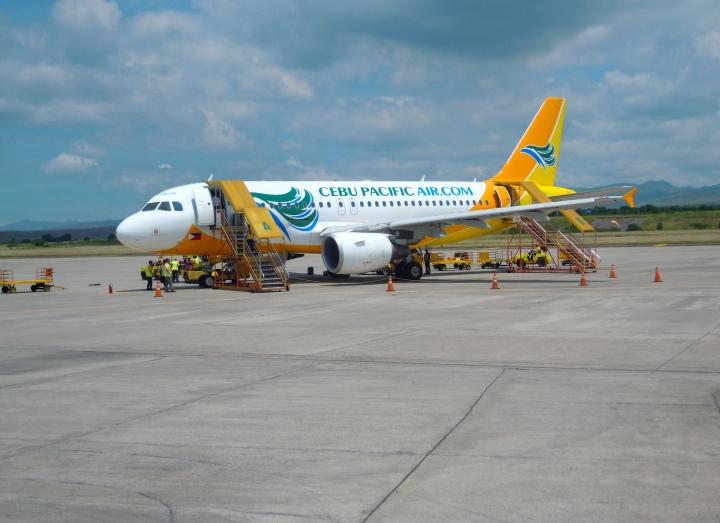 Image ©
2012 Ronald de Jong
The Philippines is an exotic archipelago with more than 7000 fascinating, palm fringed islands and one of the best visited tourist destinations in Asia. For the many domestic and foreign tourists flying is the most efficient and quickest way to get around. It is no surprise that there are quite a few airlines flying out of, into and within the country that has 85 airports nationwide, international travellers can fly into eight airports. For many air travel is fun, but for others sometimes things don't go as well as we would like, weather conditions may change very fast, flights being overbooked, delayed or even cancelled, luggage getting lost and the time and hassle it takes to get through airport security and customs can spoil a trip.
But flying in the Philippines can also be a positive experience not to forget, one of the main airlines, Cebu Pacific, is giving a brand new twist to the decades old safety demonstration and is providing a little more nfun into its flights, the low cost carrier is entertaining its passengers with a real in-flight happening. The mandatory safety presentation is brought by cheerful flight attendants that are swaying through the aisles, spinning yellow life jackets and twirling seat belts while the irresistible strains of Lady Gaga's "Just Dance" and Katy Perry's "California Gurls", are blaring over the airplane's loud speakers. Meanwhile a voiceover is informing the passengers about the do's and don'ts in case of an emergency landing. At Christmas these popular tunes are replaced for Mariah Carey's catching song "All I Want for Christmas Is You", bringing you in the best holiday mood ever. Passengers can also expect more amusement in the blue skies; Cebu Pacific is the only airline in the Philippines that is conducting a few minutes of fun trivia and show-me-games every flight, giving their travellers a chance to win a small prize. Besides being famous for their generosity the Filipino people are well known for their genuine hospitality, when arriving at Cebu Mactan International, the country's second busiest airport, passengers leaving the airplane are given a warm hearted welcome by a number of musicians and singers chanting happily tuned songs. Inside the terminal visitors are serenaded by a group of blind singers crooning crowd-pleasing ballads for a small donation. Just after touch down at the Lio Airport in El Nido on the paradisiacal island of Palawan, tourists are enthusiastically received by young women wearing traditional Filipino costumes, dancing and singing authentic Filipino songs, the real carabao beside them is an attraction by itself. Palawan is famous for being a romantic lover get-away, though true love was unmistakably in the air on a Cebu Pacific flight from Manila to Bacolod. On a beautiful Valentine's Day, 37,000 feet high in the sky a young man requested the microphone from the flight attendant, got on his knees and asked his long-time girlfriend to be his wife. All crew members and passengers spontaneously cheered and applauded when the baffled woman, obviously overwhelmed, accepted his proposition. It turned out to be the third marriage proposal on board a Cebu Pacific flight. Who said that flying is no fun?
On the other hand any journey can take a different turn; in July 2012 passengers on a Cebu Pacific flight bound for Cebu were treated with a less engaging event. Their scheduled flight was cancelled after the brightly coloured aircraft unintentionally ran over a stray chicken that was wiggling on the runway of General Santos City Airport. It remains a mystery how the feathered animal was able to get to the take-off area. A lost dog that was strolling on the runway of Plaridel airport in the province of Bulacan was also creating delays and commotion on the strip. Maybe it was not possible to catch the running animal and the canine was eventually chased out by small helicopter that was coincidentally training in the vicinity of the airport. Some month's earlier customs officials at Manila airport got another staggering surprise, when they discovered three 1.5-foot long Siamese crocodiles in the carry-on luggage from a passenger entering the Philippines. It is still unknown how the man, who claimed he was carrying live fish, managed to smuggle the amphibians from Cambodia to Manila. Crocodiles aren't the only animals that have caused concerns at the Manila International Airport. In October 2011 a big python was caught along the access road of the airport terminal. Previous to this incident dozens of buzzing bees all of a sudden swarmed the control panels of several air bridges, preventing the controllers from connecting the deployable walkways to arriving aircraft. Airport officials are not ruling out the possibility that the stinging insects could have been smuggled out of Palawan by a passenger. Just recently a Chinese man has been arrested at the Palawan airport for attempting to smuggle more than 16 kilos of anteater meat anteaters or "balintong" into Manila. The meat, said to be a Chinese delicacy, was hidden inside the man's luggage. A mouse on the loose caused a 12 hour delay for the passengers from a Qatar Airways plane at the same airport. The tiny rodent was spotted darting in the gangway; even after a long chase and thorough search by airport staff and crew members, the mouse was never found. Migratory birds and pigeons that are nestled in the grassy areas next to the runway have also brought about many headaches for the airlines operating from the Manila International Airport. Fortunately, the majority of bird strikes do not result in danger to the passengers or substantial damage to airplanes. Not long ago a power outage lasting almost five hours disrupted operations at the Ninoy Aquino International Airport, the main international gateway into the Philippines. The power line that supplied most of the electricity at the airport terminal suddenly tumbled down, leaving the most essential systems inoperable; it took almost 30 minutes for the generators to restore these facilities. Also Zamboanga International Airport became the newfangled victim of the power outages that recently plagued the island of Mindanao as it had to shut down airport operations for a couple of hours due to a shortage of electricity.
Sometimes humans can be a real nuisance as well, a Cathay Pacific flight supposed to leave the Ninoy Aquino International Airport was delayed for about an hour because a disobedient passenger refused to fasten his seat belt. Later, he demonstratively climbed the stairs to the upper deck of the Boeing 747 plane, trying to gain entry to the cockpit, alerted cabin crew restrained him from breaking into the pilot's cabin. An unanticipated and unwanted strip tease show was given by a passenger on a Zest air flight; a member of the cabin staff refused the man to go to the restroom as the plane was already taxiing on the runway while the "fasten your seat belt" sign was still on. The unruly man lost his temper and threatened to pee in the cabin. He probably thought that action speaks louder than words, opened his pants and pulled down his underwear. After disembarking, both men were brought to the Airport Police Department for investigation. It is truly assuring that dedicated ground personnel and airport officials are continually on standby to avoid and solve any potential problems.
This was unluckily not the case  some years ago when a domestic flight bound for Zamboanga City was forced to postpone its landing for at least 30 minutes on account of two tardy air traffic controllers. They were supposed to be on duty and should have given the pilots visual clearance; in spite of, they came one hour late for work. At the Ninoy Aquino International Airport an aircraft tractor operator allegedly miscalculated the distance between two airplanes causing the wing tip of a Qatar airplane, which was moving backwards, to hit the wing tip of a parked Delta Air aircraft. Both flights were delayed for hours. Because the ground markers at the Puerto Princesa airport in Palawan were outdated and too small, two scratched wingtips was the result when the outer end of the wing of a Cebu Pacific Air aircraft that was being pushed back from the terminal touched the wing tip of a parked Zest Air Airbus. Another Cebu Pacific Airbus encountered a different problem when arriving at the airport in Datu Odin Sinsuat Awang in Maguindanao province. Just after landing the jet unexpectedly veered to the left and rolled on soft ground. The aircraft was unable to taxi to the terminal, because the tires of the plane got stuck in the mud, airport vehicles and private cars were used to pick up the passengers. More recently a Philippine Airlines flight going to Manila was turning gradually for take-off when its left wheel slipped off the concrete runway at the Zamboanga International Airport and drove into the clay. A small plane from SEAIR, a local airline, that departed from the tropical islet of Boracay was hit by crosswinds and skidded off the runway after landing at Manila's main international airport. The plane ended up in the grass at the side of the track which was temporarily closed while repair crews tried to dig out the immobilized aircraft.
Beware, there are more butterblunged dire straits ahead; a Philippine Airlines flight overshot the runway while landing at Butuan Airport in the northern part of Mindanao. The plane landed past the initial touchdown zone of the runway and ploughed into a bean field before hitting some coconut trees. Five years later, at Kalibo airport on the island of Panay, an Air Phil Express Airbus from Manila was rumbling over the runway, over speeding and finally over shooting the ramp by 60 Metres, plunged into a nearby field and came to a full stop only a few meters away from some locals dwellings. The startled residents were not really amused but several passengers surely had a good laugh. At least these commuters arrived at their intended destination, others were not that fortunate. The pilot of a Philippine Airlines aircraft heading for Pakistan relied more on what he saw out the cockpit window rather than the navigation instruments and landed at a military airstrip instead of the nearby Karachi Airport.
In all these awkward incidents maybe the pride of the pilots was badly injured, yet none of the passengers were hurt. However, this absolutely does not mean that Philippine aircraft are unsafe or their aviator's incompetent, just like in any other modern country, flying in the Philippines is the safest mode of transportation. Without exception, airline companies are making great effort and going the extra mile to be in full compliance with international aviation safety standards. Qualified pilots and the always smiling cabin crew are well trained and are required to undergo medical check-ups on a regular basis to be able to fly. The up to date air fleet maintenance is done by skilled, certified technicians. Additionally, the Philippines have good airports with facilities and amenities that are at par with other mainstream airports in South-East Asia.
However, it is okay to accept a part of good advice, so, have faith, fasten your seat belt, trust your airline company and your pilot, remember that the strict flying regulations are only minor inconveniences that are well worth your safety. Realize that delays can happen everywhere in the world and that a lot of the lost luggage is returned to its owner. Don't ask yourself why the meal that is provided when your plane at the General Santos Airport is delayed, most of the time is served with a portion of fried chicken. Feel dazzled when the friendly cabin crew suddenly starts dancing and a pilot dressed as Santa Claus with a pretty stewardess disguised as an elf following his footsteps, are popping out of the airplanes toilet while a very inpatient passenger holding up his britches is hastily trying to get in. Be amazed when you see a flight attendant chasing a stowaway mouse in mid-air, accept that an air bridge might not always be available, the wings of that flying metal tube can be too long and the landing strip could be a bit too short. Do not be afraid when a fellow passenger is trying to squeeze and hide some kind of slippery reptile in his cabin bag and that a runaway snake is trying to slither in to the airport terminal, but do not forget to keep your luggage closed at any time, although, for your own convenience, keep a flashlight at hand. Try not to snuffle with too much exaggeration if you smell some decaying meat, as long as it is handled as checked luggage, it should not bother you that much.  Enjoy the magnificent scenery below when an attentive pilot will take you for an extra sightseeing tour before landing the plane. Don't be disappointed and put on a big smile on your face if you are not welcomed by a charming vocal group but greeted by sturdy, moustached men, all wearing a green uniform. After all, travelling is considered to be relaxing, to broaden the mind and be an educational adventure....Right?
Flying the Filipino way is indeed entertaining and for many reasons a unique and interesting challenge; nevertheless keep in mind to always be prepared to expect the unexpected. Have a pleasant flight!
---