Habal-Habal, Fun, Fast and Fright
---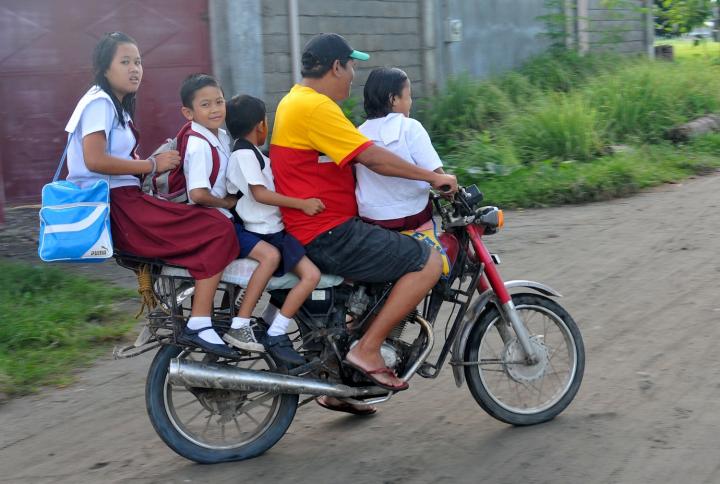 Image ©
2011 Ronald de Jong
Mindanao has the one of the most comprehensive and best road network in the Philippines, many towns are linked by smooth asphalt or concrete roads, but some of those in provincial territories and the mountains were never finished, are unpaved, full of mud- and potholes and slippery, especially during the rainy season. 
This inaccessibility makes it one of the most untouched regions in the Southern Philippines, various locations cannot be reached by car, tricycle or jeepney, roaming the remote rural and hilly areas often means travelling along narrow and bumpy trails. But the creativity and ingenuity of the Mindanaoans will evermore make a way to get where they want to go, the need to reach distant villages and far-flung farmland gave birth to the "Habal-Habal" or "Iskaylab", in fact a motorcycle without a sidecar that can carry as much as seven passengers and sometimes, depending on their sizes, more in one ride. The sitting capacity is extended by constructing additional seat carriers at the rear and wooden or metal racks on both sides of the motorbike; at random an extra seat is created on top of the gas tank. A Habal-Habal is frequently dubbed as the poor man's motorcycle taxi and some people regard them as a traffic nuisance, others see them as a convenient necessity. In many cases, it is in general regarded as the foremost practical, fastest way of public
transportation available for people and light cargo in out-of-the-way corners of the inner-parts of Mindanao. Various goods, ranging from sacks with rice,vegetables, cartons stacked with groceries, even crates filled with chickens and tied up goats, are strapped on to the most unlikely places.
"Habal" is a position that resembles two animals mating, the driver and the passengers are seated in the same, intimate manner, "facing-front". The popular expression "Iskaylab", (Skylab) is probably an abbreviation of the slogan "sakay na, lab" that means "get on, love".  
A tour on a Skylab is great fun and definitely not for the faint hearted, it can be a blood-tingling and impressive adventure, all riders will sit atop of the seats, the bike does not have any handles to grasp on to and you will have to try to keep your balance by holding the seat or the cargo. Clinging on to your fellow travellers is no option at all, youare squeezed together like canned sardines, the ride is not going to be soft and you surely will have a hard time keeping yourself upright. Having blind faith in the driver and an open mind is essential; you must be able to surrender your mind, body and soul to a complete stranger and trust that this daredevil will safely traverses you through unsafe paths, rough, steep terrain and dirt roads. Getting stuck behind a jeepney or overloaded truck that is having problems in accelerating uphill, not being able to overtake because of the curved roads, pedestrians crossing suddenly, playful stray dogs, a wandering carabao, slowly moving bull- or horse carts, swirling bicycle riders, "palay" or rice harvest that is left in the middle of the road to dry and drivers on the wrong side are only a few hurdles that has to be taken on the way. Occasionally you may encounter minor setbacks like a flat tire or a technical failure, bad weather can delay your trip and last but not least, unpredictable local driving habits and the lack of any regard for traffic rules and signs demonstrated by other road users, can cause some unexpected, precarious situations and startling moments. 
The cross-country trip can be dangerous as well, a motor bicycle is prone to accidents, it is not easy to keep control when carrying multiple hikers or a heavy load, at slow speed the driver must put on a delicate balancing act just to make sure the machine will not turn over. As a temporarily passenger there is a great chance you will not be wearing a helmet, in case of a mishap you can be easily hurt. Keep in mind that everyone rides at their own risk, this kind of transport is in some parts of the country, still illegal and unregulated, the only things a wannabe Habal-Habal driver needs is an adjusted motorbike and a valid driver's license, though some do not even have a permit. Working as a for-hire driver provides a regular income, people always will have the urge to travel, even when the roads are bad, impassable or the destination cannot be reached by ordinary vehicles. Because of the risks involved and the lack of other forms of transportation, Habal-Habal drivers will ask for a slightly higher fair than a tricycle operator, usually they will charge a fixed rate, depending on how far you want to go, the weight of the load it has to carry and the weather. If you do not want to have the feeling of paying a hold up price, you can always haggle about the amount, but do not let the first impression scare you off. Many drivers can look like real bandits, their eyes are covered with oversized, dark sunglasses, a colourful bandanna or a simple baseball cap is worn to protect their head from the burning sun. A piece of cloth to cover the nose and mouth from dust and the exhaust coming from the vehicles riding in front of the motorbike, makes the picture complete. Yet, do not judge a book by its cover, once your bone-jarring tour has come to an end you will consider this off-the-road guardian-angel as your best friend.
Mindanao is graced with a multifold of amazing natural spots; large numbers of these are located off the trodden path, getting there is now and then only possible along winding, small trails. At numerous, strategic points, Habal-Habal drivers are waiting patiently to offer their services to visitors, enabling them to enjoy the scenic landscapes at close hand. However, if you want to explore more about the neck of woods most spectacular beauty, if you are ready to embrace the unusual and the extreme, ask your driver to be your personal tour guide. You stop being a tourist and become a welcome guest, he will let you discover the most fantastic, eco-rich sites only known to locals and make your day-trip a lifetime experience.
Despite the ever changing weather, severe road conditions, traffic torment and many hazards, the all-time reliable Habal-Habal is one of the most unique, popular and common mode of transportation. Arriving at your destination means leaving the desire for a comfortable journey, but you can be assured you won't get lost, a good driver knows the crossing behind him and the junction ahead. This daring road hog on his metal, two wheeled working horse will take you from dusk till dawn, through rain and shine, up the tortuous and rocky roads, down the weather-beaten tracks, through large rice fields and across small rivers, from downtown back to the highlands, out of the middle of nowhere and into the isolated heartlands of this magnificent island.
---