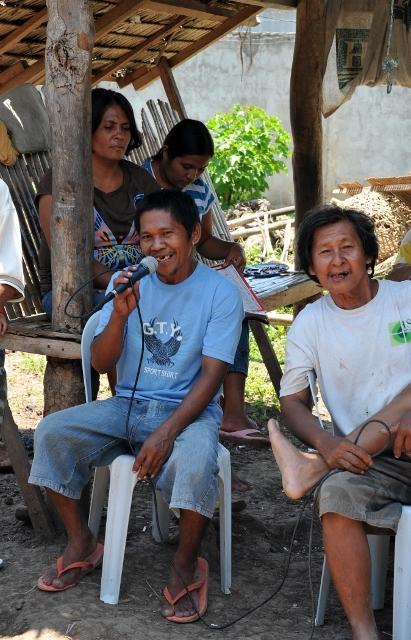 Image ©
2011 Ronald de Jong
"Sasakyan kita, Sa lahat ng gusto mo, Sasakyan kitaaaaaaa", a very popular song by Gladys and the Boxers is blaring from the loudspeakers inside a Karaoke bar, late at night, somewhere downtown in Koronadal city. It is obvious the singer is out of tune and the music is loud enough to be heard in the street, but it seems the audience and neighbours do not mind at all. The deafening music is taken for granted, they are singing or humming this golden oldie along with the songbird indoors, it appears everybody is having a good time.
The Philippines are often described as the most musical country in Asia, Filipinos are known as happy people and great lovers of music, they like to party and to sing and therefore it is no surprise that Karaoke is an ultimately part of daily life and undoubtedly a national tradition and pastime.
A Filipino named Roberto Del Rosario, is believed to be the inventor of a sing along system that later in time became known as Karaoke, a Japanese term, derived from the words "kara" and "ookesutora" meaning "empty" and "orchestra". Others claim it was invented in the second half of the twentieth century by a Japanese man Daisuke Inoue. For more than three decades karaoke is a popular treat in the Philippines. Filipinos with different backgrounds, various ages and from all walks of life enjoy the fun and laughter it brings to celebrations and other gatherings. Presently, people can also sing their favourite songs using videoke, simply meaning video karaoke (KTV), lyrics are displayed on a television screen and a cursor will direct the singer in following the tune. In fact it is singing simultaneously with a music recording without any vocals.
Mindanaoans are very social, they have a strong preference for group activities over individual ones, this showcases a sincere cultural trait of collectivism. Karaoke participants will take their turn in performing, supported by other players; it does not really matter if their singing is good or bad. Singing and listening can create a shared identity between singers and spectators; it gives them a feeling of mutual support and understanding.  It is a wonderful interactive form of creative entertainment, it gives an opportunity to bond with friends and family, it is the unique Filipino way to show camaraderie and strengthen family ties. Karaoke also means inexpensive family fun, due to modern technology, stylish and cheap portable karaoke systems are widely available and many homes are turned into small theatres during anniversaries or special occasions. A party will never be complete without karaoke singing, it will bring excitement and pleasure into the night and perhaps the wee hours of the morning.
KTV and karaoke bars can be established in luxury lounges or humble shacks, they are found almost throughout every city, village or barrio in Mindanao, there are numerous places to belt out your tunes. Karaoke singing has become big business since more people recognize that karaoke is a profitable form of
lounge-, nightclub- and home entertainment, local outlets are selling karaoke appliances, interactive computer games and DVD's like hot cakes. Karaoke machines in all shapes, colours and sizes, most of them with over sized loudspeakers are placed in the most unimaginable locations, like garages, sidewalks, restaurants, shopping malls and even on beaches. It is common in bars, cafes and stores, if there is electricity, music, a microphone and a Filipino there will be karaoke. Many establishments are holding special karaoke nights and contests where locals can showcase their ear-busting vocal talents, in harmony or out of tune, but always searching for their best performance. It is a perfect way to unwind your stress, an effective mechanism to release emotions and also lots of fun, if you do not like so sing you can always listen to your friends or family and watch them becoming short time superstars.
Karaoke competitions are gaining foothold on Philippine television variety-shows as well, contestants will perform for a live audience, a jury, the public in the studio and at home can decide if the candidate idol will be removed from the contest or will be chosen to carry out its choral skills in the next round. For
only a few hidden talents it will be a rare opportunity to boast a successful career in showbiz and sing their way to stardom. With the fast development of Internet, karaoke websites are sprouting like mushrooms, the karaoke community is one the largest and fastest growing, an Internet connection, a microphone, and a set of speakers is enough to get your share of musical fun. Many sites offer free access to singing and recording original Pilipino karaoke songs, you can listen to great and terrible auditions, comment and vote on singing performances and compete in live online singing competitions.
Trying to escape the on-going pressure at the workplace or everyday routine and responsibilities singing karaoke can fulfil the need for enjoyment and distraction; singing is fun and makes them feel better. Karaoke nights out are good for your health, moderate drinking and singing with friends could prevent strokes and can help reduce heart disease. Plenty of adrenaline is flowing through the veins of the wannabe artists, while putting all their passions and emotions in a happy song or heart-breaking ballad, it is a great way to get into a euphoric and jubilant state of mind in which life only shows its good sides. It is an excuse for people to scream their heart out and will enable them to face the challenges and hardship of every day with a brighter outlook and a more optimistic view of life.
Karaoke also has an unpleasant side, especially for foreign tourists, some karaoke bars and KTV's, primarily in big city centres, double up as brothels and are a prime attraction for prostitutes looking for customers, they serve as hide outs for illegal gambling and other criminal activities. It is much better to avoid any problems in the first place and a wise decision to stay away from these places at all times. Karaoke can stimulate affection and can trigger agitation; it is amusing and unfortunately also can cause violence. The Philippine police can not give exact figures but the lives of at least half a dozen people came to a tragic end and even more were wounded while singing. The Frank Sinatra song "My Way" has been removed from many karaoke bars song list after this all time classic from the sixties was foundto be the most frequent source of disturbance. On the other hand, in general the mainstream, well controlled, karaoke outlets have a good reputation and will provide an invaluable source of genuine and honest entertainment for their visitors.
Locals will understand if you do not have the nerve to get up on stage, showing off your vocal ability in public is difficult and some will even experience this as embarrassing, karaoke is a blessing for some and a curse for others. But no matter where you go, the force of karaoke can be felt all over the island. The uncontrollable virus of singing can be very contagious, it is an unbelievable lift to your soul and body and will enlighten your spirit, some enthusiastic will play air guitar and others will dance while they're in the audience or on stage. So, on the next occasion, get up and sing, be a part of the karaoke mania, let your mind go, loosen your ties, let your emotions flow and your voice be heard. Karaoke is not only for those with a golden voice, no one expects you to be the next singing sensation and nobody is competing for a recording contract. Karaoke is meant to be a fun experience and is for all those who love to sing or just listen.
Karaoke is something you either love or you hate, but one thing is for sure, the dynamics of music is everywhere in Mindanao, there is no getting away from it.
---